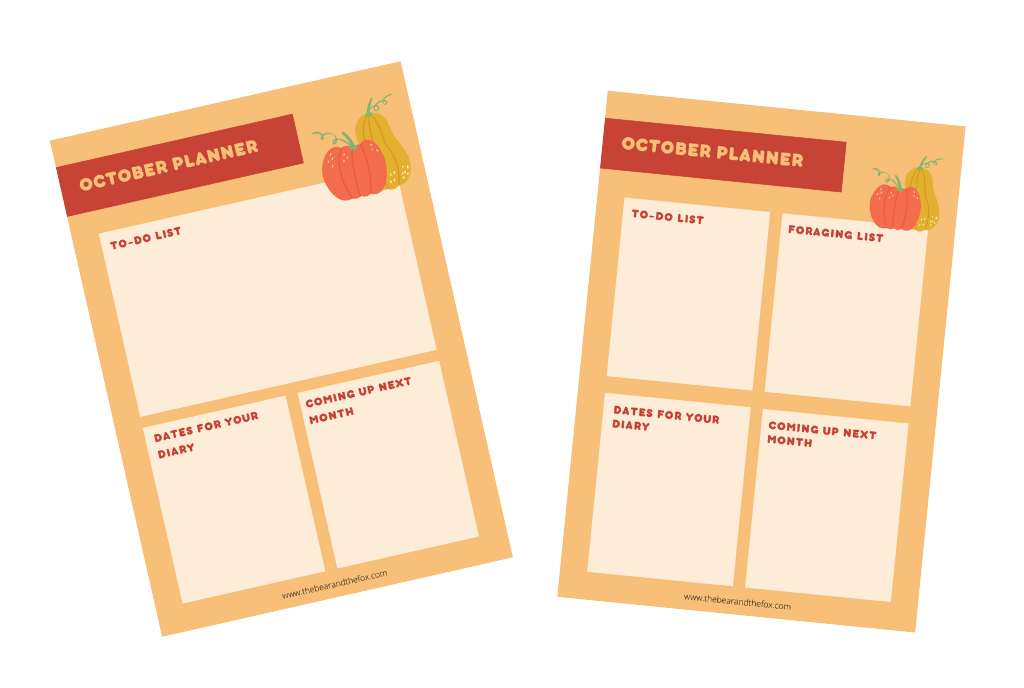 Planning for October
Time to get spooky, it's October! And in case you haven't guessed already, I'm a huge fan of Hallowe'en. I'm updating all my monthly planning posts that I created last year, to help you get more organised. I'm sharing our monthly list of things to do, plan, remember and celebrate, and for anyone who wants to be extra organised there's a free downloadable printable at the end of this post. For 2023 I've added a B&W printer friendly version too! The downloads include two sheets each, one with and one without a space for notes on foraging.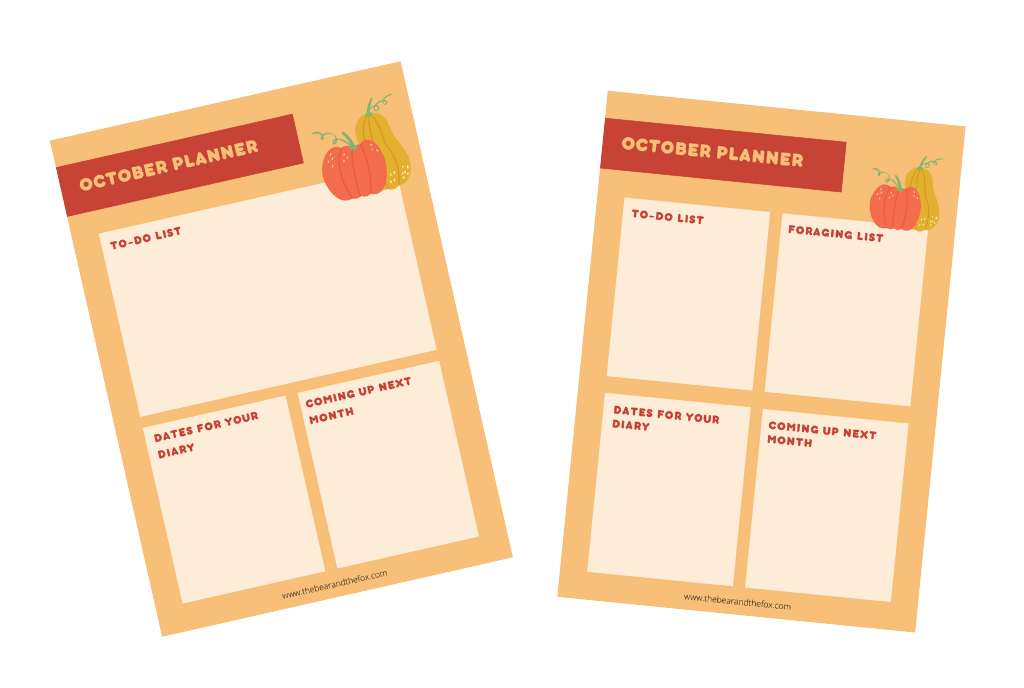 To Do
Finalise Plans for the October Holidays
October half term holidays vary a bit across Scotland, in Edinburgh they're usually around the middle of the month. Now is the time to finalise your plants, and make sure every is sorted including childcare, days out, or maybe you've even booked a wee holiday away!
Get Halloween sorted
I've already admitted I'm a huge fan of Halloween, as are my kids. In Scotland, we have a lovely tradition of the kids all doing a wee 'piece' as we call it, when they go round the houses – that means telling a joke, singing a song, one year my eldest performed magic tricks. It's so much nicer than just shouting 'tick or treat'. So at the beginning of October, the kids start thinking about their piece for this year, and of course also their costumes. We're usually a mix or re-using what we already have plus a little bit of DIY. Nothing too over the top, but still best not to leave it until last minute. And don't forget to add a supply of Halloween treats to your shopping in case you get any visitors yourselves on the night!
Order sparklers
Bonfire Night is not until 5 November, but if you wait until then, the shops are all sold out of sparklers and online orders won't arrive in time. So if you've not done so already, get ahead of the game are order some sparklers while there's still time. And while you're at it, why not order enough for New Year's Eve as well, that's one more thing sorted.
Buy Advent Calendar Fillings
Speaking of Halloween treats, if you are doing refillable or DIY Advent calendars, those mini sized Halloween treats are perfect for Advent calendar fillings so I always make sure to buy an extra bag of Halloween treats and that's most of the boys' Advent calendars sorted!
Start Booking Things for Christmas
I hate having to think about Christmas before Halloween, but the reality is that everywhere opens their bookings earlier and earlier each year, and if you wait until November or even December it's all booked up. We already have our Christmas outing sorted, as we still have theatre tickets from 2020 that were postponed and it's finally happening this year! But if you are wanting to book for things like night lights, breakfast with Santa, grotto visits etc, then some of these are already starting to fill up. So if you have a favourite, don't delay booking!
---
Time to Forage For
We've really gotten in to foraging over the past couple of years, so in my forward planning I'm going to include a reminder of what plants to forage for each month. This will of course vary hugely depending on which part of the world you live in. For us, it's what's ready to forage here in central Scotland. I've included two versions of the monthly download – one with, and one without a section for foraging (they're both in the same document).
In October we'll be foraging for…
Elderberries
Brambles
Apples
Rose hips
Rowan berries
---
Dates for Our Diary
There are so many dates from different cultures and religions to consider, I'll just be listing the ones that we ourselves celebrate or commemorate (you can create your own personal list using the download at the end of this post). I'll also highlight some previous activities from our archives, which will help us to celebrate.
31 October – Hallowe'en
Hallowee'n Crafts
Hallowe'en Recipes
Hallowe'en Books
---
Coming Up Next Month
One thing I've found with monthly planning, is that the things that happen at the beginning of the month can often take you by surprise (like World Book Day, every single year!) So that's why at the beginning of each month I'll also be reminding myself what's coming up the following month…
5 November – Bonfire Night
11 November – St Martin
---
---
As always, all resources and downloads on this blog are free, to make them accessible to everyone. However, if you are able and would like to support me with a small donation, which helps to keep this blog running, it would be much appreciated. Just hit the support button below. Thank you x