Planning for June
This year, I'm trying to be more organised in planning ahead for each month. In case it helps anyone else be more organised too, I'll be sharing our monthly list of things to do, plan, remember and celebrate. And for those who want to be extra organised, there's a free downloadable printable at the end of this post too, to help you make your own monthly list.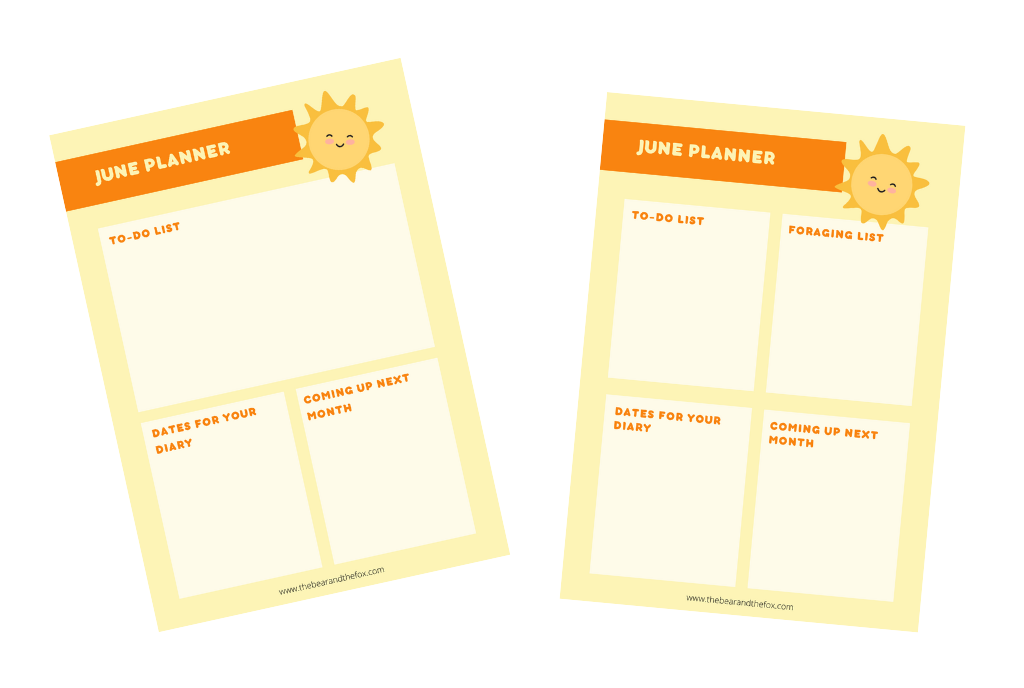 To Do
Double check summer holiday plans
In Scotland, our big school holidays usually start at the end of June, so it's time to double (and triple!) check our plans for the summer:
Confirm accommodation and train tickets for our week away.
Confirm registration for summer classes for the weeks at home.
Book tickets for summer shows (Edinburgh has various festivals happening over the summer).
Make sure we've booked time off work!
Double check when friends & family are visiting.
Print off a paper calendar, get all those summer details in it, and stick it on the fridge!
Organise teacher gifts
Another thing to organise before the summer holidays, is end of the year teacher gifts. Don't leave it until the last minute! Especially if you're all clubbing together (which is what we do) – you'll need to leave yourselves enough time for everyone to contribute AND then organise something to buy. We started the tradition in Primary 1 to get the class teacher a print with all the kids names on it, and then put the rest money towards vouchers for various local shops.
End of term bag check
As the end of the summer term draws near, check that your kids have brought all their belongings home from school, including PE kit and shoes, coats, water bottles, books etc. Go through the school's lost property for any uniform and other missing items, before it gets cleared out for the summer. Vice versa, make sure they have handed everything back in to school that they are supposed to, like reading books (my youngest has a bad habit of hoarding them!) And don't forget to clean out your children's school bags and lunch boxes on the last day of term – no one wants to find a six week old sandwich when it's back to school in Autumn…
---
Time to Forage For
We've really gotten in to foraging over the past couple of years, so in my forward planning I'm going to include a reminder of what plants to forage for each month. This will of course vary hugely depending on which part of the world you live in. For us, it's what's ready to forage here in central Scotland. I've included two versions of the monthly download – one with, and one without a section for foraging.
In June we'll be foraging for…
Ash keys
Elderflowers
Ground Elder
Lime blossoms
Dog rose petals
---
Dates for Our Diary
There are so many dates from different cultures and religions to consider, I'll just be listing the ones that we ourselves celebrate or commemorate (you can create your own personal list using the download at the end of this post). I'll also highlight some previous activities from our archives, which will help us to celebrate.
Mother's Day and Father's Day always cause me a bit of a headache, as they are celebrated on different days in Scotland and Germany. That means remembering two sets of dates, one for us here, and one for remembering my own parents there.
19 Jun – Fathers Day (UK/USA)
Here are some craft ideas for gifts, and some of our favourite books to celebrate:
---
Coming Up Next Month
One thing I've found with monthly planning, is that the things that happen at the beginning of the month can often take you by surprise (like World Book Day, every single year!) So that's why at the beginning of each month I'll also be reminding myself what's coming up the following month…
---