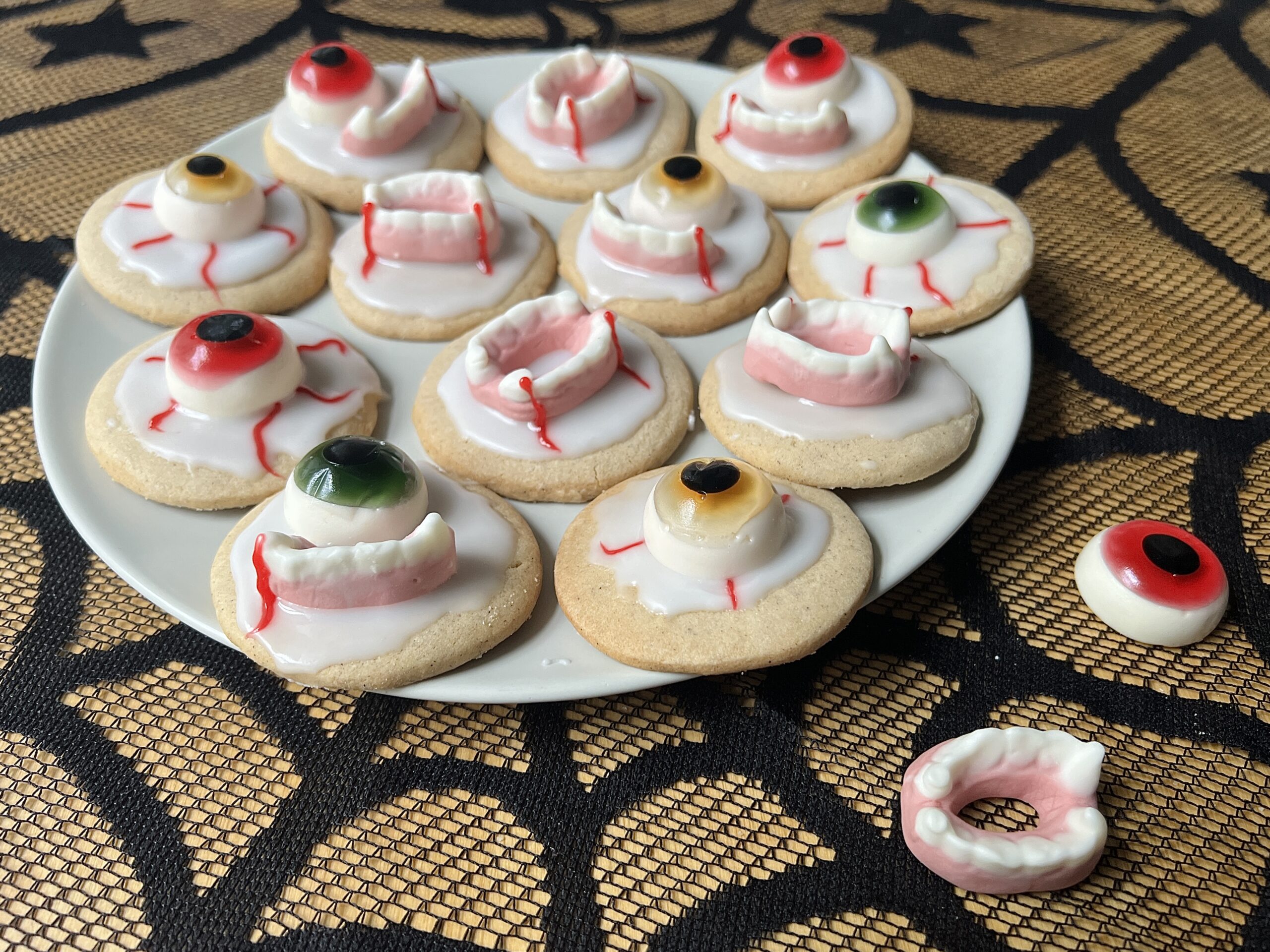 Halloween Pumpkin Spice Cookies
When it's there's a storm brewing outside, and Halloween is just around the corner, it's a perfect excuse to hunker down indoors and bake some spooky cookies. My 8 yr old and I really had fun making these together. It does require a little bit of pre-planning, as the dough needs to rest in the fridge for at least two hours, so for example you could make the dough in the morning after breakfast and then do the baking and decorating in the afternoon – just in time for afternoon tea!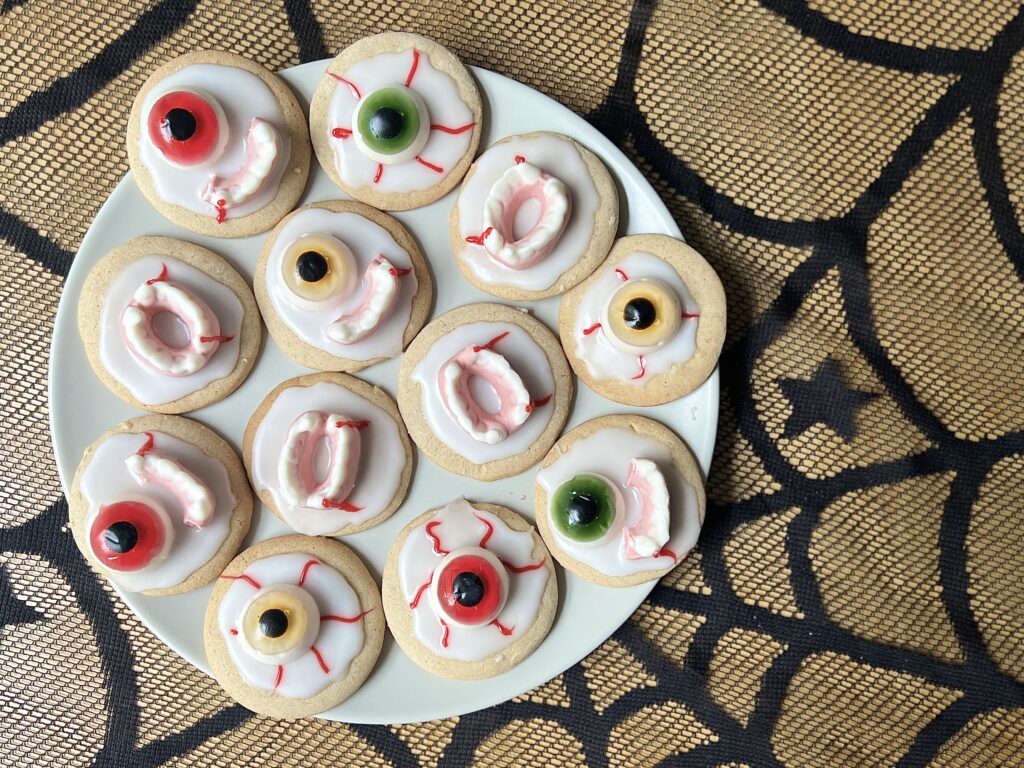 Ingredients
100g unsalted butter, softened
75g light soft brown sugar
1 large egg
150g gluten free plain white flour blend (we use the Freee brand from Dove's Farm)
50g corn flour
2 tsp pumpkin spice*
Icing sugar to decorate
Halloween 'body parts' gummy sweets
Red writing icing (optional)
You'll also need a round cookie cutter. Alternatively, you can use the rim of a small glass or tumbler.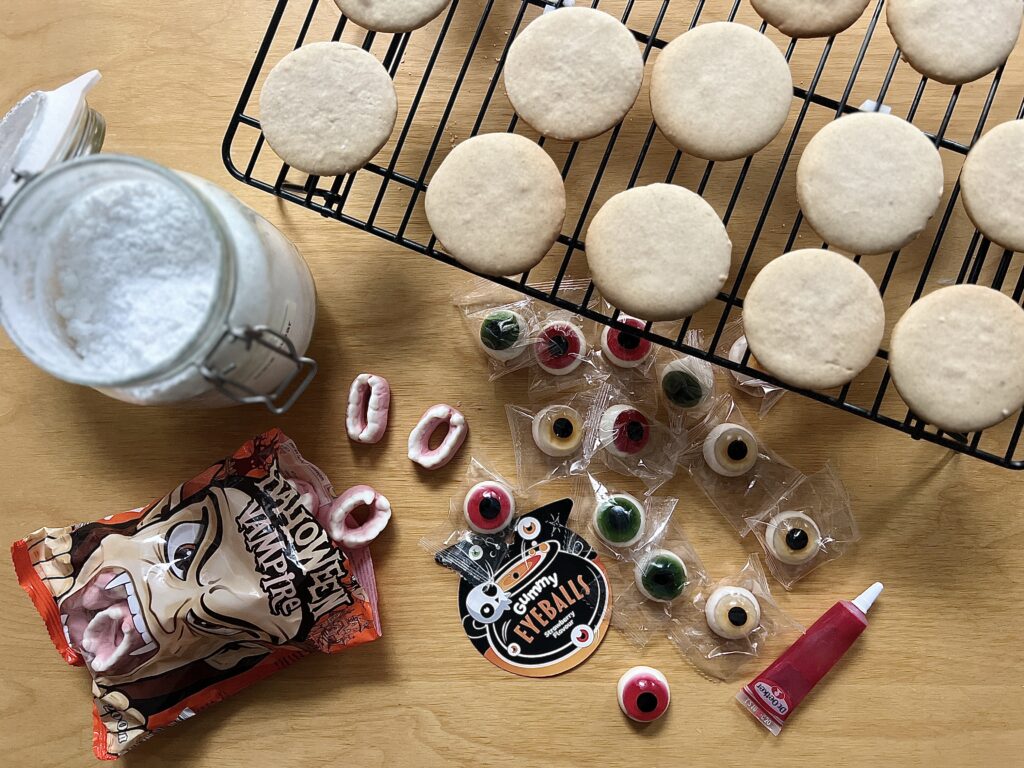 For the Halloween sweets, we used gummy eyeballs that came from Poundland, and the vampire's teeth were from Lidl, but lots of supermarkets have similar sweets at this time of year, so just use what you can find.
*To make your own pumpkin spice, mix together 2 parts ground cinnamon, 1 part ground ginger, and half a part each of ground allspice and ground nutmeg. I usually make up a little tub full to have on hand for baking (e.g. 2 tablespoons/1 tablespoon/0.5 tablespoon/ 0.5 tablespoon).
Directions
Cream together the butter and sugar with an electric mixer until soft and light.
Next, beat in the egg until well combined.
Finally, mix in the flour, corn flour and pumpkin spice to make a soft dough.
Wrap the dough in some clingfilm – it will be very soft so you may need to scoop it on to the clingfilm – and place in the fridge for at least 2 hours to firm up.
When the dough is firm enough to roll out, pre-heat your oven to 180 C (or 160 C for a fan oven). Line two baking trays with grease proof paper.
Sprinkle a little flour on your work surface and roll out the dough to about 5mm thickness. Then cut out the cookies with your cutter and place them on the baking trays, leaving some space between each one. We ended up with two trays of 8 cookies each, so 16 in total.
Bake each tray for around 10 – 12 minutes, turning the tray once half way through. The cookies are done when they start to turn golden brown around the edges.
Carefully transfer the cookies to a cooling rack and leave to cool completely. They will harden as they cool down.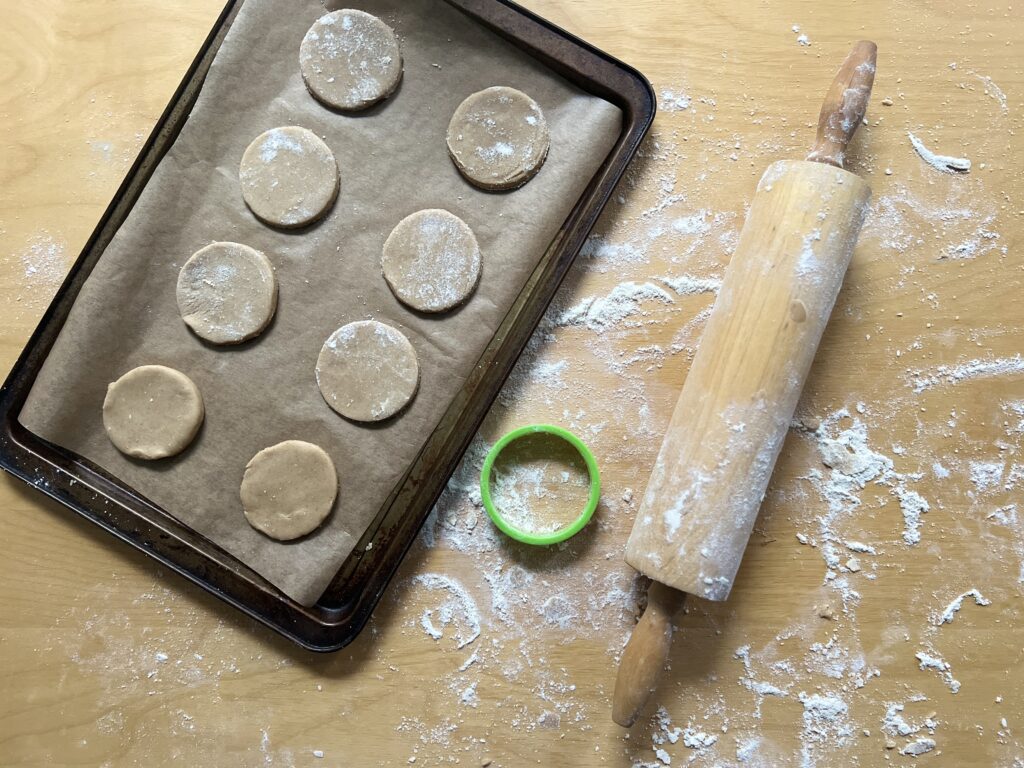 Once the cookies are completely cool, mix 3-4 tablespoons of icing sugar with a little water to create a spreadable icing paste. It doesn't need much water at all, so start with half a teaspoon first and build up from there. If it gets too runny, just add some more icing sugar.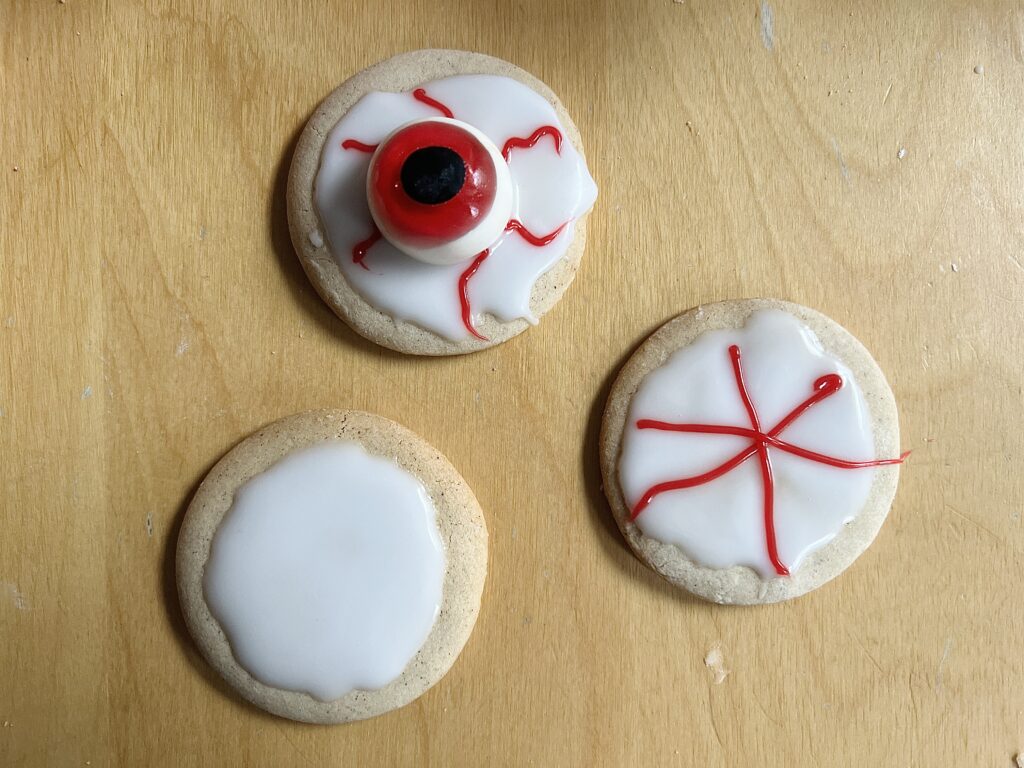 Spread a teaspoon of icing on to each cookie and add the gummy sweets on top. For the eyeball sweets, we adding some criss-cross lines with red writing icing first, that we had left over from Christmas, and then placed the eyeballs on top, to make it look like big blood-shot eyes. You can leave that part out though if you want to keep it simple, and just fix the gummy sweets on to the cookies with the icing.
And that's it! Enjoy your spooky cookies, and have a happy Halloween when it comes!