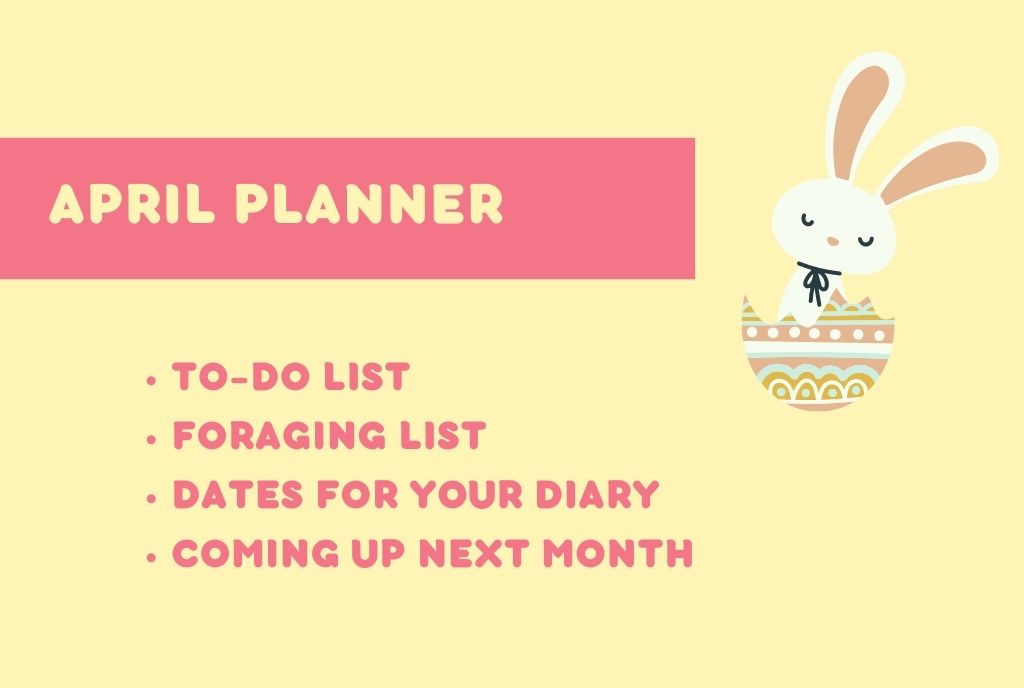 Planning for April
This year, I'm trying to be more organised in planning ahead for each month. In case it helps anyone else be more organised too, I'll be sharing our monthly list of things to do, plan, remember and celebrate. And for those who want to be extra organised, there's a free downloadable printable at the end of this post too, to help you make your own monthly list.
To Do
Spring clean the house and garden
With spring officially started, now is the time for a good old spring clean. Decluttering the house is always so satisfying, and getting rid of everything that's piled up over Christmas and the winter months. I'll need to take inventory of the garden as well, to see what needs fixed or replaced. There's lots of debris still to clean after after the recent storms, and our brambles and gooseberries need re-secured after they were blown about so much.
Dye Easter eggs
We'll obviously be doing this closer to Easter itself, but we always dye lots of eggs so pre-planning includes hunting down some white eggs at the shops, and gathering supplies for the dyes. We've tried different things in the past, including commercial egg dies, paints, and last year we experimented with natural dyes from plants and spices. Dying eggs is a bit of a national past time in Germany, with the hard boiled eggs forming a core of any Easter egg hunt, so it's a good thing we all love to eat them!
Get new gardening supplies delivered
After starting of our seedlings last month, we'll now need to get supplies for planting them out including big bags of compost and new pots if anything needs replacing. That means it's time for my annual spring trip to the gardening centre. We don't have a car and do everything on foot or by public transport, so I usually get everything delivered. I could of course just order it online, but where is the fun in that! I love going around the garden centre and looking at all the plants.
---
Time to Forage For
We've really gotten in to foraging over the past couple of years, so in my forward planning I'm going to include a reminder of what plants to forage for each month. This will of course vary hugely depending on which part of the world you live in. For us, it's what's ready to forage here in central Scotland. I've included two versions of the monthly download – one with, and one without a section for foraging.
In April we'll be foraging for…
Dandelion
Daisies
Gorse
Ground Elder
Nettles
Wild Garlic
---
Dates for Our Diary
There are so many dates from different cultures and religions to consider, I'll just be listing the ones that we ourselves celebrate or commemorate (you can create your own personal list using the download at the end of this post). I'll also highlight some previous activities from our archives, which will help us to celebrate.
17 April – Easter Sunday
---
Coming Up Next Month
One thing I've found with monthly planning, is that the things that happen at the beginning of the month can often take you by surprise (like World Book Day, every single year!) So that's why at the beginning of each month I'll also be reminding myself what's coming up the following month…
8 May – Mother's Day (USA/ Germany)
14 May – Eurovision Song Contest Finale
26 May – Vatertag (Germany)
---