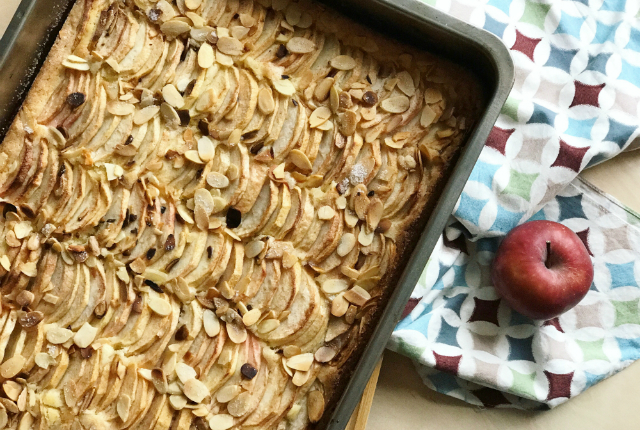 Family Recipe: Mama's Apfelkuchen (GF)
In case you've all been wondering what we did with the remainder of the apples we picked at Craigie's Farm a couple of weeks ago, I have one more, magnificent apple recipe for you! Although most of the credit for this recipe goes to my mum, I've only adapted it a little. This cake, heaped with juicy apple slices – known as 'Apfelkuchen vom Blech' in German (Engl: apple cake from the tray) – for me is not only a tray full of superbly delicious cake, it's also a tray full of childhood, of nostalgia, of memories of my mum's home cooking and baking. It's the quintessential family recipe. That's why I never refer to it as anything other than "Mama's Apfelkuchen". And now you can make Mama's Apfelkuchen too! I think this is the first time I've involved both kids fully in making a cake (daddy had been away for the week, and they wanted to make a cake to surprise him) so it truly was a family effort.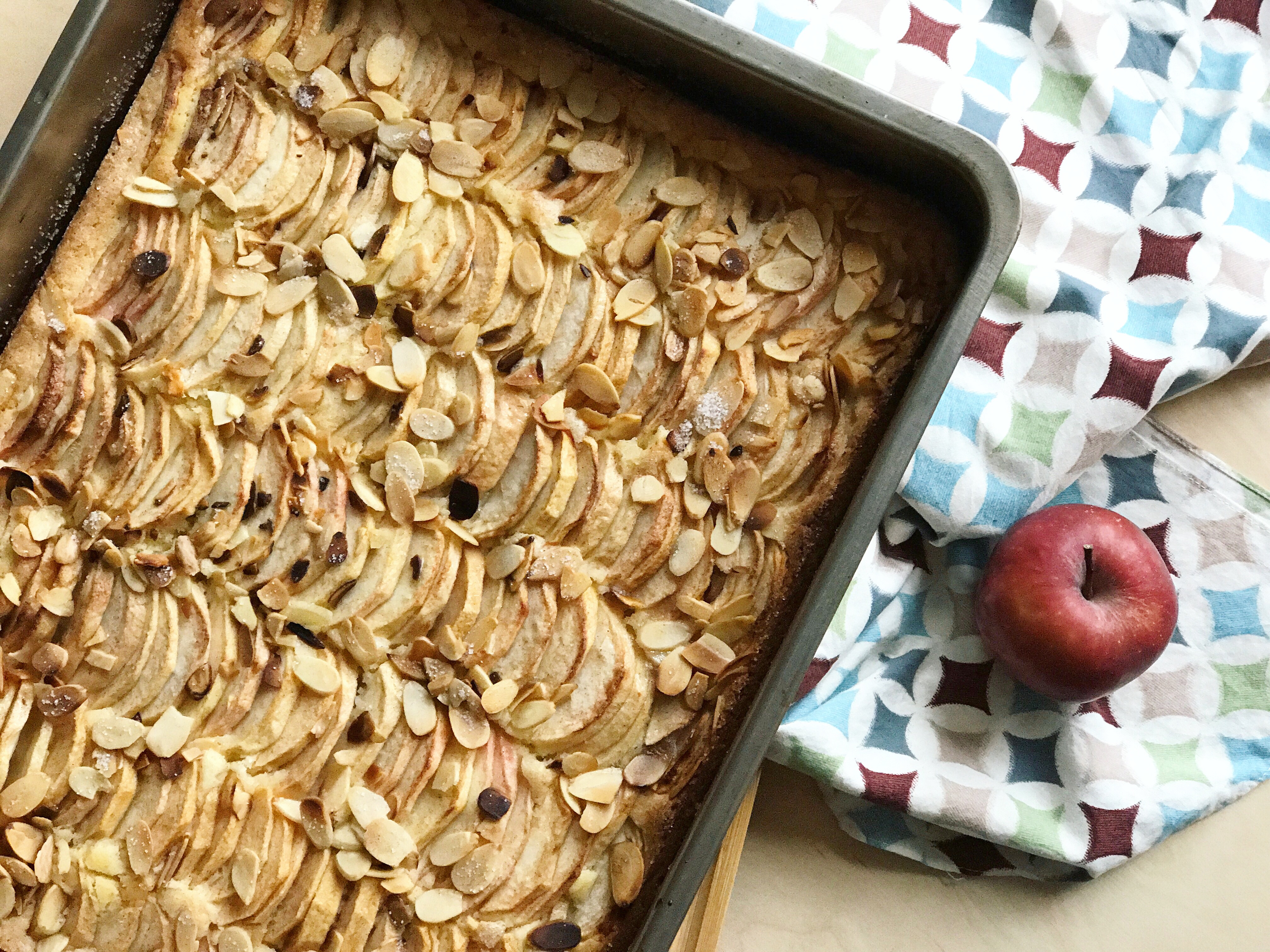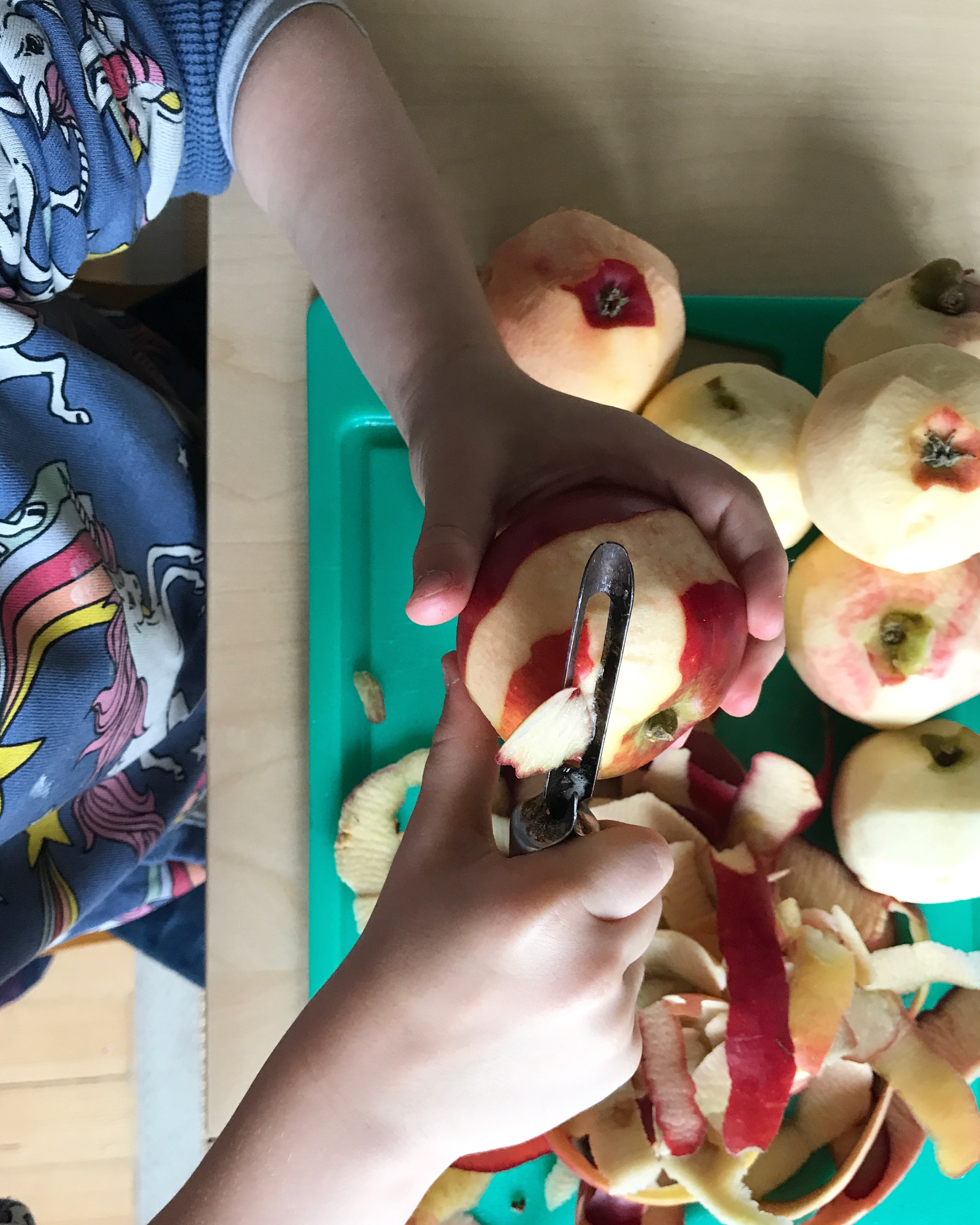 Ingredients (makes 12 generous slices)
For the batter:
250g butter, softened
1 sachet vanilla sugar (e.g. Dr Oetker) or 1 teaspoon vanilla essence
220g sugar
4 eggs, size M
100g cornflour
300g (gluten free) self-raising flour*
2 heaped Tbsp shredded psyllium husks*
4 Tbsp milk
For the topping:
1 kg peeled and cored apples, cut in to slices
50 sugar
1/4 tsp ground cinammon
60g flaked almonds
* For the flour, I use a gluten free flour self-raising flour mix from Sainsbury's, or from Dove's Farm when I can get it. If you don't need to bake gluten free, you can just use regular self-raising flour, in which case you can leave out the psyllium husks. If you are baking gluten free but can't find any psyllium husks, you can leave them out, just be aware that your cake may be a lot more crumbly.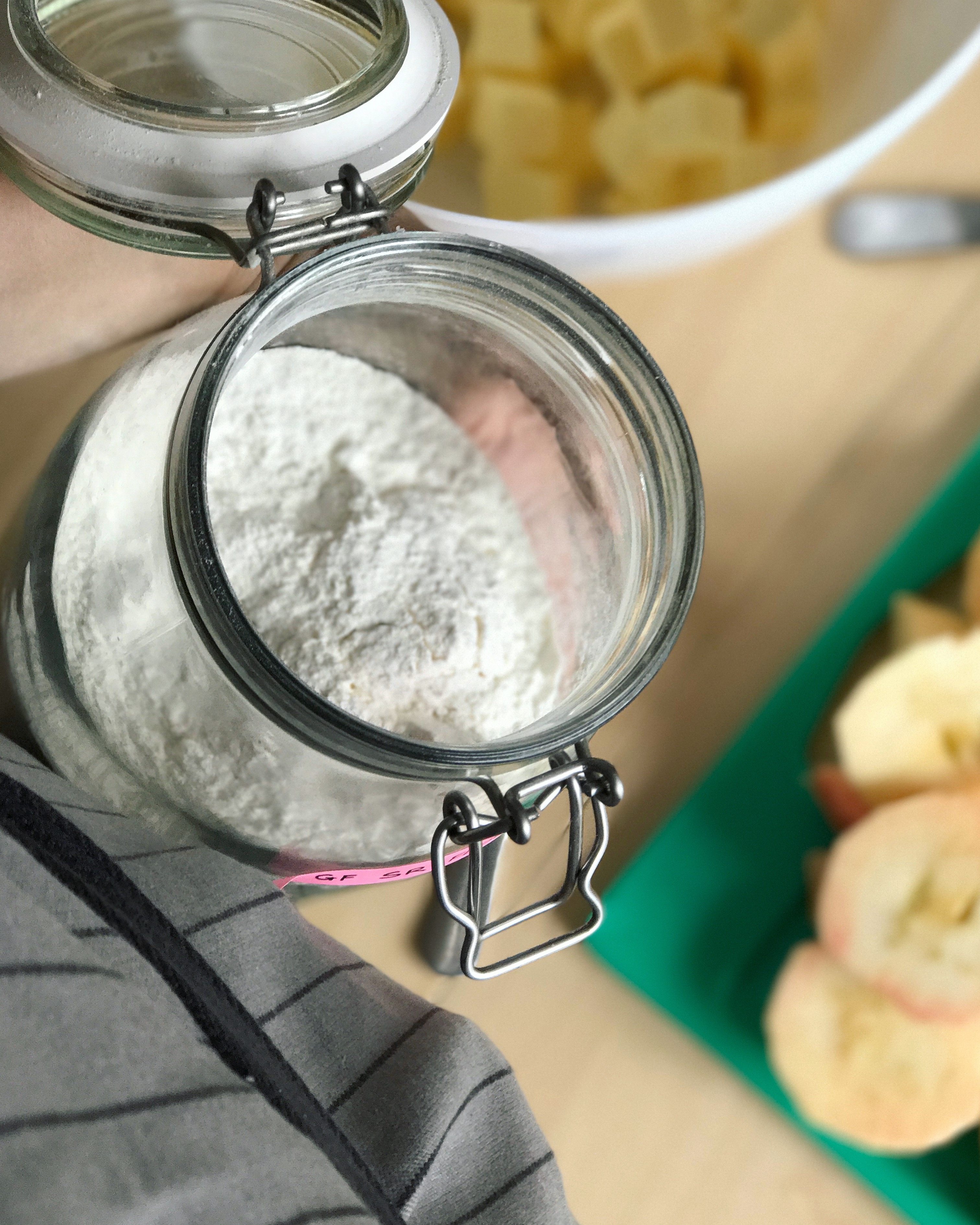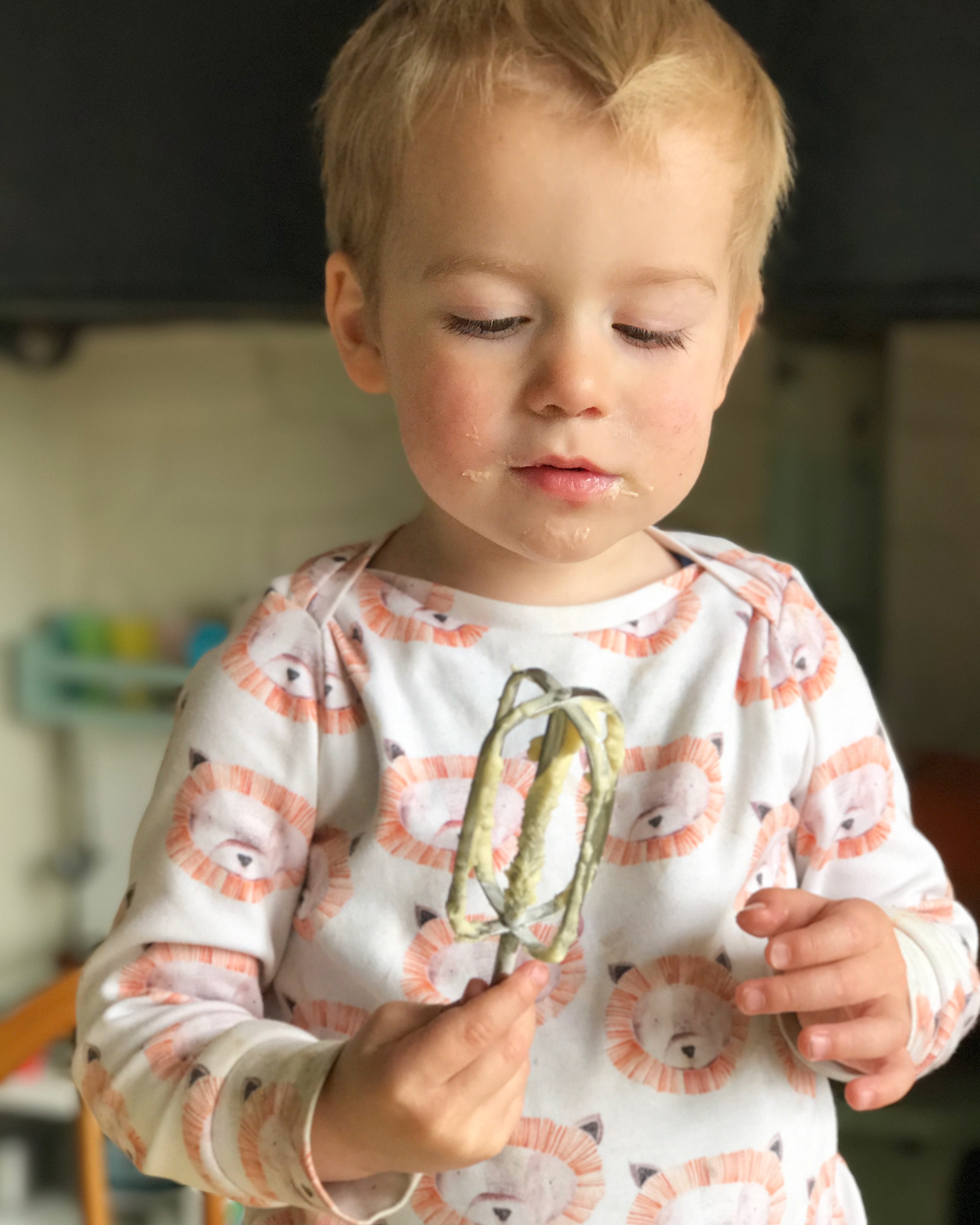 Directions:
Pre-heat your oven to 220 C.
Beat the butter, together with the vanilla, until it is pale and fluffy.
Next, beat in the sugar and eggs, again until the mixture is pale and fluffy.
Sieve together the cornflour and flour, then beat them in to the mixture bit by bit, together with the psyllium husks, is using.
Finally, add in the milk, one Tbsp at a time. You may need a spoonful more or less, this depends a bit on the size of your eggs. You basically want the mixture to not be too dry, but it also shouldn't be runny. A pliable dough/ batter, that you can spread on to a baking tray.
Speaking of baking trays, spread the mixture on to a large, greased baking tray. I discovered we haven't actually bought any baking trays yet (how did that happen?!) so I used a roasting tin, hence the high sides.
Arrange the apple slices on top of the batter mixture in rows, overlapping each other, as demonstrated by Oskar below!
Dry roast the almond slices until they start to turn golden, being careful not to burn them, then sprinkle them on top of the apples. You can actually do this earlier on and set them aside to cool – a good idea, if you are planning on involving kids in sprinkling them on top of the cake.
Finally, mix the cinnamon and sugar, and sprinkle all over the cake.
Bake in the pre-heated oven for 30 – 40 minutes. It's a bit tricky to tell when it's done, as the batter is obscured by the apples, but you should be able to see it turning golden around the edges and if in doubt stick in a wooden skewer and see if it comes out clean. Also depends a bit on your oven – the oven in our old house could bake this cake in 30 minutes, our current oven takes closer to 40 at the same temperature. If the top of the cake is tarting to go too dark but the skewer doesn't come out clean yet, just cover it with some tin foil while you bake it a bit longer.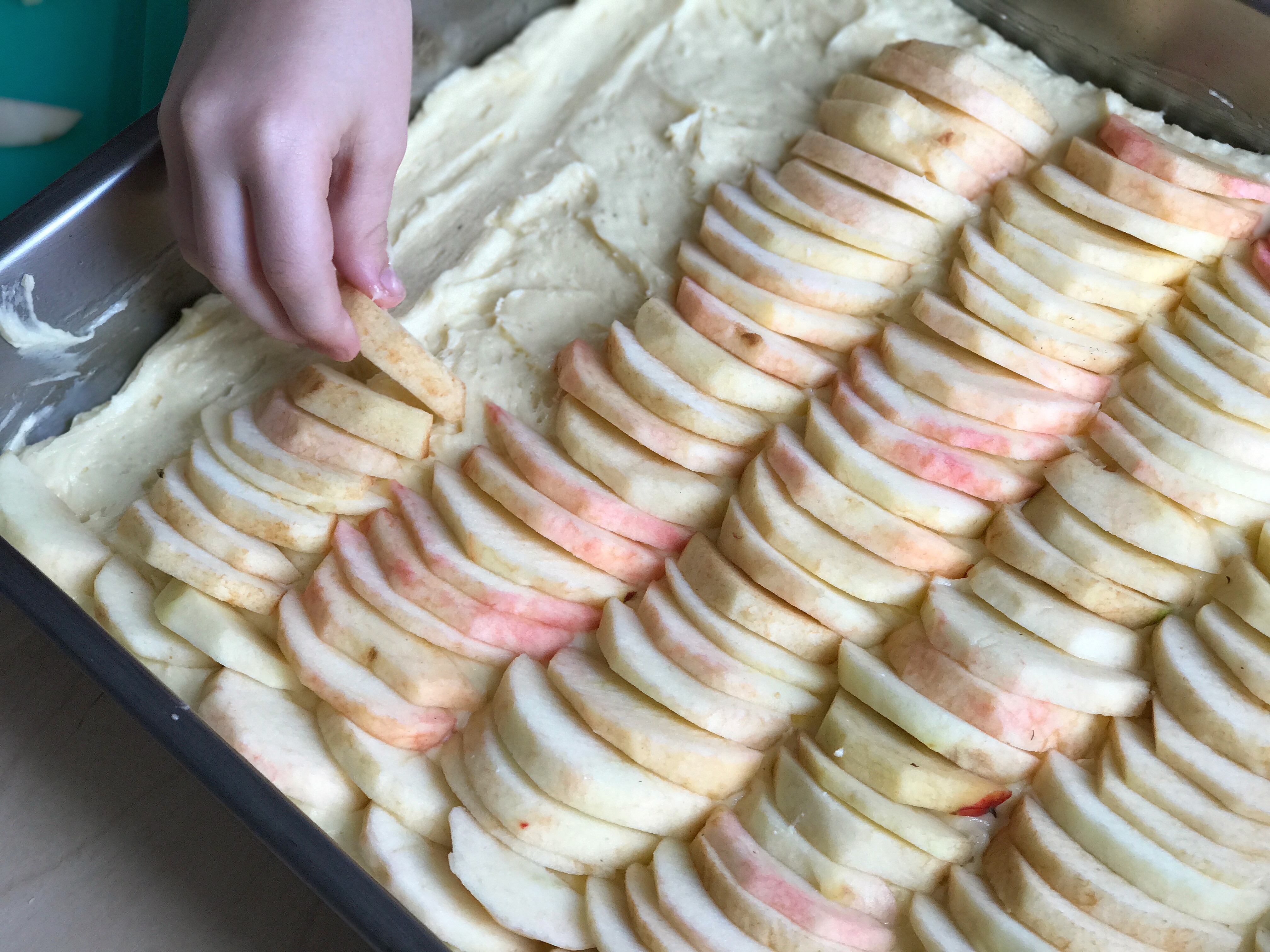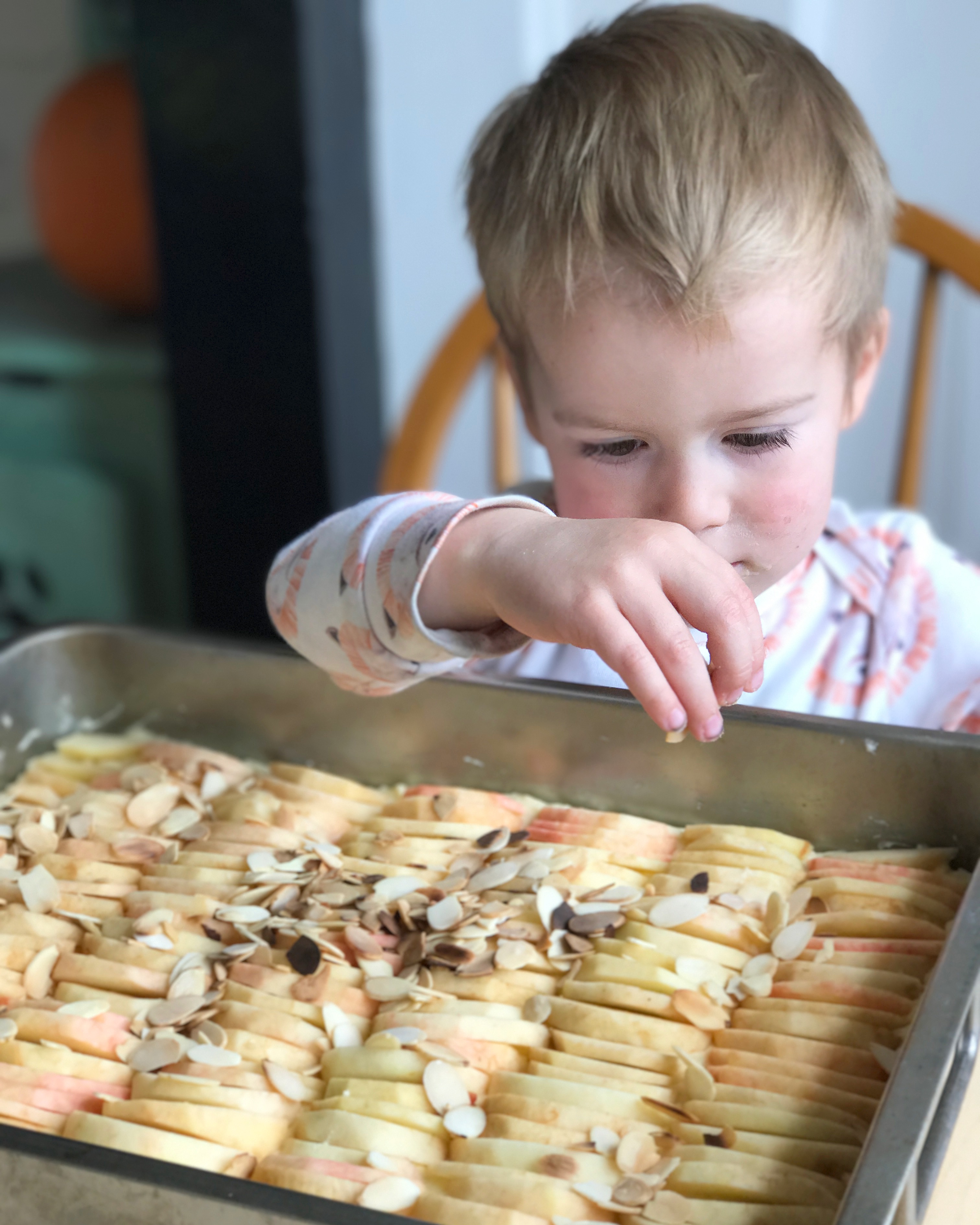 The kids had so much fun helping me to make this cake. They've helped before to measure out and mix ingredients for a cake, but then it's always just been a case of pouring the batter in a tin and sticking it in the oven. Somehow, the extra job of preparing the topping made it all the more exciting. Oskar, in particular, was adamant he wanted to help peel the apples. So he received an induction in to using an apple peeler, and very carefully (and very slowly!) peeled his first ever apple. He even managed not to slice off any of his thumb. He literally said, and I quote, "This is so exciting! I'm peeling an apple for the first time!" Makes you wonder why we bother with toys, lol.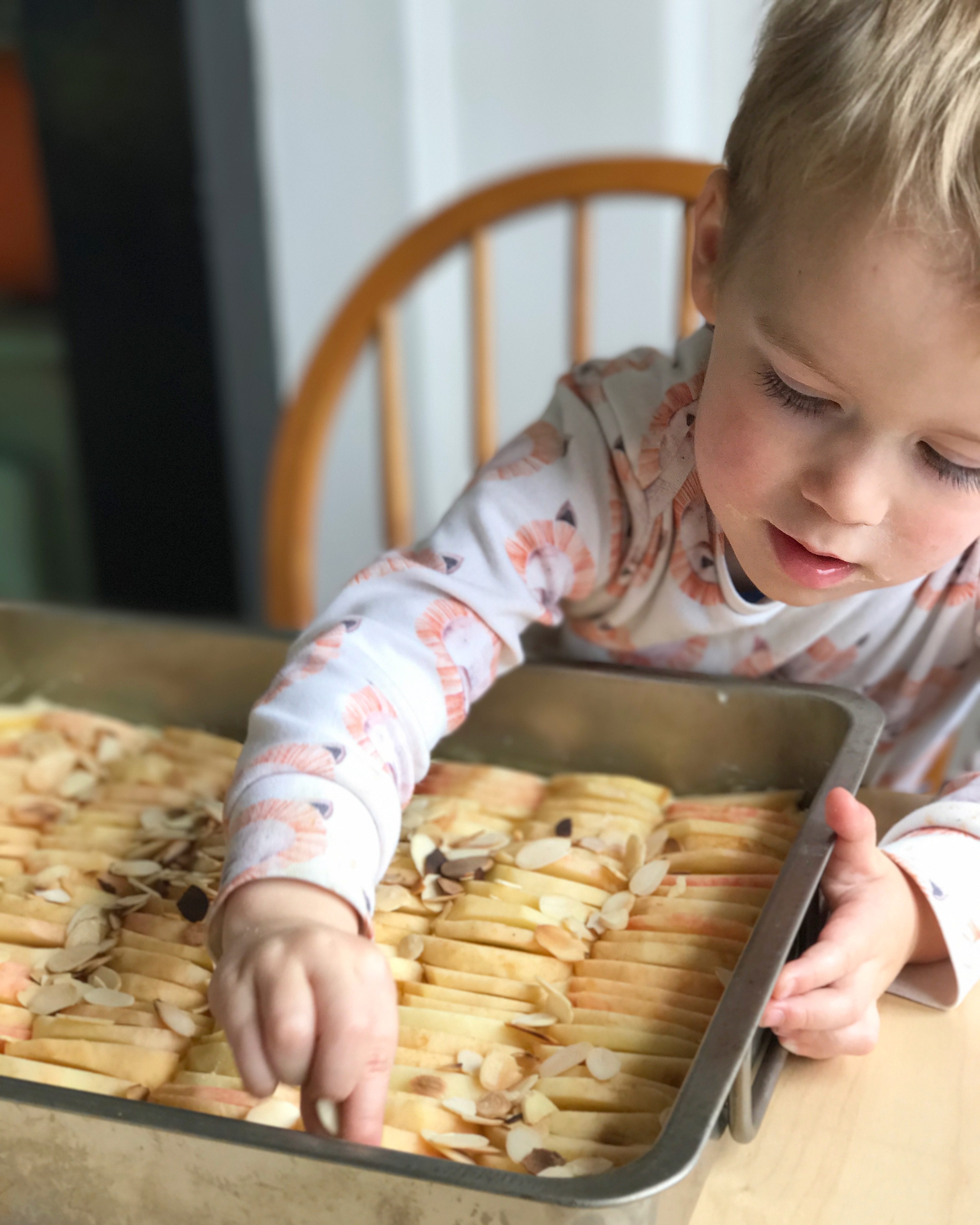 Then they both helped to arrange the apple slices. Oskar did a really good job of this. Mr Fox was a bit more haphazard, just randomly sticking pieces of apple in to the batter, so we rearranged them when he wasn't looking and told him he did a good job! A bit sneaky, I know, but they do need to be arranged evenly in order to bake evenly. I also let Mr Fox sprinkle the flaked almonds on top. I knew it was going to turn out with just one big pile of almonds in the middle, but he then let me help him even them out a little more afterwards.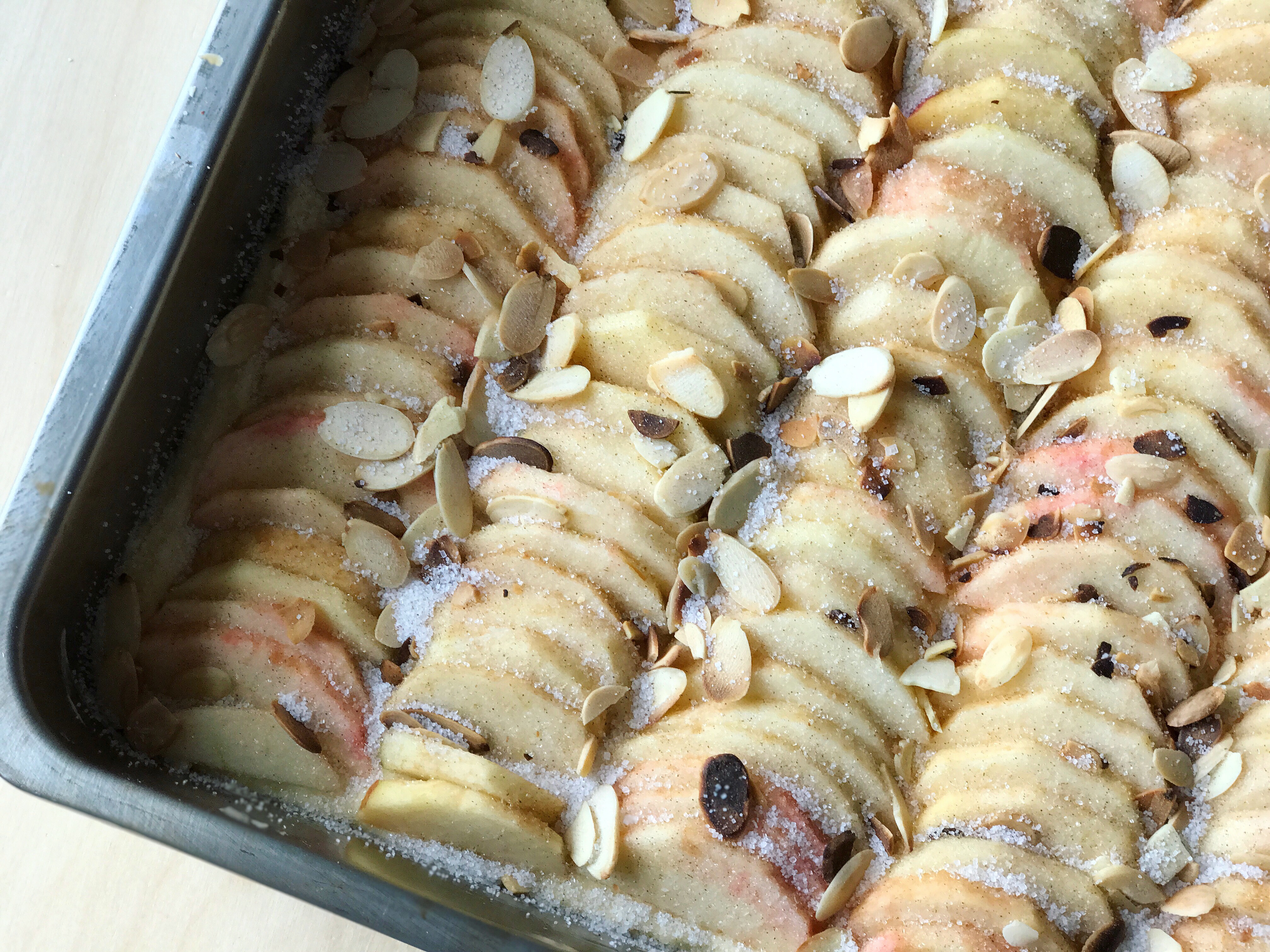 The boys were so proud of their efforts, and couldn't wait to tell their dad all about the cake they had made for him, as soon as he walked in the door. Looks like "Mama's Apfelkuchen" will continue to be a hit with the next generation too!