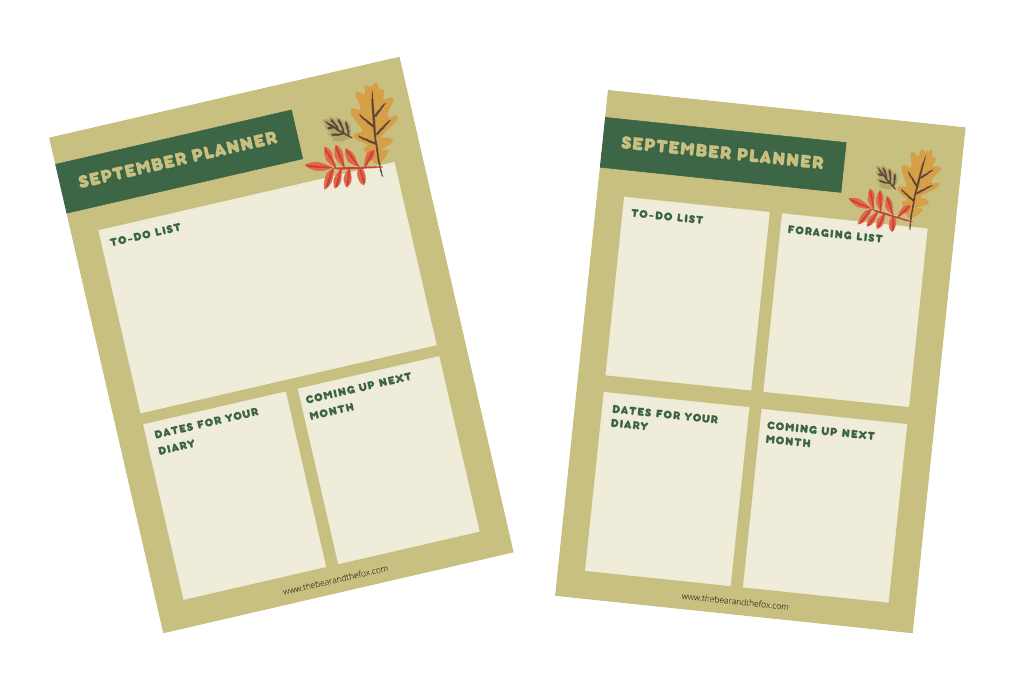 Planning for September
September! My favourite month of the year is here. I'm updating all my monthly planning posts that I created last year, to help you get more organised. I'm sharing our monthly list of things to do, plan, remember and celebrate, and for anyone who wants to be extra organised there's a free downloadable printable at the end of this post. For 2023 I've added a B&W printer friendly version too! The downloads include two sheets each, one with and one without a space for notes on foraging.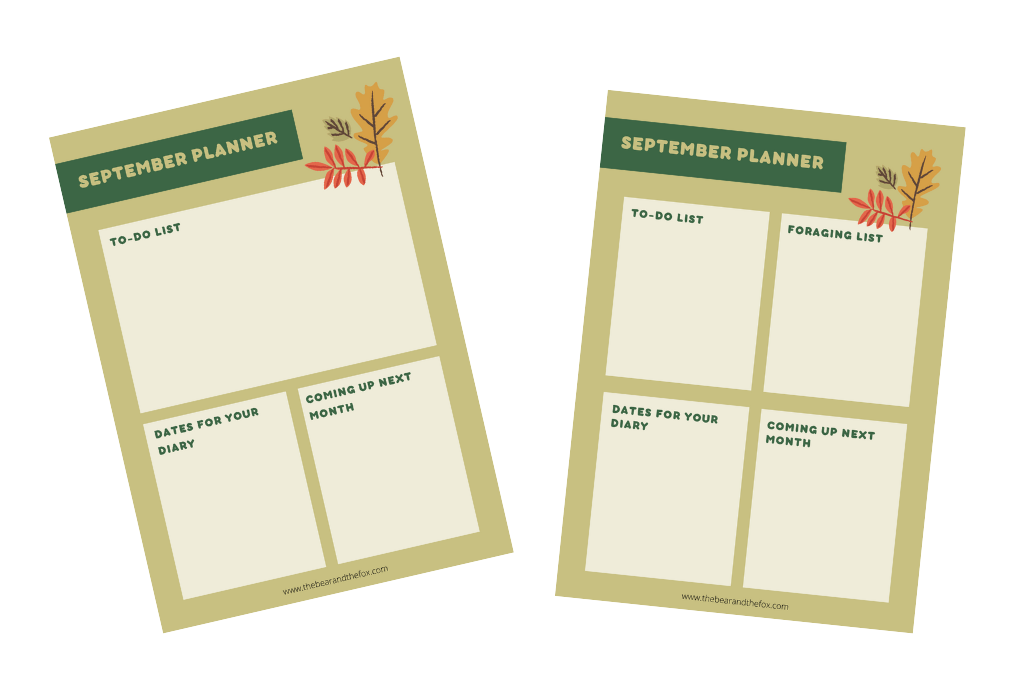 To Do
Book flu jab
If you've not done so already, now is the time to get your flu jab booked in before all the appointments get snapped up. It takes a couple of weeks to become fully effective, so you want to get it sorted before flu season kicks off. I usually go for mine at the beginning of October.
Stock up on Vitamin D
Vitamin D has a number of important functions, including supporting bone and muscle health. Our main source of Vitamin D is sunlight, which can be scarce in Scotland especially during the Winter months.The NHS recommends that infants and children under 5 should receive a daily Vitamin D supplement throughout the year, BUT ALSO that anyone over 5 in Scotland should consider taking Vitamin D supplements from October to March. So why am I putting this in the September planner? Well, last year it seems everyone remembered that recommendation about Vitamin D at the same time, and it wasn't that easy to get hold of it at the beginning of October, so this year I'm planning ahead and stocking up early. 
Plan your pumpkin patch visit
Autumn is my absolutely favourite time of year and our annual pumpkin patch trip is now something I very much look forward to (possible more than the kids…) Some people feel that pumpkin patches are a new fangled trend brought over from the US, but each to their own. If you love them as much as I do, then check out my handy map of pumpkin patches across Scotland – many of them have already opened their bookings for October!
Get October half term sorted
In Edinburgh, our Autumn half term usually falls in the middle of October. A perfect time for pumpkin patch visits (see above), and there's usually lots of other things happening around town too, e.g. at the various museums. Sometimes we go on a little mini break in – we've been to Linlithgow and Haddington in the past – but this year my parents are coming over from Germany for a visit, so we'll probably plan in a couple of day trips instead. If you're not going away over the half term break, or aren't able to take time off due to work commitments, you may have to sort childcare for when they are off school. Whatever it is you want or need to do – get it sorted now!
Order sparklers for Bonfire Night
I know what you're thinking – "Hang on, bonfire night isn't until November!" True, but it's right at the beginning of November. And when you actually remember, half way through October, they're usually all sold out in the shops and online orders won't arrive in time. So get ahead of time and order them in September. And while you're at it, why not order enough for New Year's Eve as well, that's one more thing sorted.
---
Time to Forage For
We've really gotten in to foraging over the past couple of years, so in my forward planning I'm going to include a reminder of what plants to forage for each month. This will of course vary hugely depending on which part of the world you live in. For us, it's what's ready to forage here in central Scotland. I've included two versions of the monthly download – one with, and one without a section for foraging (they're both in the same document).
In September we'll be foraging for…
Brambles
Elderberries
Apples
Plums
Pears
---
Dates for Our Diary
There are so many dates from different cultures and religions to consider, I'll just be listing the ones that we ourselves celebrate or commemorate (you can create your own personal list using the download at the end of this post). I'll also highlight some previous activities from our archives, which will help us to celebrate.
The only date for our diary this month is my birthday! To celebrate, here are some of my favourite cake recipes from the blog:
---
Coming Up Next Month
One thing I've found with monthly planning, is that the things that happen at the beginning of the month can often take you by surprise (like World Book Day, every single year!) So that's why at the beginning of each month I'll also be reminding myself what's coming up the following month…
---
---
As always, all resources and downloads on this blog are free, to make them accessible to everyone. However, if you are able and would like to support me with a small donation, which helps to keep this blog running, it would be much appreciated. Just hit the support button below. Thank you x