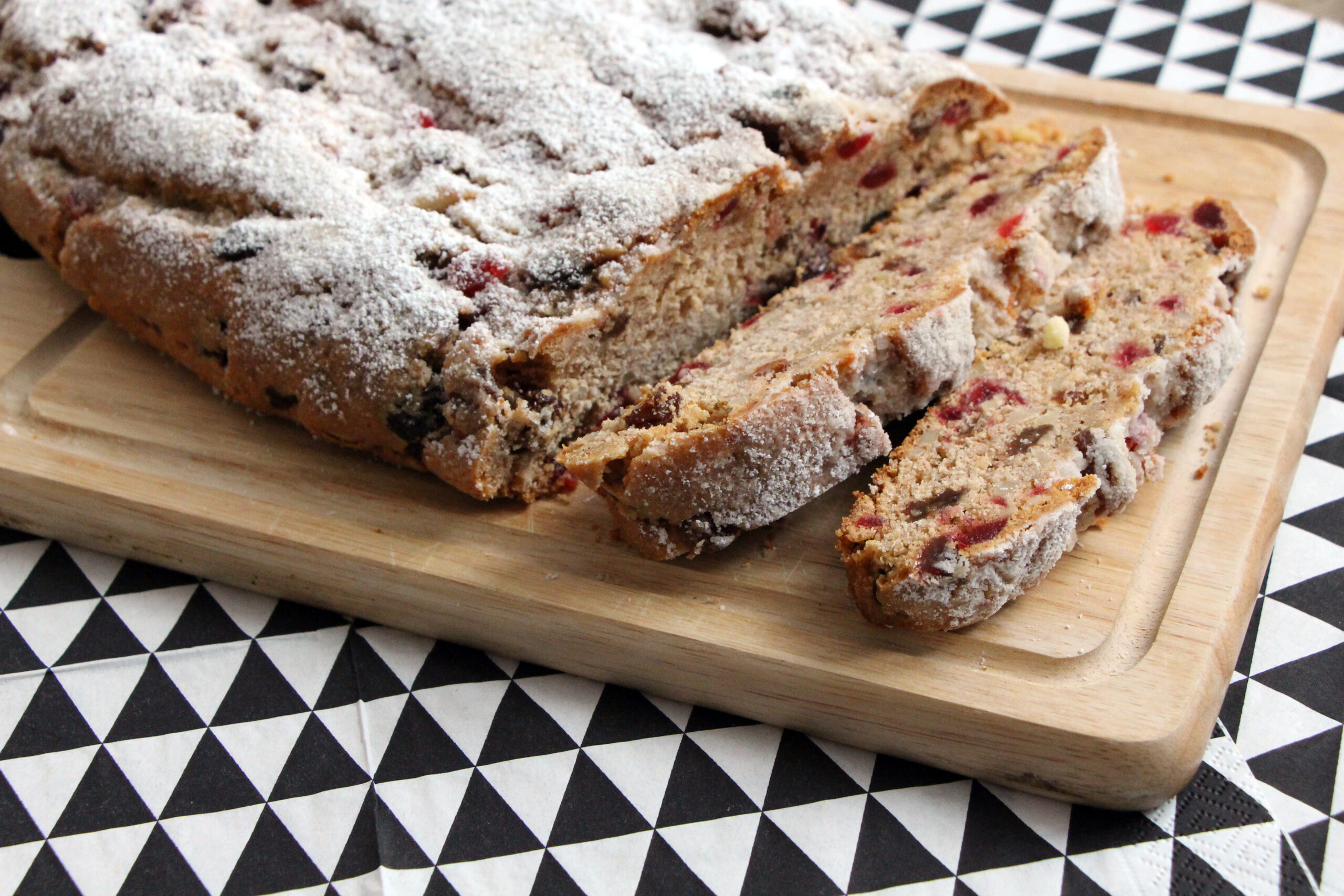 Gluten Free Christmas Stollen
One of the things I really miss about German Christmas, since going gluten free, is Stollen. Making it yourself was always such a challenge: the tough yeast dough needs the better part of a day kneading and rising and kneading and rising, if you are lucky enough that it does rise properly. Too many times, my yeast based GF baking hasn't risen properly and the baked goods ended up with the density of rocks. That was, until my friend Anne shared a recipe for a Quark Stollen on her blog a few year's. It uses no yeast, is much quicker to make (though beware, it requires some prep the day before!), and – most importantly of all – tastes delicious!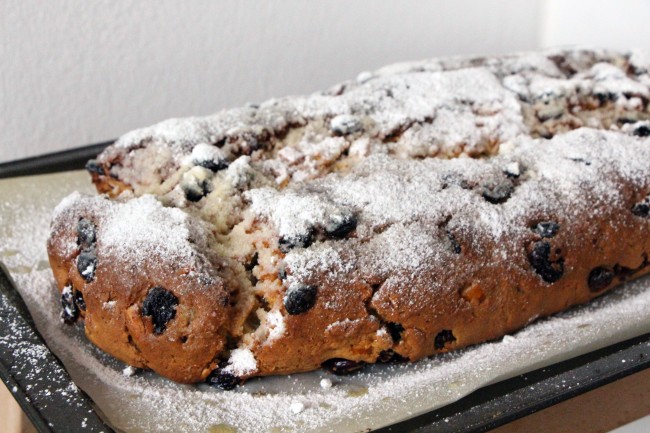 I adapted Anne's recipe a little, as I couldn't get hold of all the ingredients in her original recipe, though luckily Quark is now widely available in the UK. I also adapted it so that my kids could eat it (no rum!), and, of course, to make it gluten free. I didn't add anything extra to make it stick together more, I just substituted the flour and baking powder for GF versions and it seemed to work just fine. It's just a little bit more crumbly than regular Stollen, but it never lasts very long anyway.
Ingredients
For the Stollen:
200g raisins or sultanas
100ml cloudy apple juice
50g chopped almonds
2 eggs, size M
120g sugar
1 tsp vanilla essence
200g soft butter
250g low fat Quark ('Magerquark')
500g gluten free plain flour (I use Dove's Farm GF plain plain white flour blend or in Germany I used Schär's Mix C for 'Kuchen & Kekse')
5 tsp gluten free baking powder
1/2 teaspoon ground cinnamon
1/2 teaspoon ground cardamom
1/2 teaspoon ground ginger
1/4 teaspoon ground nutmeg
1/4 teaspoon ground cloves
100g candied orange peel
100g dried cranberries
For the topping:
40g icing sugar
80g melted butter for brushing
(adapted from 'Quick Quark Stollen' from Anne's Kitchen)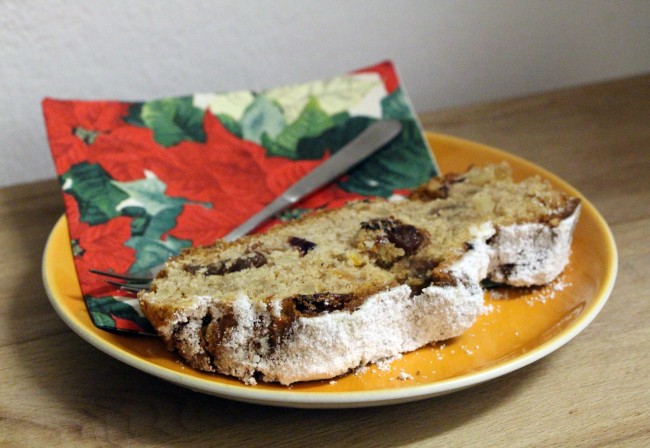 Directions
Day 1 (evening):
Soak the raisins in the apple juice for at least 8 hours or overnight.
Day 2:
Pre-heat the over to 180°C (or 160°C for a fan oven).
Dry roast the almonds in a saucepan, being careful not to let them burn, then set them aside.
Whisk together the eggs, sugar and vanilla essence until pale.
Add first the 200g butter and then the Quark, whisking again each time until creamy.
In a separate bowl, mix the flour, baking powder and ground spices. Gradually fold the dry mix in to the wet mix, then knead well until you have a dough. I found it easiest to do this with my hands, since the dough is quite tough.
Add the raisins (+ any remaining juice), candied peel, cranberries and chopped almonds and knead again thoroughly until the ingredients are well spread.
Line a baking tray with grease proof paper, place the dough in the middle and mould it in to a log shape. Since this recipe uses gluten free flour, the Stollen will spread out more than with regular flour, so don't make it too wide to begin with.
Bake in the pre-heated over for about 50 – 60 minutes (depends a little on your oven). Keep checking on it in between – if it looks like it's going to brown on top, cover it with some tin foil. If you insert a wooden skewer in to the Stollen and it comes out clean, then it's done!
Take the Stollen out of the oven, brush with half the melted butter and dust with half the icing sugar. Leave to cool for 15 minutes, then repeat the process and leave to cool completely.
Enjoy with a nice cup of tea!
(adapted from 'Quick Quark Stollen' from Anne's Kitchen)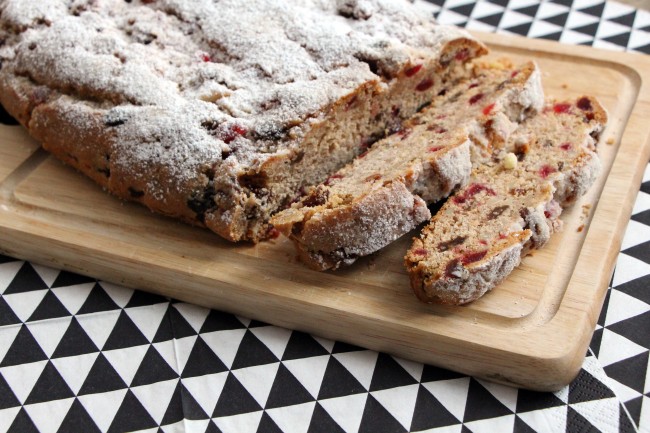 I experimented a little with the ingredients – basically you can use any dried fruit you like – and added some chopped up glacé cherries instead of the cranberries. You couldn't particularly taste the cherries in the end, but visually it did make the Stollen look like it was flecked with little ruby jewels!