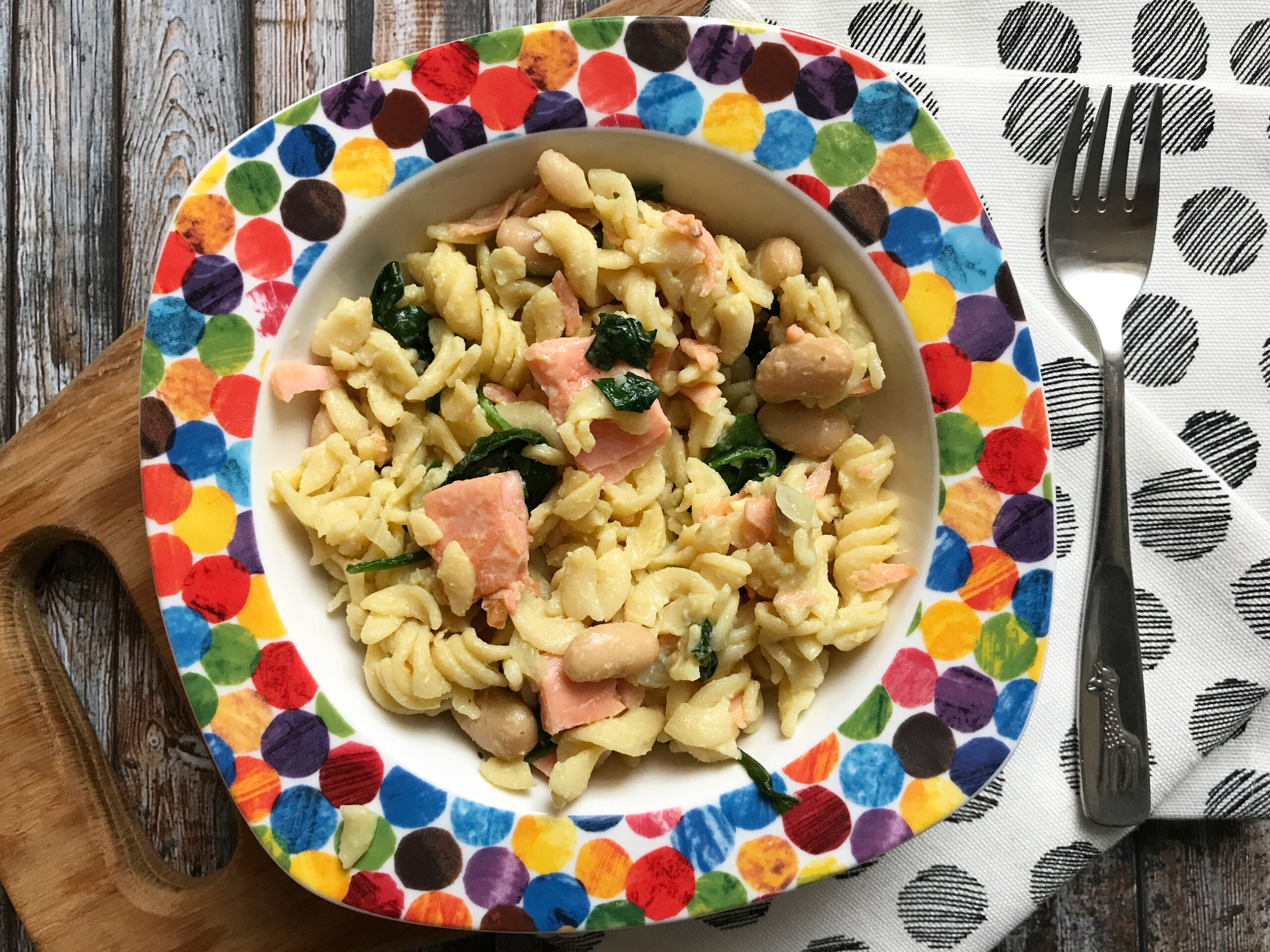 Smoked Salmon Pasta with Spinach & Canellini Beans
This one-pot salmon pasta is one of our new favourite mid-week meals. It's super easy to throw together, and using smoked salmon means you don't need to worry about pre-cooking any raw fish. It does have spinach in it, with I appreciate not all kids will like, but mine are fine with it as long as it's chopped up small as they don't like it when big wilted spinach gets "stringy". Alternatively, if your kids absolutely won't eat spinach, you can keep the leaves big and then they are easier to pick out of the kids portions…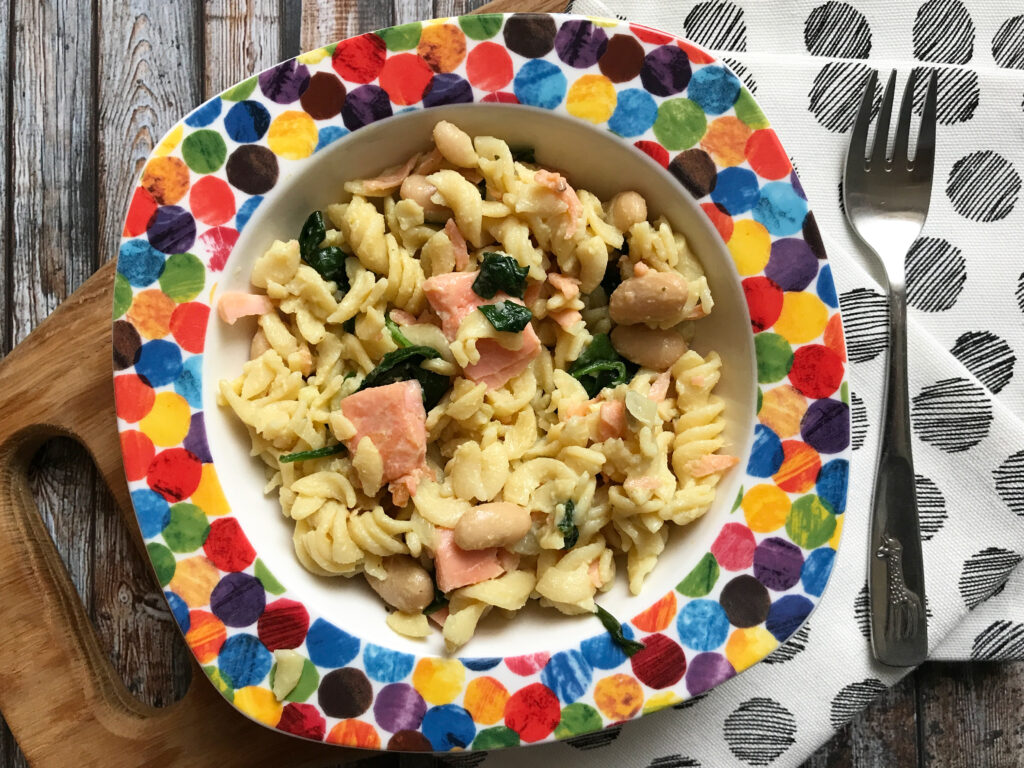 Ingredients
Serves 5-6
2 Tbsp vegetable oil
2 large shallots, peeled and finely diced
2 large cloves of garlic, crushed or grated
600ml vegetable stock (or 600ml water with 2 tsp bouillon powder)
900ml oat milk (or another plant milk of your choice)
450g fusilli pasta (gluten free if required)
1 x tin of cannellini beans, drained 
200g smoked salmon, cut in to bite sized pieces
200g baby leaf spinach, roughly chopped
cracked black pepper
a grating of fresh nutmeg or a pinch of ground nutmeg
Directions
Heat the oil in a large saucepan or deep frying pan (we use a large wok-style frying pan) and fry the shallots on a low heat for 5-10 minutes until they start to soften.
And the stock, milk and pasta. Bring to a simmer, then simmer for 12-15 minutes or until the pasta is cooked through but 'al dente' (with a bit of a bite) and the liquid has cooked down. If the liquid cooks down before the pasta is done, just add a little more water. 
Add the beans, salmon pieces and spinach and stir through the pasta. Keep cooking for another 5 minutes or so until the beans and salmon have warmed through and the spinach has wilted. Note: Even though baby leaf spinach is already quite small, I still chop it up some more first before adding it to the dish as my kids prefer it chopped up small. If your kids are not that fussed, you can skip chopping the spinach.
Season with cracked black pepper and a grating or pinch of nutmeg (I don't add any salt, as I find that with the stock and salmon it's salty enough already).
My kids can't get enough of broccoli, so I usually serve this with some steamed broccoli on top. They also like to cover it in grated parmesan which of course no longer makes it dairy free but if you need to avoid dairy you can just skip the cheese. For the grown-ups, a sprinkle of chilli flakes on top is also nice if you like that kind of thing.