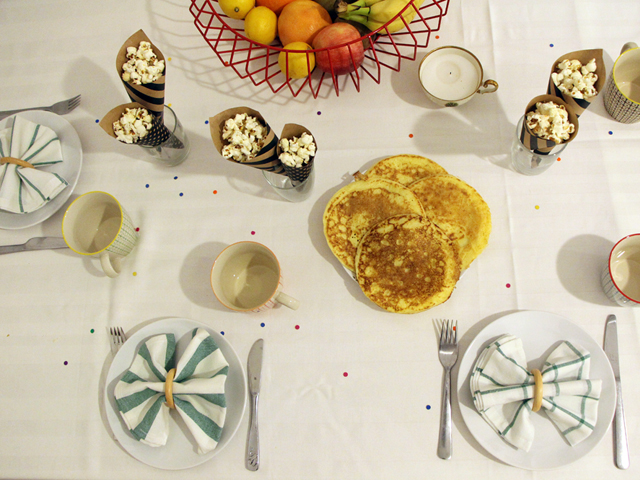 Pancakes & Popcorn Dinner Party
Tuesday afternoon, I arrived back from my 'girls only' long weekend away in Scotland, to be greeted not by the usual laughing bundle of joy that is my baby, but by a little feverish ball of snivelling misery. Therefore, despite the best laid plans, we postponed Pancake Day until the next night, when Mr Fox was feeling a little bit better, even though Lent had already started by then. Fasting, shmasting! It also meant our 'Pancakes & Popcorn' party could double up as farewell dinner to Granny Scotland, who had kindly flown over to help out with the boys while The Husband had to work.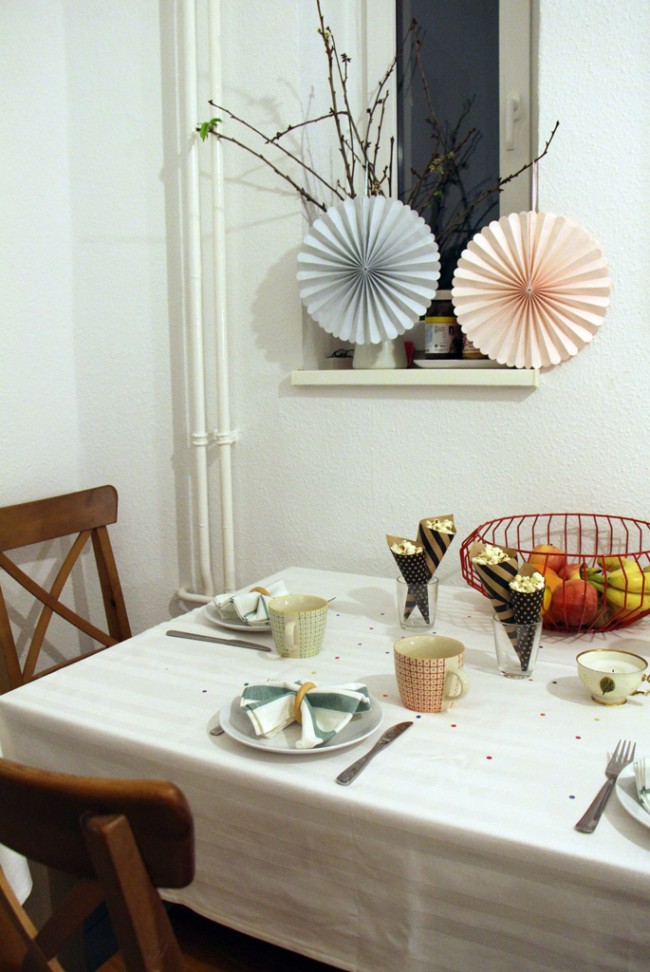 I got the idea for the decorations from an Ikea newsletter, believe it or not. I think the clown bow ties and confetti were intended for Karneval, but since Karneval and Pancake Day coincide, it was perfect for our Pancakes & Popcorn dinner party.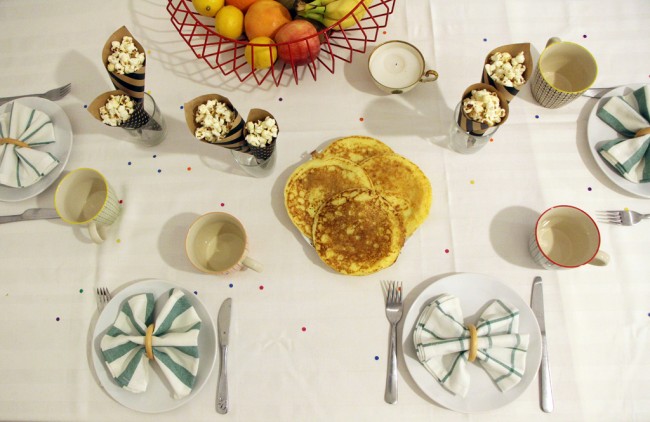 The bow ties are made from Ikea ELLY tea towels. I cut a set of four tea towels in half and hemmed the edges. Voila! Eight fabric napkins! The napkin holders are actually just wooden curtain rings from the DIY store.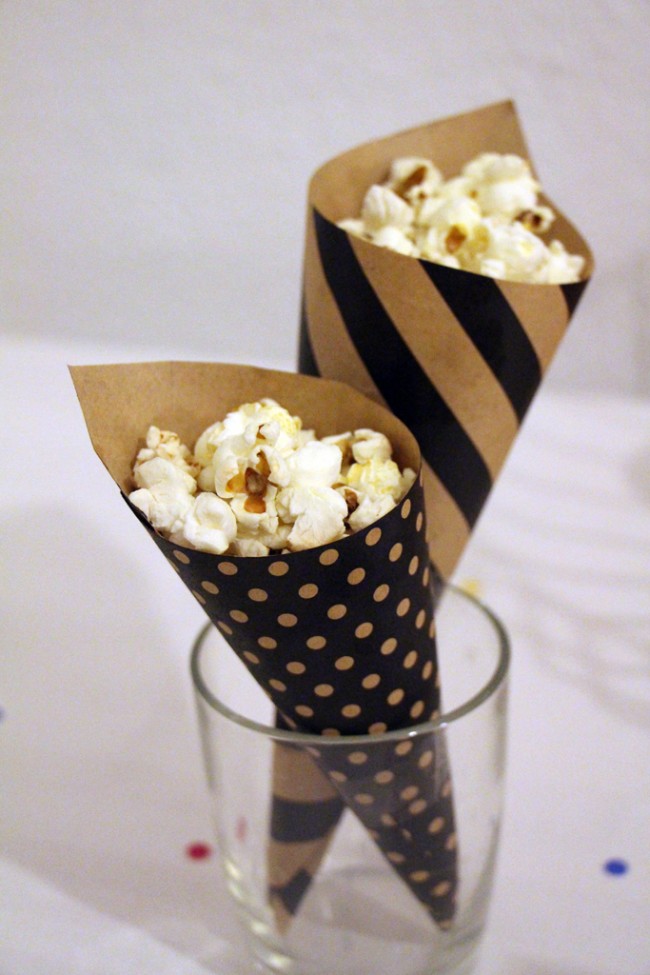 The popcorn holders I made by cutting up a set of Ikea FRAMSTÄLLA paper gift bags and taping them in to cones. The Boy thought it was so cool that we were having popcorn for dinner! (scored myself some mummy points there, haha)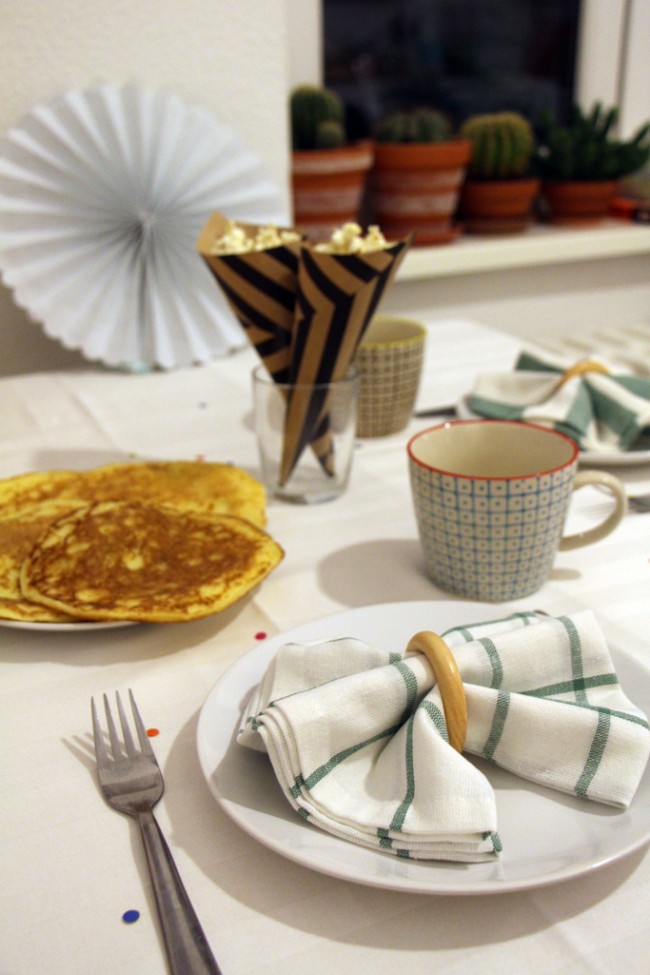 I had been planning to make the coconut and banana pancakes I had posted about earlier this week, but since I had been cuddling a sick baby for two days instead of going shopping, I made do with what we had in the house and made some simple ones instead. In the end, everyone was happy. Even the baby.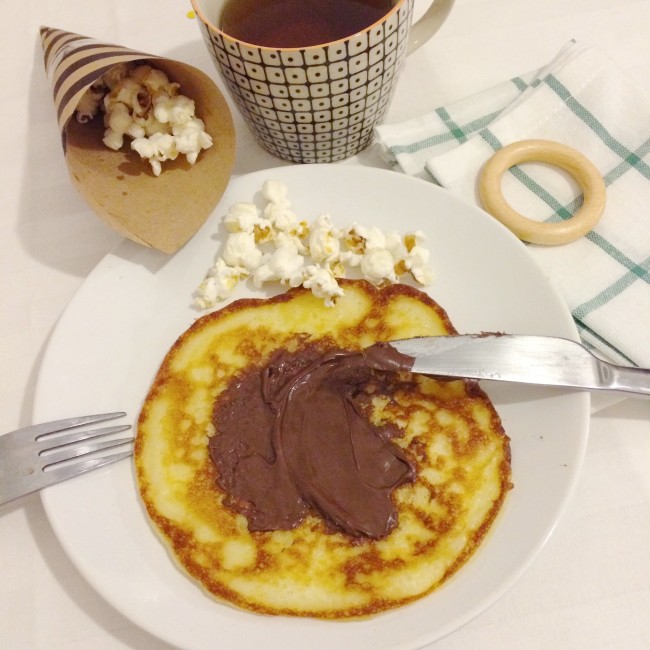 I hope everyone who was celebrating Pancake Day had a great day. And if you have any good pancake recipes to share, do let me know! We like eating pancakes any day of the year ;)