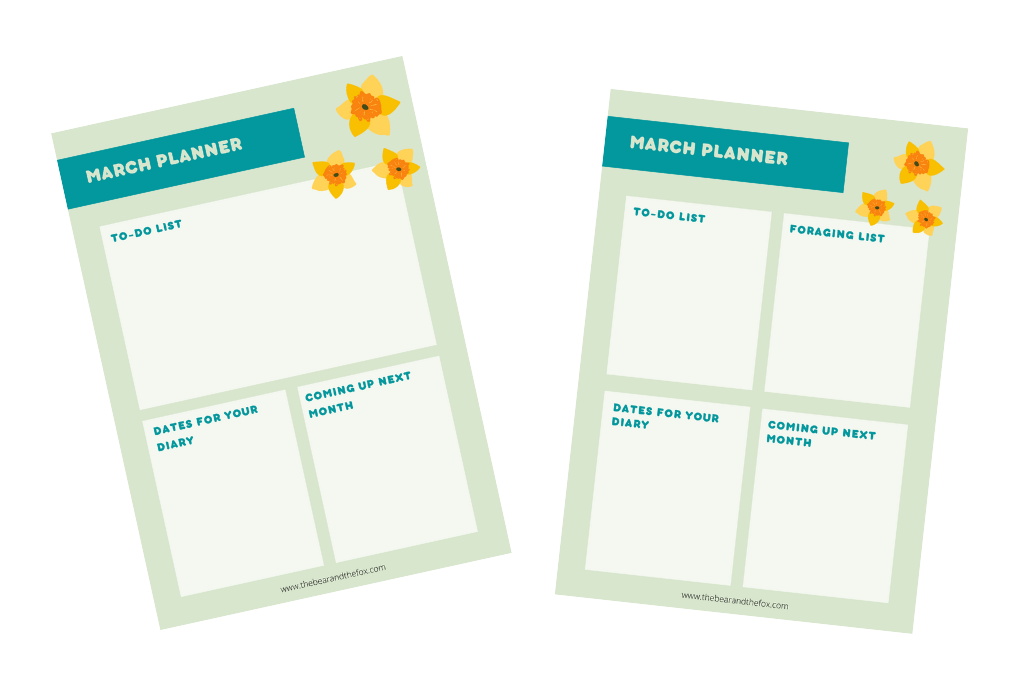 Planning for March
Last updated: 28 February 2023
March is within reach – I hope we're on the home run now for Spring, and not about to witness a second Winter! For those who missed it last month, I'm updating all my monthly planning posts that I created last year. In case it helps anyone else be more organised too, I'll be sharing our monthly list of things to do, plan, remember and celebrate. And for anyone who wants to be extra organised there's a free downloadable printable at the end of this post, to help you make your own monthly list – for 2023 I've added a B&W printer friendly version too! The downloads include two sheets each, one with and one without a space for notes on foraging.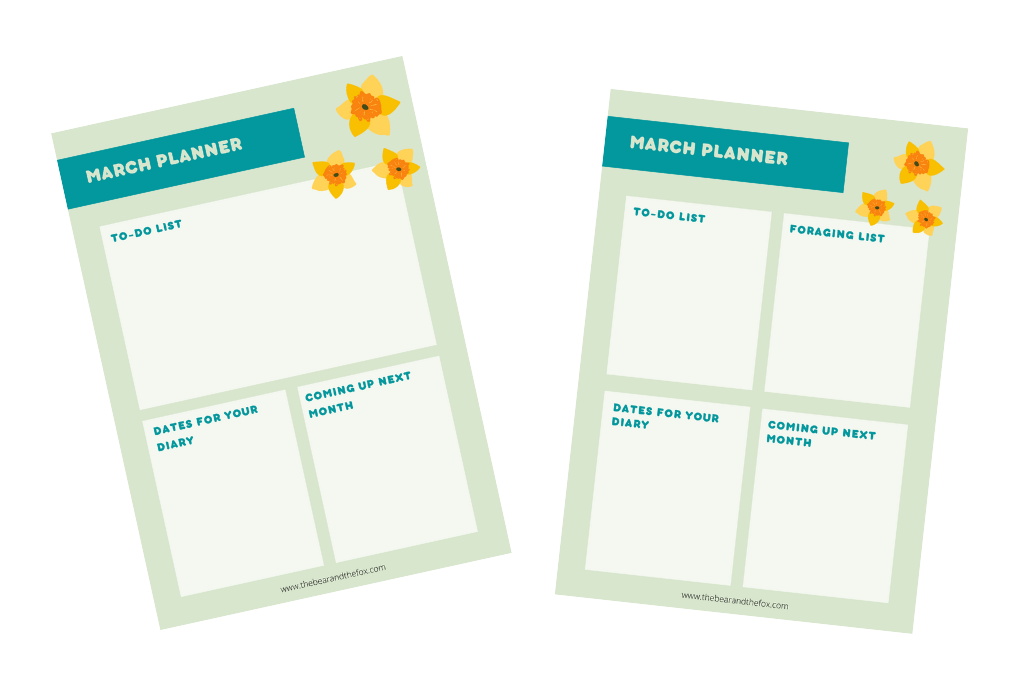 To Do
Planting seeds
My favourite thing about spring is planting things. Although we live in the city, we have both a shared garden where we have claimed a small corner, and we do a lot of window sill gardening too. March is the time to get all those little seedlings started off, so that they'll be ready to go in the ground and the window boxes when the warmer spring weather comes around.
Buy new shoes for the kids
As we head out of winter in to warmer months, the kids will be needing new shoes as even in Scotland it's getting too warm to keep wearing their winter boots. And of course they've grown out of last year's spring/ summer trainers and walking shoes. It's always a matter of getting the timing just right – don't buy too soon in case they have a growth spurt, but don't leave it too late or the shops won't have anything decent left in their size. Hand on heart, I hate buying shoes!
Get organised for Easter
Easter is a big celebration for us, and while it doesn't take as much preparation as Christmas I do like to prepare for it well in advance. Easter falls on 9th April this year, but giving myself plenty of time means less stress when the big day comes. So, make yourself a big Easter 'to do' list and start ticking off all those bits and pieces, and before you know it you'll be all sorted!
Last year we were visiting family in Germany for Easter, but this year we'll be at home in Edinburgh and my Easter list looks something like this:
Plan menu for Easter Sunday
Reserve grocery slot
Pre-order meat from the butcher
Check with friends if they want to meet up for Easter – at theirs or ours?
Organise gifts/ chocolate bunnies/ eggs for the kids, friends, neighbours
Plan Easter egg hunt
Check church service times
Book time off work
Organise childcare for any days working
Book a summer holiday
In Scotland, our school summer holidays start at the end of June, so with three months left to go it's time to book a trip away before everything affordable is booked up! We've actually already booked flights to Germany, for a family wedding at the beginning of the holidays, but we're also planning a few days at the seaside towards the end of the holidays. In the past, we've organised holidays much further in advance, especially bigger trips abroad, but since the pandemic we've got used to booking things at shorter notice in case of cancellations. It looks like things are starting to change again though, with people getting sorter much sooner, as a lot of places are already booked up for the summer. I hope we can still find something!
---
Time to Forage For
We've really gotten in to foraging over the past couple of years, so in my forward planning I've started including a reminder of what plants to forage for each month. This will of course vary hugely depending on which part of the world you live in. For us, it's what's ready to forage here in central Scotland (and even here the foraging times sometimes vary depending on what the weather has been like). If you're not bothered about foraging, the monthly download included two pages – one with, and one without a section for foraging.
In March we'll be foraging for…
Dandelions
Daisies
Gorse
Ground Elder
Nettles
Wild Garlic
---
Dates for Our Diary
There are so many dates from different cultures and religions to consider, I'll just be listing the ones that we ourselves celebrate or commemorate (you can create your own personal list using the download at the end of this post). I'll also highlight some previous activities from our archives, which will help us to celebrate.
2 March – World Book Day (UK)
19 March – Mothering Sunday (UK)
---
Coming Up Next Month
One thing I've found with monthly planning, is that the things that happen at the beginning of the month can often take you by surprise (like World Book Day, every single year!) So that's why at the beginning of each month I'll also be reminding myself what's coming up the following month…
---
---
As always, all resources and downloads on this blog are free, to make them accessible to everyone. However, if you are able and would like to support me with a small donation, which helps to keep this blog running, it would be much appreciated. Just hit the support button below. Thank you x