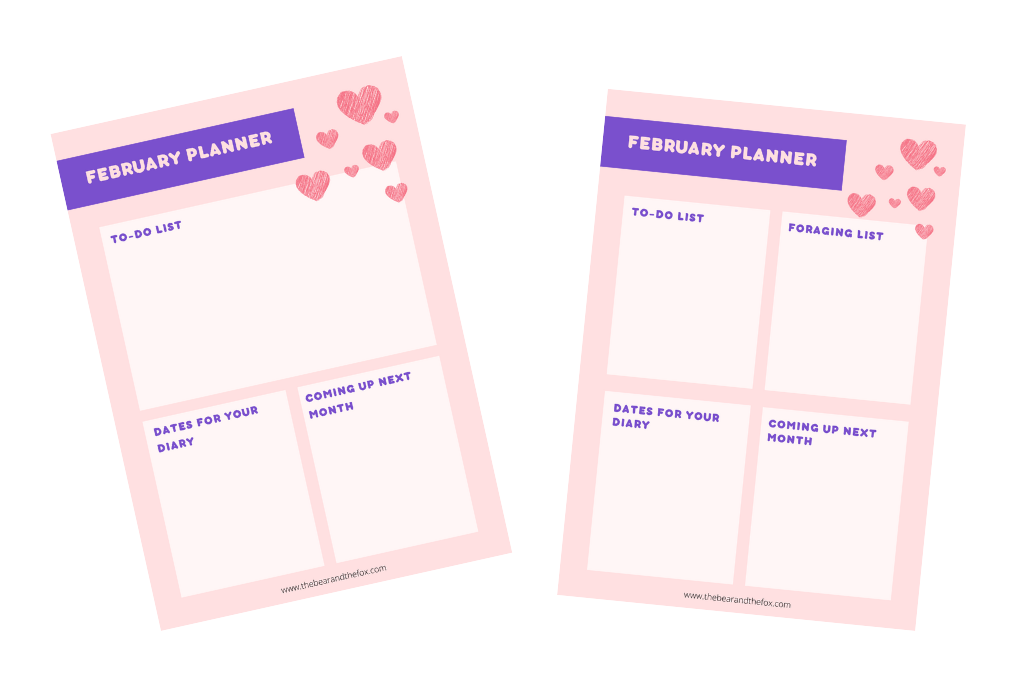 Planning for February
Last updated: 29 January 2023
It's February already, how did that happen? The new year seems to be well under way. In case you missed it last month, I'll be updating all my monthly planning posts that I created last year. In case it helps anyone else be more organised too, I'll be sharing our monthly list of things to do, plan, remember and celebrate. For those who want to be extra organised there's a free downloadable printable at the end of this post, to help you make your own monthly list, and for 2023 I've added a B&W printer friendly version too! The downloads include two sheets each, one with and one without a space for notes on foraging. There's not much foraging happening for us in Scotland in February, but depending on where you live it may be different for you.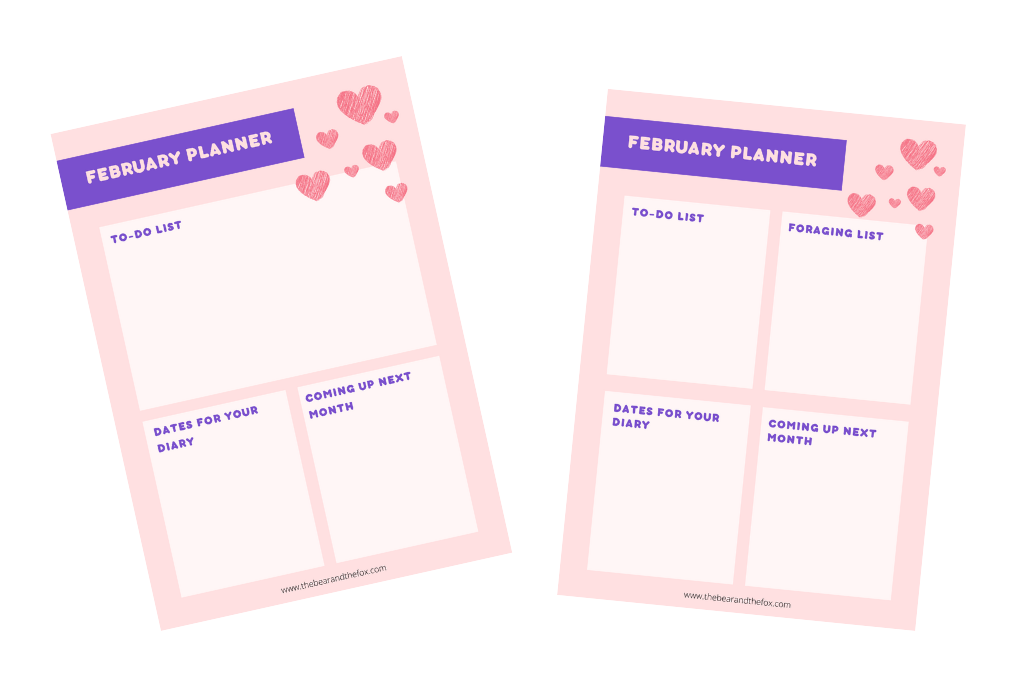 To Do
Plan World Book Day Costumes
In the UK, World Book Day is always held on the first Thursday in March, and without fail it always takes parents by surprise. Many schools celebrate by letting children dress up as their favourite characters, and there's often a lot of last minute panic and scrabbling around for costumes. This year is falls on Thursday 2nd March, so to be prepared when March comes around, get the date in your calendars now and plan ahead! Here's some of our tips from previous years to help you out:
Create a Plan for Half Term
This will vary depending where you live, but in Scotland schools have a half term holiday in February. If you're going away,you'll probably have booked it long ago but if you are staying at home it's good to still have a plan. Whether you're working and sending the kids to a holiday camp, or taking time off to do stuff together, I always find it helps to write out what's happening each day when the normal routines are disrupted. We'll then pop that plan on the fridge, and everyone can check at breakfast each day what's happening when. We're not going away this year, as we have visitors from Germany coming over for the week, so we're busy planning where all to take them. So far, we've got trips to the National Museum and the Portrait Gallery planned, and if the weather allows we're hoping for a winter beach trip. 
---
Dates for Our Diary
There are so many dates from different cultures and religions to consider, I'll just be listing the ones that we ourselves celebrate or commemorate (you can create your own personal list using the download at the end of this post). I'll also highlight some previous activities from our archives, which will help us to celebrate.
14 February – Valentines Day
20 February – 'Rosenmontag' (Karneval in Germany)
21 February – Shrove Tuesday/ Pancake Day
---
Coming Up Next Month
One thing I've found with monthly planning, is that the things that happen at the beginning of the month can often take you by surprise (like World Book Day, every single year!) So that's why at the beginning of each month I'll also be reminding myself what's coming up the following month…
2 March – World Book Day (UK)
19 March – Mothering Sunday (UK)
---
---
As always, all resources and downloads on this blog are free, to make them accessible to everyone. However, if you are able and would like to support me with a small donation, which helps to keep this blog running, it would be much appreciated. Just hit the support button below. Thank you x