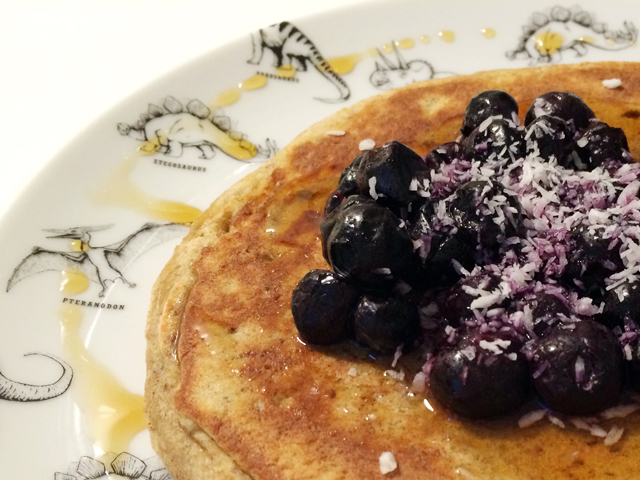 Banana & Coconut Pancakes with Blueberries
Who said the months after Christmas are dull and depressing? It's Pancake Day tomorrow. Pancakes!! If you are still in need of a last minute, easy recipe, I can totally recommend these banana and coconut beauties. We used a 15cm diameter pan, and it made four pancakes. Perfect for a family breakfast. Just multiply the quantities for bigger pancakes/ more people.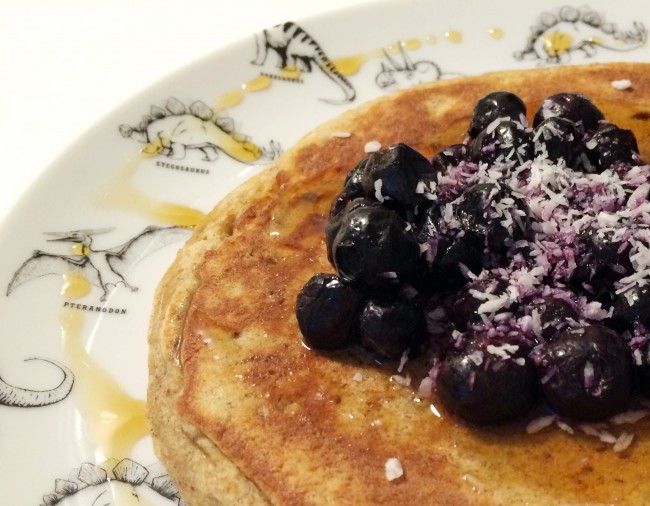 Ingredients
2 large, soft bananas
4 large eggs
2 tablespoons melted butter
4 tablespoons gluten free all purpose flour (e.g. Dove's Farm or Schär)
2 tablespoons desiccated coconut
2 tablespoons shredded linseeds
vegetable oil
Plus blueberries, desiccated coconut, and agave sirup or honey to serve.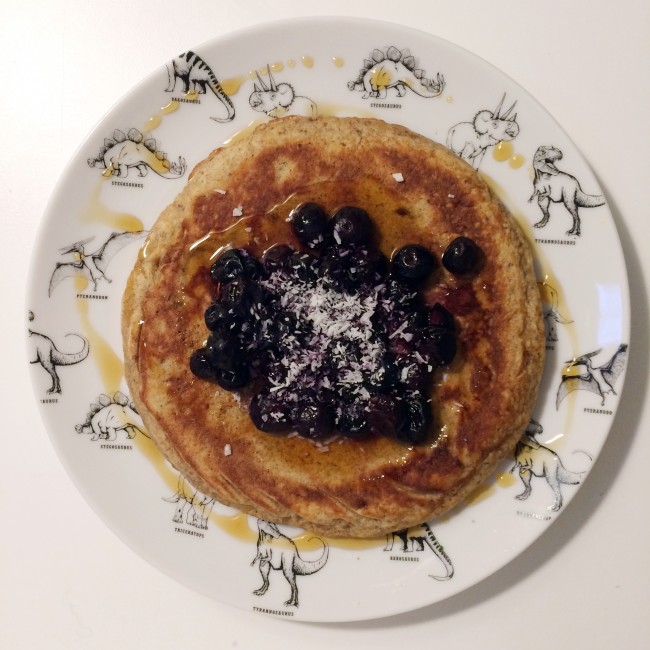 Directions
Mash the bananas in a large bowl.
Whisk the eggs and mix them in, along with the melted butter.
In another bowl, sift the flour and mix in the coconut and linseeds.
Fold the dry ingredients in to the wet ingredients, then leave to stand for about 20 minutes.
Lightly oil a frying pan and heat on a medium heat (our cooker goes up to 9 and I heat it on 6 for this)
Put a ladle of batter in to the hot pan, rolling it around the cover the surface.
Leave to cook until the top starts to set, then flip it over and cook on the other side.
Once cooked golden on both sides, repeat with the rest of the batter.
Serve each pancake with a handful of blueberries (I use frozen ones at this time of year – defrosted, obviously), a sprinkle of desiccated coconut and a drizzle of agave sirup or honey.
HAPPY PANCAKE DAY EVERYONE!
Looking for more yummy pancake recipes? Check out our other pancake posts!