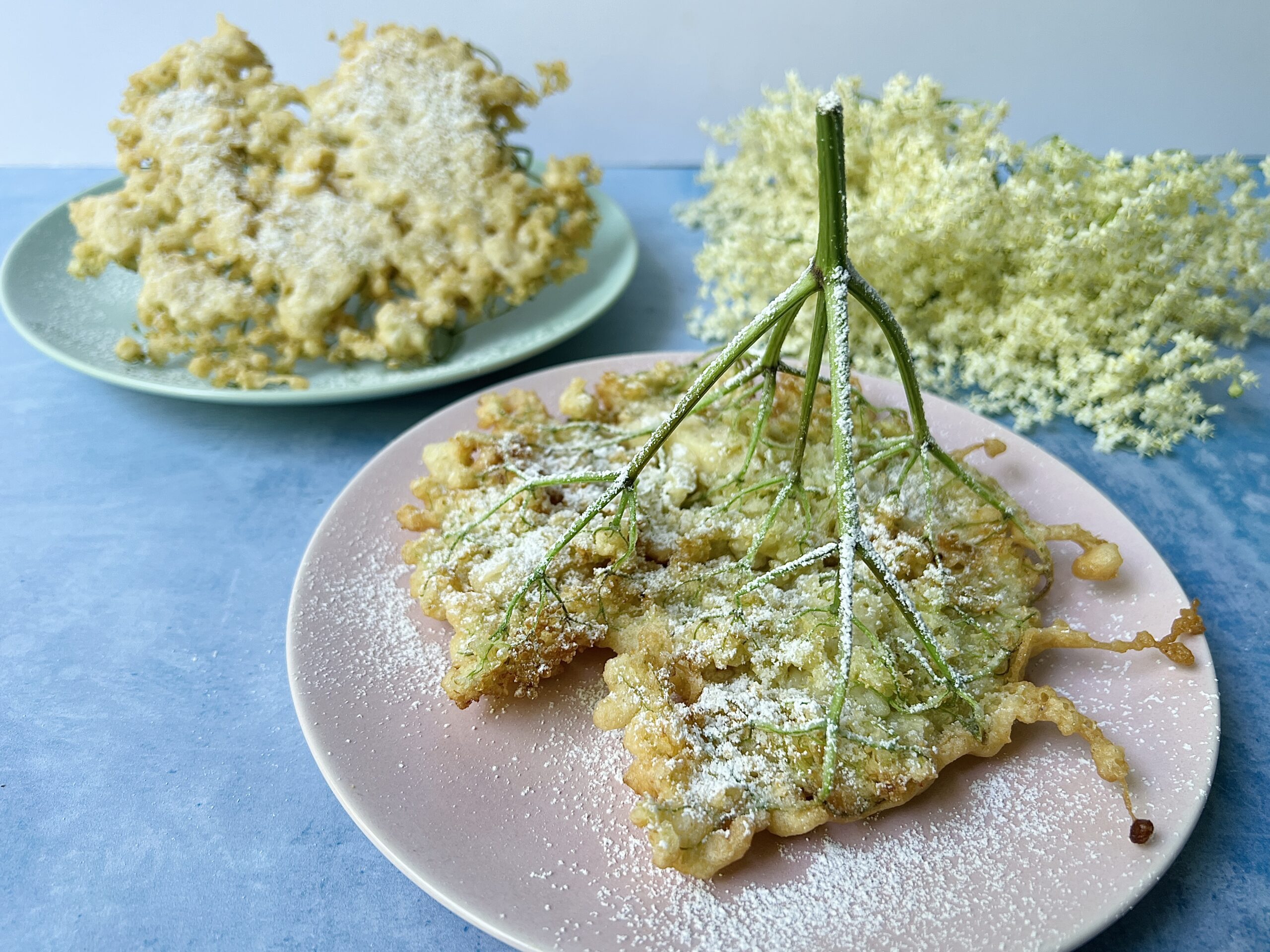 Frittierte Holunderblüten – Elderflower Fritters
My favourite thing about June is the elderflowers in bloom. If you have any growing in your garden, or in a nearby foraging location, the sweet scented blossoms make a refreshing summer cordial, but the edible flowers are also delicious to eat. In today's recipe, I'll show you how to make them in to tasty fritters, perfect for a summer afternoon treat.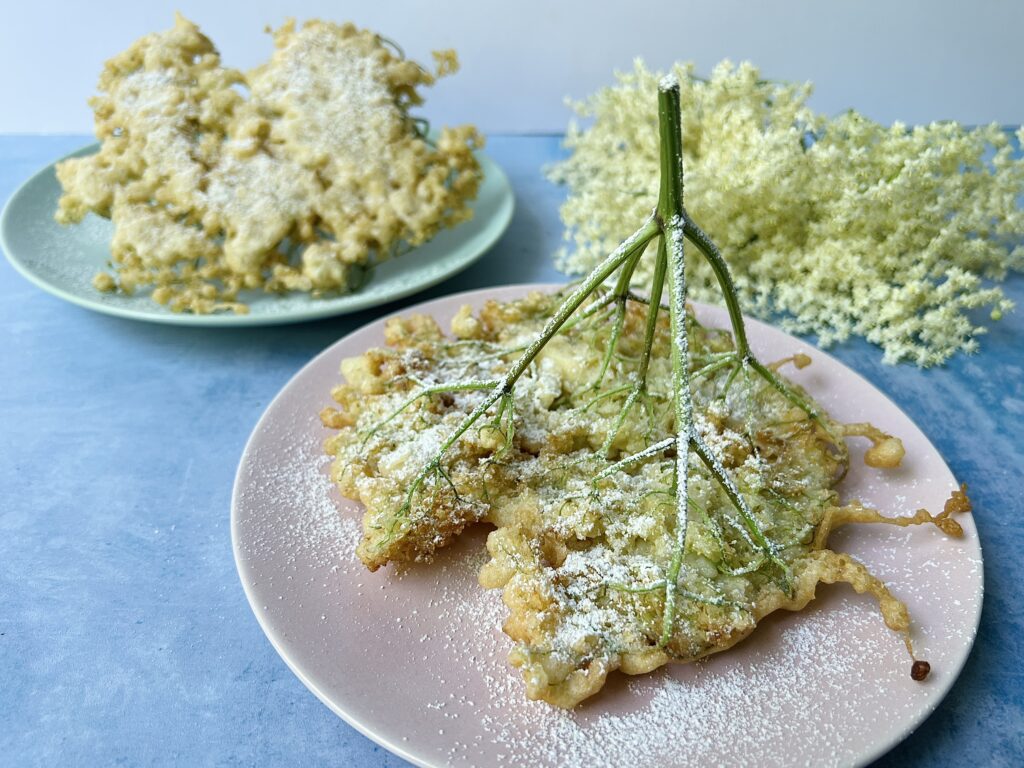 Ingredients
(makes 2-3 fritters, just double the recipe for more)
2-3 large elderflower heads, freshly picked (leave at least 1 inch of stem to handle them by)
1 large egg
125ml sparkling mineral water
2 teaspoons caster sugar
1 tsp vanilla essence
90g flour (gluten free, if required)
Neutral tasting oil for frying, e.g. sunflower or rapeseed oil
Icing sugar for dusting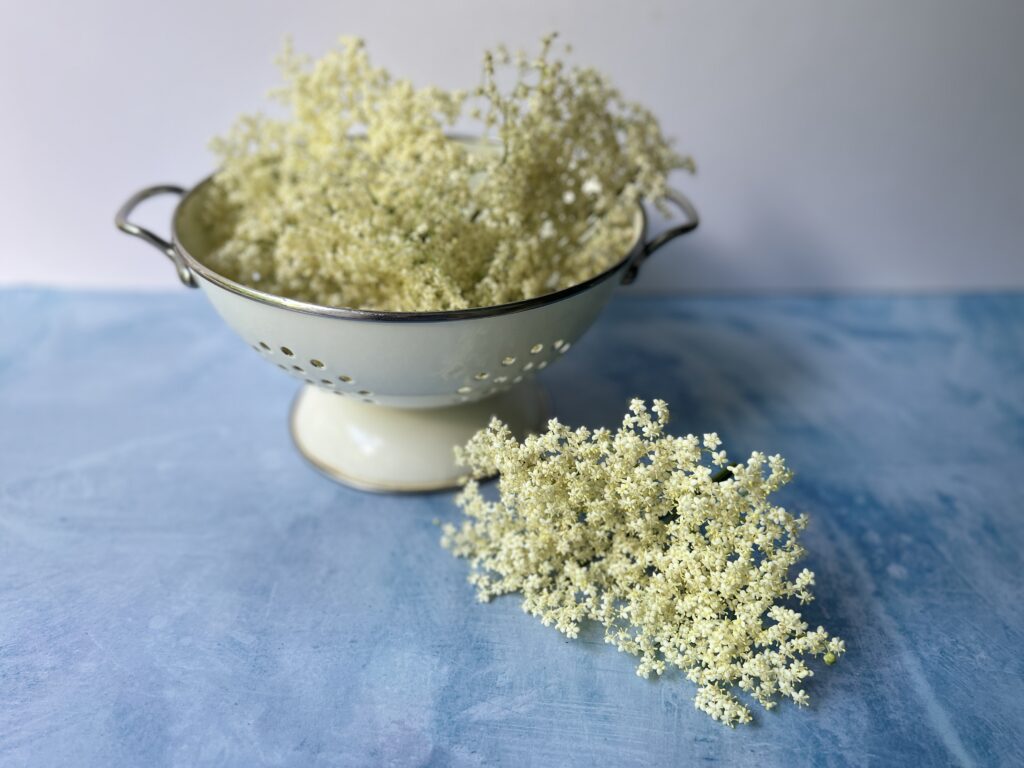 Directions
Gently shake the flower heads to loosen any dirt or insects. Do not wash the elderflowers as this will wash away the pollen and they will lose a lot of their flavour.
In a bowl, whisk the egg, then mix in half of the mineral water, the sugar and the vanilla, until well combined.
Add the flour and whisk again until smooth. Finally, add in the rest of the mineral water.
Heat around 1/2 inch of oil in a wide pan over a medium to high heat.
Holding the elderflowers heads by their stems, dip each flower head into the batter, let any excess drip off a little, then drop them into the pan with the hot oil, flower side down.
Fry until lightly golden. This will only take around a minute or so. Remove the flower head from the oil by its stem, then transfer to a plate lines with a paper towel to soak up the excess oil.
Dust the fritters with some icing sugar to serve, and eat them straight away while they are still crisp.
To eat them, just snip off the parts of the stems that weren't fried, then tuck right in!
How to tell if your oil is the right temperature
You want the oil to be hot enough that it quickly fries the fritter without soaking up too much oil and getting all soggy, but not so hot that it burns straight away. One of the safest methods is to drop in a single kernel of popcorn. If the kernel will pop when the oil reaches the right temperature. If you don't have any popcorn to hand, you can test the temperature by dipping in the handle of a wooden spoon. If no or very few bubbles pop up, then it's not hot enough. If the oil bubbles very, very vigorously around the handle, then the oil is too hot and needs to cool off a little. If the oil starts steadily bubbling, then the oil is the right temperature for frying.