Foraged Nettle Pesto
Foraging for food, and then cooking with your foraged bounty, is one of the great joys of life. A real back to nature experience. Living in the city, we are a bit limited but there are still options around us, especially with the woods and hills not far from us. We always forage for brambles in the Autumn, and last year we discovered a community orchard so ended up with a lovely foraged apple and bramble crumble. The boys had expressed an interest in trying some other foraging, so on one of our recent walks we took along a pair of thick gardening gloves and collected a bag full of fresh nettles. There's plenty of them in the woods, they grow like weeds. We filled a big bag with nettle tops – just the top 6 leaves or so from each plant (don't attempt this without gloves!) – and when we got back home we made nettle pesto to go with our pasta for dinner. Honestly, I thought the boys wouldn't eat it. They usually shun my home made basil pesto in favour of store bought pesto from a jar, they say the home made stuff is too spicy. I always thought it was the fresh garlic in it that put them off, which I guess you could describe as spicy, but I'm thinking it might be the fresh basil which can pack quite a punch too, because they loved the nettle pesto! It's very mild in comparison, and I only used one clove or garlic (but it you like your pesto stronger you can use more garlic). The excitement of eating pesto made out of foraged nettles probably also played a part. Here's how to make your own. One bag full of nettles gave us about 40g, which is enough for two lots of pesto.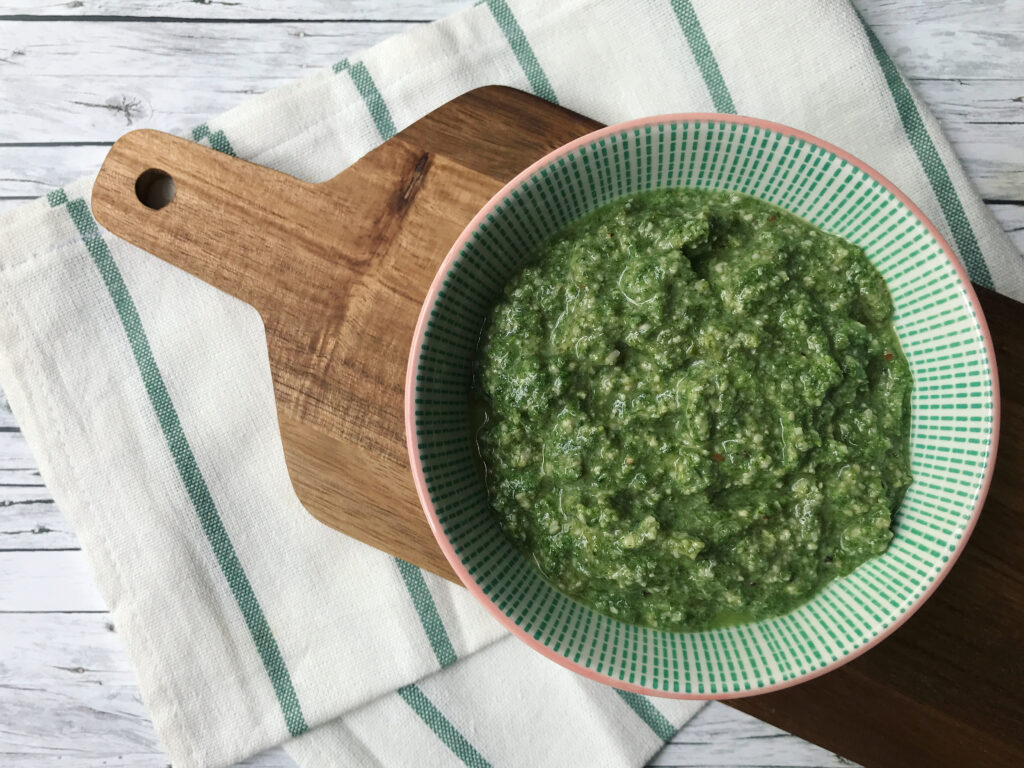 Ingredients
20g of nettles
1-2 cloves garlic
40g sunflower seeds
4 Tbsp water
6-8 Tbsp regular olive oil (NOT extra virgin, the flavour is too strong)
1 lemon
salt & pepper
50g of finely grated parmesan
You will also need:
a saucepan
tongs and/ or marigolds (kitchen gloves)
a bowl of ice water
a colander
a tea towel (optional)
a blender or a blender stick + plastic bowl
a knife and chopping board
a cheese grater
a tablespoon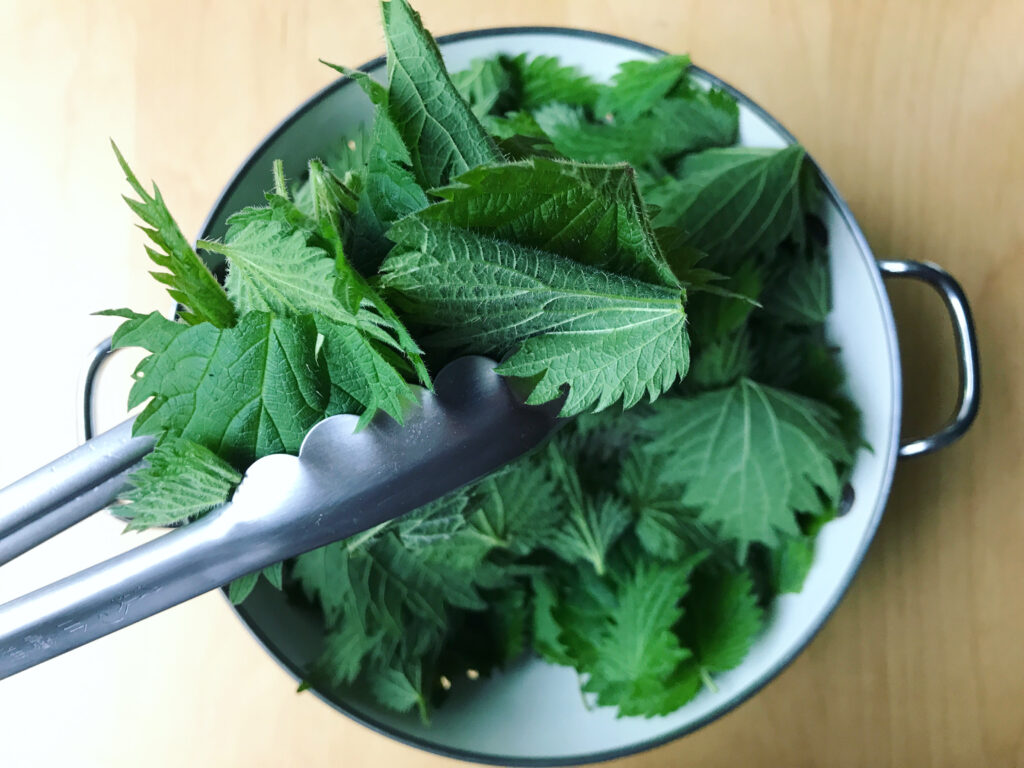 Directions
First of all, you need to prepare the nettles to stop them stinging. Bring a saucepan of water to the boil, then using tongs or gloves, drop the nettles in to the water and boil for 90 seconds. Optionally, you can pluck the leaves of the stems first, if you have gloves to protect your hands (I used kitchen gloves, as I had more fine motor control than with the gardening gloves, but I carefully tested them first on one finger to make sure the nettles didn't go through). If you don't have gloves to hand, you can do this step after you have boiled them, but it's much easier to do when the leaves are dry.
After 90 seconds, scoop out the nettles and plunge them in to a bowl of ice water to cool down.
Tip them in to a colander to drain them, then squeeze them to get as much water out as possible. Don't worry, it's perfectly safe to touch them after they have been boiled (if you are unsure, check on one finger first before putting your whole hand in). An even better way to get the moisture out, is to lay the wet nettles on a clean, dry tea towel, then roll it up and twist the ends in opposite directions – over a sink! – the squeeze out all the water.
Now you are ready to make the pesto! Roughly chop the nettles and the garlic (1 clove for a milder flavour, 2 cloves for more punchy), and cut the lemon in half.
Place the nettles, garlic and sunflower seeds in your blender or bowl, along with 4 Tbsp water and 6 Tbsp olive oil, and blend until smooth.
Season to your liking with a squeeze of lemon juice, salt and pepper.
Stir in the grated parmesan. If the pesto feels to thick, add another Tbsp or two of olive oil.
And that's it! Mix a couple of teaspoons of pesto in to a bowl of pasta and enjoy.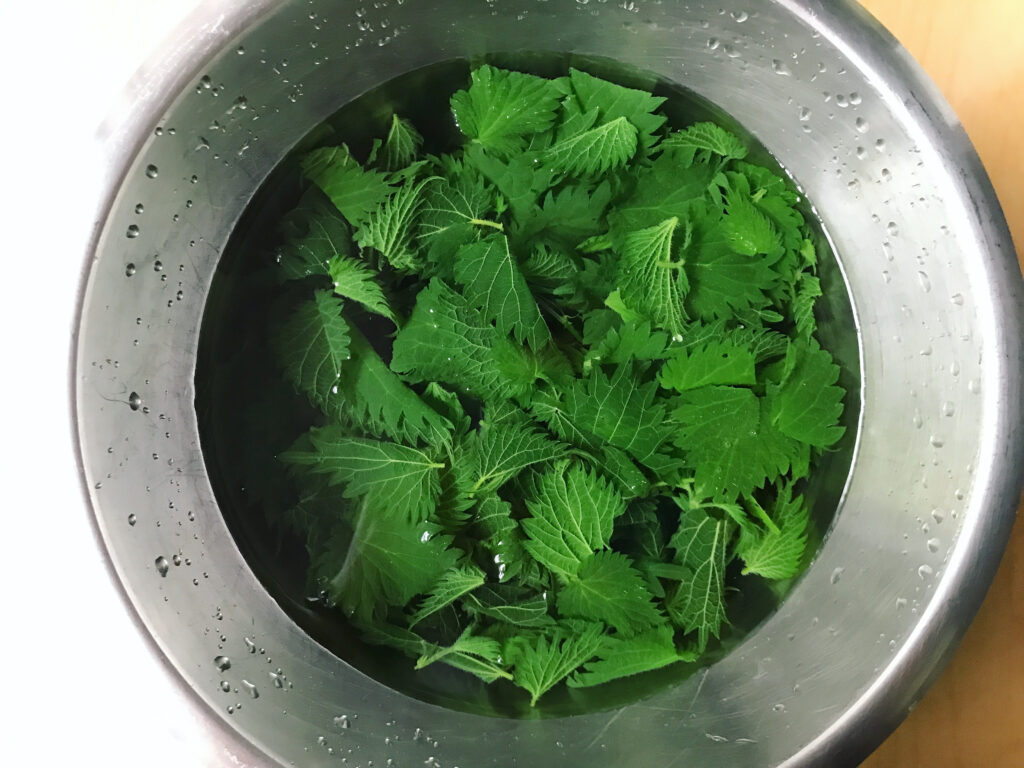 If you have collected more nettles than you need, you can blitz them with just 4 Tbsp water, then pop your pureed nettles in the freezer in an ice cube tray or a little tupper-box. It should keep for a couple of months, and you can whip it out to defrost and mix with the other ingredients to make a quick pesto at short notice without all the extra prep. We have some spares in our freezer right now.
Pin for Later