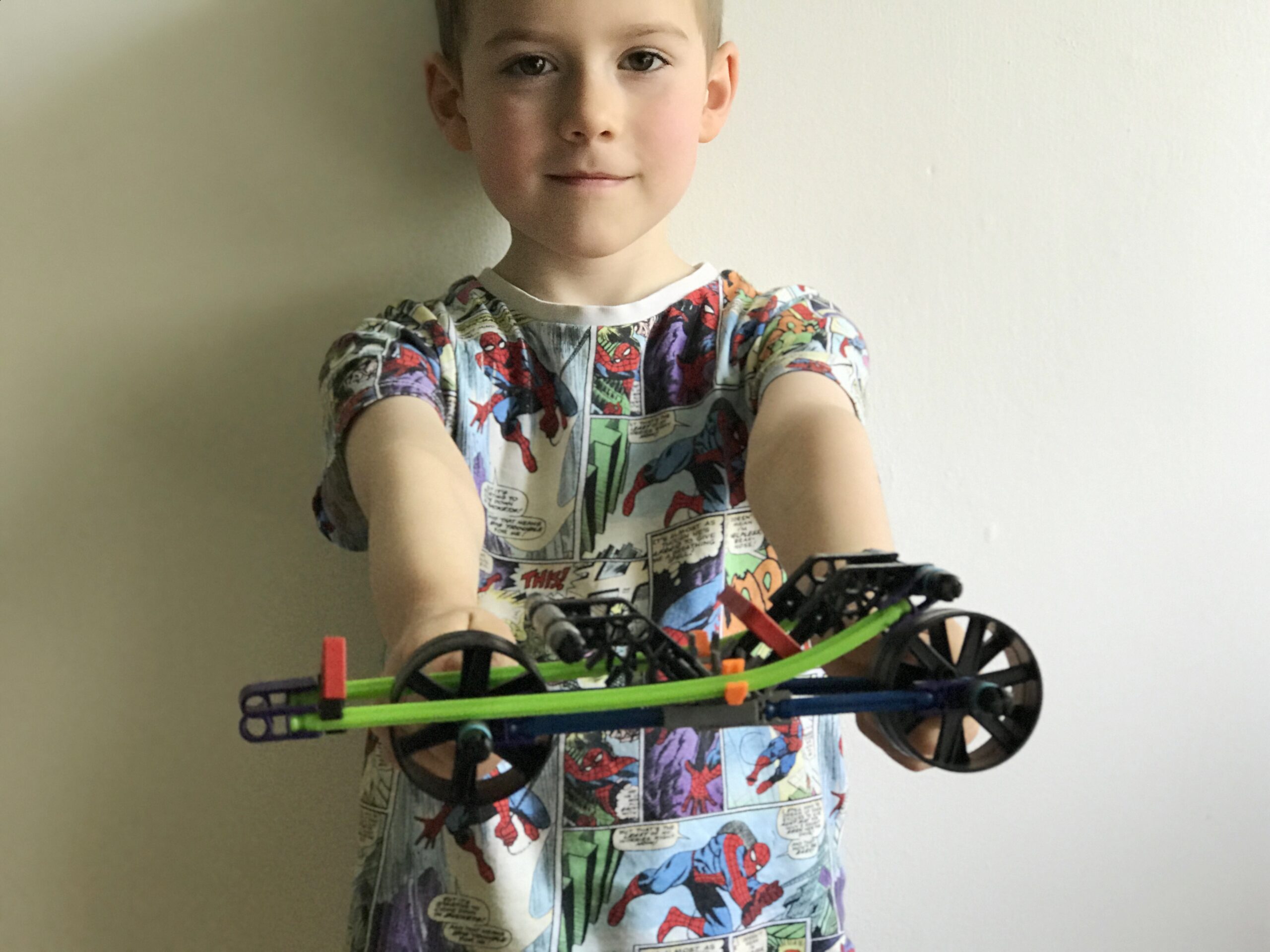 Review: K'nex Construction Sets [AD]
This post contains gifted items. All views are our own.
Do you have kids who love building and constructing things? Then we have just the review for you today! Ever since we were introduced to K'nex last year, my boys have been obsessed with it, especially my youngest. So we jumped at the chance to review some construction sets from the K'nex core range.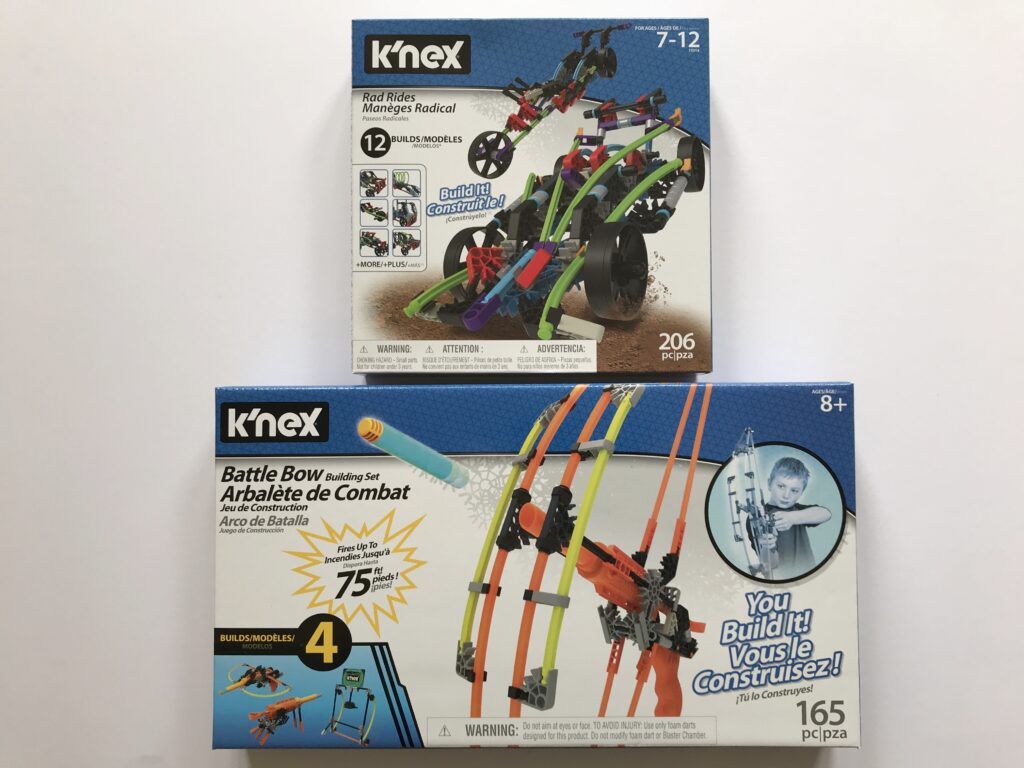 K'nex is a construction toy consisting of interlocking pieces, including connectors, spacers, rods, gears, wheels and other elements, which can be connected together to build a wide variety of models. Their core range is aimed at children age 5+ but they also have a range with larger sized pieces, called Kids K'nex, which is aimed at younger children. We were sent two sets from the K'nex core range to review.
K'nex Rad Rides
The first set, was called Rad Rides, and is perfect for budding builders who love vehicles. It comes with over 200 pieces, which you can use to build 12 different models (though not all at the same time). Let's take a look at what's in the box.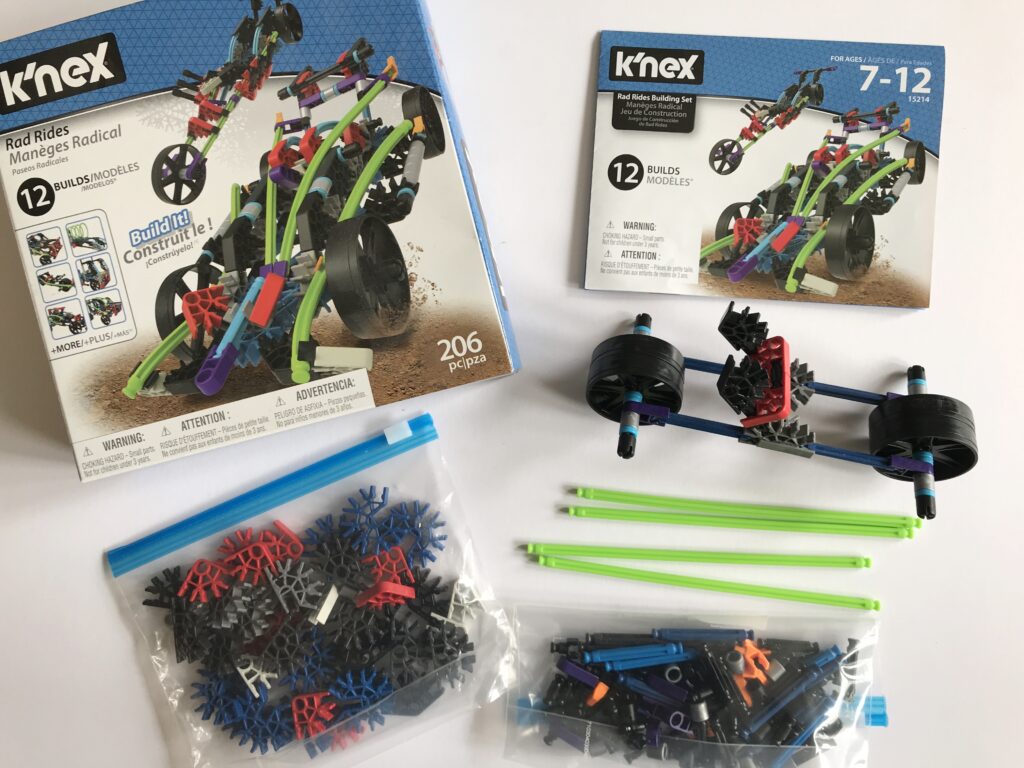 My youngest too the lead on this set, and as you can see, he was so keen he had already got his hands on it before I had a chance to photograph it! If that doesn't speak for how much he loved this toy, I don't know what does. Here's a closer look at the pieces included in this set: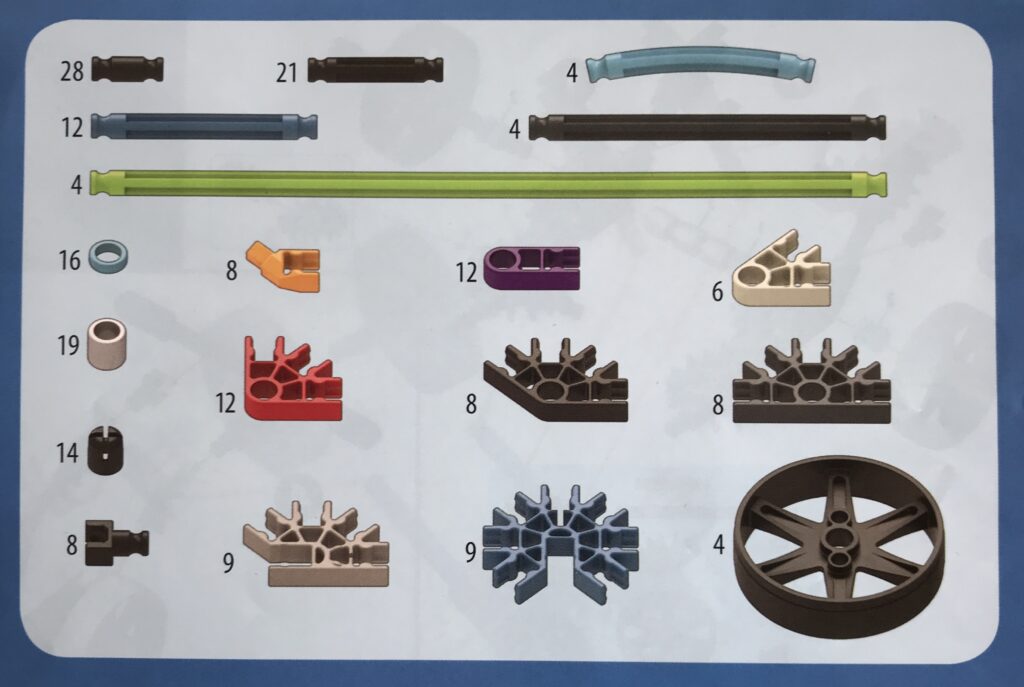 There's a variety of elements, and the different colours make it easy to keep them apart. The box includes building instructions for three of the twelve models, and a code that you can enter on the K'nex website to get the instructions for the other nine. There are pictures of the other nine models included too, so you know what all the options are. Of course, once you have got to grips with how all the pieces interlock with each other, you can also just use your creativity and imagination to start creating models of your own and build bigger than the box!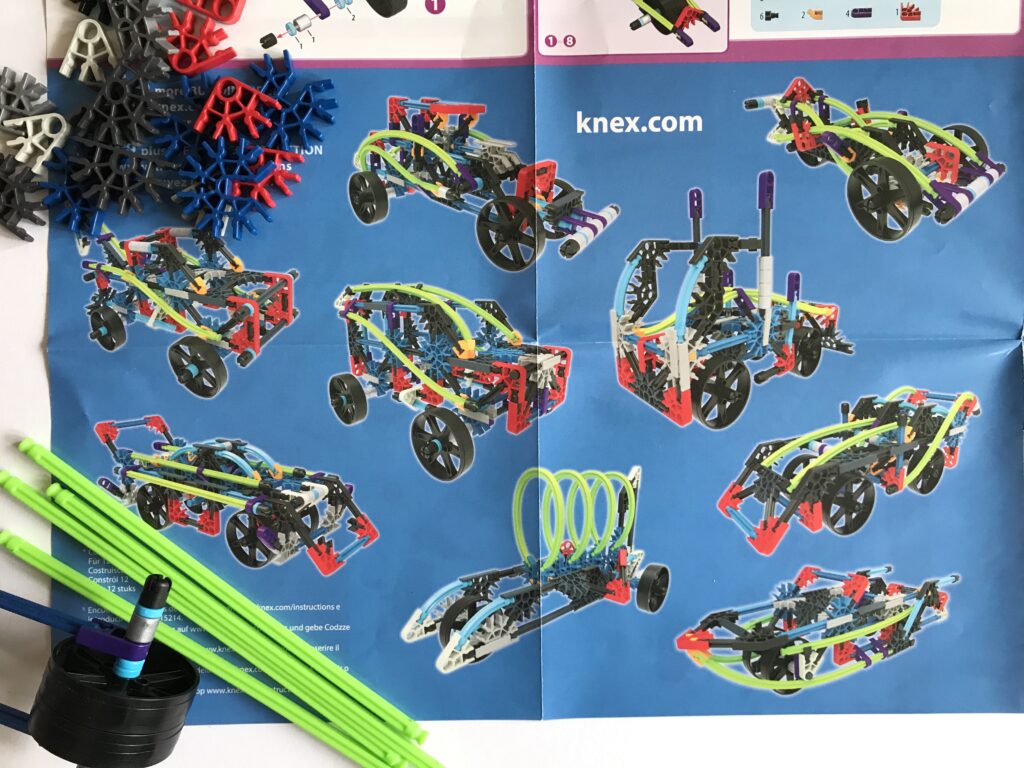 The K'nex instructions are really easy to follow, as they are all picture based so it's very intuitive, you just copy and follow the pictures. You don't need to be able to read, so there is no language barrier. Just match up the shapes and colours of the pieces in your box to those in the instructions, and make sure your model is facing the same way as in the pictures. The arrows show you where the parts connect. My youngest was able to do most of the model on his own. In fact, he didn't need any help at all in understanding the instructions, just a wee bit of help clicking some of the parts together.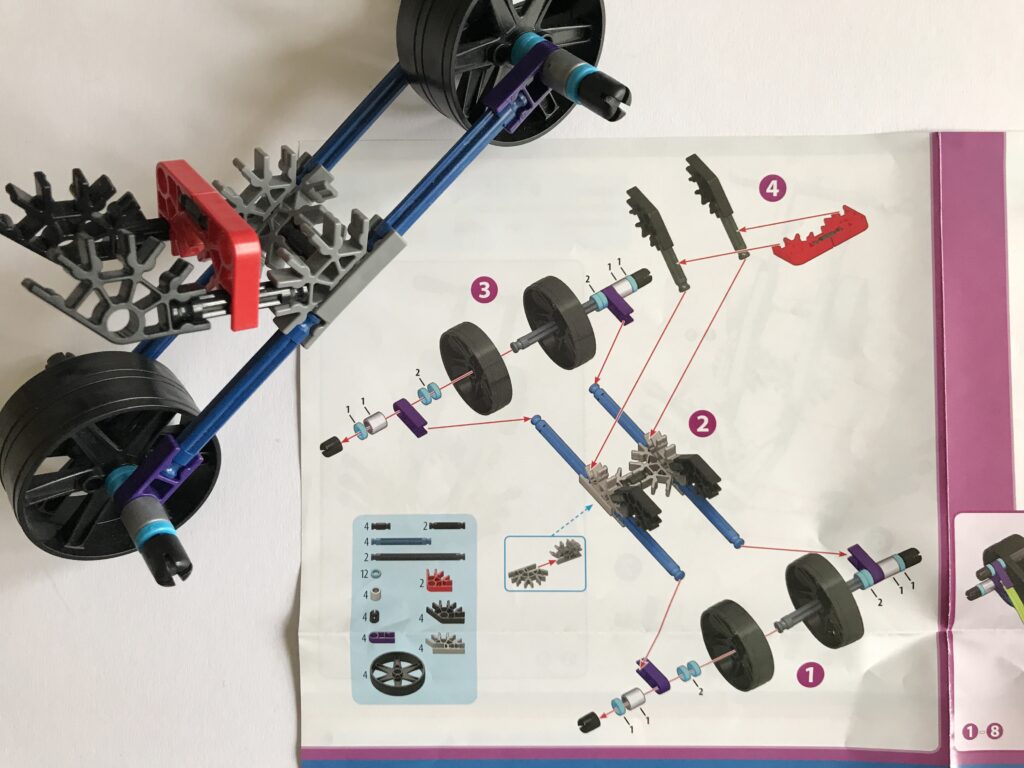 Here is the proud builder with his final model. In fact, he's so proud if it, it's taking some convincing to get him to take it apart again and try some of the others, haha. He says he will after he's had some time playing with this one. There's definitely plenty of building suggestions there to keep him going.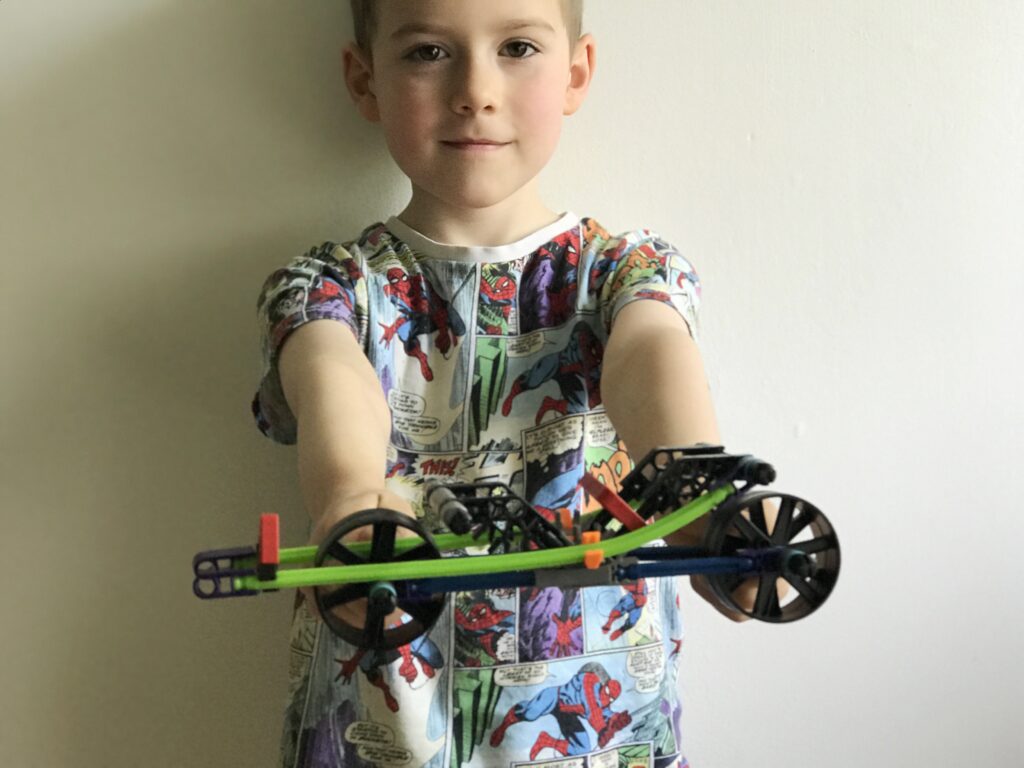 K'nex Battle Bow Building Set
The second set we reviewed was the Battle Bow Building Set. This caused quite some excitement, as it includes foam darts which is something the boys have been begging for ages to be allowed to get. Well, they finally got their wish!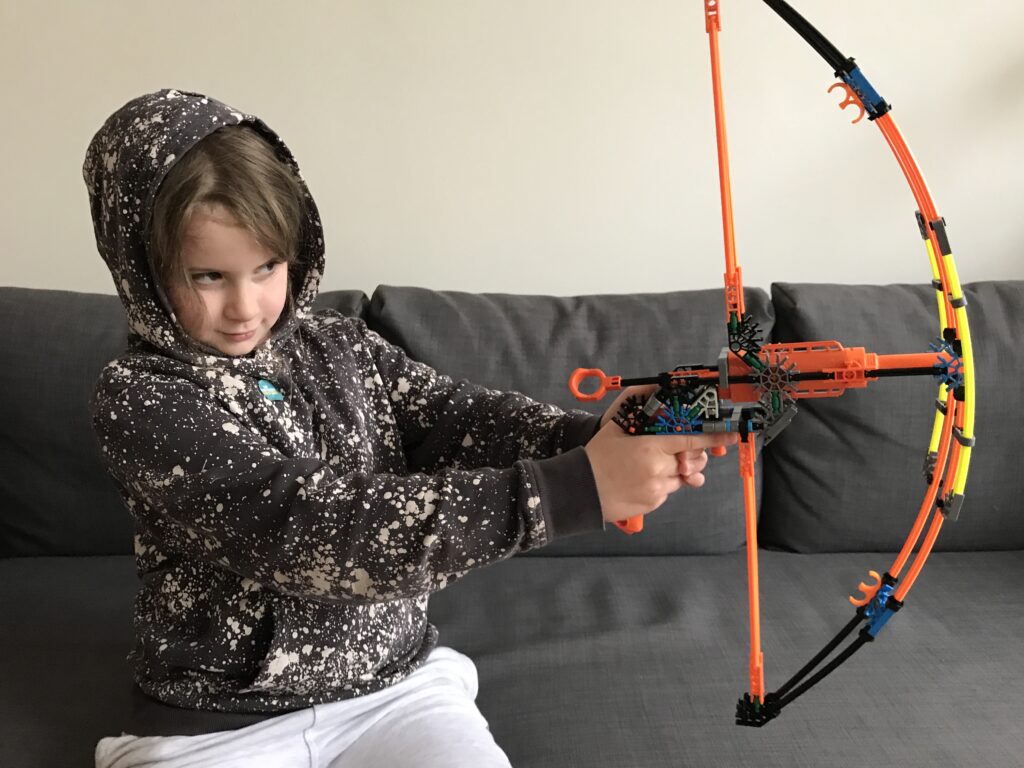 The Battle Bow Building Set includes 165 pieces, which can be used to build either one of two different kinds of bow, or a shooter with a target. There are instructions for one of the bows included in the box, and you can download the instructions for the other models from the K'nex site with a code, as mentioned above. Let's take a look at what's inside the box: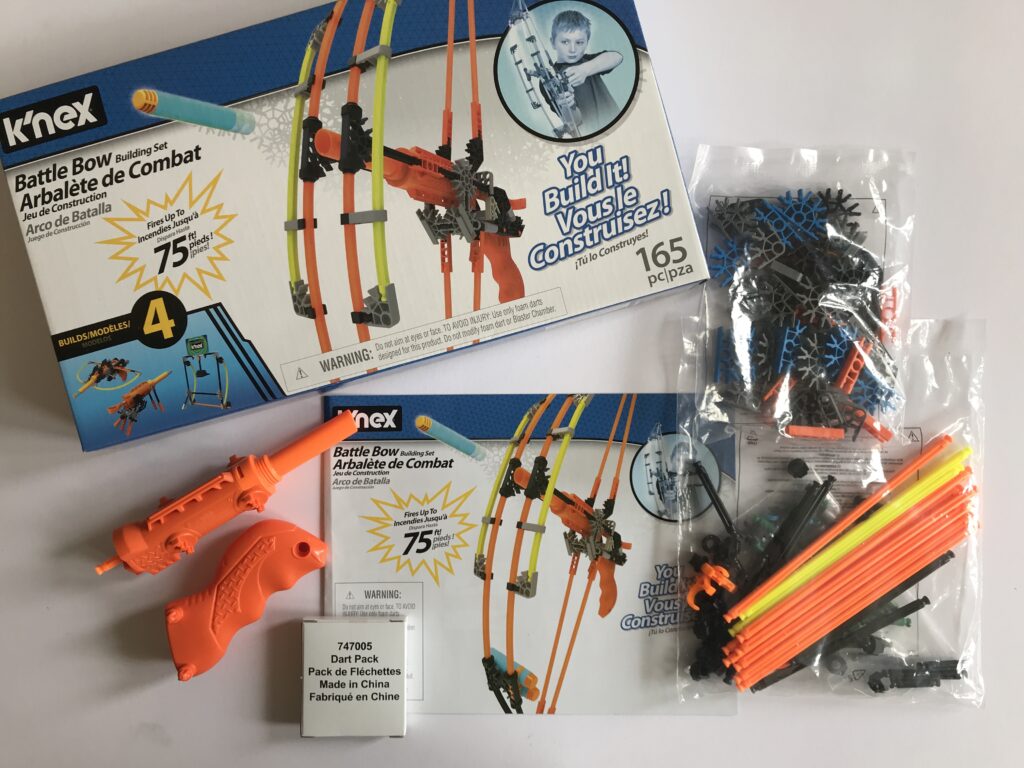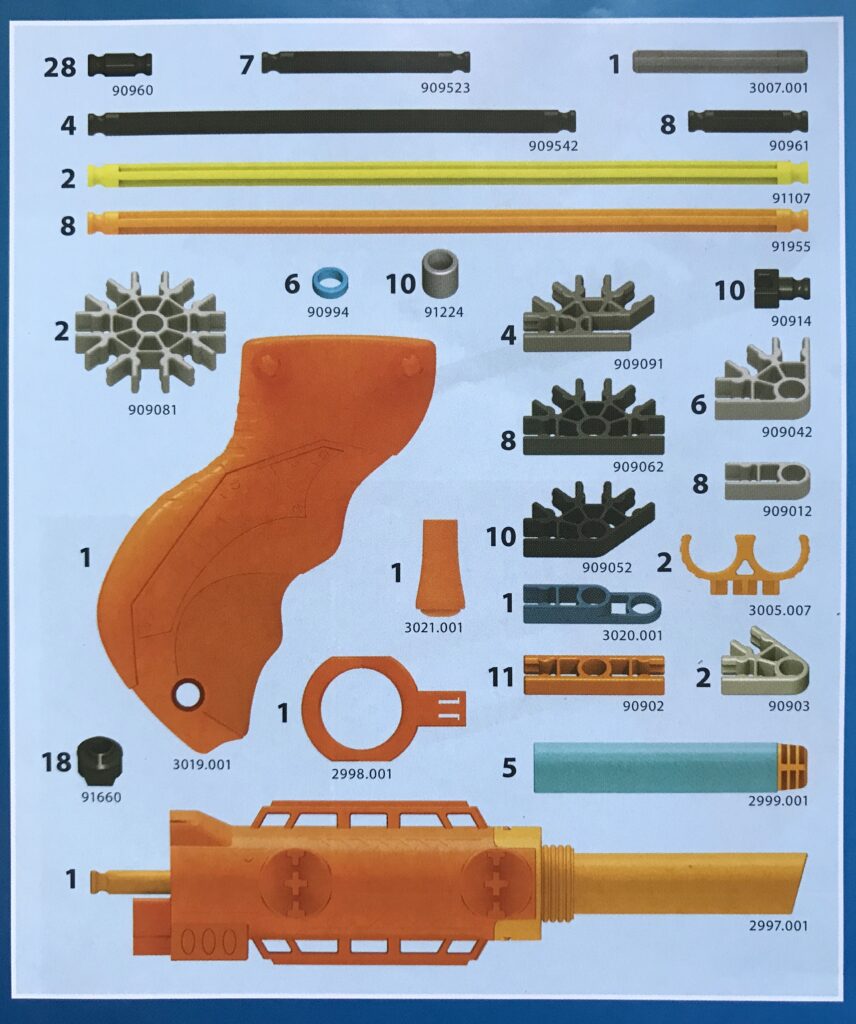 The Battle Bow Building Set was slightly more complex than the Rad Rides, so the boys built this one together with my eldest taking the lead, but not before his little brother had sorted all the pieces by shape and size, and compared them to the contents list on the box.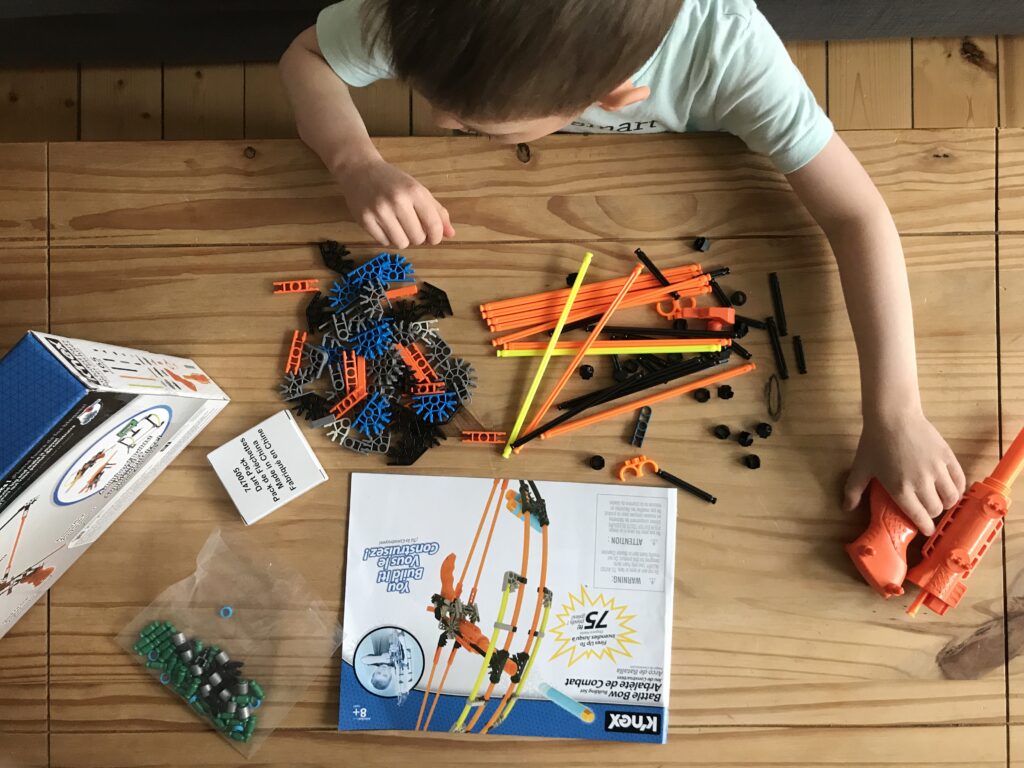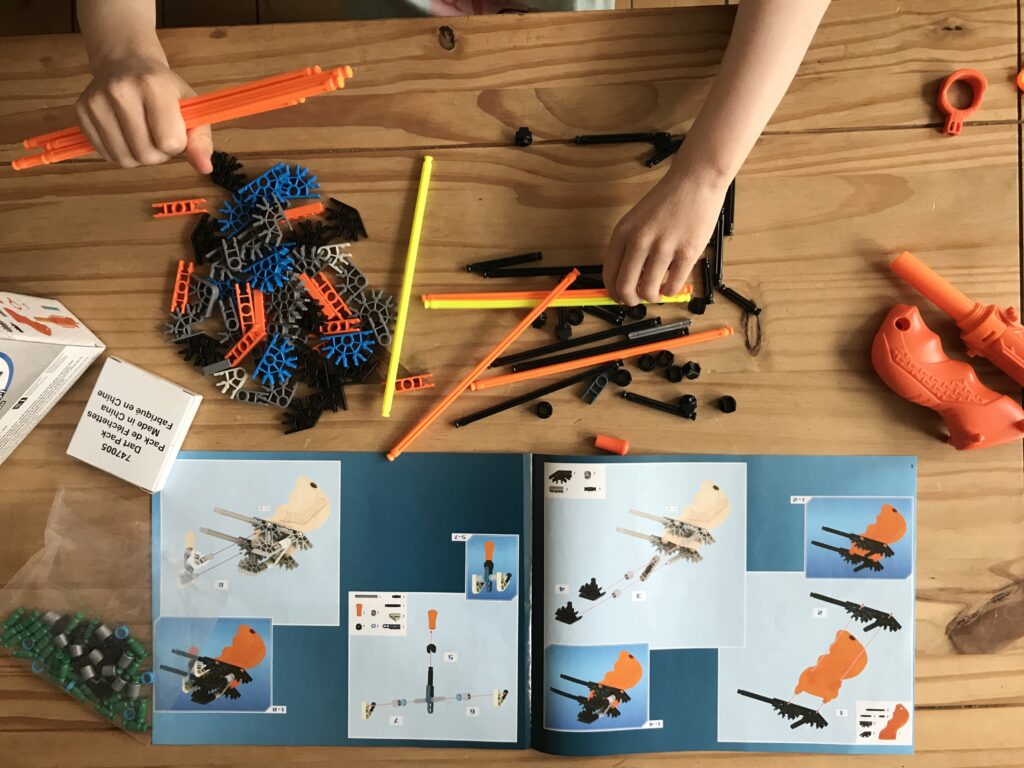 Although this build was more complex, following the instructions was just as straight forward as before. It just took a little longer as there were a lot more steps. In each stage of the instructions, the parts you have already done are faded in the next steps, which really helps to differentiate which parts you need to add next (as seen in the photo above).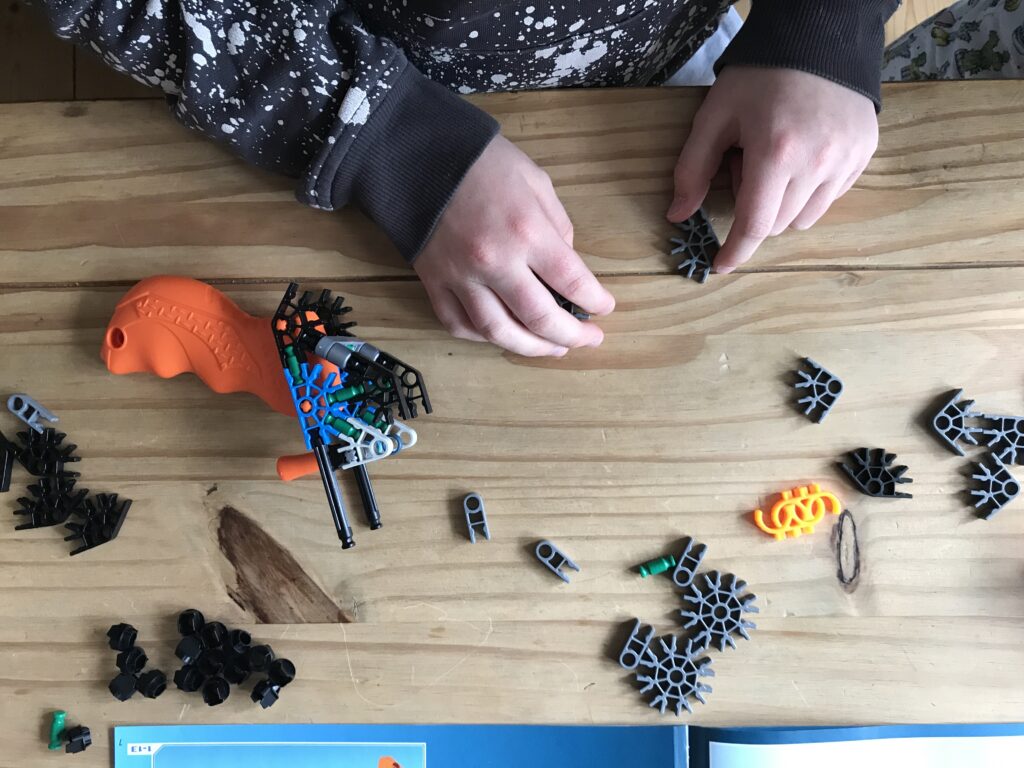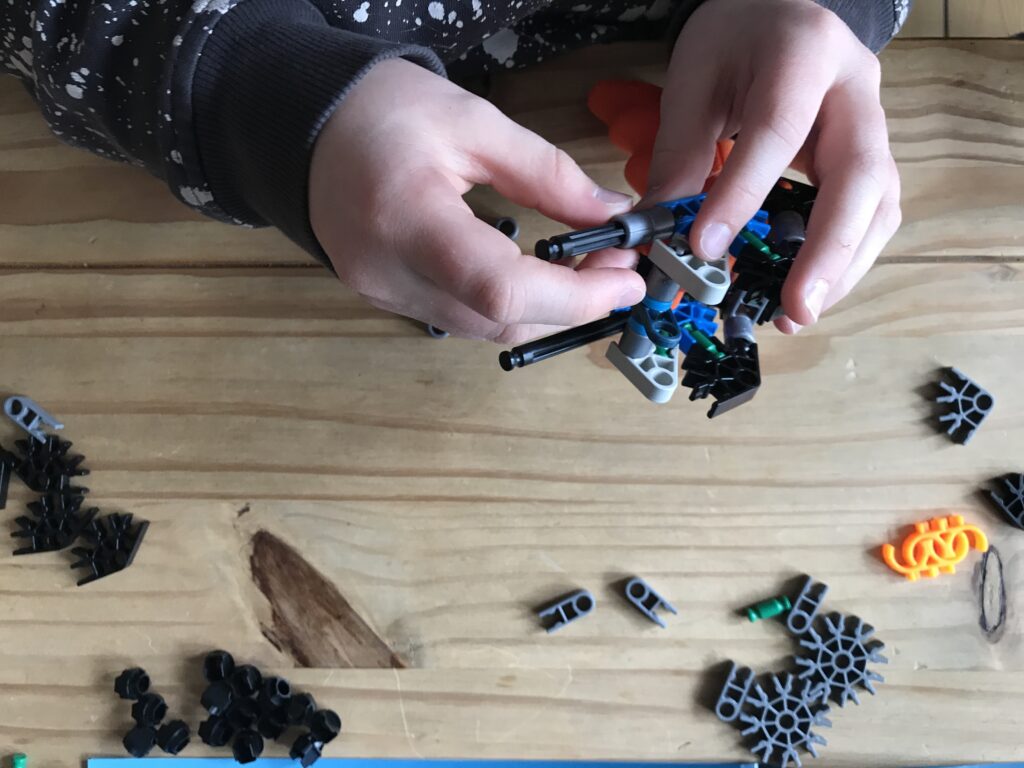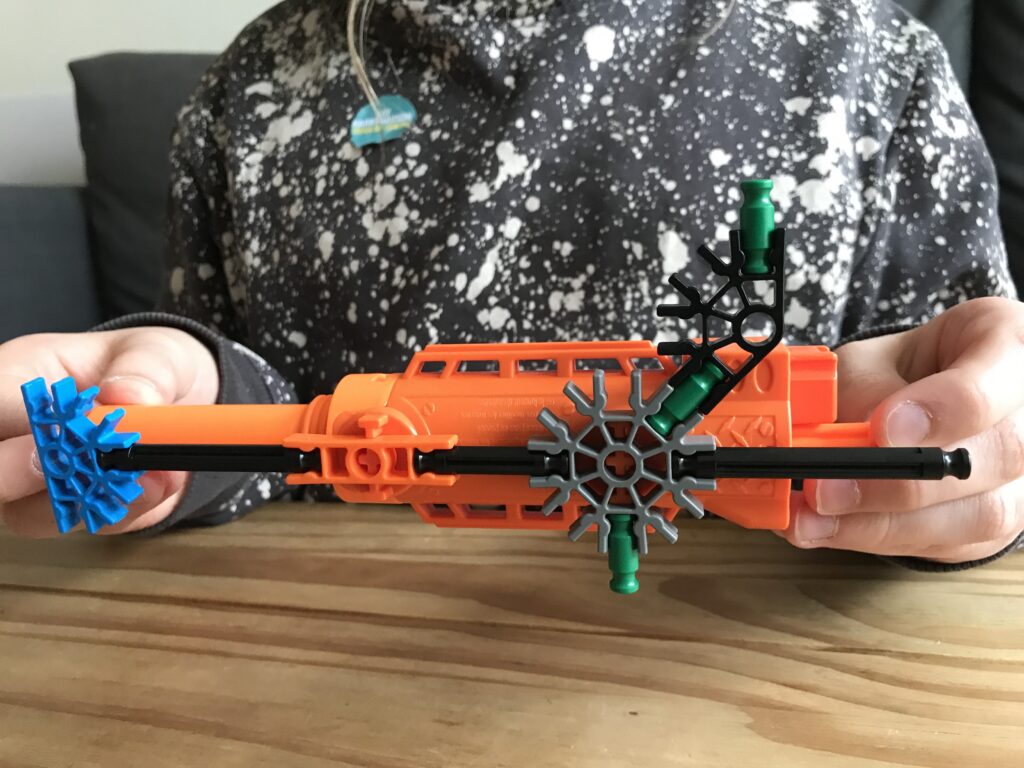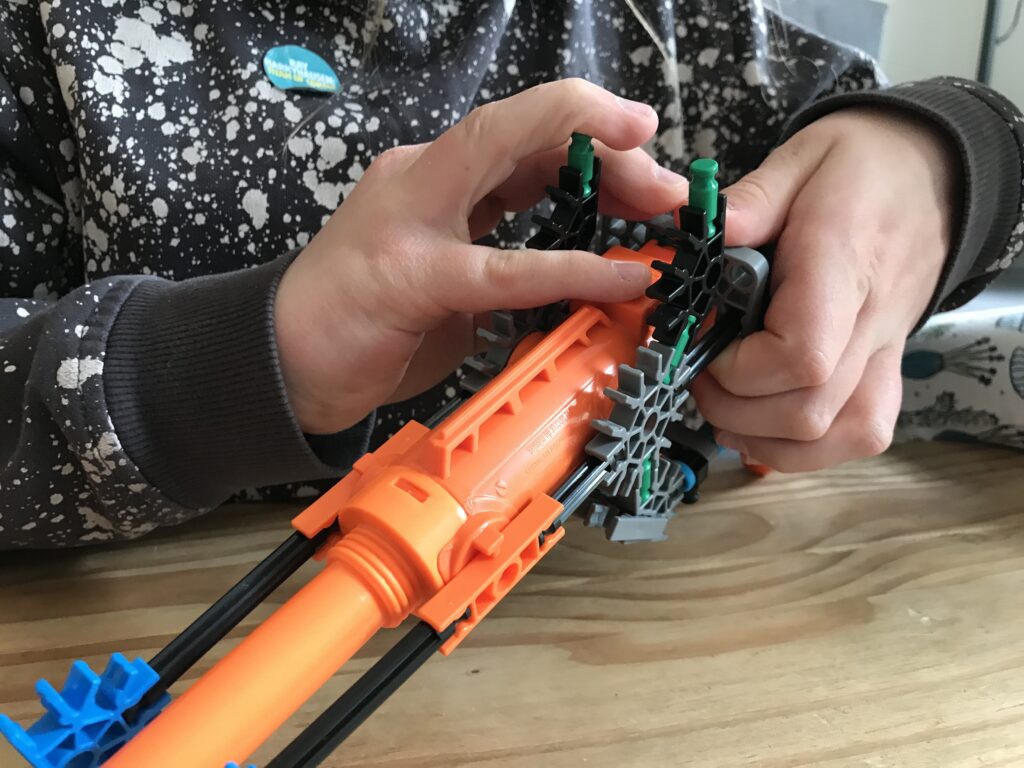 My eldest took charge on some of the more tricky bits of this build, but it truly was a team effort and really lovely to see them working together and my big boy helping my little boy. And then, of course, at the end came the fun bit of firing the foam darts! Apparently they will fly up to 75 feet (over 20 metres!) but as it was raining for days on end we've only tested them out in the living room so far. There's some sunny days forecast this week, so we will be heading towards the garden with our Battle Bow. A word of warning though – while the bullets are made of foam, there is quite a bit of force behind them, so please always supervise children when using these (as recommended in the manual) and never aim at anyone's face!
We made a little video for you, to show you the building process of the K'nex Battle Bow Building Set:
So, what's our verdict? Well, the fact that my boys really enjoyed building with the K'nex sets is of course a big selling point for me. I can see the Battle Bow being used a lot over the summer, and my youngest really loves anything technical so the Rad Rides set is going to keep him busy for months to come. The K'nex pieces seem very robustly made, so I see them being used over and over and still lasting a long time.
From a parent point of view, K'nex also ticks all the boxes for educational value that we like to see in toys: it hones fine motor skills and manual dexterity skills, develops hand-eye coordination and spatial awareness, challenges problem solving skills, and encourages creativity. And, at least for my boys, it encouraged team work too. I mean, what's not to love.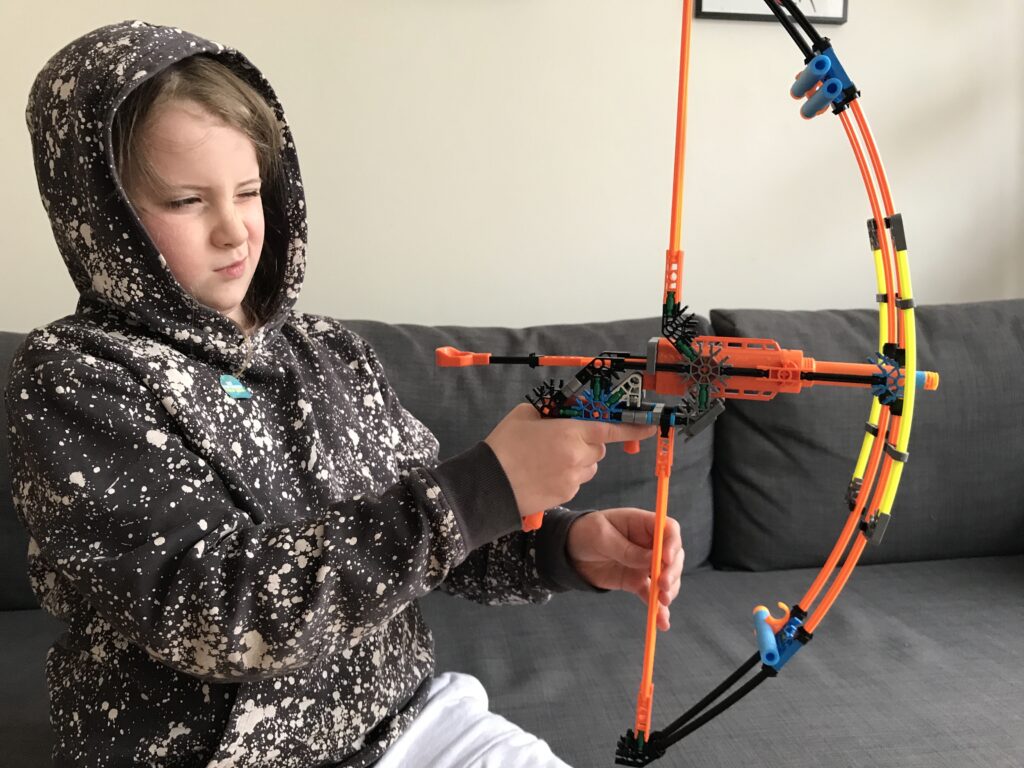 Disclosure: We were gifted the Knex Rad Rides and Battle Bow Building Sets in return for an honest review. All views and opinions are our own.