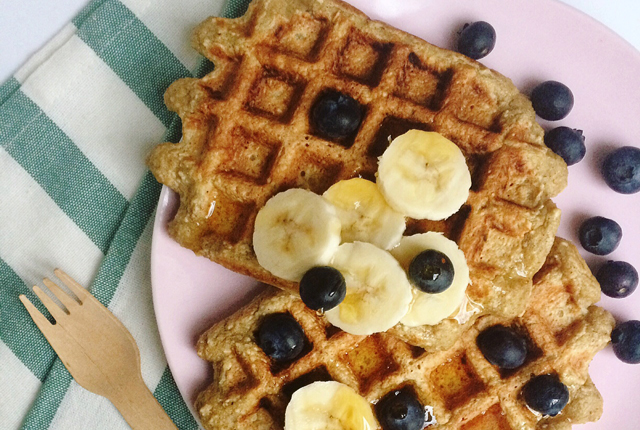 Sunday Sweet: Banana Oat Waffles (GF)
So, at the end of last year I bought a Belgian waffle iron on a whim. It was on sale at our local supermarket. We already own a German waffle iron, which makes delicate heart shaped waffles, but there is just something about big, chunky Belgian waffles. And really, you can never own too many waffle irons, right?
Anyway, in the spirit of it not just turning in to another one of those kitchen gadgets that end up sitting in the cupboard gathering dust, I put it to work right away, and we've had waffles for breakfast every weekend this year so far. I've been experimenting with different recipes, all of which have been yummy, but the family favourite to date are these deliciously moist banana oat waffles. And as well as being gluten free (though you can use regular oats too), they are also made without refined sugar and without dairy. So no reason to feel guilty about having these for breakfast. Not that I would.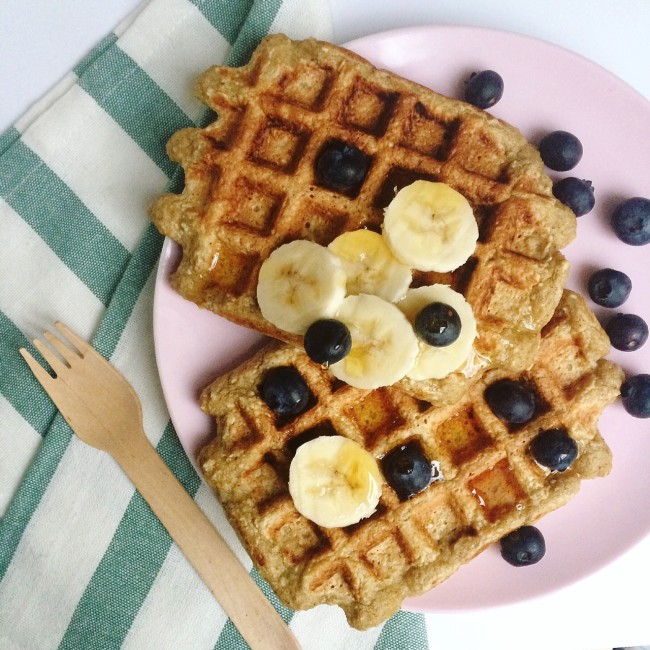 Ingredients (makes 6-7 waffles)
3 cups gluten free oats
1.5 teaspoons gluten free baking powder
1 teaspoon ground cinnamon
2 small ripe bananas, mashed
3 large eggs, beaten
1.5 cups unsweetened almond milk
2 tablespoons maple sirup
the insides of 1 vanilla bean pod
Directions
Blitz the oats in a blender (I did it in several batches because I just have a small hand blender, or you can use a food processor if you have one) until they resemble course flour. Mix in the oats, baking powder and cinnamon in a bowl.
In another bowl, beat the egg, then add the bananas – I actually find it easiest to mash them on my vegetable chopping board then transfer them mashed to the bowl – the almond milk, maple sirup and the seeds scraped from the inside of a vanilla bean pod.
Add the wet ingredients to the dry ingredients, and mix together well until you have a smooth batter.
Heat your waffle iron according to the instructions, then add a ladle of batter per waffle. You will know best how much batter to use in your iron. The batter should make six waffles in a standard sized iron, but I didn't quite put in enough in the first pair (we have an iron that makes two at a time), so I had enough batter over to make a smallish seventh waffle.
I baked these on the highest temperature setting, then left them in a little bit longer after the light came on to say they were ready, checking every 30 seconds or so to make sure they weren't burning. I've found that with the other gluten free recipes I've tried too, i.e. that they don't go dark enough or fall apart too easily, if I don't bake them for that little bit longer.
These waffles taste great with some extra slices of banana on top, some blueberries, and an extra drizzle of maple sirup, though I am reliably informed that they also go well with slices of banana and chocolate spread.