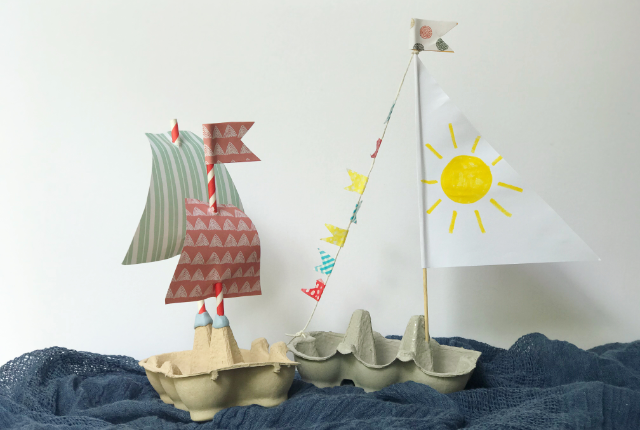 Recycled Egg Carton Boats
Welcome to Week 2 of our virtual summer camp. This week in our crafting session, we will be making boats out of recycled egg cartons. There are two versions of boats you can make, with different masts using either drinking straws or skewers, and I will talk you through both versions.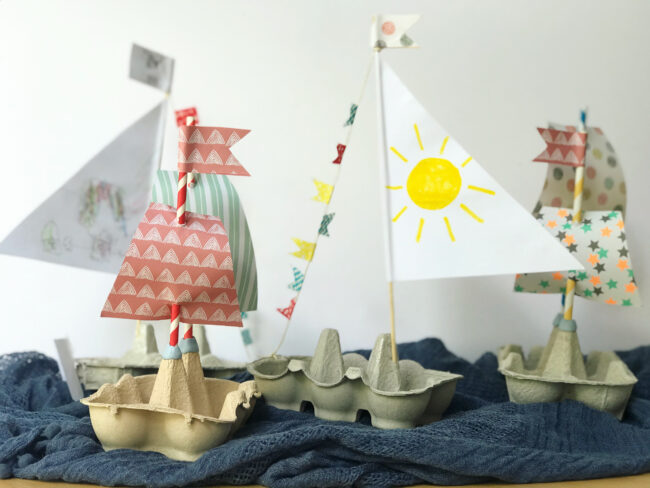 Who is this activity suitable for?
This is another really easy activity that anyone can join in with. Older kids will be able to do most or all of it themselves, for younger kids you will need a grown up to help with poking holes, and maybe with some of the cutting, while the kids can help to decorate the sails and optionally to paint the boat. I've recorded a video to talk you through all the steps, it's about ten minutes long including both types of boat. If you scroll further down I've also included some step-by-step photos if you prefer those to the video.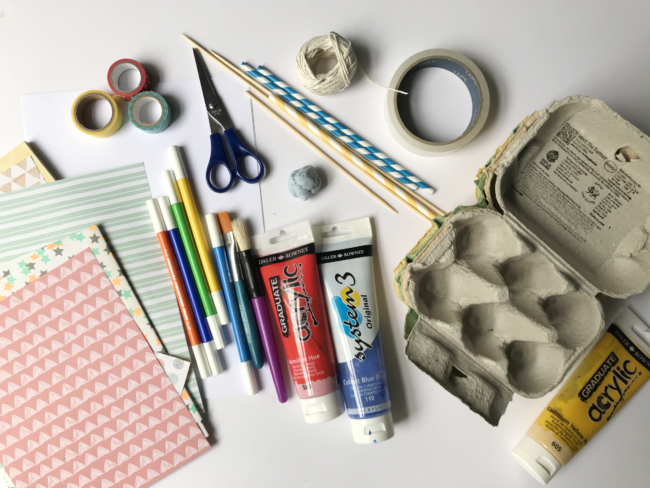 Here's what you'll need to have ready:
empty egg carton (we used a carton of 6 but you could also use a bigger one)
drinking straws (we use paper ones) or long wooden skewers
plain paper and pens and/or coloured or patterned paper, e.g. pieces of gift wrap
blu-tack or plasticine (for the drinking straw masts)
sellotape (for the skewer masts)
string, wool or yarn
coloured tape (optional)
paint & pain brushes (optional)
Here's the video to show you what to do…
And here are the step-by-step instructions…
Boat #1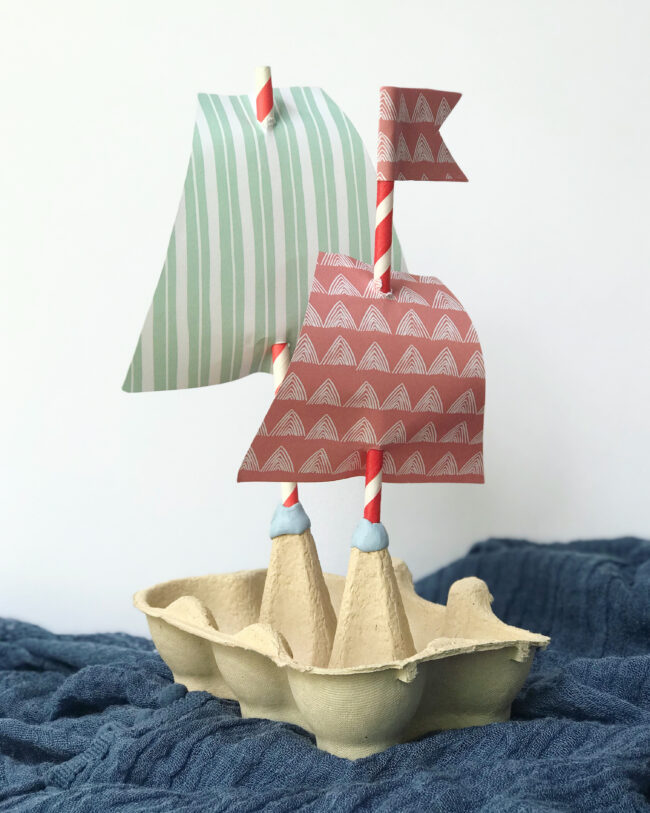 Step 1: Cut the lid off your egg carton box. Optionally, you can now paint your boat before adding the sails – I'm going to skip the painting and move straight on to showing you how to make the sails.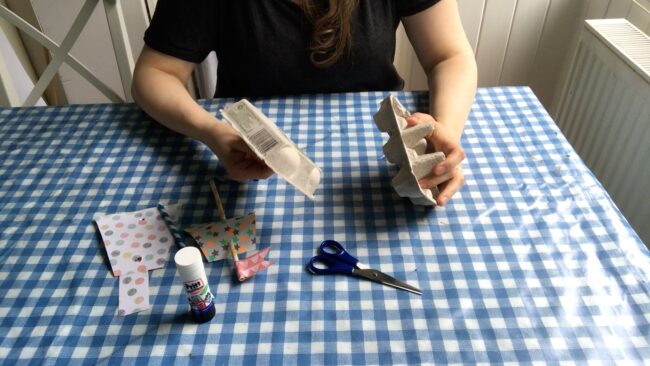 Step 2: Cut a trapeze, or rectangle shape piece of paper, roughly 12cm high and about 10-12cm wide along the bottom.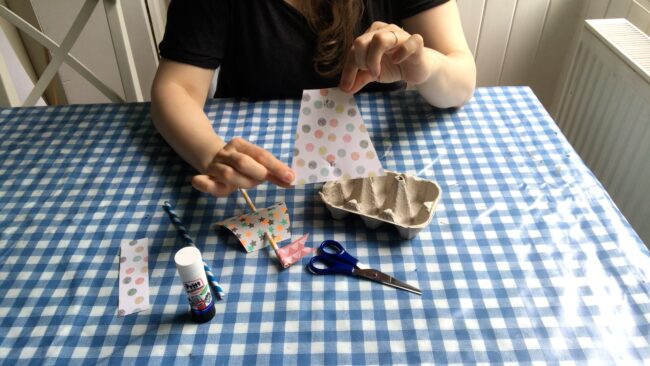 Step 3: Poke a hole through the top and bottom with your scissors and thread a straw through the holes. If you make the holes tight enough, the sail should stay in place without needing fixed any further.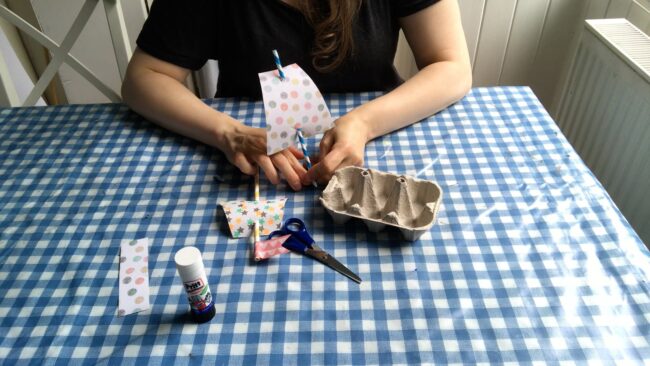 As a variation you can also make a smaller sail, with a flag on top. Just cut a small strip of paper, fold it around the top of the straw and glue the two sides together. Then snip the end to however long you want it.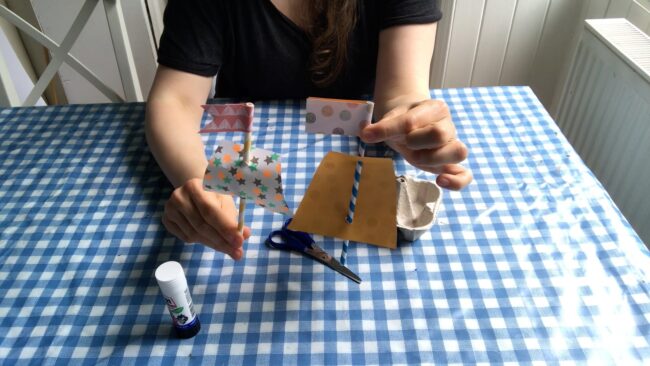 Step 4: Poke holes in to the middle pointy bits of the egg carton and stick the straws through them.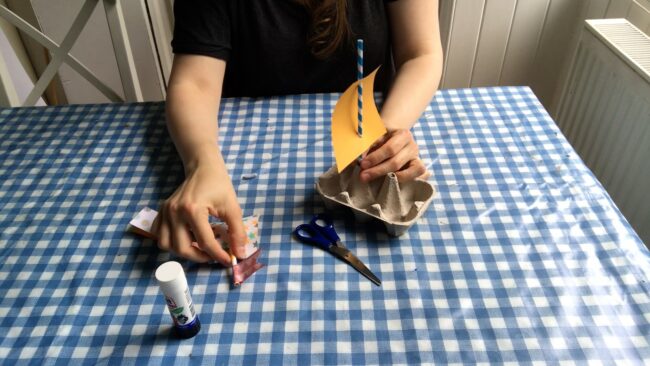 Step 5: To keep the sails in place, roll a small piece of blu-tack or plasticine and wrap it around the base of the mast, where the mast goes in to the egg carton.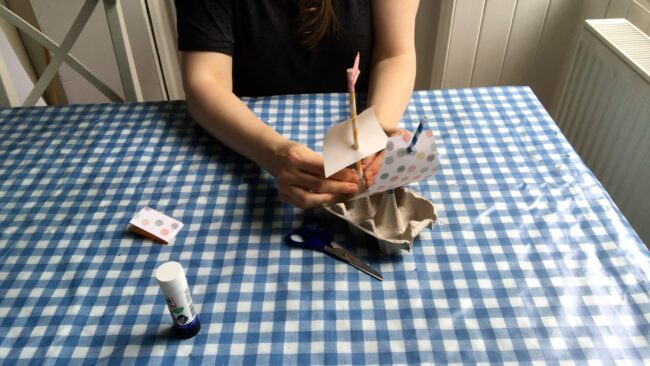 Voila! Your first boat is ready!
Boat #2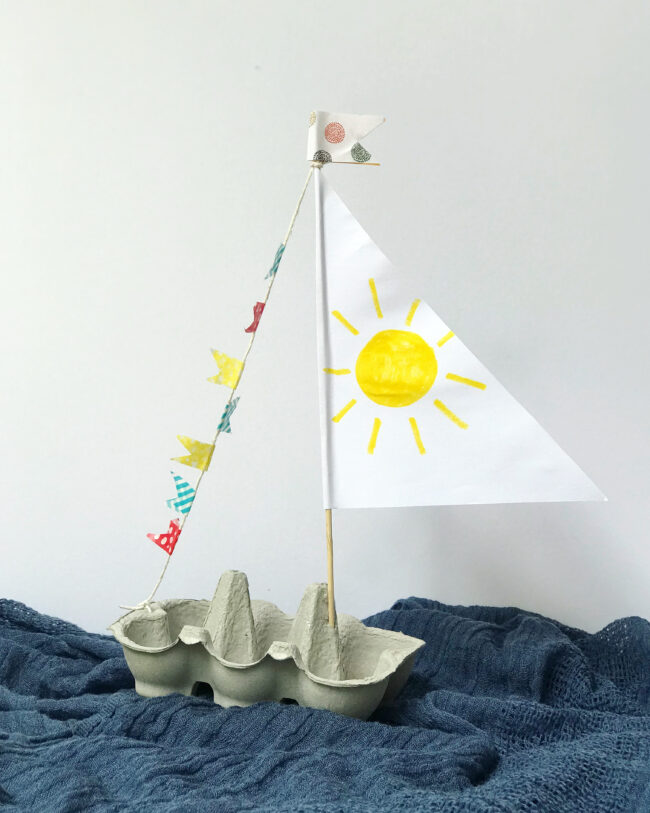 Step 1: Again, start by cutting the lid off your egg carton box.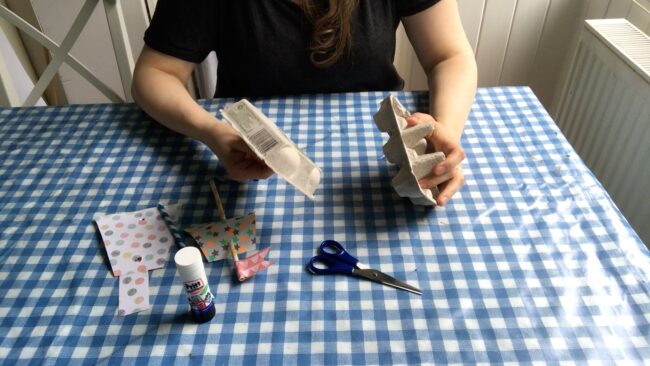 Step 2: Take a large piece of paper (I used an A4 sheet) and fold it in half.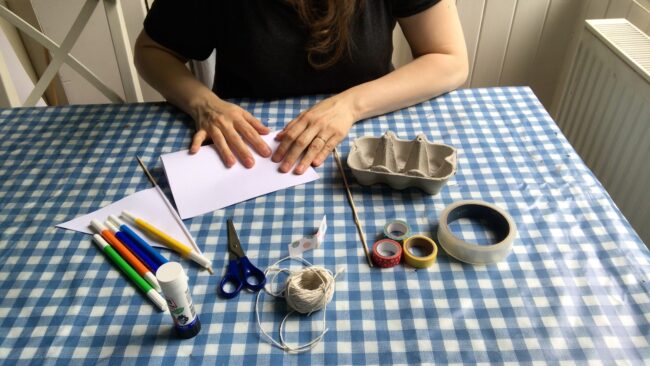 Measure how long you want your sail, and if you want it slightly smaller just trim the end off your paper.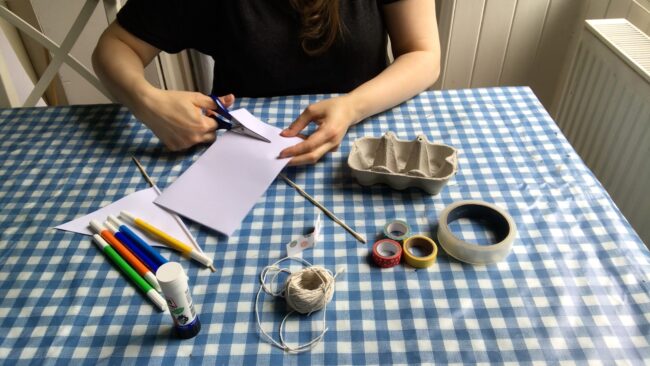 Step 3: Cut your folded piece of paper in half diagonally (the folded edge is the edge I am holding in my left hand).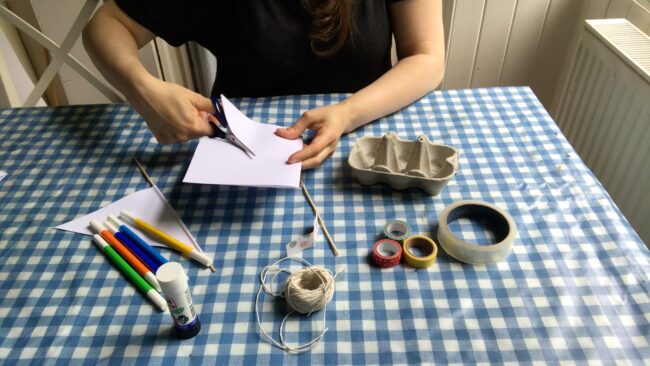 Step 4: Unfold your triangular piece of paper – if you have used plain paper, you can now decorate it before continuing.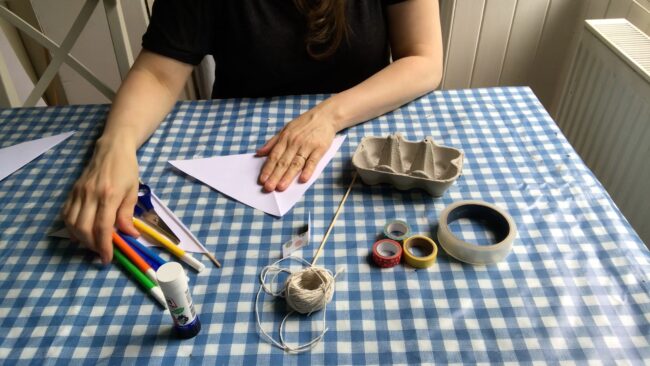 Step 5: Place your skewer in the middle of your triangular (on the undecorated side), with the pointy side down. Put glue on one side, then fold the other side over.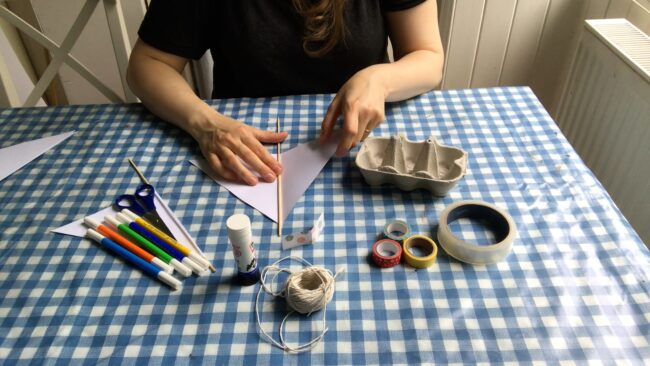 It should look like this: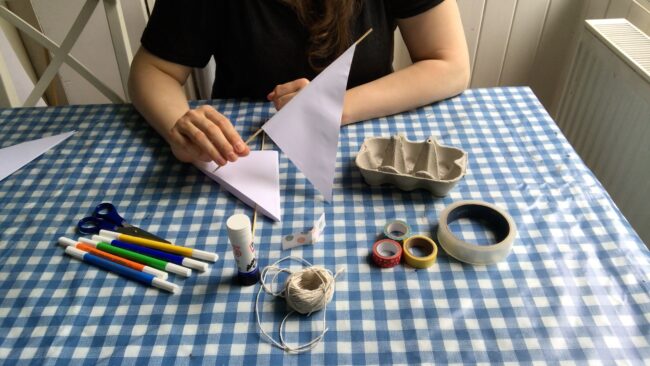 Step 6: Jam the pointy end of the skewer in to the side of one of the middle bits of your egg carton.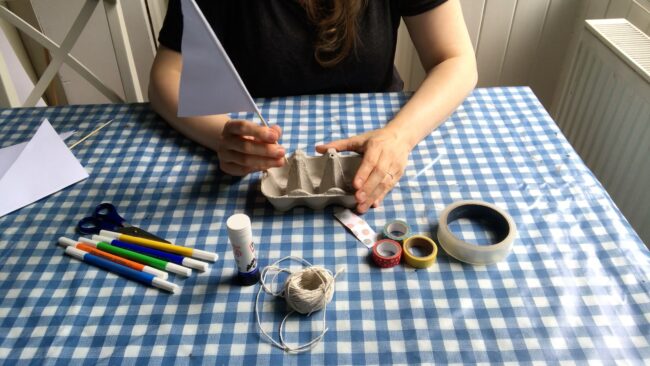 Step 7: Secure with a piece of sellotape, taping the skewer to the middle piece of the egg carton.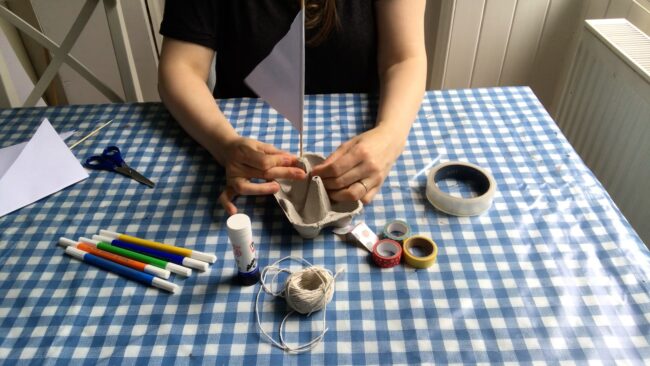 Step 8: Now you can either add a second sail, or to create some bunting, cut a piece of twine, yarn or wool that is a bit longer than from the top of the mast to the bottom of the outer side of the egg carton.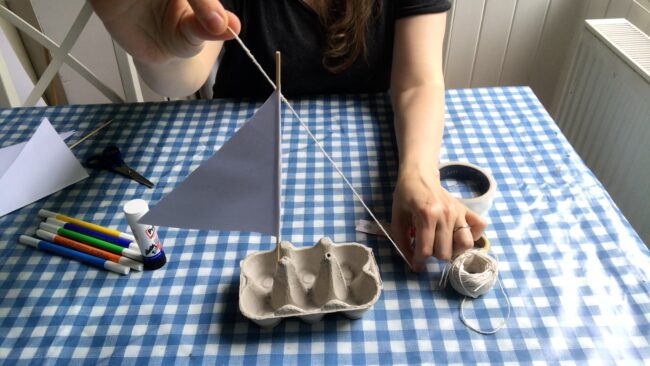 Step 9: Make a little loop in one end of the twine and tie it to the top of your mast. You can secure it with a double knot if you like.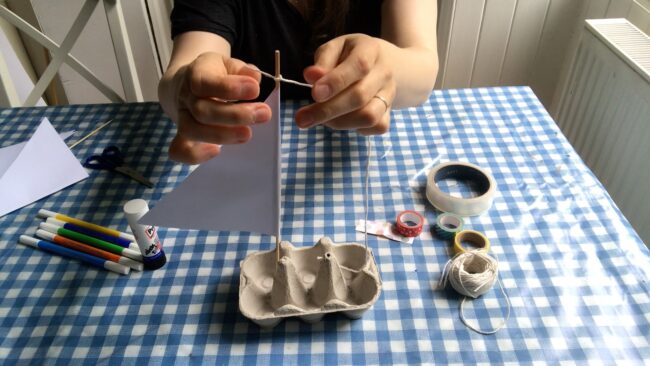 Step 10: Poke a hole in the lip on the outer side of the egg carton, thread the other end of the twine through, and tie in to place. Again, you can tie a double knot if you prefer.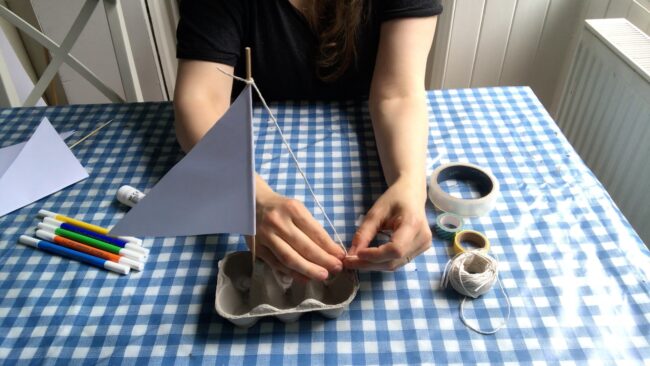 Step 11: To add the bunting flags, you can either use the method we used to add a flag to the top of the mast in Boat #1 (see Boat #1 – Step 3) OR you can use coloured tape. Just cut a small piece, fold it around the twine, then snip the ends.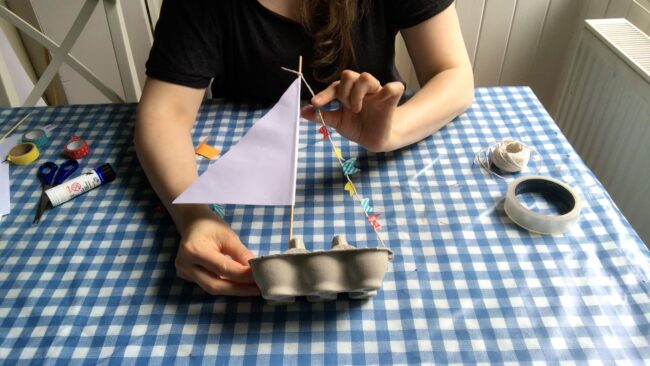 Step 12: Add a little flag to the top of your mast (for reference see Boat #1 – Step 3) to hide the end of the yarn.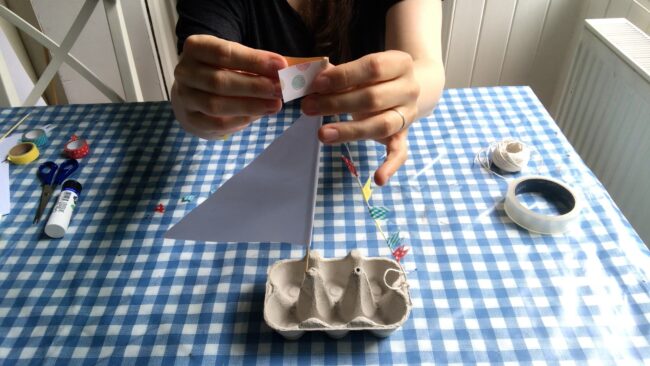 There we go, two different ways to make a boat out of a recycled egg carton. Which one are you going to make? Or why not make both! My both have been making a whole fleet, and apparently they are the perfect size for their Playmobil pirates!
If you enjoyed today's activity, please feel free to leave a comment or tag me in on Twitter and Instagram. And in case you missed it, check out our other summer camp crafts. Remember to use the hashtag #BearAndFoxSummerCamp if you are sharing any photos!
[line]
All Summer Camp activities are free to make them accessible to as many people as possible. However, if you enjoy the activities and are able to, you can support me with a donation on Ko-fi. Just hit the button below. Every little helps and is much appreciated. Thank you.