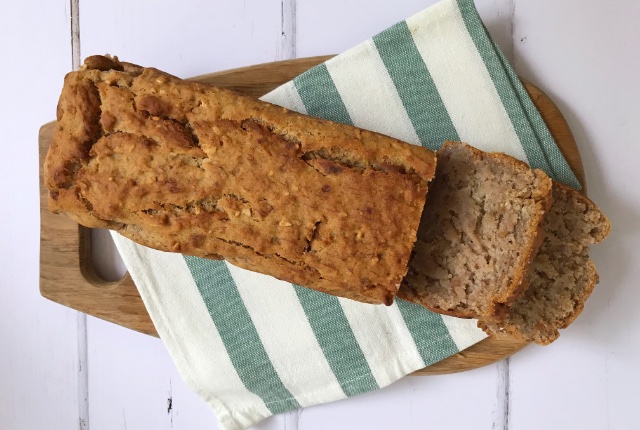 Peanut Butter Banana Bread
Banana bread seems to have been a popular bake during lockdown. Today I'm going to share one of our favourite variations with you – peanut butter banana bread! If you can't eat nuts, I also have another, nut free, recipe already here on the blog for chocolate chip banana bread.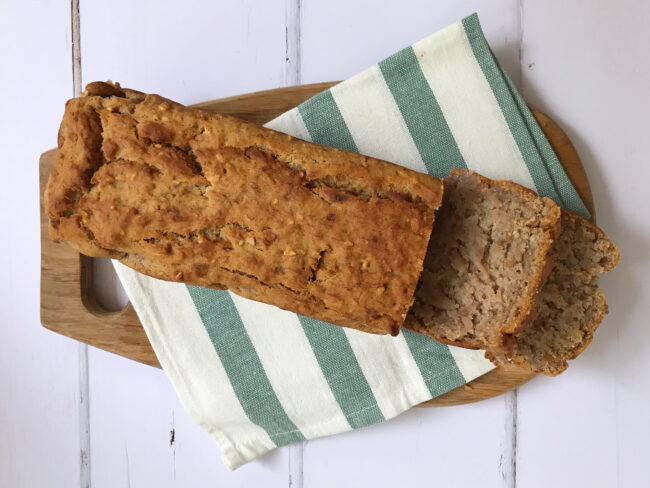 As before – and I always tell me children this – first read the whole recipe through from start to finish, then gather all your ingredients and utensils before you begin. And don't forget to wash your hands before cooking. At the end of the recipe, I've also highlighted which parts I think are particularly suitable for kids to help with, though of course you need to judge that a little yourselves depending in your kids' ages and abilities. So, happy cooking!
This recipe is suitable for: refined sugar free, gluten free, vegetarian, dairy free if using plant milk.
Ingredients
3-4 very ripe bananas (ca 400g)
100g crunchy peanut butter
120ml sunflower or vegetable oil
80ml milk or plant milk
1 tsp vanilla extract
150g runny honey
380g plain flour (gluten free, if required)
2.5 teaspoons baking powder
1 teaspoon ground cinnamon
a pinch of salt
Utensils
Loaf baking tin (ours is 29cm x 11cm x 6cm deep)
Margarine or butter (for greasing the tin)
Grease proof paper
2 mixing bowls
Kitchen scales
a fork
a teaspoon
a wooden spoon (for mixing – or just use the fork)
a wooden skewer or a knife
Tin foil (optional)

Directions
Preheat the oven to 180 C for a regular oven or 160 C for a fan oven.
Grease the baking tin and line with greaseproof paper (the greasing makes the paper stick and stay in place).
In a large mixing bowl, mash the bananas with a fork.
Mix in the peanut butter, oil, milk, vanilla and honey.
In a separate bowl, mix together the flour, baking powder, cinnamon and salt.
Pour the wet ingredients in to the dry ingredients and stir until just combined – don't over mix!
Pour the batter in to the prepared baking tin.
Bake for 45 minutes or until a wooden skewer or knife inserted in to the centre comes out clean (a few crumbs are fine, but you basically don't want it to come out covered in raw batter). If you think it needs longer but it's starting to go dark on top, just cover it in tin foil.
Leave to cool before cutting in to slices.
Tastes great plain or with some butter and jam.

What kids can help with
Measuring the ingredients.
Mashing the bananas.
Mixing the ingredients.
Greasing the tin.
Pouring the batter in to the tin.
Adults only
If you enjoyed today's activity, please feel free to leave a comment or tag me in on Twitter and Instagram. Remember to use the hashtag #BearAndFoxSummerCamp if you are sharing any photos. If you are looking for other recipes to make, check out our complete recipe archive.
[line]
All Summer Camp activities are free to make them accessible to as many people as possible. However, if you enjoy the activities and are able to, you can support me with a donation on Ko-fi. Just hit the button below. Every little helps and is much appreciated. Thank you.