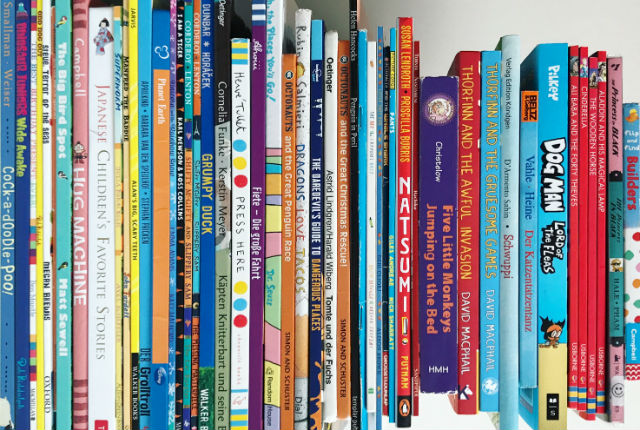 Our 2020 Reading Journey
So, it's finally starting to happen. My nine year old is increasingly choosing withdrawing to his bed with his own books, over sharing a joint bedtime story with his little brother. That's not to say he's given up on picture books, I still fish at least a dozen picture books out of his bed every week. He just prefers to read them on his own, at a much faster pace, along with more advanced chapter books for his age and reading level. He'll still join us every so often, especially if it's a new book or an old favourite, but more often than not it's just me and the five year old at bedtime now. So I decided to record our reading journey together this year. I've been snapping a quick picture of all the books my youngest and I have read together each day – which I have been collecting in an album over on my blog's Facebook page – and at the end of the first month I piled them all up: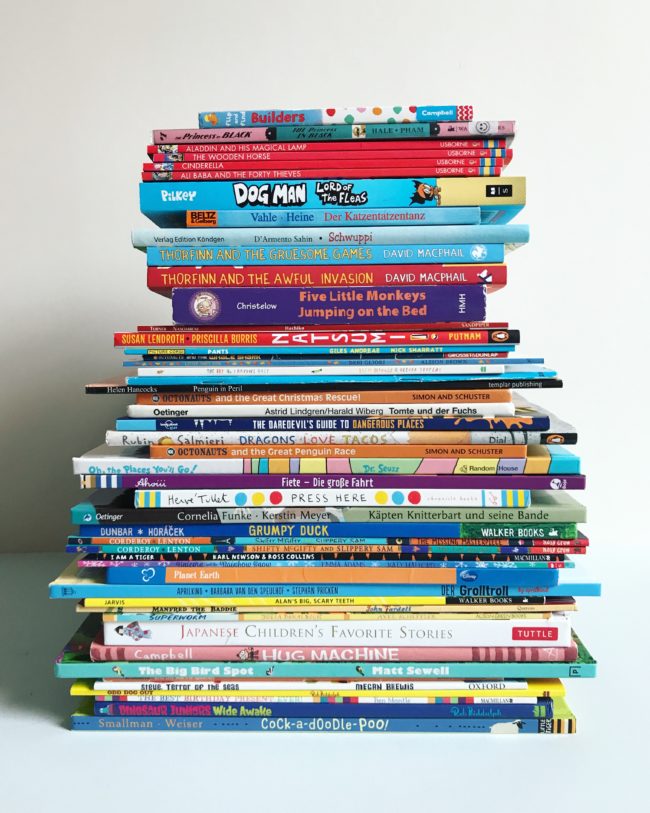 We read a total of 49 different books together! Plus four Japanese picture eBooks, though I'm not sure those really count as reading as we didn't understand most of it and just looked at the pictures. The majority of those 49 book were picture books (35 in total), but we also read a couple of chapter books – including several short 'early reader' ones – as well as a graphic novel and some non fiction books. Apart from the chapter and non-fiction books, which often spanned several days, there was only one book that we read twice. Considering how many books we own this is perhaps not surprising, as we have plenty books to read a different one every day, but it's nice to have passed that phase where your kids want you to read the same book to them 37 times in a row.
One thing I would like to readdress in the coming months, is the balance of languages, as only seven of the books we read were in German. I really need to make an effort to expose both boys actually to more German literature, since it's such an important part of their heritage. Anyway, below is a list of all the books we read in January. Perhaps there are a couple that take your fancy. Feel free to ask if you want any further feedback on any of them, though I have to say that we enjoyed them all.
I'd love to hear what you have been reading in the last month. If you have any great recommendations, let me know in the comments!
Books We Read in January 2020
Picture Books
English
Alan's Big Scary Teeth, by Jarvis
Cock-a-doodle-Poo, by Steve Smallman & Florence Weiser
Dinosaur Juniors Wide Awake, by Rob Biddulph
Dragons Love Tacos, by Adam Rubin & Daniel Salmieri
Five Little Monkeys Jumping on the Bed, by Eileen Christflow
Flip and Find – Builders, by Samantha Meredith
Grumpy Duck, by Joyce Dunbar & Petr Horacek
Hachiko – The True Story of a Loyal Dog, by Pamela S. Turner & Yan Nascimbene
Hug Machine, by Scott Campbell
I am a Tiger, by Karl Newson & Ross Collins
Little Owl's Egg, by Debi Gliori & Alison Brown
Manfred the Baddie, by John Fardell
Natsumi, by Susan Lendroth & Priscilla Burris
Odd Dog Out, by Rob Biddulph
Octonauts and the Great Christmas Rescue
Octonauts and the Great Penguin Race
Octonauts and the Marine Iguanas (read twice)
Octonauts and the Whale Shark
Oh, the Places You'll Go! by Dr Seuss
Pants, by Giles Andreae & Nick Sharratt
Penguin in Peril, by Helen Hancocks
Press Here, by Herve Tullet
Shifty McGifty and Slippery Sam – The Cat Burglar, by Tracey Corderoy & Steven Lenton
Shifty McGifty & Slippery Sam – The Missing Masterpiece, by Tracey Corderoy & Steven Lenton
Steve, Terror of the Seas, by Megan Brewis
Superworm, by Julia Donaldson & Axel Scheffler
The Best Birthday Present Ever! by Ben Mantle
The Day the Crayons Quit, by Drew Daywalt & Oliver Jeffers
Unicorn and the Rainbow Snow, by Emma Adams & Katy Halford
German
Der Grolltroll, by Aprilkind, Barbara van den Speulhof & Stephan Pricken
Der Katzentatzentanz, by Fredrik Vahle & Helme Heine
Fiete – Die Große Fahrt, by Ahoiii
Käpten Knitterbart und seine Bande, by Cornelia Funke & Kerstin Meyer
Petzi im Unterseeboot, by Carla & Vilhelm Hansen
Tomte und der Fuchs, by Astrid Lindgren & Harald Wiberg
Japanese
Chapter Books
English
Aladdin & His Magical Lamp, by Katie Daynes & Paddy Mounter
Ali Baba and the Forty Thieves, by Katie Daynes & Paddy Mounter
Cinderella, by Susanna Davidson & Fabiano Fiorin
Rabbit & Bear – Rabbit's Bad Habbits, by Julian Gough & Jim Field
The Princess in Black, by Shannon & Dean Hale, illustrated by LeUyen Pham
The Wooden Horse, by Russell Punter & Matteo Pincelli
Thorfinn the Nicest Viking and the Awful Invasion, by David MacPhail & Richard Morgan
Thorfinn the Nicest Viking and the Gruesome Games, by David MacPhail & Richard Morgan
Japanese Children's Favorite Stories, by Florence Sakade & Yoshisuke Kurosaki
German
Schwuppi die Schwebebahn, by Lucia D'Armento Sahin & Matthias Kahl
Graphic Novels
Dog Man – Lord of the Fleas, by Dav Pilkey
Non-fiction Books
Disney, The Wonderful World of Knowledge – Planet Earth
The Big Bird Spot, by Matt Sewell
The Daredevil' Guide to Dangerous Places, by Anna Brett & Mike Jacobsen