As I mentioned in my post from earlier this year, I decided that this year I would record all the books my 5 year old and I read together. I've been snapping a quick picture of all the books from each day, and collecting them in an album over on my blog's Facebook page. I'm a bit late with the update for June, but here's our pile of books from our sixth month: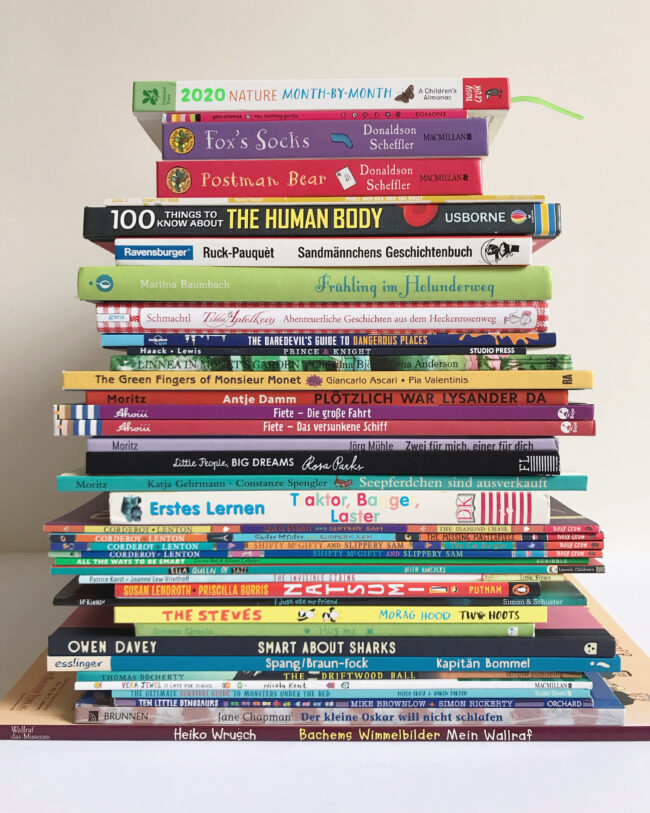 In June we read a total of 39 different books. As in previous months, picture books made up the largest proportion of our reads. About three quarters of them were in English
Books We Read in June 2020
Picture Books
English
All the Ways to be Smart, by Davina Bell & Allison Colpoys
Ella Queen of Jazz, by Helen Hancocks
Fox's Socks, by Julia Donaldson & Axel Scheffler
Hug Me, by Simona Ciraolo
I Just Ate My Friend, by Heidi McKinnon
Linnea in Monet's Garden, by Christina Björk & Lena Anderson
Natsumi!, by Susan Lendroth & Priscilla Burris
Postman Bear, by Julia Donaldson & Axel Scheffler
Prince & Knight, by Daniel Haack & Stevie Lewis
Shifty McGifty & Slippery Sam, by Tracey Corderoy & Steven Lenton
Shifty McGifty & Slippery Sam: The Cat Burglar, by Tracey Corderoy & Steven Lenton
Shifty McGifty & Slippery Sam: The Diamond Chase, by Tracey Corderoy & Steven Lenton
Shifty McGifty & Slippery Sam: The Missing Masterpiece, by Tracey Corderoy & Steven Lenton
Ten Little Dinosaurs, by Mike Brownlow & Simon Rickerty
The Driftwood Ball, by Thomas Docherty
The Green Fingers of Monsieur Monet, by Giancarlo Ascari & Pia Valentinis
The Invisible String, by Patrice Karst & Joanne Lew-Vriethoff
The Knitting Gorilla, by Giles Andreae
The Ultimate Survival Guide to Monsters Under the Bed, by Mitch Frost & Daron Parton
The Steves, by Morag Hood
Vera Jewel is Late for School, by Nicola Kent
German
Der kleine Oskar will nicht schlafen, by Jane Chapman
Erstes Lernen: Traktor, Bagger, Laster
Fiete – Das Versunkene Schiff, by Ahoiii
Fiete – Die Große Fahrt, by Ahoiii
Kapitän Bommel und die Seeschlange, by Günter Spang & Beatrice Braun-fock
Mein Wallraf, by Heiko Wrusch
Plötzlich War Lysander Da, by Antje Damm
Seepferdchen sind ausverkauft, by Katja Gehrmann & Constanze Spengler
Zwei für mich, einer für dich, by Jörg Mühle
Chapter Books
English
Pink and Rex and the Bully, by James Howe & Melissa Sweet
German
Frühling im Holunder Weg, by Martina Baumbach
Sandmännchen's Geschichten Buch, by Gina Ruck-Pauquet
Tilda Apfelkern, by Andreas S. Schmachtl
Non-fiction Books
English 
100 Things to Know About the Human Body, by Usborne
2020 Nature Month-by-Month
Little People Big Dreams: Rosa Parks, by Isabelle Sanchez Vegara & Marta Antelo
Smart About Sharks, by Owen Davey
The Daredevil's Guide to Dangerous Places, by Anna Brett & Mike Jakobsen
---
I'd love to hear what you have been reading in the last month. If you have any great recommendations, let me know in the comments!