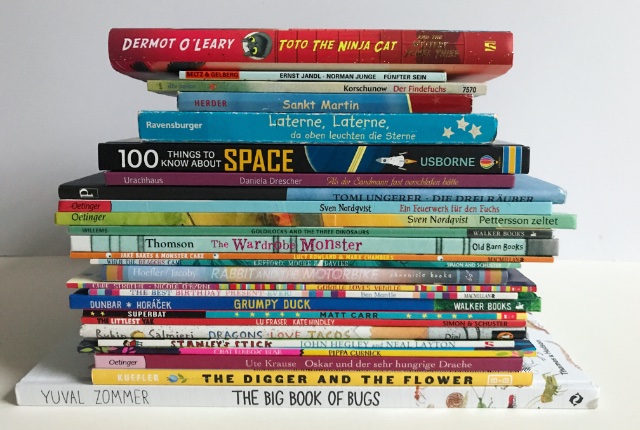 Our 2020 Reading Journey – Month 11
As I mentioned in my post from earlier this year, I decided that this year I would record all the books my 5 year old and I read together. Actually, he's now 6 years old, as it was his birthday this month. I've been snapping a quick picture of all the books from each day, and collecting them in an album over on my blog's Facebook page – and now also on Instagram! Here's our pile of books from our eleventh month: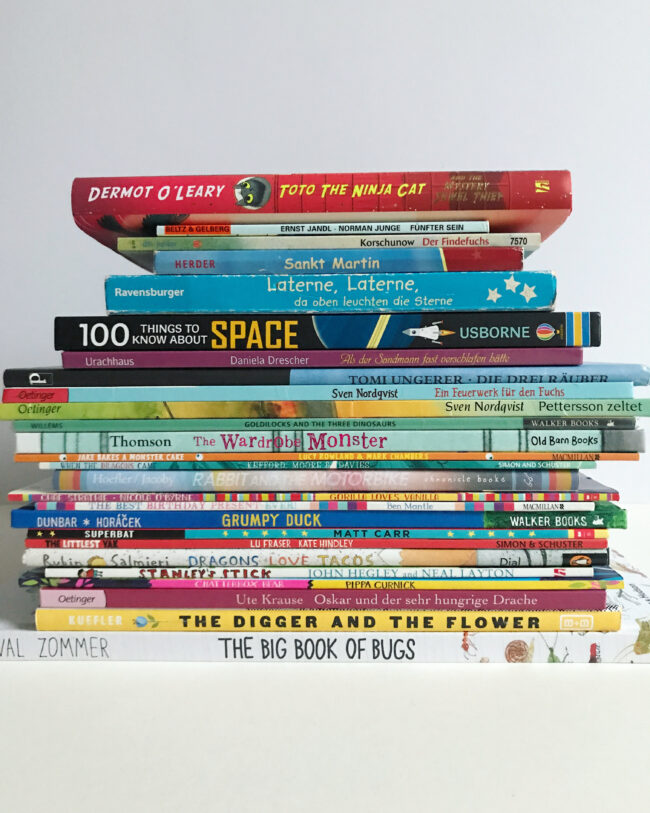 Books We Read in November 2020
November was a quieter month, due to the fact I was working a lot of evenings so did fewer bedtimes than I usually do. We read a total of 27 different books in November.
Picture Books
English
Chatterbox Bear, by Pippa Curnick
Dragons Love Tacos, by Adam Rubin & Daniel Salmieri
Goldilocks and the Three Dinosaurs, by Mo Willems
Gorilla Love Vanilla, by Chae Strathie & Nicola O'Byrne
Grumpy Duck, by Joyce Dunbar & Petr Horacek
Jake Bakes a Monster Cake, by Lucy Rowland & Mark Chambers
Look Up! by Nathan Bryon & Dapo Adeola
Rabbit and the Motorbike, by Kate Hoefler & Sarah Jacoby
Stanley's Stick, by John Hegley & Neal Layton
Superbat, by Matt Carr
The Best Birthday Party Ever, by Ben Mantle
The Digger and the Flower, by Joseph Kuefler
The Littlest Yak, by Lu Fraser & Kate Hindley
The Wardrobe Monster, by Bryony Thomson
When the Dragons Came, by Naomi Kefford, Lynne Moore & Benji Davies
German
Als der Sandmann fast verschlafen hatte, by Daniela Drescher*
Die Drei Räuber, by Tomi Ungerer*
Fünfter Sein, by Ernst Jandl & Norman Junge*
Laterne, Laterne, da oben leuchten die Sterne, by Dagmar Geisler & Rosemarie Künzler-Behncke
Oskar und der sehr hungrige Drache, by Ute Krause*
Pettersson und Findus: Ein Feuerwerk für den Fuchs, by Sven Nordqvist*
Pettersson und Findus: Pettersson Zeltet, by Sven Nordqvist*
Sankt Martin, by Ulrike Steinhoff & Denitza Gruber
*also available in English
Chapter Books
English
Toto the Ninja Cat and the Mystery Jewel Thief, by Dermot O'Leary
German
Der Findefuchs, by Irina Korschunow*
*also available in English
Non-Fiction Books
English
100 Things to Know About Space, by Usborne Books
The Big Book of Bugs, by Yuval Zommer
I'd love to hear what you have been reading in the last month. If you have any great recommendations, let me know in the comments!