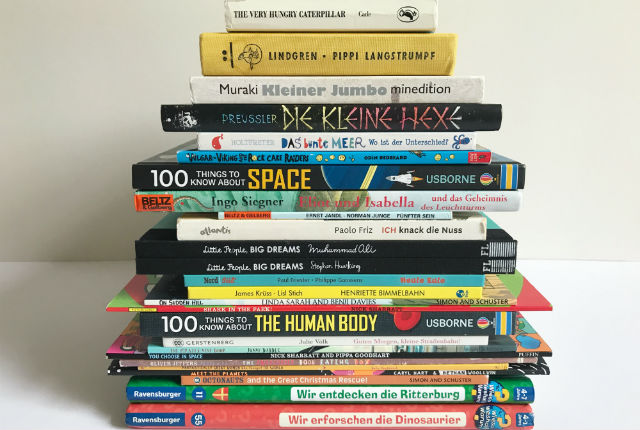 Our 2020 Reading Journey – Month 4
In case you missed my previous post, I decided that this year I would record all the books my 5 year old and I read together. I've been snapping a quick picture of all the books from each day, and collecting them in an album over on my blog's Facebook page. Here's our pile of books from our fourth month: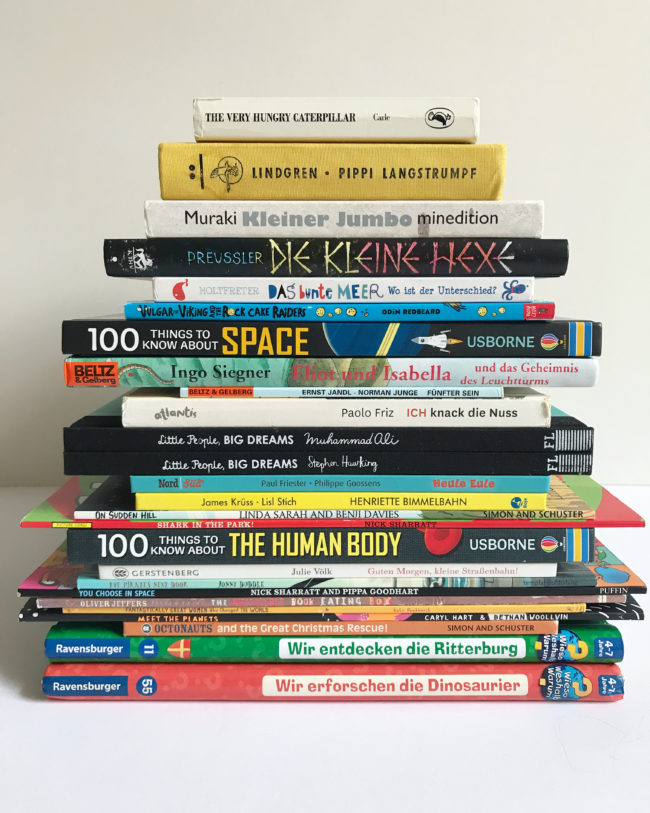 In April we read a total of 26 books different books, which is our lowest monthly book count so far which is partly due to my youngest being ill so not having any bedtime reading as he was sleeping all day and night, partly because my husband was doing more of the bedtime reading while I was catching up on work after being with the kids all day, and partly because we got really stuck in to some lengthy chapter books which of course take much longer to read than picture books so you can fit fewer in.
As in previous months, picture books still made up the largest proportion of our reads though, but one thing I was really please about is that almost half our books this month were German. I've been trying to increase the amount of German we read, but apart from the chapter books which I select, it's up to my son which books he chooses to read. But consistently reading him chapter books in German also seems to have encouraged him to choose more German picture books too.
I'd love to hear what you have been reading in the last month. If you have any great recommendations, let me know in the comments!
Books We Read in April 2020
Picture Books
English
Meet the Planets, by Caryl Hart & Bethan Woollvin
Octonauts and the Great Christmas Rescue!
On Sudden Hill, by Linda Sarah & Benji Davies
Shark in the Park, by Nick Sharratt
The Incredible Book Eating Boy, by Oliver Jeffers
The Very Hungry Caterpillar, by Eric Carle
The Pirates Next Door, by Jonny Duddle
You Choose in Space, by Pippa Goodhart & Nick Sharratt
German
Das Bunte Meer: Wo ist der Unterschied? by Nastja Holtfreter
Fünfter Sein, by Ernst Jandl & Norman Junge
Heule Eule, by Paul Friester & Philippe Goossens
Henriette Bimmelbahn, by James Kruss & Lisl Stich
Ich Knack die Nuss, by Paolo Friz
Kleiner Jumbo Große Mama, by Yasushi Muraki
Fünfter Sein (Next Please), Heule Eule (Owl Howl), and Kleiner Jumbo Große Mama (Little Jumbo Great Mum) are available in English.
Wordless
Guten Morgen, kleine Straßenbahn! by Julie Völk
Chapter Books
English
Vulgar the Viking and the Rock Cake Raiders, by Odin Redbeard & Sarah Horne
German
Die Kleine Hexe, by Otfried Preussler
Eliot und Isabella und das Geheimnis des Leuchtturms, by Ingo Siegner
Pippi Langstrumpf, by Astrid Lindgren
Die Kleine Hexe (The Little Witch) and Pippi Langstrumpf (Pippi Longstocking) are available in English.
Non-fiction Books
English
Fantastically Great Women Who Changed the World, by Kate Pankhurst
Little People, Big Dreams: Muhammad Ali, by Isabel Sanchez Vegara & Brosmind
Little People, Big Dreams: Stephen Hawking, by Isabel Sanchez Vegara & Matt Hunt
100 Things to Know About Space
100 Things to Know About the Human Body
German
Wir entdecken die Ritterburg, by Kyrima Trapp
Wir erforschen die Dinosaurier, by Angela Weinhold