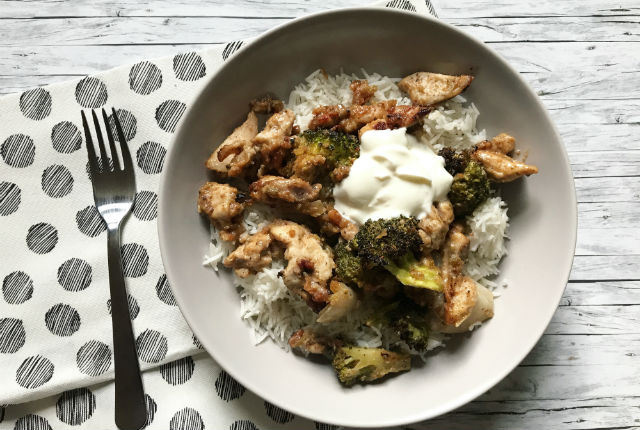 Peanut Butter Chicken Traybake
I've been watching Time To Eat on Netflix over the past week, hosted by Nadiya Hussain of Great British Bake Off fame, who is just a pleasure to watch. Besides the massive kitchen envy I get from watching the programme, it's also had me trying out some new recipes – pretty much everything she cooks looks mouth-wateringly (is that a word?) delicious. One of the recipes that particularly caught my eye was her Peanut Chicken Traybake, because a) I love anything with peanuts, and b) I love a dish you can just shove in the oven. However, Nadiya's recipe uses Thai green curry paste, which my boys won't eat as they don't like spicy food, as well as gnocchi which I can't eat as they are not gluten free and our local supermarkets don't sell any gluten free ones. So I played around with the recipe a bit and adapted it into something a little bit milder, and served it on rice to avoid the gnocchi problem.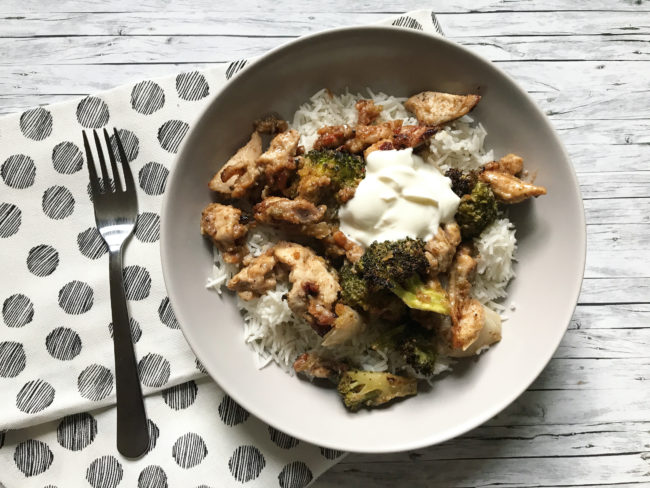 Here's my tried and tested version:
Ingredients
For the spice blend
1 large roughly chopped shallot
1 large clove of crushed garlic
a squeeze of ginger paste
1 tsp dried coriander (you could try chopped fresh coriander but our local shops didn't have any)
zest and juice of 1 lime
1 tsp of crushed coriander seeds
1/2 tsp ground cumin
1/2 tsp cracked black pepper
1 tsp soy sauce
2 Tbsp olive oil
For the rest
2 Tbsp vegetable oil
2 Tbsp runny honey
3 Tbsp crunchy peanut butter
1/2 tsp salt
1 pack of skinless, boneless chicken thighs (ca 600g)
1 large head of broccoli
2-3 shallots
rice to serve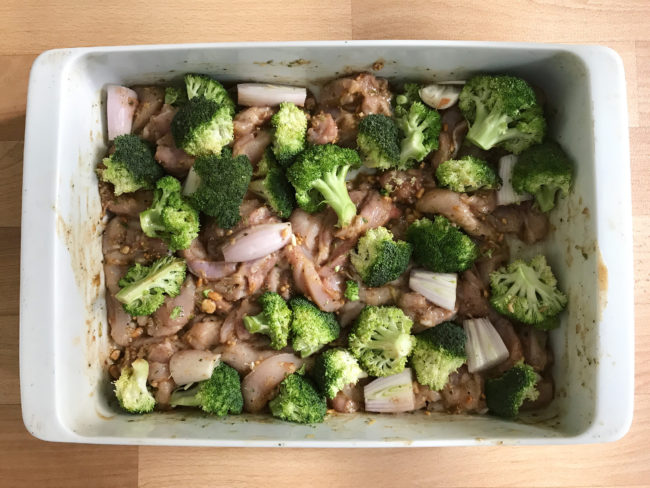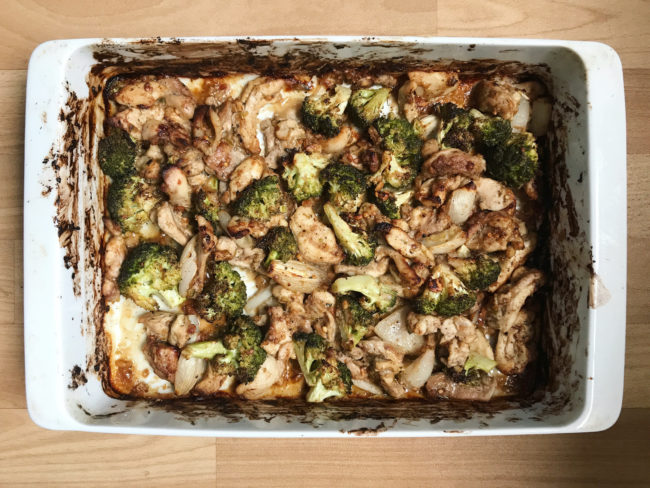 Directions
Pre-heat your oven to 200 C (or 180 C for a fan oven).
Chop the chicken up into small pieces and place in a large roasting dish.
Blitz all the ingredients for the spice blend together to make a paste – I use my stick blender for this, but you could also use a food processor. It should make roughly 3 Tbsp. (If you and your family don't mind spicy food, then you could just use 3 Tbsp of Thai green curry paste instead, like in Nadiya;s recipe.)
Add the vegetable oil, honey, peanut butter, and salt to the spice paste and mix in well. Tip: If you measure out the oil first, the honey and peanut butter won't stick to the measuring spoon so much!
Pour your paste mixture over the chicken and mix well, then spread the chicken out evenly in the roasting dish.
Chop the broccoli in to florets and the shallots in to wedges, and scatter over the chicken.
Bake in the oven for 30 minutes, giving it a good stir half way through.
As mentioned above, I served this on rice (we have a rice cooker, so it just cooks itself while I do the rest) – with a dollop of Greek yoghurt on top.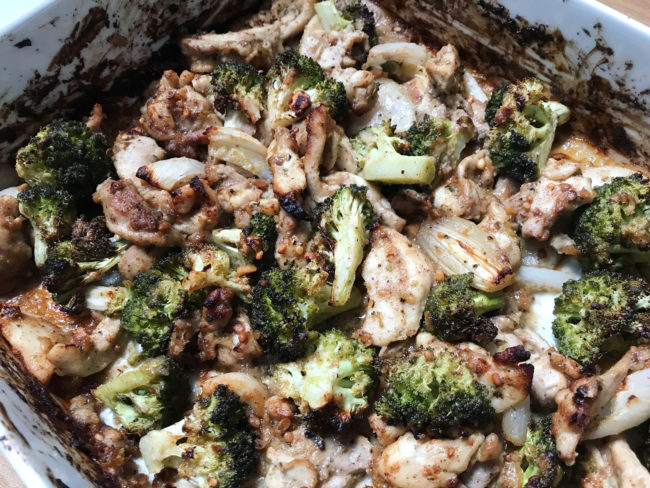 I often get asked whether my kids actually eat all the recipes I post here on the blog, and yes they do, otherwise I wouldn't share them as a family friendly meal. However, in the interest of full honesty I have to add that this dish had a mixed response with my boys. My 5 year old loved it and gobbled down his portion of both chicken and broccoli. But my 9 year old wasn't keen on the roasted broccoli and asked if he could have steamed broccoli instead next time we make this. We have a little microwave steamer, so I can keep some florets aside for him next time and shove them in the microwave five minutes before the tray comes out.