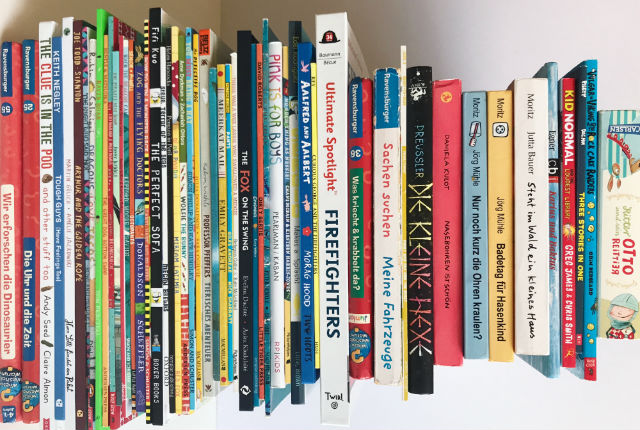 Our 2020 Reading Journey – Month 3
In case you missed my previous post, I decided that this year I would record all the books my 5 year old and I read together. I've been snapping a quick picture of all the books from each day, and collecting them in an album over on my blog's Facebook page. Here's our pile of books from our third month: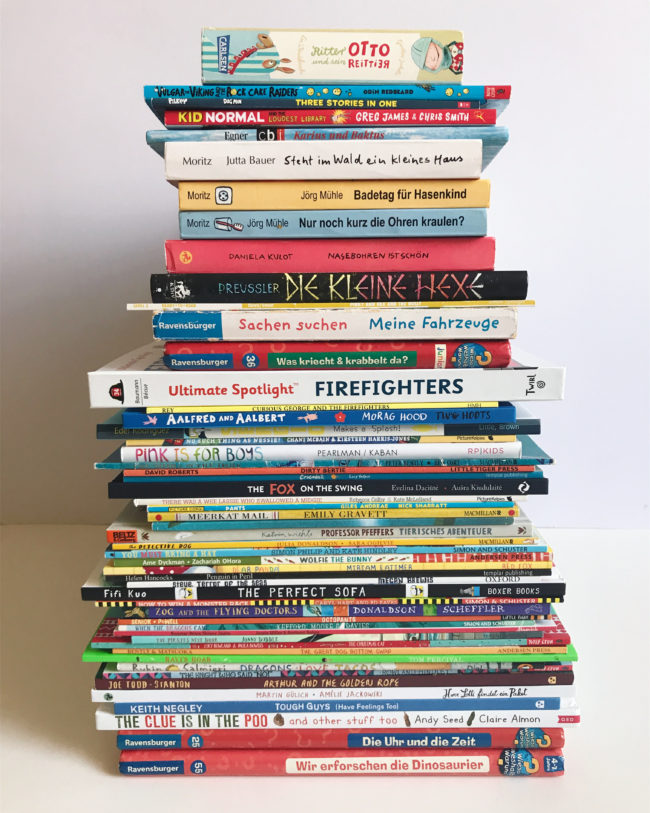 In March, we read a total of 53 different books, which has been our busiest month so far but it has also been our month with the fewest chapter books so far which could explain it, as picture books take less time to read so you can fit more in. As well as the longer books that took us several days to read (a few we have yet to finish), there were two books we read twice and one we read three times. And there were five picture books that had also made appearances in the previous two months.
I'd love to hear what you have been reading in the last month. If you have any great recommendations, let me know in the comments!
Books We Read in March 2020
Picture Books
English
Aalfred and Aalbert, by Morag Hood
Arthur and the Golden Rope, by Joe Todd Stanton
Crocodali, by Lucy Volpin
Curious George and the Fire Fighters, by Margret & H.A. Rey
Dear Panda, by Miriam Latimer
Dirty Bertie, by David Roberts
Dragons Love Tacos, by Adam Rubin & Daniel Salmieri
How to Win a Monster Race, by Caryl Hart & Ed Eaves
Meerkat Mail,by Emily Gravett
Mr Little's Noisy Train, by Richard Fowler
No Such Thing as Nessie, by Chani McBain & Kirsteen Harris-Jones
Octopants, by Suzy Senior & Claire Powell
Pants, by Giles Andreae & Nick Sharratt
Penguin in Peril, by Helen Hancocks
Pink is for Boys, by Eda Kaban & Robb Pearlman
Ravi's Roar, by Tom Percival
Rooster Wore Skinny Jeans, by Jessie Miller & Barbara Bakos
Sammy Claws the Christmas Cat, by Lucy Rowland & Paula Bowles
Segio Makes a Splash! by Edel Rodriguez
Steve Terror of the Seas, by Megan Brewis
The Detective Dog, by Julia Donaldson & Sara Ogilvie
The Fox on the Swing, by Evelina Daciute & Ausra Kiudulaite
The Great Dog Bottom Swap, by Peter Bently & Mei Matsuoka
The Knight Who Said No, by Lucy Rowland & Kate Hindley
The Little Boy Who Lost his Name, by David Cadjji-Newby & Pedro Serapicos
The Perfect Sofa, by Fifi Kuo
The Pirates Next Door, by Jonny Duddle
There Was a Wee Lassie Who Swallowed a Fly, by Rebecca Colby & Kate McLelland
The Shark in the Dark, by Peter Bently & Ben Cort
Tough Guys Have Feelings Too, by Keith Negley
When the Dragons Came, by Naomi Kefford, Lynne Moore & Benji Davies
Wolfie the Bunny, by Ame Dyckman & Zachariah OHora
You Must Bring a Hat, by Simon Philip & Kate Hindley
Zog and the Flying Doctors, by Julia Donaldson & Axel Scheffler
German
Badetag für Hasenkind, by Jörg Mühle
Herr Lotti Findet ein Paket, by Martin Gülich & Amelie Jackowski
Nasebohren ist Schön, by Daniela Kulot
Nur Noch Kurz die Ohren Kraulen? by Jörg Mühle
Professor Pfeffers Tierisches Abenteuer, by Katrin Wiehle
Ritter Otto und sein Reittier – ein Wendebuch, by Günther Jakobs
Sachen Suchen: Meine Fahrzeuge, by Susanne Gernhäuser & Wolfgang Metzger
Steht im Wald ein Kleine Haus, by Jutta Bauer
Chapter Books
English
Kid Normal, by Greg James & Chris Smith
Pinky and Rex and the Bully, by James Howe & Melissa Sweet
Vulgar the Viking and the Rock Cake Raiders, by Odin Redbeard & Sarah Horne
German
Die Kleine Hexe, by Otfried Preussler
Karius und Baktus, by Thorbjörn Egner
Graphic Novels
Dog Man: Three Stories in One, by Dav Pilkey
No-fiction Books
English
Firefighters, by Anne-Sophie Baumann & Benjamin Bécue
The Clue is in the Poo, by Andy Seed & Claire Almon
German
Die Uhr und die Zeit, by Angela Weinhold
Was kriecht und krabbelt da? by Irmgard Eberhard
Wir erforschen die Dinosaurier, by Angela Weinhold