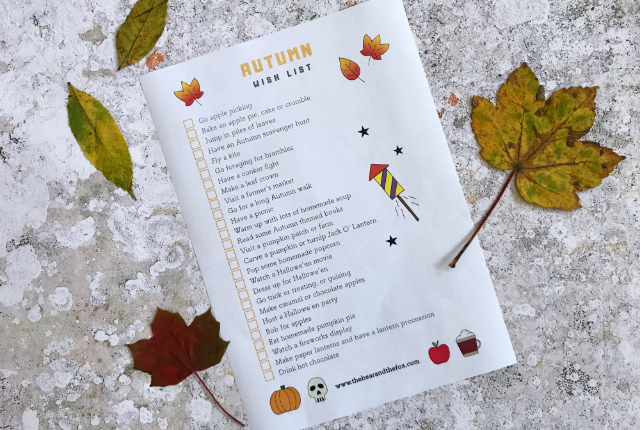 Autumn Wish List
Have I mentioned yet how much I love Autumn? Every year, I have a long list of things I want to do with the kids during Autumn, and every year we get to the end of Autumn and have forgotten about half of them. So this year I'm being more organised and I have made a wish list to print off (I don't really like the term 'bucket list'). The boys were really excited by this, especially Oskar who immediately went in search of a clipboard and pencil – we all know where he gets that from, haha.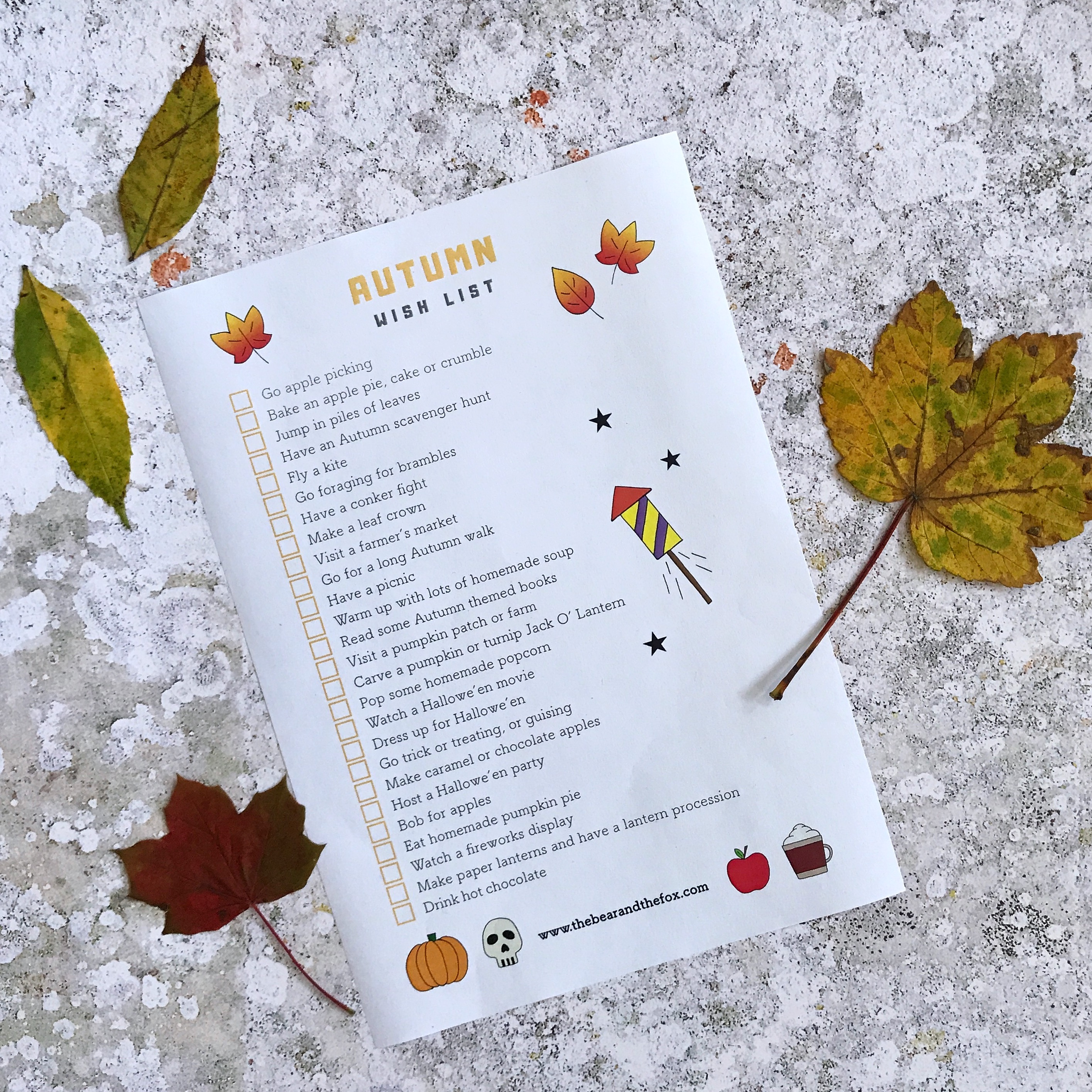 I've made a few notes below about each of the things on the list – with some handy links thrown in for good measure – and if you scroll to the end of this post you can download a FREE copy of the list to print off for yourselves, including a blank version to add in your own ideas. So, here's what's on our wish list for Autumn…
Go apple picking – Last year we went to a 'pick your own' apple farm for the first time (Craigie's Farm, which is reachable from Edinburgh by public transport) and absolutely loved it. I don't know if we'll find time to do it again this year, but I'd definitely like to.
Bake an apple pie, cake or crumble – Last year we made my mum's trusted apple cake recipe, and of course lots of apple crumbles. This year we also want to try our hands at an apple pie.
Jump in piles of leaves – need I say more?
Have an Autumn scavenger hunt – Make a list of things to find and then tick them off as you go. If you don't fancy doing a structured hunt with a list, just head out to see what you can collect then come back home for a round of crafting such as these chestnut creatures, or some leaf art.
Fly a kite – This is something we've never done before with the boys, but we definitely get plenty of wind in Edinburgh to try it!
Go foraging for brambles – What's even better than apple crumble? An apple and bramble crumble! Especially when you've picked the brambles yourself. Even in the city, we've always been able to find some.
Have a conker fight – Is there anything more quintessentially British about Autumn than a conker fight? In Germany I'd just get blank stares as nobody knew what I was talking about. For the uninitiated, for a game of conkers you each thread a conker on to a piece of string then you strike each other's conkers until one breaks. Last conker standing wins.
Make a leaf crown!
Visit a farmer's market – I love going to farmer's markets all year round, but especially in Autumn.
Go for a long Autumn walk – There's no such thing as bad weather, just the wrong clothing. So wrap up warm against the blustery Autumn winds and head out to the park, the woods, or whatever else you have nearby. It's the perfect opportunity for a scavenger hunt too (see above).
Have a picnic – Picnics are not just for Summer!
Warm up with lots of homemade soup – How about celeriac & potato, parsnip & apple, or butternut squash? And for something a little different, there's our German cheese, leek & mince soup!
Read some Autumn themed books – I shared our favourite picture books to welcome Autumn in my recent post and video, and I can let you in on a little secret: there's a separate post dedicated to our favourite Hallowe'en books coming up too next month!
Visit a pumpkin patch or farm – We managed to kill two birds with one stone last year, by visiting a farm where you could pick both apples and pumpkins (see above).
Carve a pumpkin or turnip Jack O'Lantern – Pumpkins are a lot easier to carve, but in Scotland it is turnips that were traditionally carved out. Jack O'Lanterns take their name from an Irish folktale about a man named Jack, whose attempt to trick the Devil fails miserably and he was cursed to roam the earth with no more than a piece of burning coal inside a hollowed out turnip.
Pop some homemade popcorn – It's really easy to do, you don't need a fancy popcorn maker, just a saucepan with a lid. Check out my previous posts for some homemade sweet and savouring popcorn seasonings, or go all out on chocolate & marshmallow popcorn!
Watch a Hallowe'en movie – Hocus Pocus is a 'must see' classic. For younger ages, check out our recommendations of Hallowe'en movies to watch with younger children.
Dress up for Hallowe'en – Last year's DIY bat costume was a big success, and the boys have already decided on their costumes for this year. Oskar wants to be a ghost, and Mr Fox wants to be a 'Spook Scary Skeleton' (again).
Go trick or treating, or guising – Hallowe'en wouldn't be the same without it. In Scotland it's called guising, and kids have to perform a joke, poem or song in return for their sweeties. Which is a much lovelier tradition I think then just going around begging. You can find out more about Scottish Hallowe'en customs in my previous post.
Make caramel or chocolate apples – This is a super easy Autumn treat to make. Just melt some chocolate (or caramel), swirl some small apples in it and leave on a plate to set. Scatter over some sprinkles before the chocolate sets if you like. We stick our apples on to ice lolly sticks to eat them.
Host a Hallowe'en party – Any excuse for a party!
Bob for apples – I haven't done this since I was a kid, but I think it's about time we introduced the boys to this traditional Hallowe'en activity.
Eat home made pumpkin pie – Probably my favourite kind of pie.
Watch a fireworks display – In the UK, we celebrate the 5th November with fireworks displays to commemorate the foiled Gunpowder Plot in 1605 to assassinate King James I. It totally makes sense commemorating the failure to blow something up, by blowing something else up!
Make paper lanterns and have a lantern procession – In Germany, we celebrate the feast of St Martin on 11th November with lantern processions. Often the kids make these themselves at nursery or school. Even if you are not celebrating St Martin, it's the perfect time of year for a lantern walk. You can find an easy tutorial for making a paper lantern in my previous post.
Drink hot chocolate – Why not add a shot of peppermint? (or Baileys for the grown-ups…)
[line]
Click on the links below to download your own pre-filled or blank Autumn wish list. I'd love to see some pictures if you use it, please feel to share and tag me on Twitter or Instagram.