We finally have internet! I know it's a bit of a first world problem, but when you write a blog, it's good to be back online after an almost two week hiatus. If you follow me on Instagram, you will have seen that we have arrived safely in Edinburgh and are slowly settling in to our new home. And we've been taking breaks from unpacking boxes to get out and about, especially when the weather has been showing itself from its best side – you don't get as many summer sunshine days in Edinburgh as you do in Berlin, so you have to make the most of them when they come! That's why we hot footed it down to Portobello as soon as we could, while the mercury was rising and the skies were blue, for a day at the beach!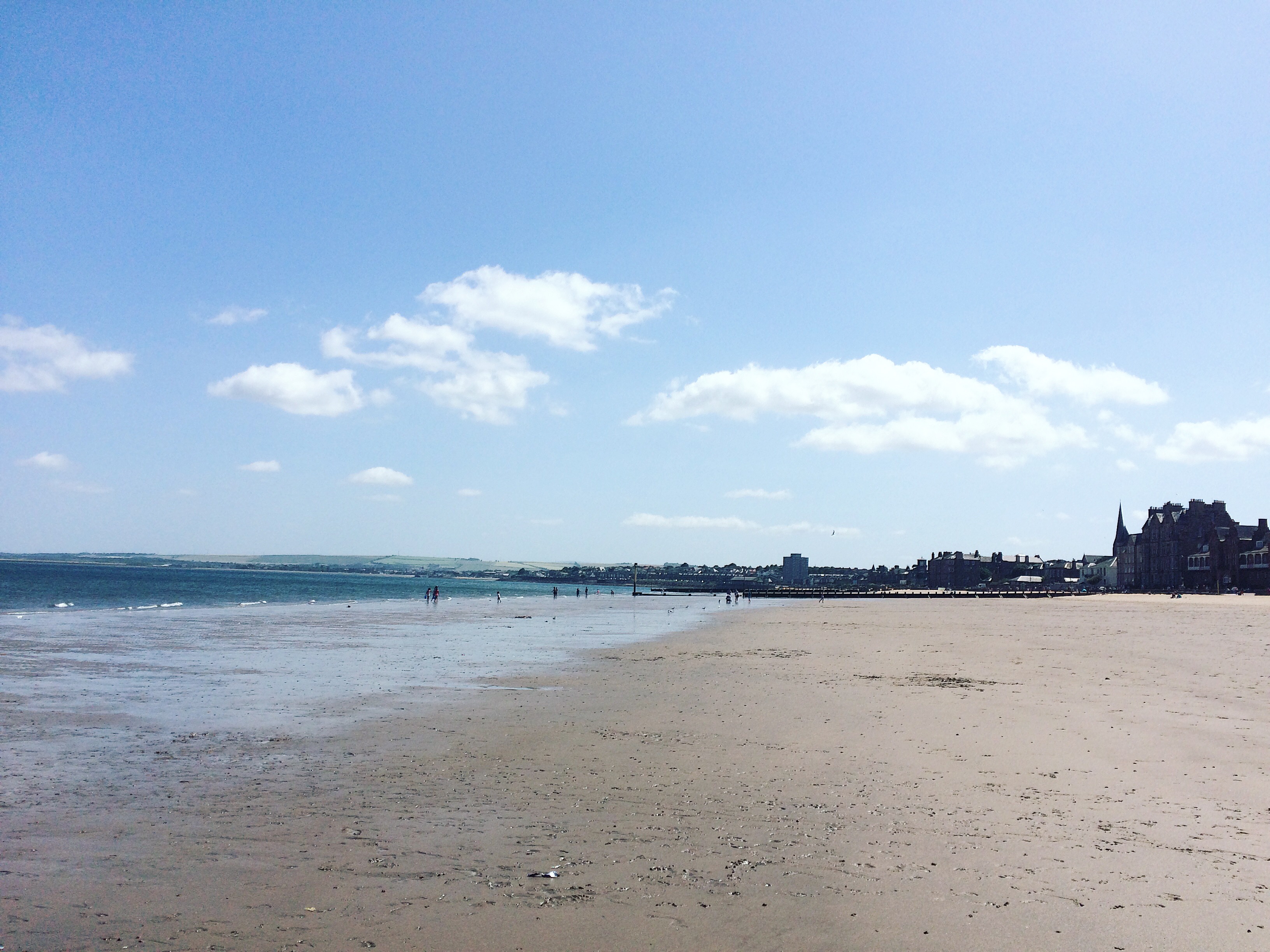 Portobello is a coastal suburb of Edinburgh to the east of the city, about three miles from the city centre, and boasts two miles of award-winning beach. We are in the south-west of the city, so for us it's just over five miles from our place. In a car it would take you about 20 minutes, but since we don't have a car we went on the bus, which took about 40 minutes but at least it was a direct connection so we didn't have to change. There are over half a dozen different bus lines from Lothian Buses that run to Portobello.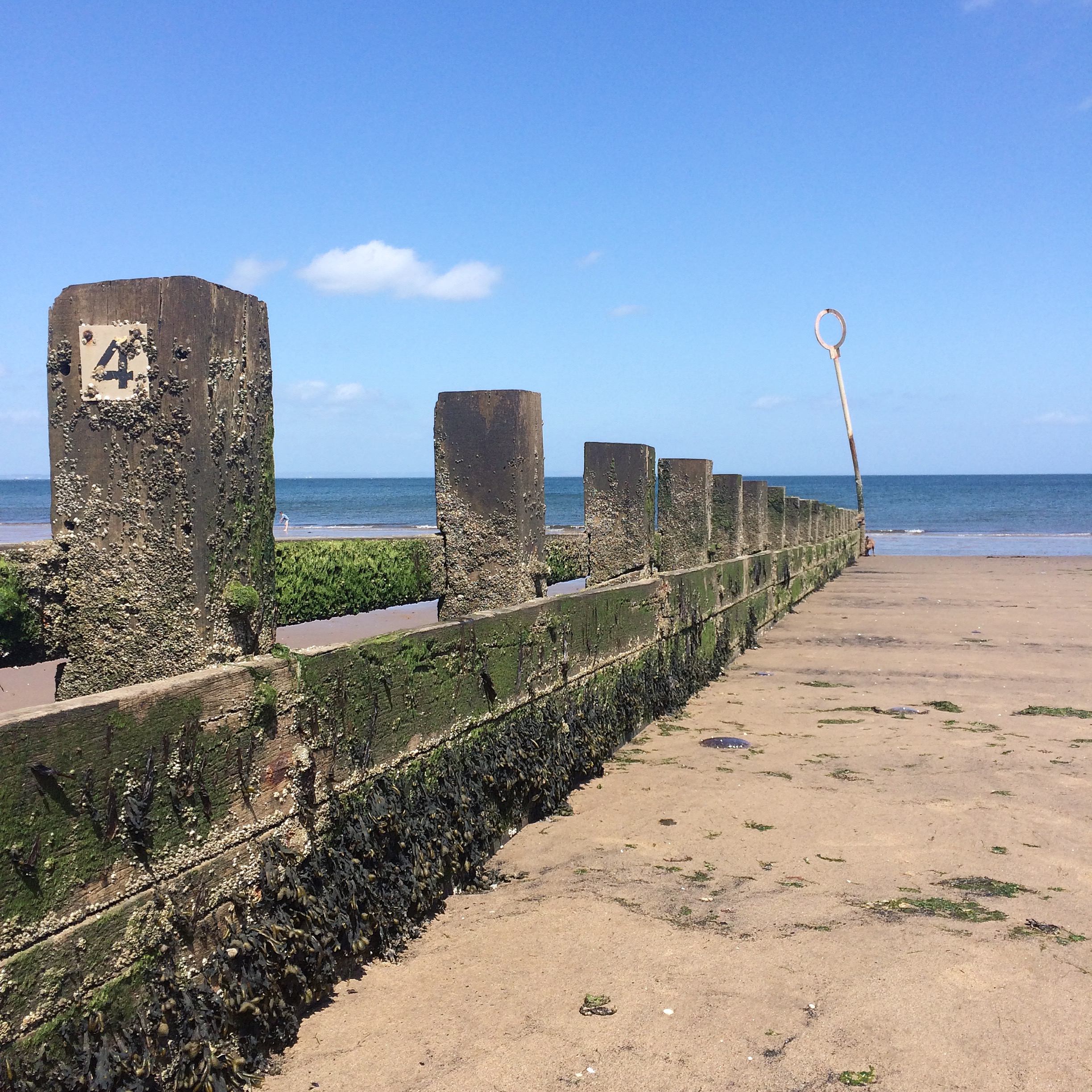 We had planned to have lunch in Portobello, and we had heard that the Beach House cafe was very good. And also very popular, so we timed our visit to start at the Beach House with an early lunch. It's located on Bath Street, so if you got off at the 'Town Hall' bus stop, then Bath Street is the next left. The cafe is right down on the promenade, so just keep walking until you see the beach and it's there on the corner.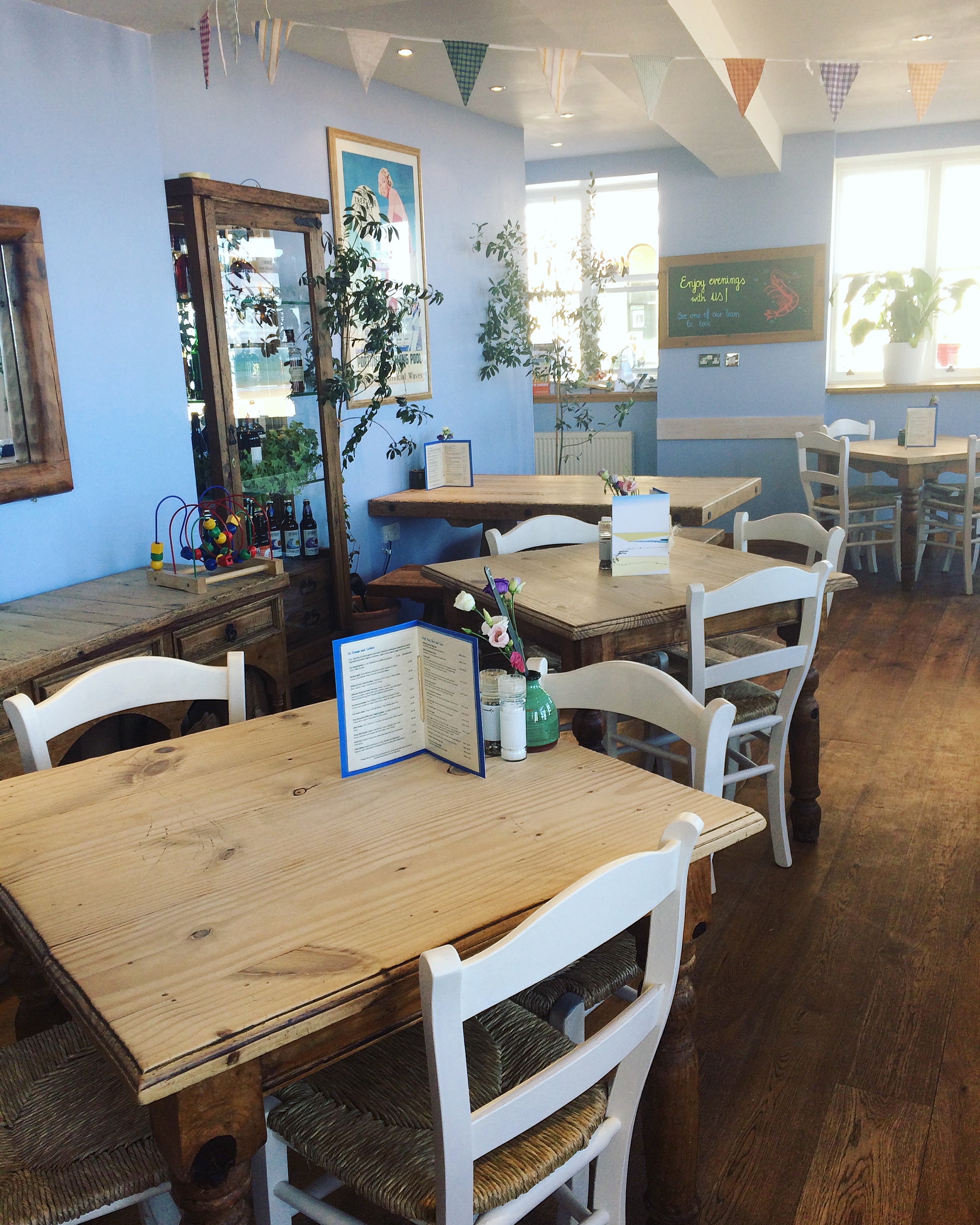 The Beach House cafe lived up to the good things we had heard about it (and it was indeed very popular, so we were glad we had turned up early – we took a bus around 11am, arrived at the cafe around 11:45am, and by the time we'd ordered and the food had arrived it was lunch time). All the sandwiches were available as gluten free options, so I was finally able to have a good old egg mayo sandwich, which was served on chunky bread and had a generous filling, as well as a side salad. For drinks, I opted for one of the cordials made locally in Portobello – I chose gooseberry and mint – which was served in a little jug with a choice of sparkling, still, tap or hot water.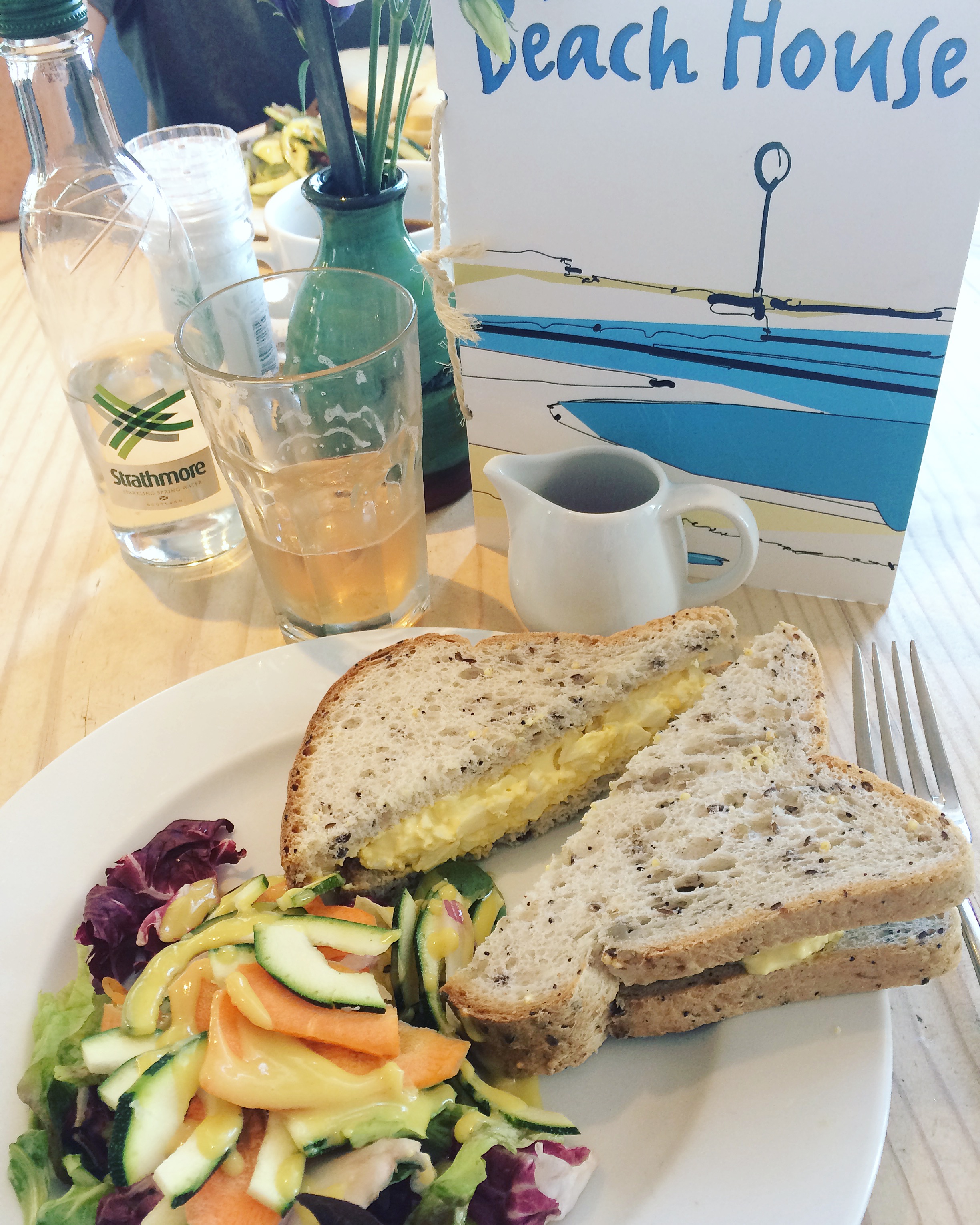 The Husband went for a three-game-terrine panini, which he said tasted so amazing, he wished he was a food critic just so he could give it a good write up! It was also a very generous sized portion. He washed it down with a black coffee. For the kids, we chose the kids lunch box, which included a sandwich or roll with a choice of fillings, carrot sticks, a packet of Pom Bear crisps, a packet of fruit jellies, and a juice carton or cup of cordial. All served in a vintage tin. My boys chose brown bread as they prefer it to white, and it was proper chunky whole grain bread served with thick slices of ham and hunks of cheese.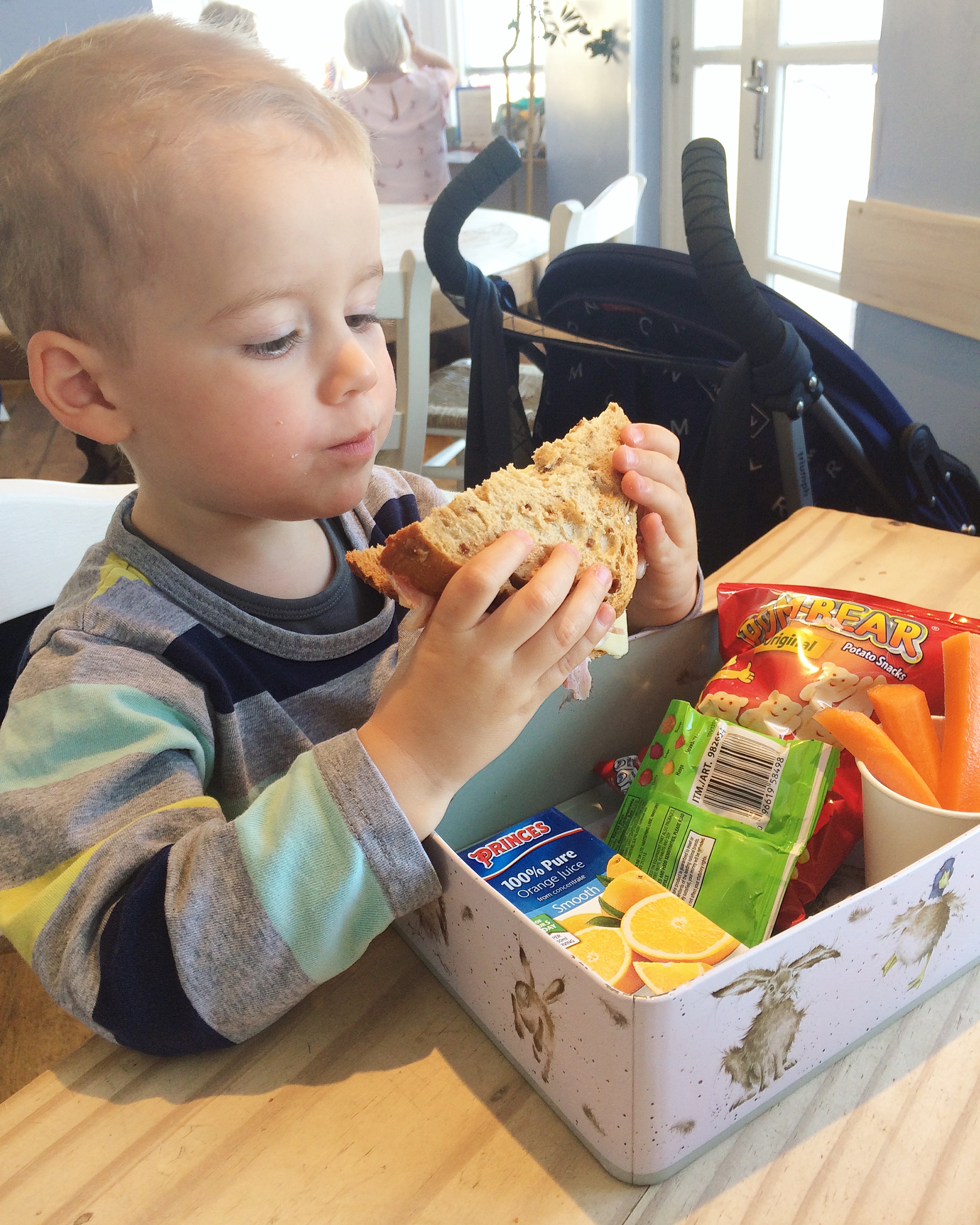 The lunch boxes came in at just under a fiver per kid, and in total we paid only 28 pounds for everything which, considering how generous the portions were, was a very good price for four people. Re-energised from our lunch (not that the kids needed re-energising!) we were ready to explore the beach.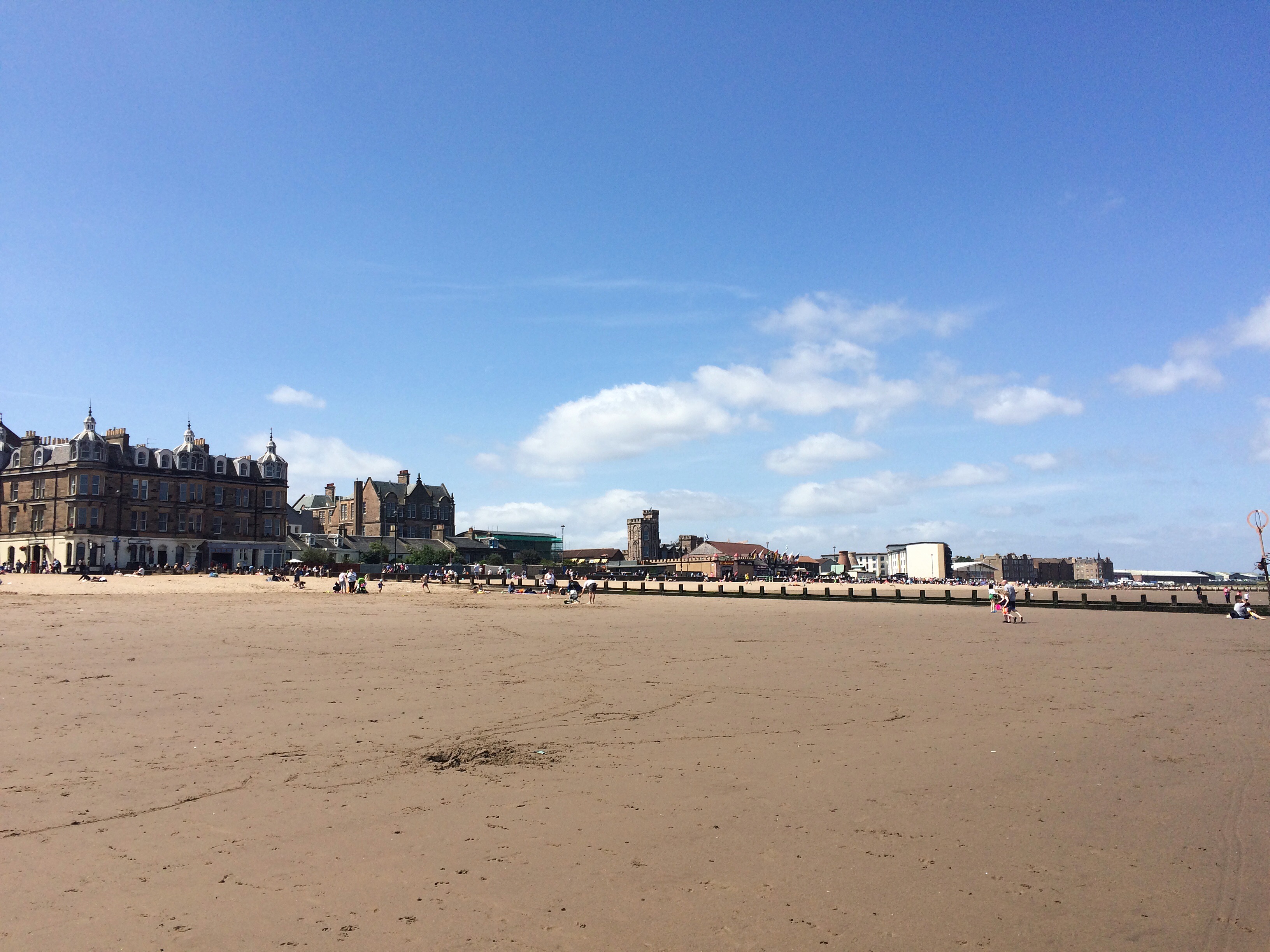 The beach promenade runs right past the Beach House cafe. The tide was just starting to come in, so the water's edge was a fair few yards away from the shore. We hadn't really considered that it would be hard pushing the stroller through the sand, but once we'd carried it down to the wet sand, which was more compact, it was easy enough to push it along.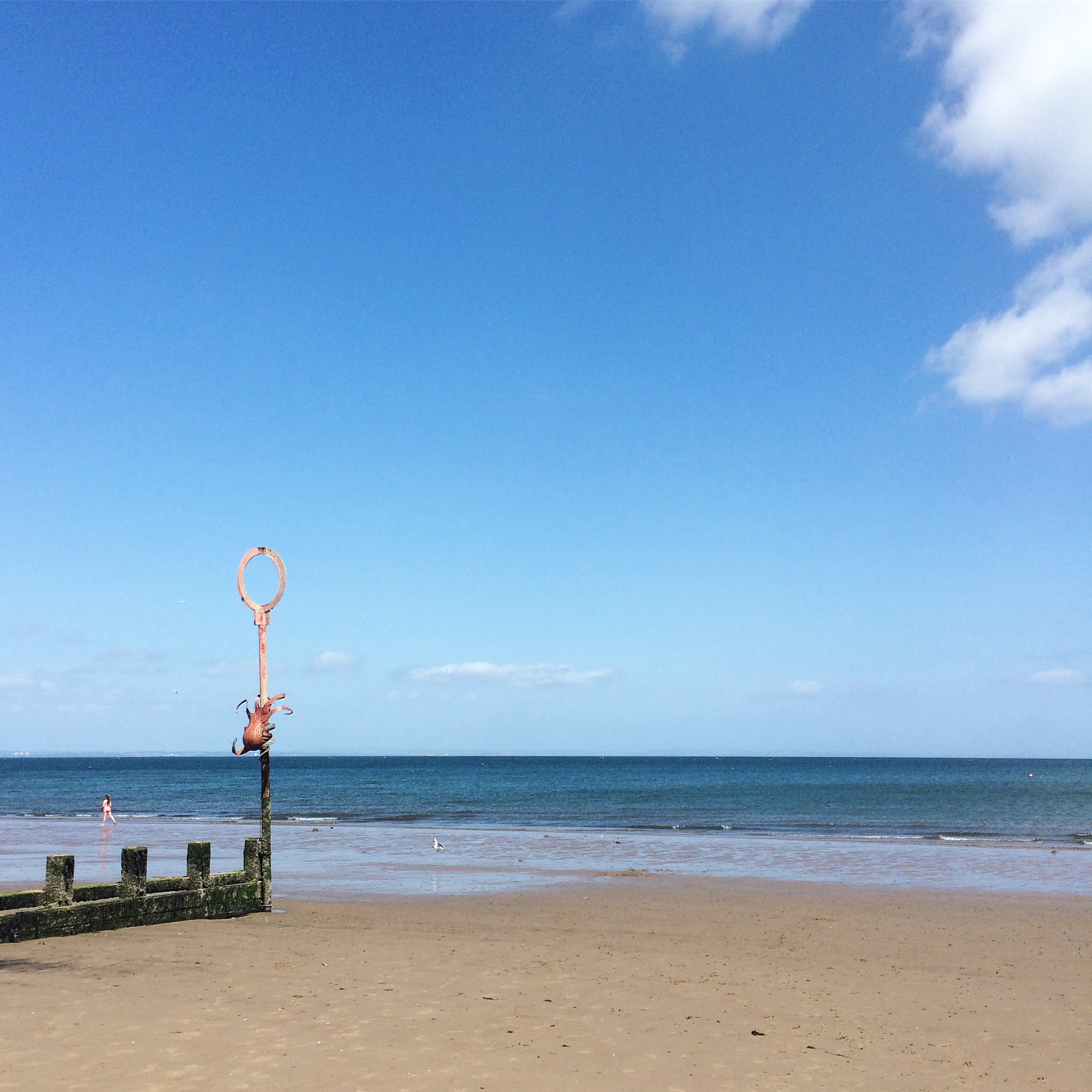 At the North-West end of the Promenade (or to your left, if you are facing the beach at the end of Bath Street), there are amusement arcades, but we decided to bypass these as the weather was just too gorgeous to be inside any longer – and Oskar was half way down to the water by this point anyway! But maybe on another visit we'll go there for some nostalgia on the 2p machines.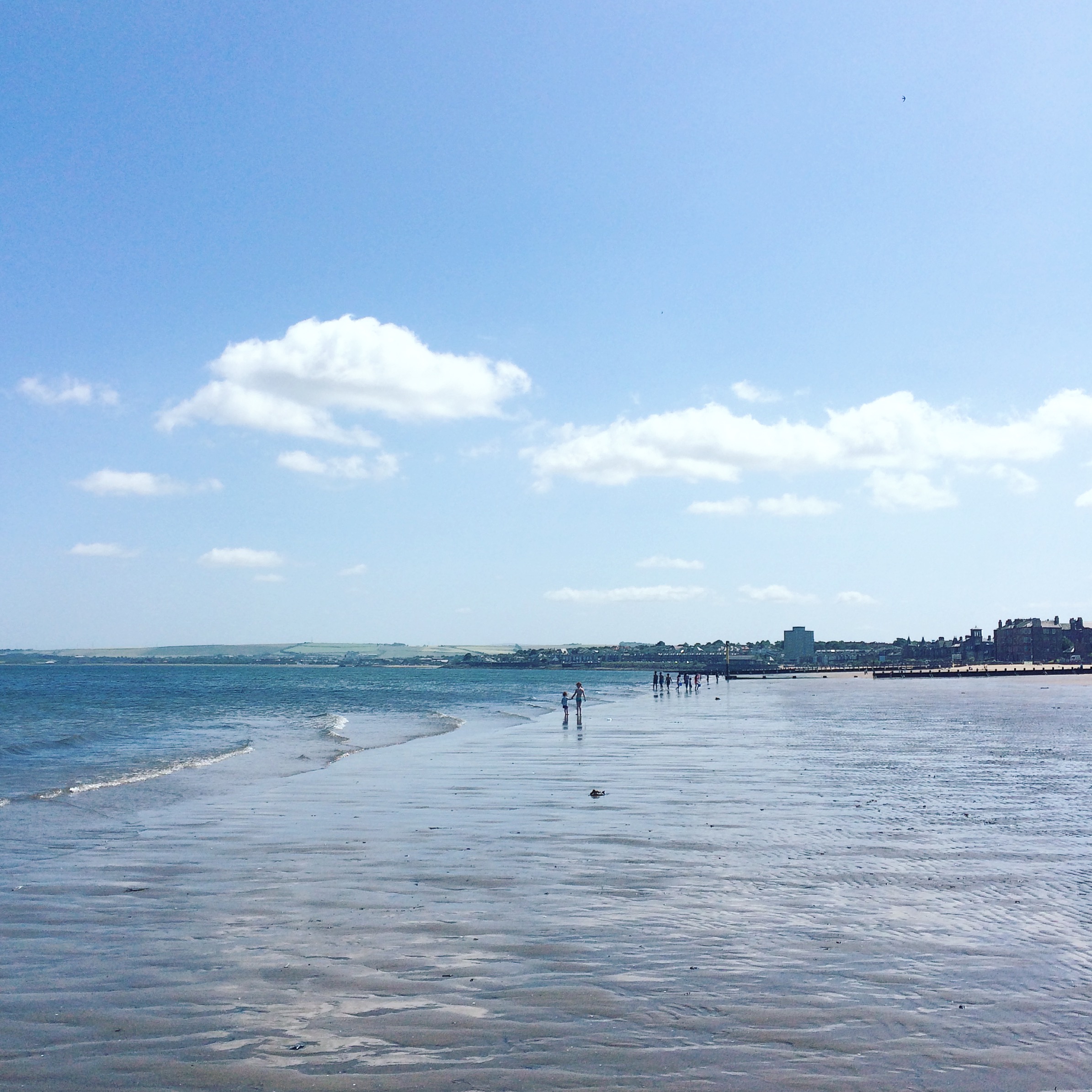 The kids couldn't wait to get their socks and shoes off and roll up their trouser legs! Actually, they were wearing shorts already, but never mind. Oskar even changed in to his swimming trunks later on. He felt right at home there. Mr Fox did dip his toes in the water, but preferred to get busy with his shovel in the sand.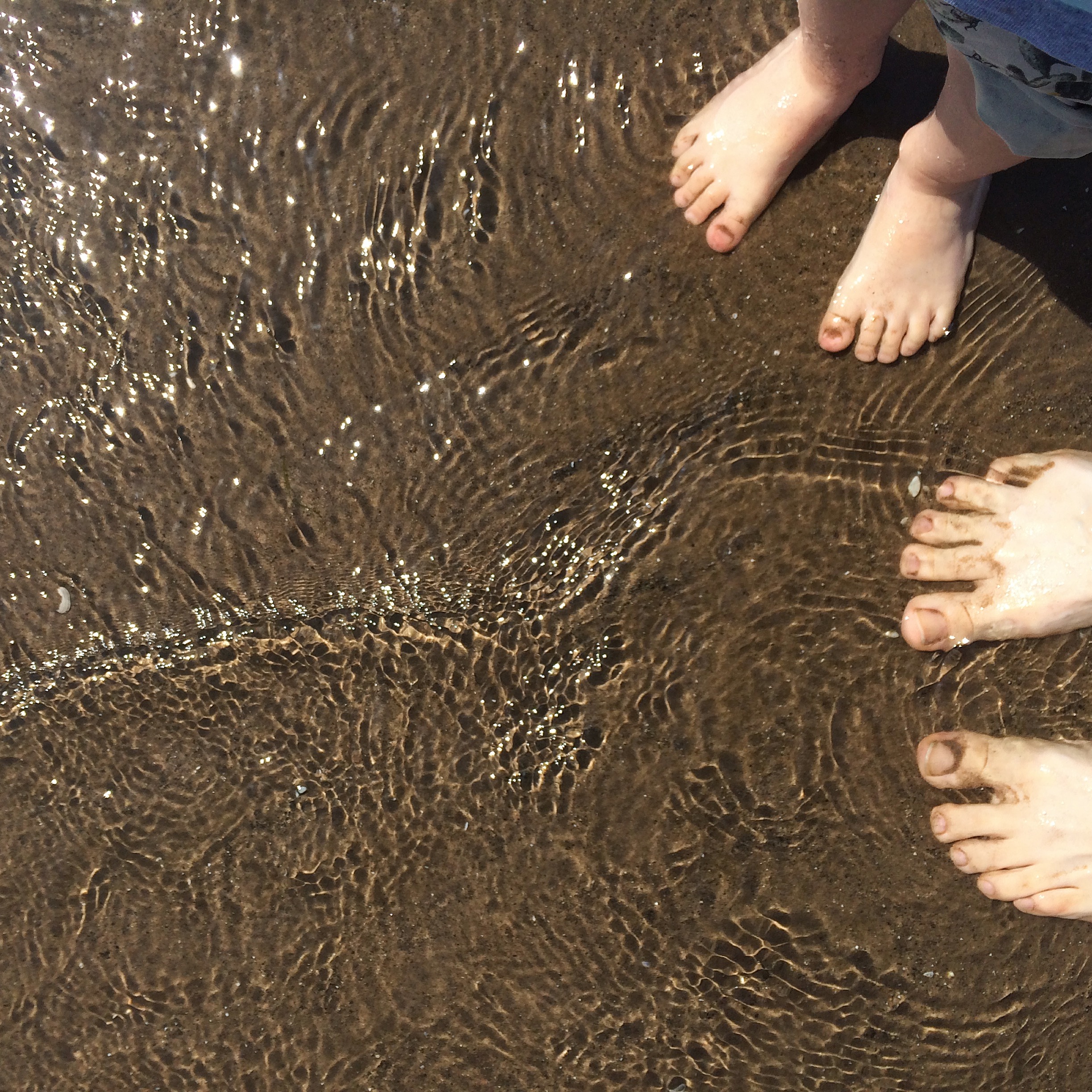 We walked South-West along the beach as far as Portobello Swim Centre (which is home to Edinburgh's only authentic and publicly available Turkish Baths, in case you're interested). Along the way, we collected lots of shells, and saw many washed up jelly fish.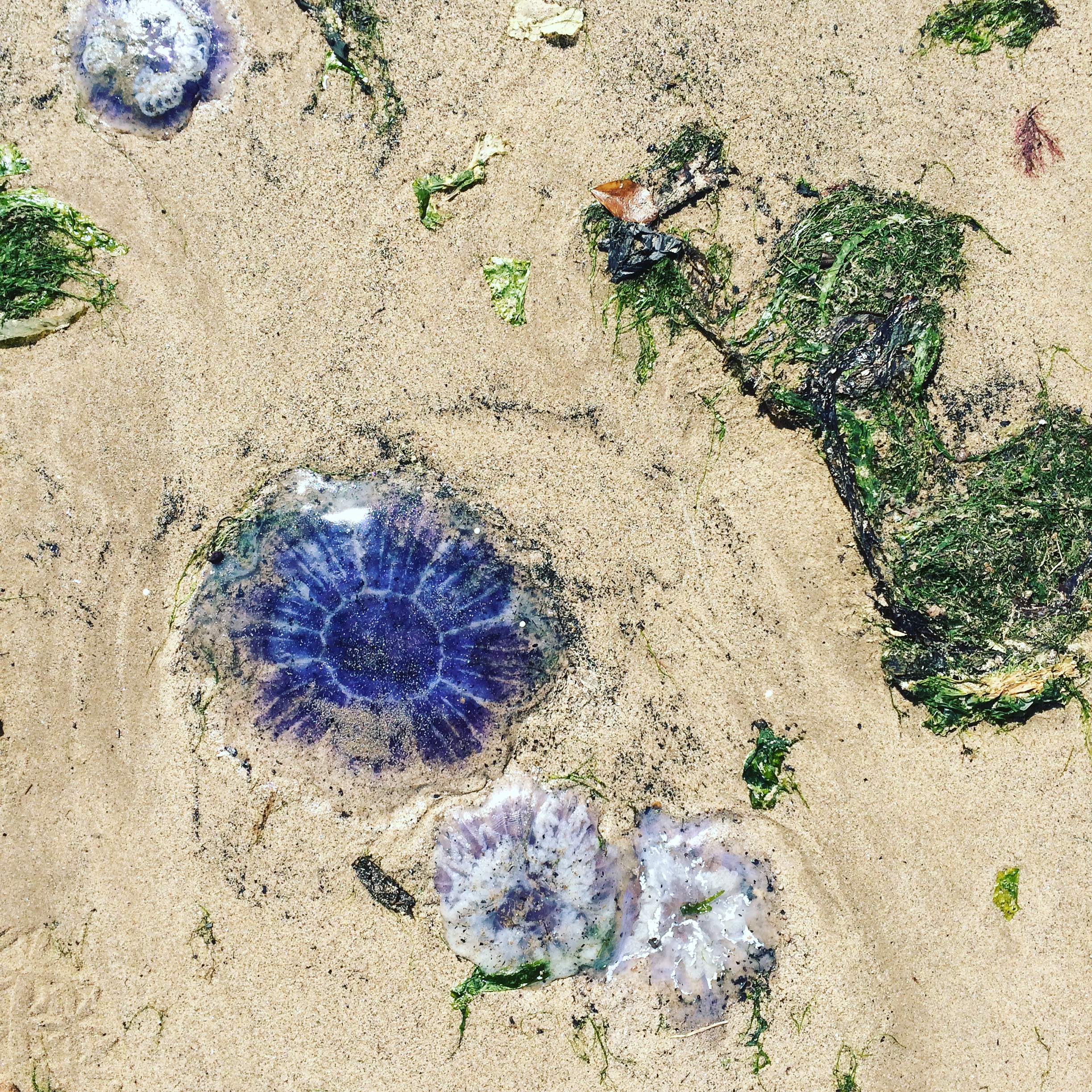 We then continued along the Promenade until John Street, where we stopped at the ice cream van there to get a round of 99 cones. We'd heard great things about the 'Little Green Van', but we couldn't find that anywhere. But the ice cream we had was very nice too. Gotta love a 99!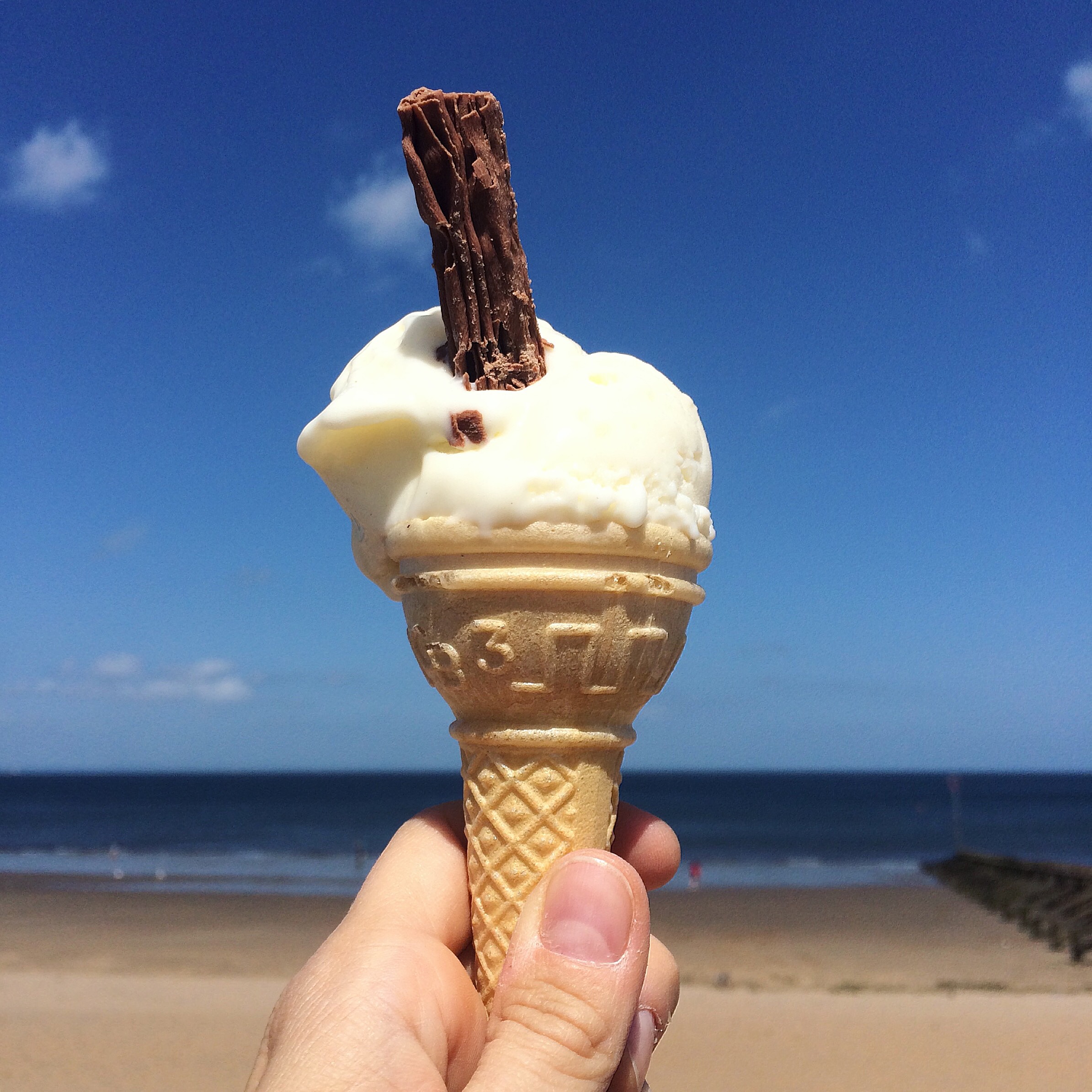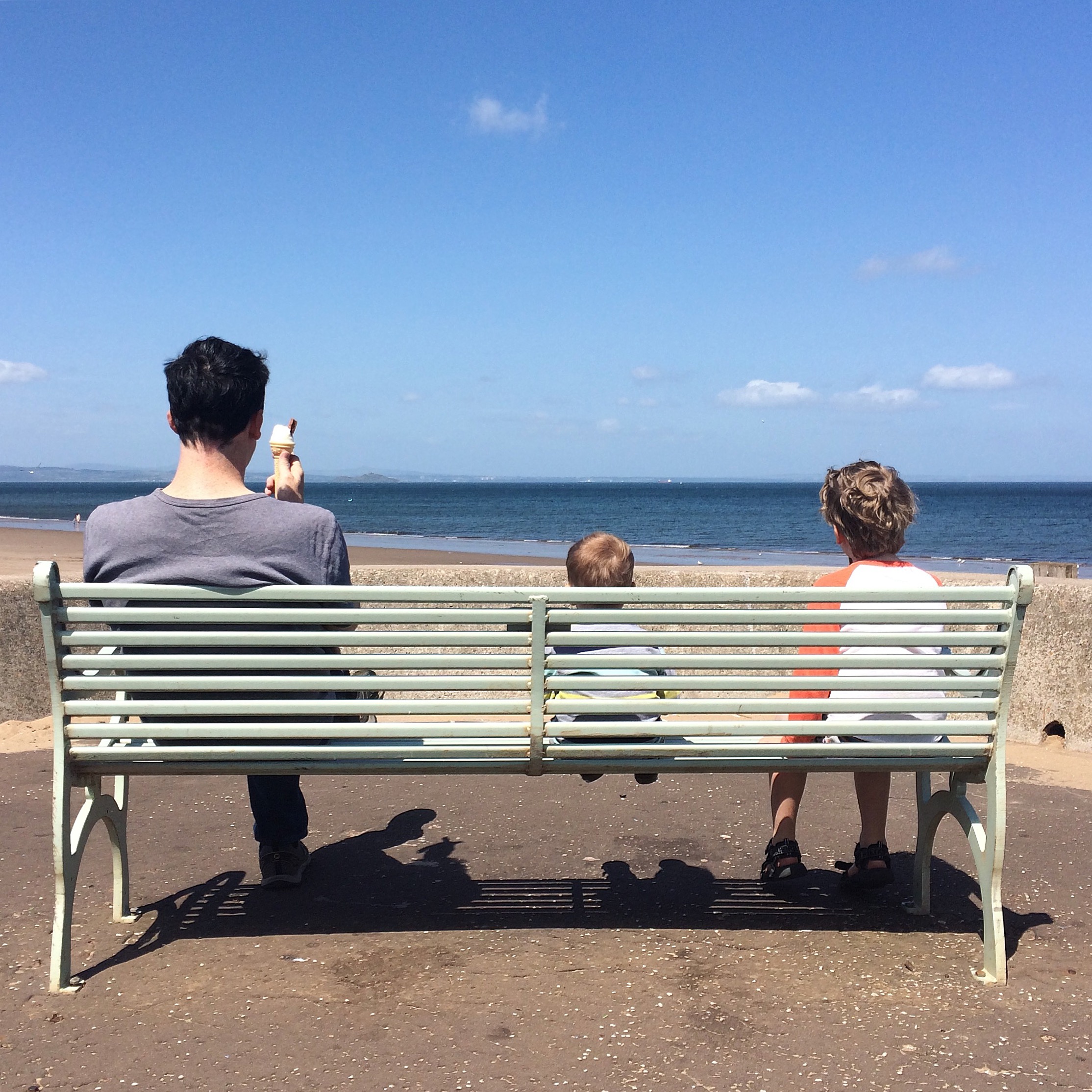 We walked back along the Promenade to the bus stop at Town Hall, stopping off at the Straiton Park playground, which is alongside the Promenade close to Bath Street, for a quick play. By the way, if you see a map telling you there are public toilets right next to the playground, this is not true! Apparently there are toilets inside the Swim Centre, though my husband could not find those either, and there are public toilets half away along Bath Street, which we did find.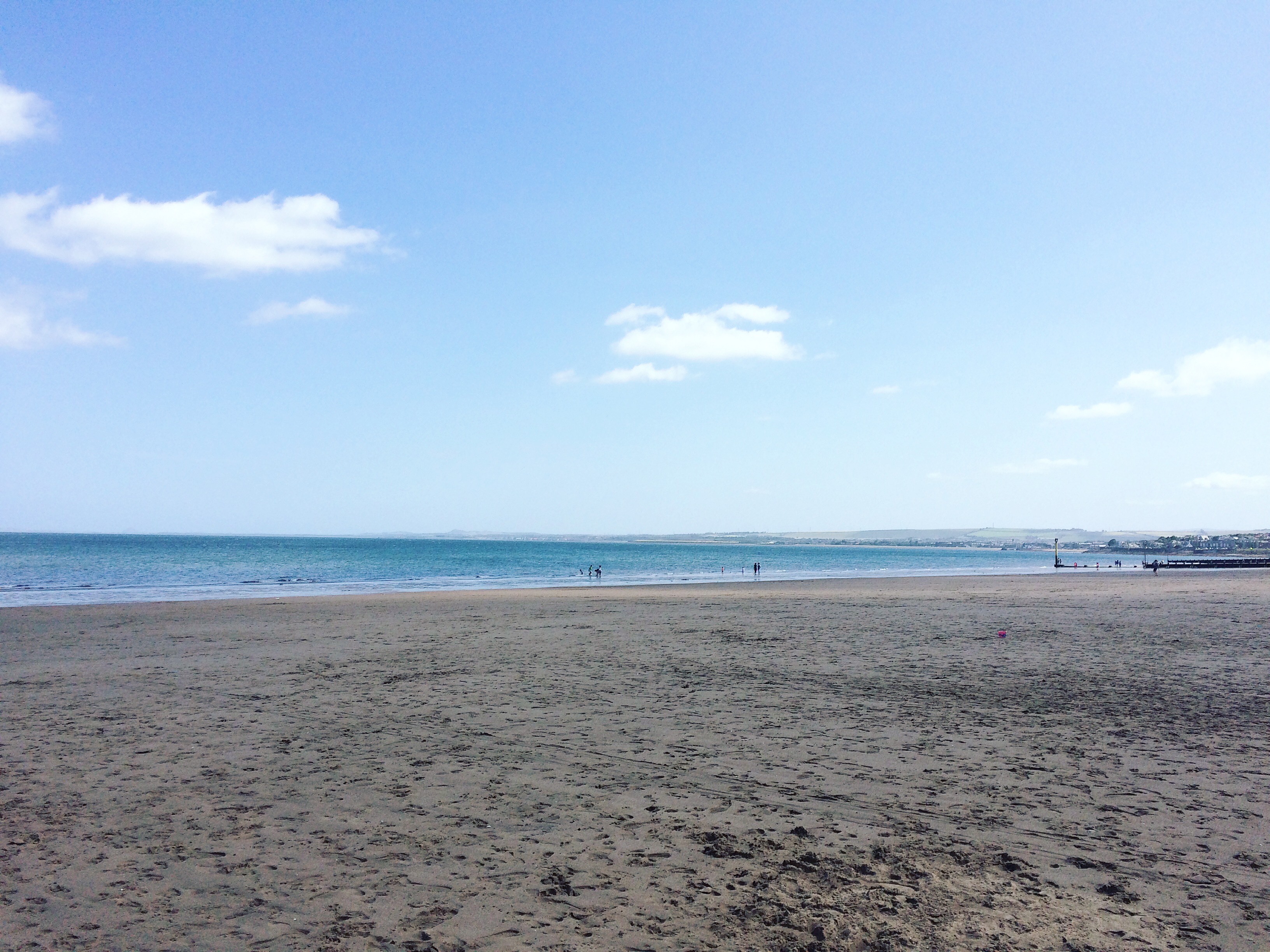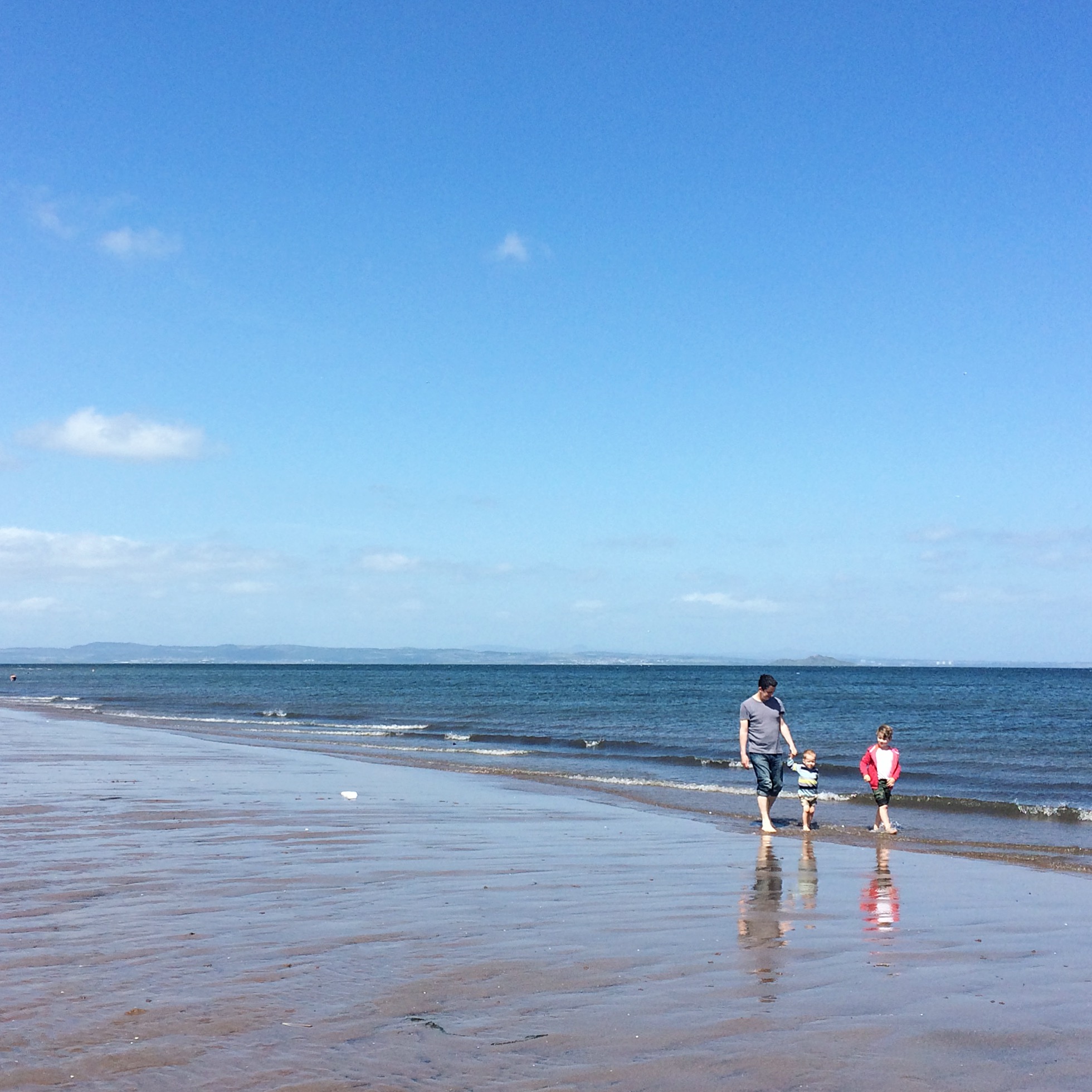 All in all, we had a fantastic day. The kids have already been asking when we can go to the beach again! Sure, it may have been a bit more windy than on beaches in, let's say, southern Europe, but when the sun is out, Scotland does a good beach as well as anyone. I sent my family some pics of our day, and my dad said surely we had secretly flown to the Mediterranean for a holiday, lol. And you know, of course, what else this means? Sun screen! We came prepared, so don't you get caught out! Other useful essentials for a day at Portobello beach included a towel, a change of clothes for each kid, water bottles for everyone,  plastic bag to put wet clothes in, a small zipper bag to put collected shells in, and lots of change – for ice creams, and for the bus. On Lothian Buses, you need to pay the exact fare, no change given. For two adults and one kid, getting single tickets there and back is the cheapest option. But if you are travelling with two or more paying kids (kids pay the kids fare from age 5-15, under 5s go free), it works out cheapest to get a Family Day Ticket, which let you take two adults and up to three paying kids.