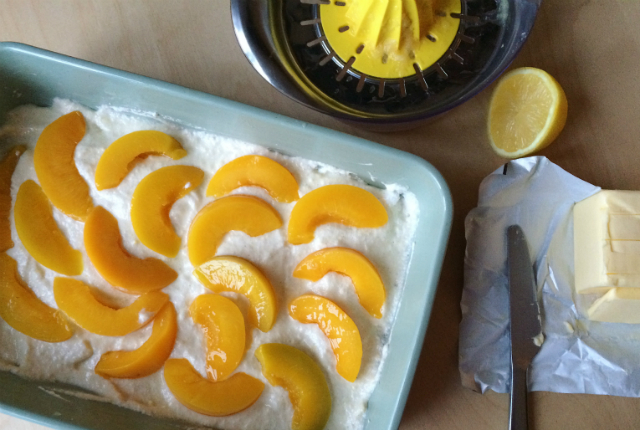 Sweet Treat: Peach-Quark Casserole (GF)
It's Father's Day this weekend, so I thought I would share a sweet treat recipe with you, perfect for either afternoon tea or as a dessert for dinner. The main ingredient is Quark – I remember when you couldn't get this in the UK at all, then just the German discount supermarket sold it, now you can get it in most major stores. But still people often don't know what to do with it. In Germany, it's a bit of a staple food – we use it for everything, from a savoury topping on baked potatoes, to baking cheese cake. Maybe one day I should do a post about the many uses of Quark, lol. But today I'm sharing a family favourite with you. In German we call it 'Auflauf' which translates as 'casserole' and sounds a bit odd for a sweet dish, but I guess it's because it's layered and baked. So, anyway, be prepared to fall in love with Quark!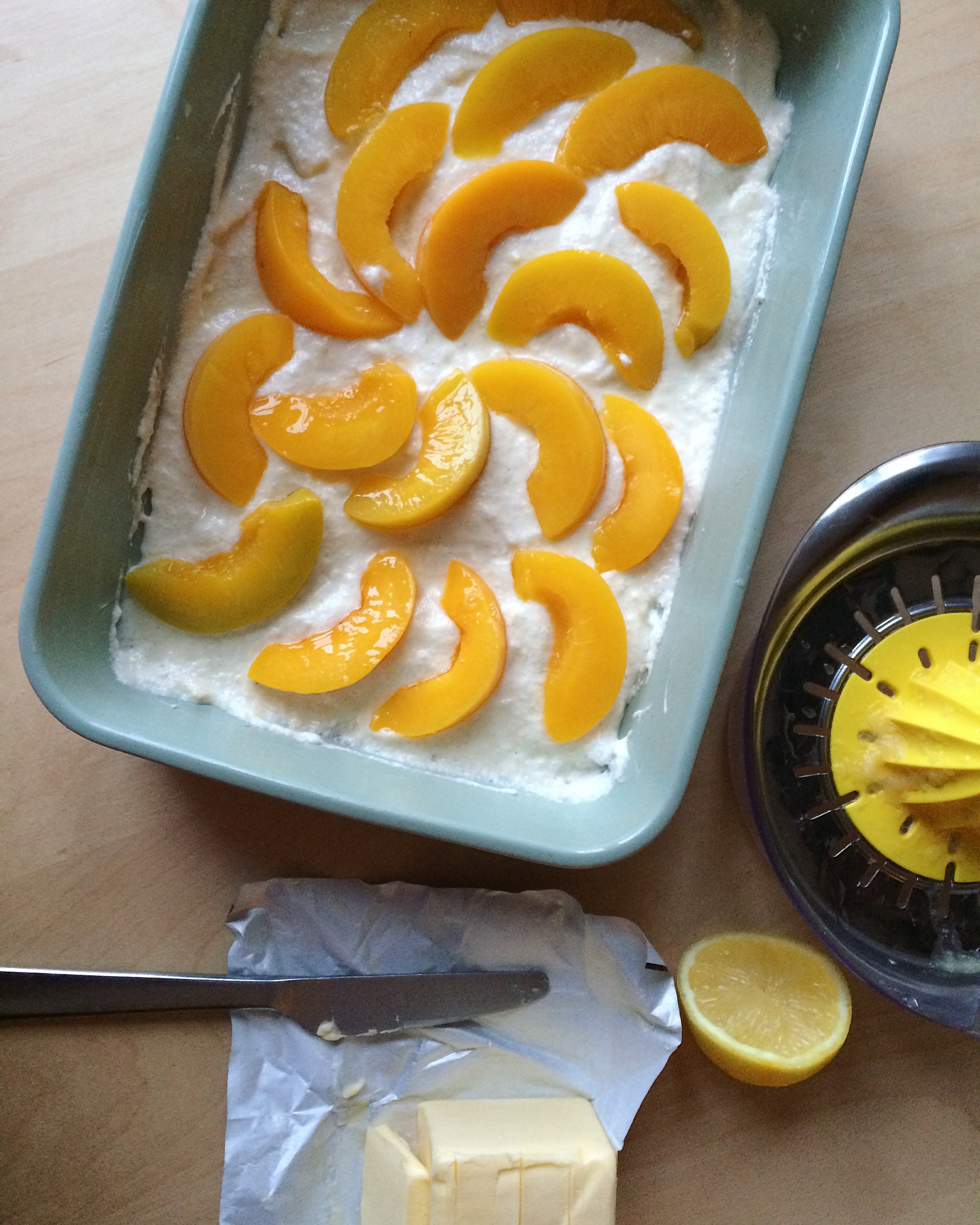 Ingredients (serves 4-6)
2-3 tablespoons flaked almonds
2 large eggs
a pinch of salt
25g softened butter (+ some extra for the topping)
25g sugar
2 teaspoons vanilla essence
juice of half a lemon
250g Quark
50g corn starch
250g tinned peaches, sliced
You'll also need a casserole dish, approx. 20cm x 30cm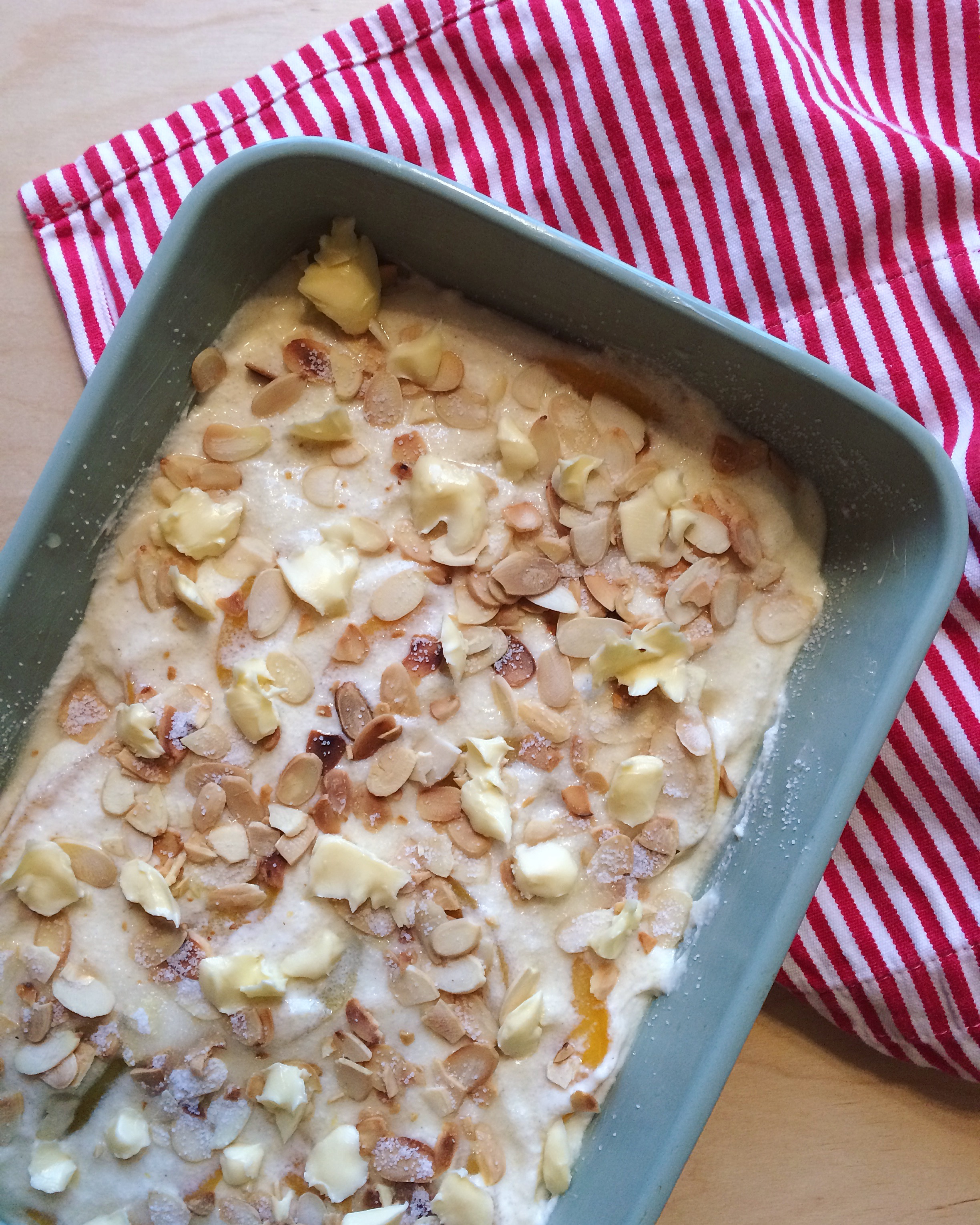 Directions
Pre-heat your oven to 180C.
Lightly toast the flaked almonds in a frying pan and set aside.
Separate the eggs, and whisk the egg whites to stiff peaks, together with a pinch of salt.
In a separate bowl, whisk together the egg yolks, butter, sugar and vanilla essence until thick and creamy.
Mix in the lemon juice and Quark, followed by the corn starch, making sure there are no lumps.
Carefully fold in the whisked egg whites.
Grease your casserole dish and pour in half of the mixture.
Arrange your peach slices on top.
Spread the remaining half of the mixture on top and scatter with the flaked almonds and a few more blobs of butter.
Bake on the middle shelf of the oven for around 40 minutes, until golden brown. If it looks like it's starting to burn before it's done, just cover it with a piece of tinfoil.