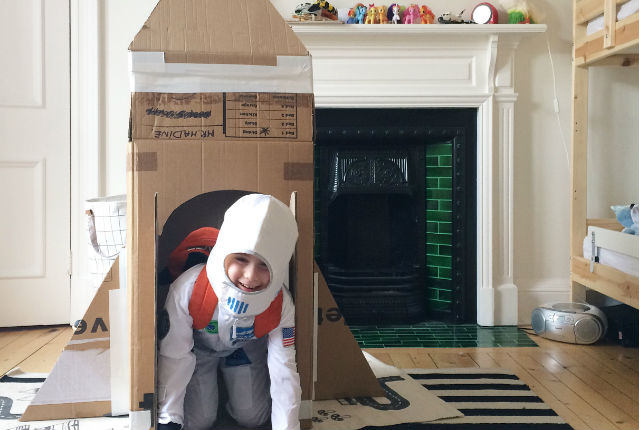 Recycled Cardboard Box Rocket Ship
So, Christmas is behind us, the kids were inundated with gifts, and what are they playing with the most? Cardboard boxes! There us just something inherently attractive for kids, about letting their imagination run wild with cardboard boxed as a blank canvas – the bigger the boxes, the better. My boys particularly love building rocket ships to fly to the moon with, and today I wanted to share with you one of our most successful rocket ships to date.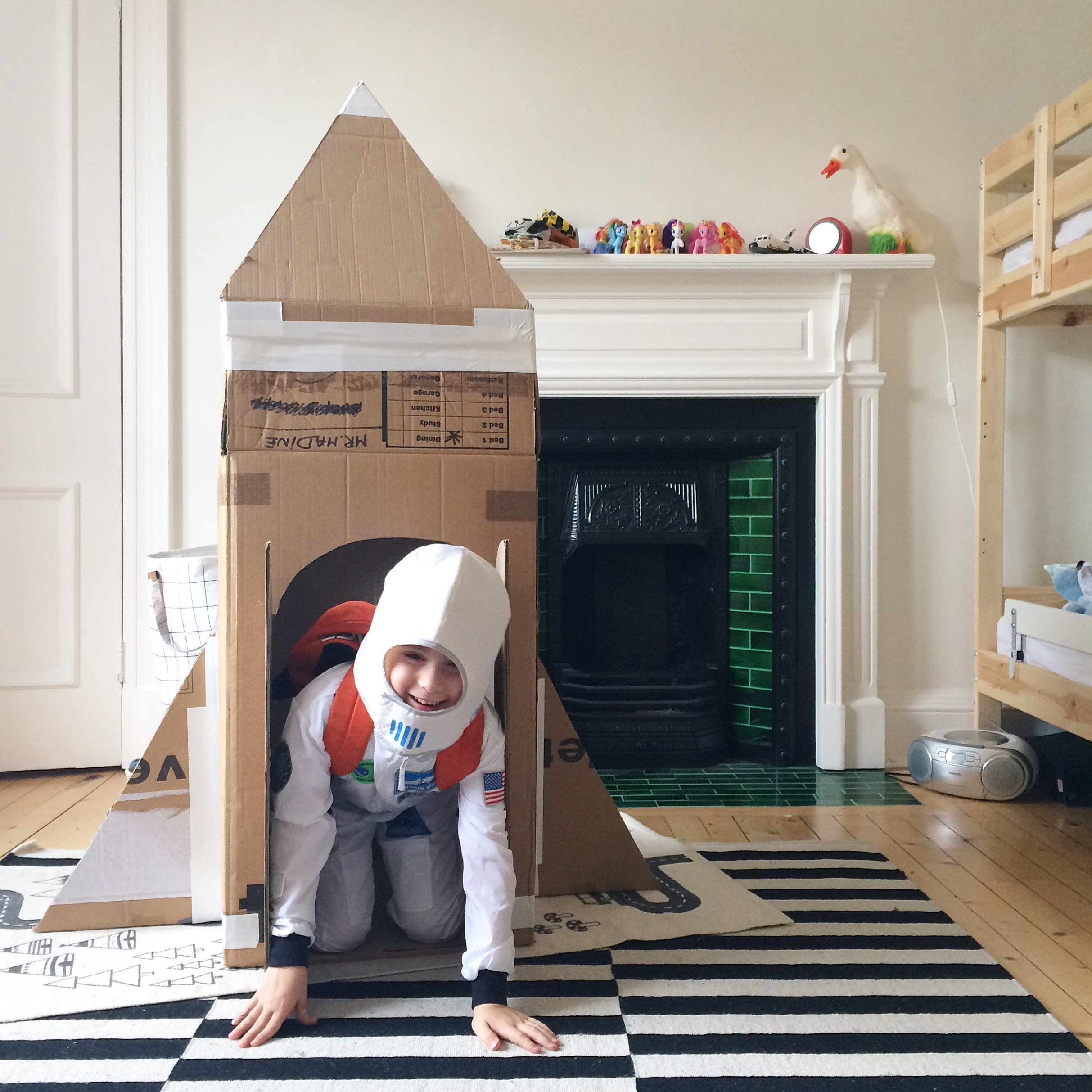 This is one we actually made two summers ago, when we had just moved back to Edinburgh. One oversized removal box, one rainy afternoon, and a couple hours later we had the most magnificent rocket ship a kid could wish for, which cost us no more than a roll of Duck tape and actually stayed with us for a whole year.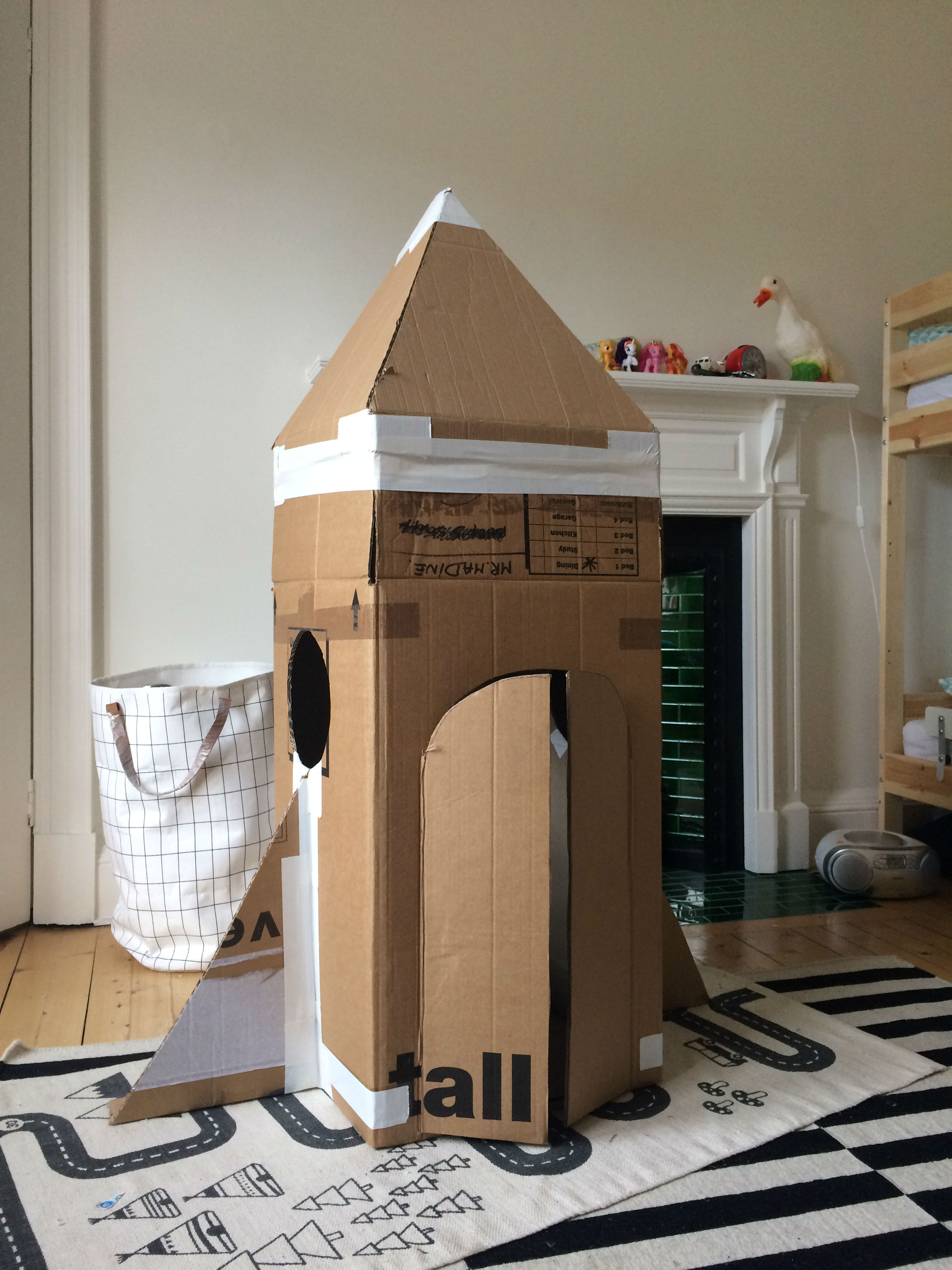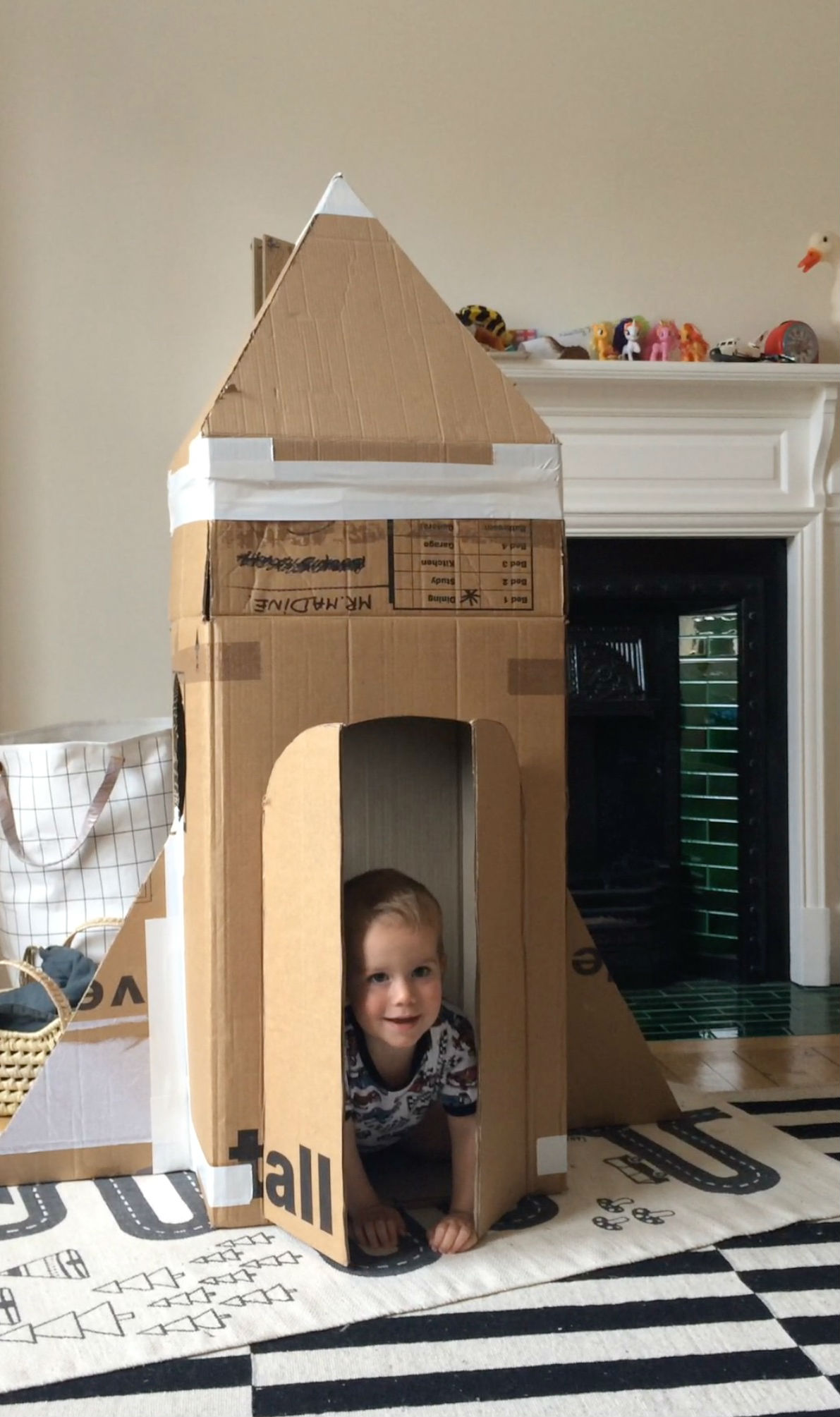 I haven't included any measurements, as it depends entirely on what kind of box you have at your disposal. Removal boxes are great – we had an double sized one, or you could stack up two removal boxes. Delivery boxes for fridges or furniture are great too (unless it's flat pack, haha). You'll also need some additional cardboard (we cut up another removal box or this), afore mentioned Duck tape, and a craft knife.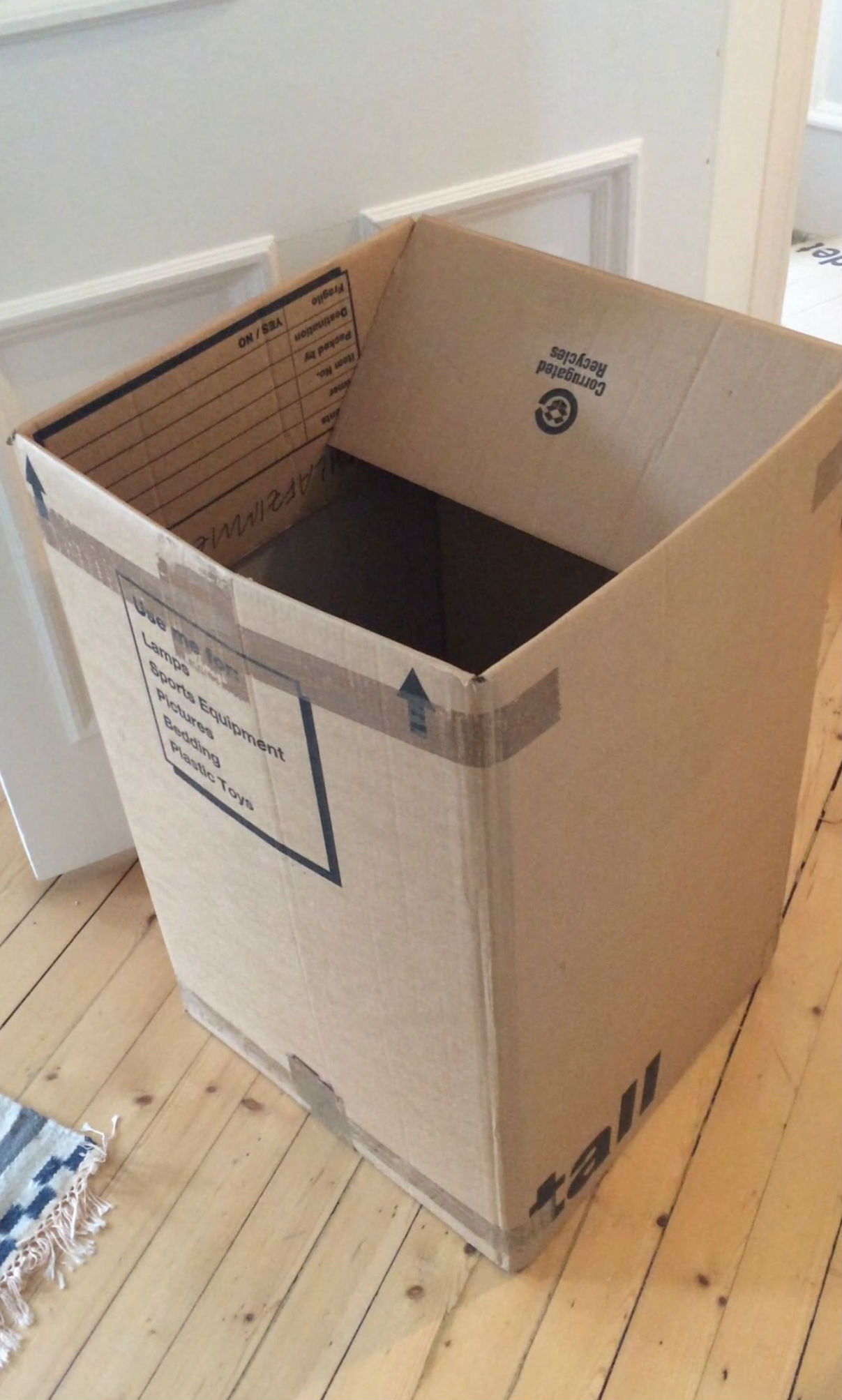 The first thing we did, to make our box even taller, was to tape up the flaps on the top of the box. We pulled up the flaps, then taped folded strips of cardboard in to the corners to secure and stabilise them (see below).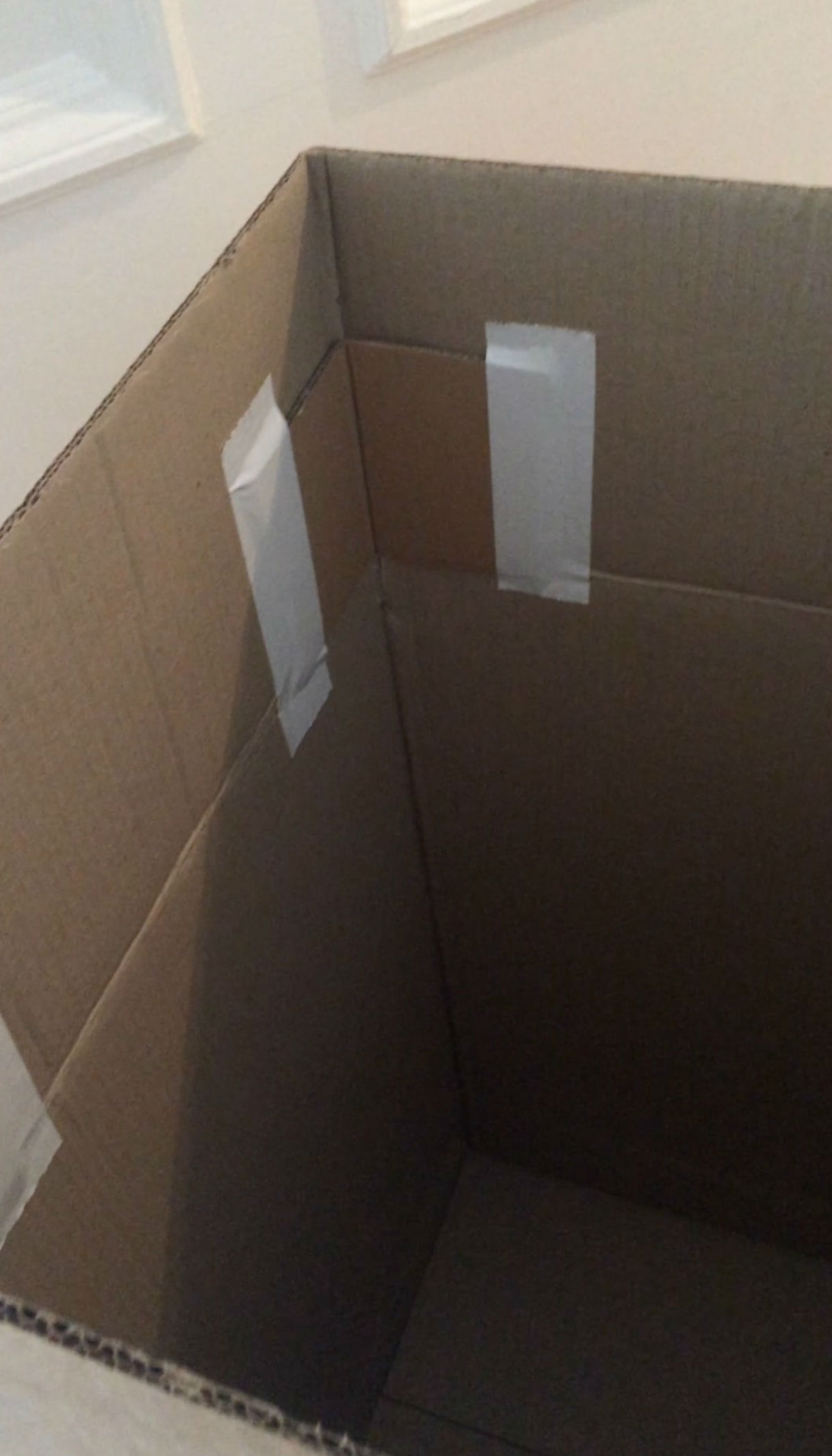 Next, we added a roof. For this, you'll need four pieces of cardboard, to cut in to four triangles. The bottom edges of the triangles should be the same length as the top edges of your box. Tape each in to place, then bring all the triangles together, and secure by wrapping more tape around the point at the top. Here's our roof in progress (as you can see, I cut the tops of two of the triangles to make them fit better together):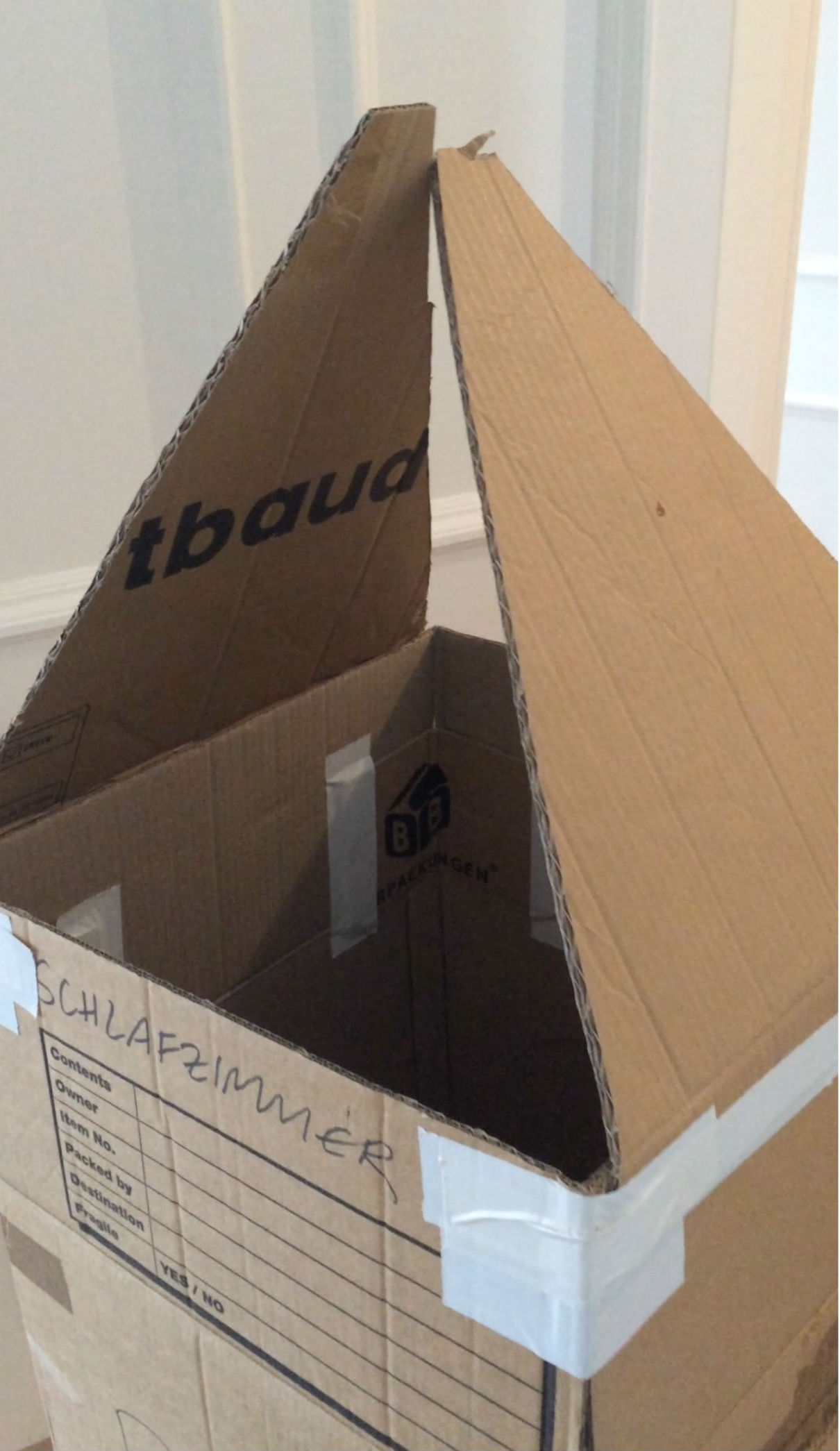 And here's the finished roof: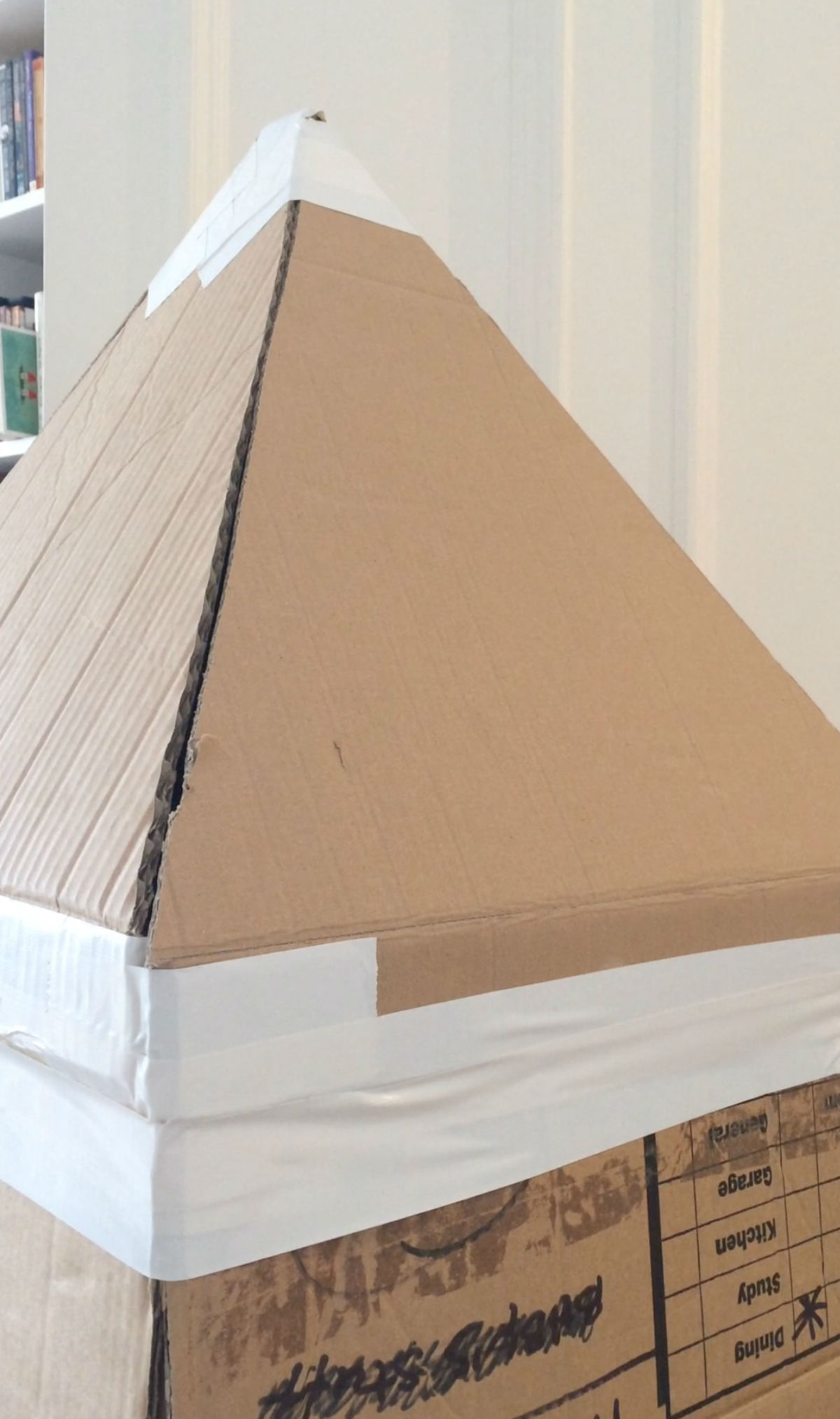 After the roof, we cut a door. I made one long cut down the middle of the front of the box, then marked out the width of the door, and cut a semi circle across the top of the first cut. You can see what I mean in the picture below: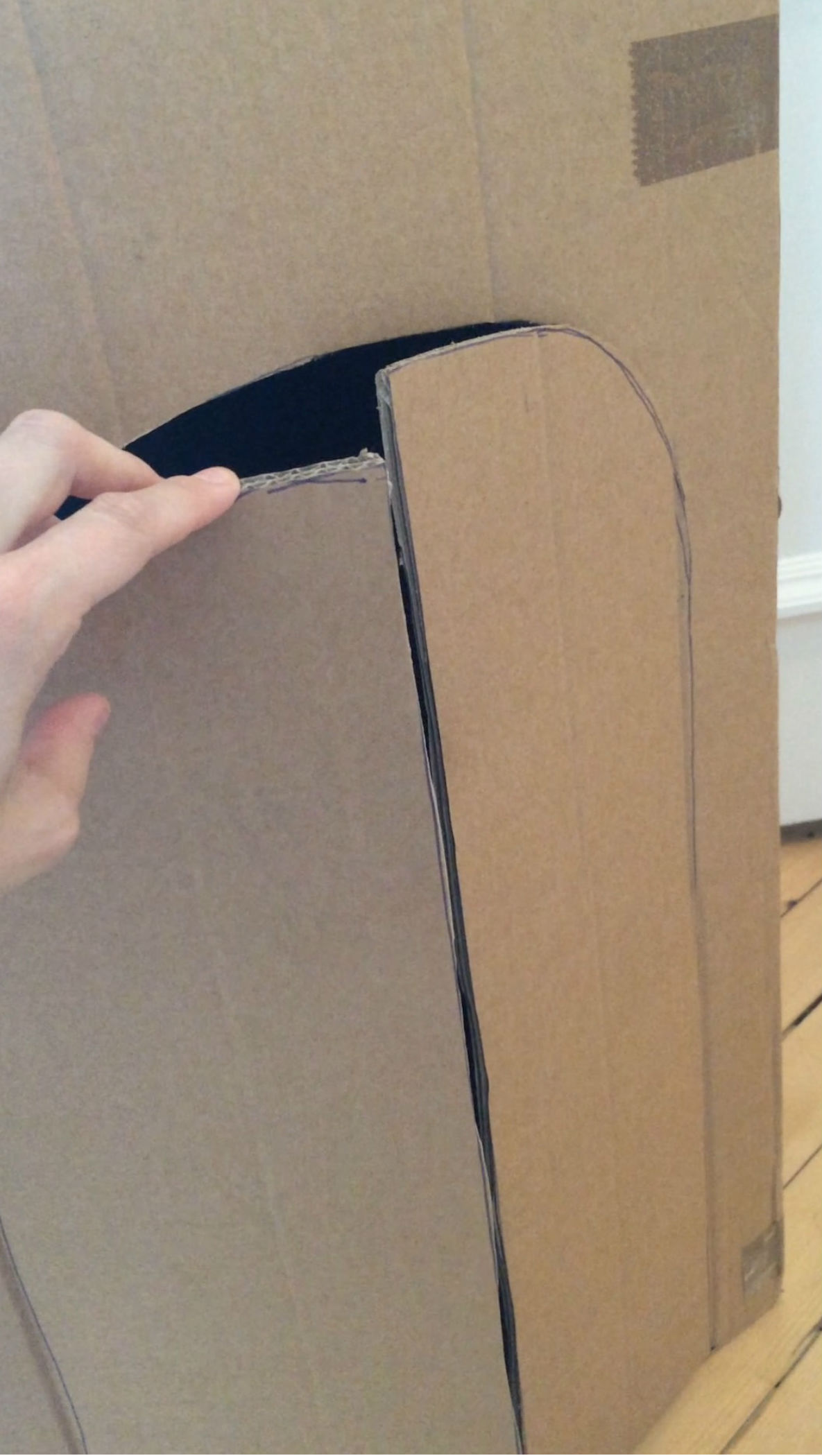 Next up was the windows. We decided on two round windows, either side of the box.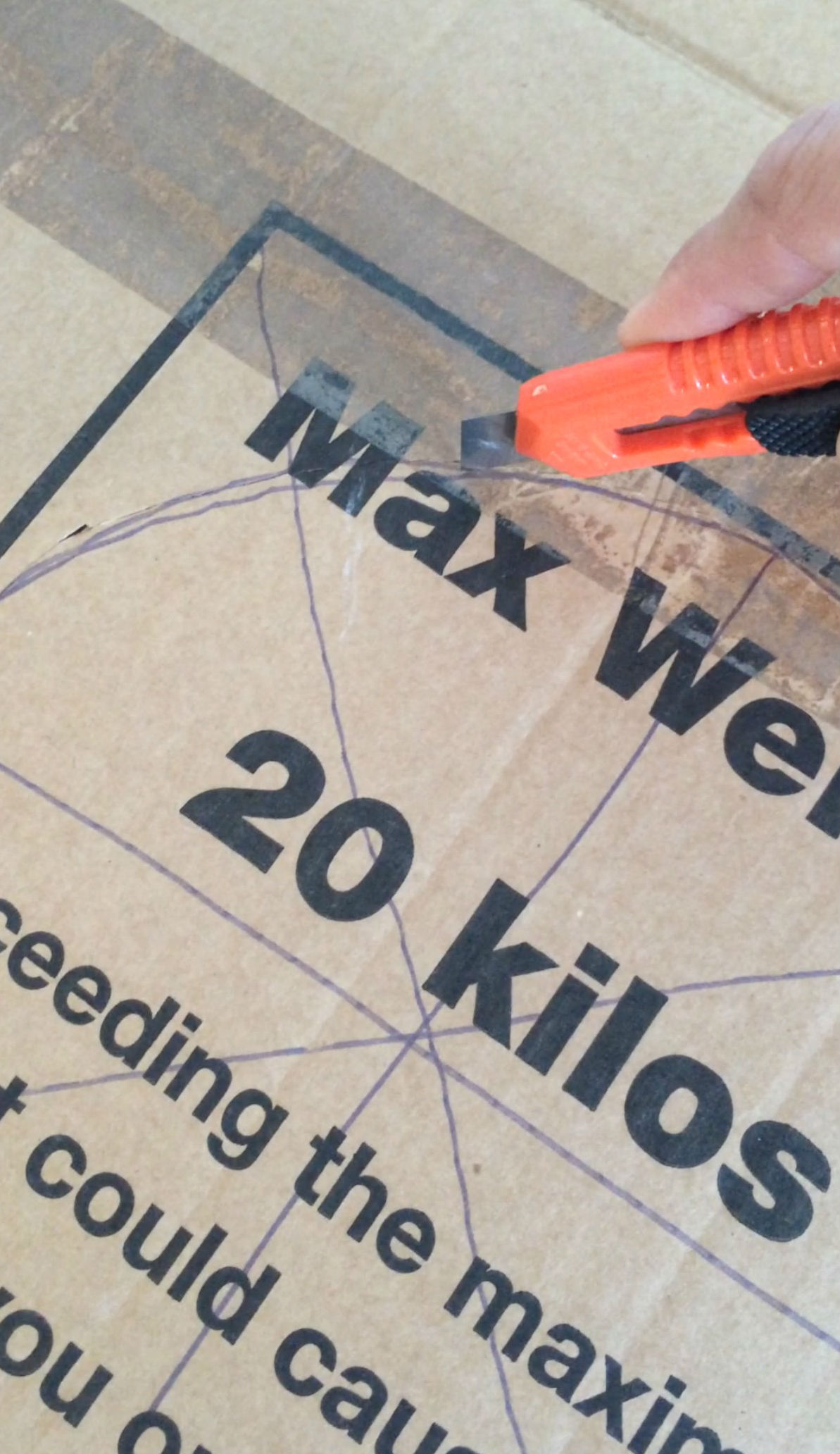 Here you can see both windows, looking from one through to the other: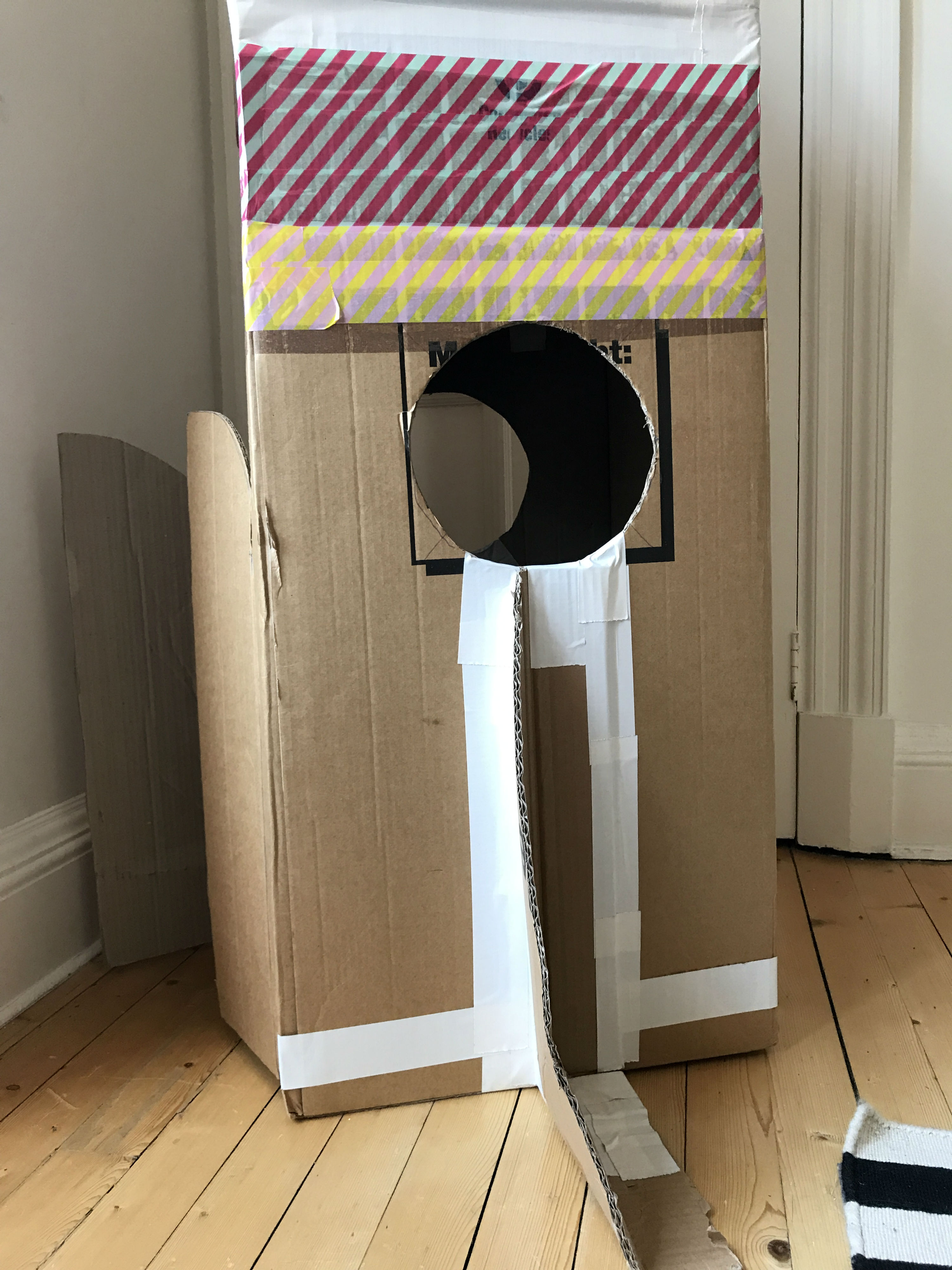 The final step, was to add wings either side of the rocket. For this, we two corners out of our spare box and taped one below each window. We used a LOT of tape to keep them in place. It's a little hard to explain what I mean by cutting out corners, but here's a close up of them to give you a better idea:
And that was it, one rocket ready to fly to the moon! As you can see, we decorated it some more with some coloured tape. You could also draw on it, or paint it, whatever you please.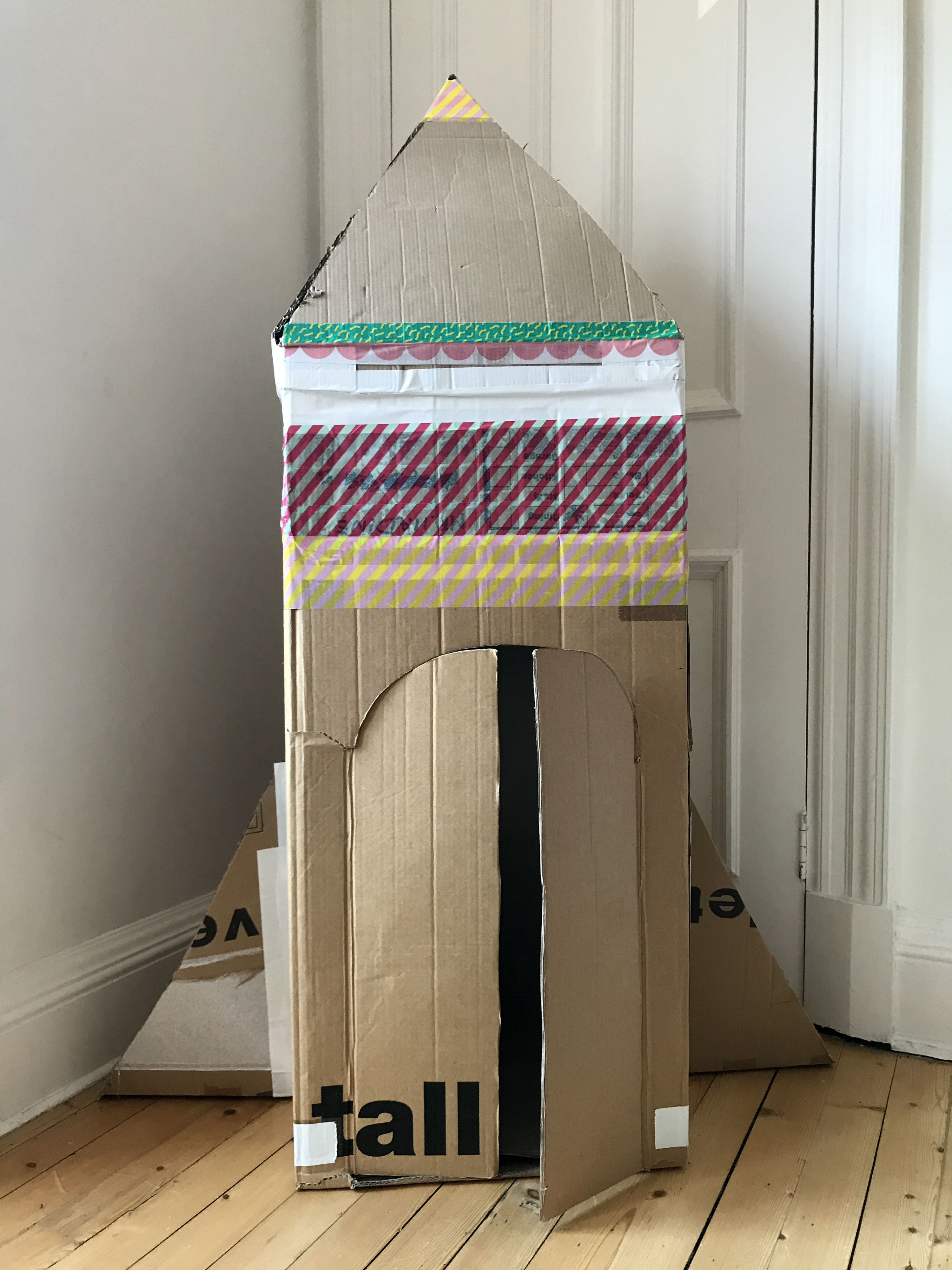 This rocket was one of the most fun projects we've ever done, and it was a gift that gave twice – first we had fun making it together, and then the boys had hours of fun playing with it. Of course, they had to dig out their astronaut costumes! I think if it hadn't fallen victim to yet another house move, it might still be with us. But now we have an excuse to build a new rocket!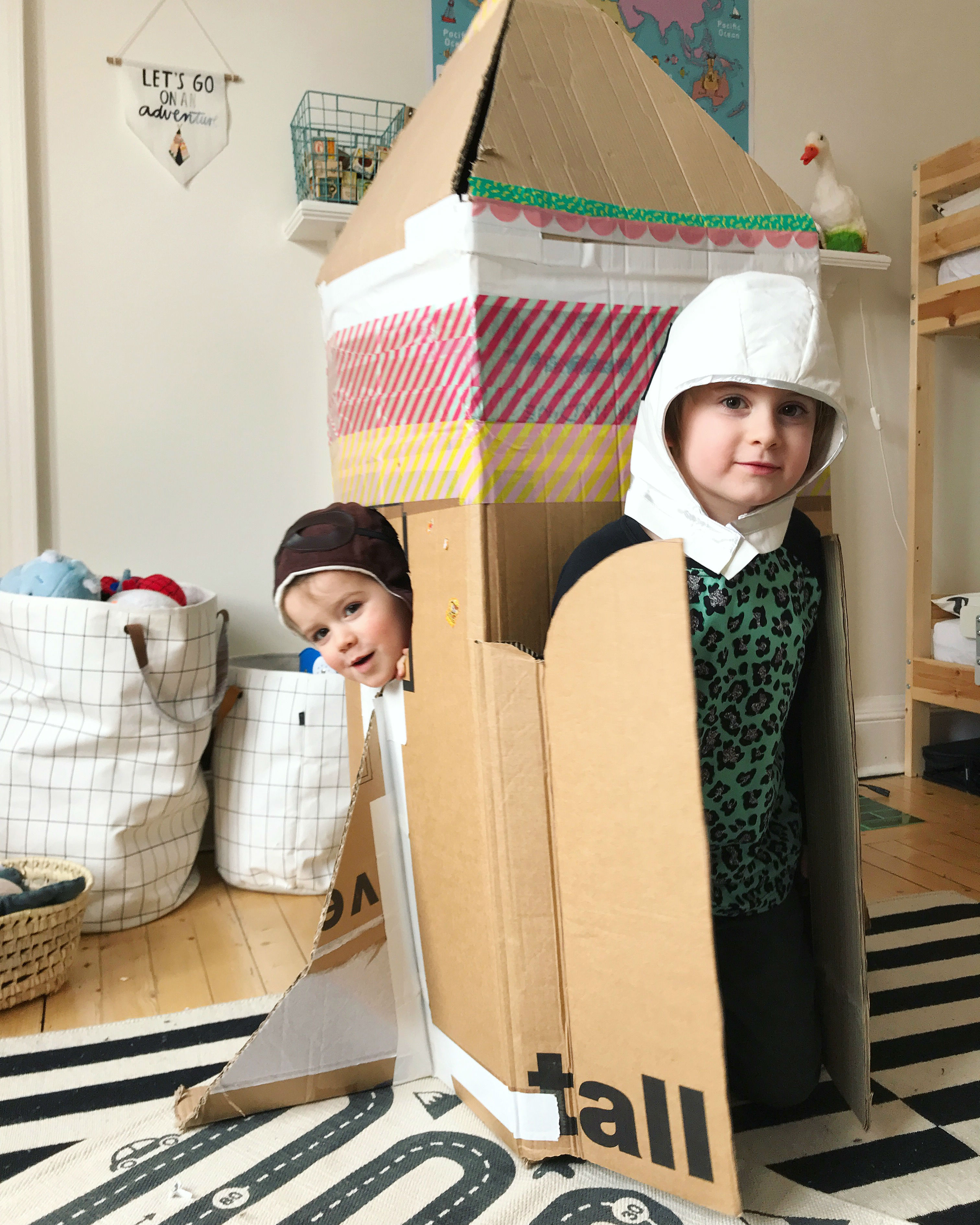 Have you ever built a rocket ship out of cardboard boxes? Or any other great cardboard box projects? I'd love to see your creations! Please feel free to share with me and tag me on Instagram or Twitter.