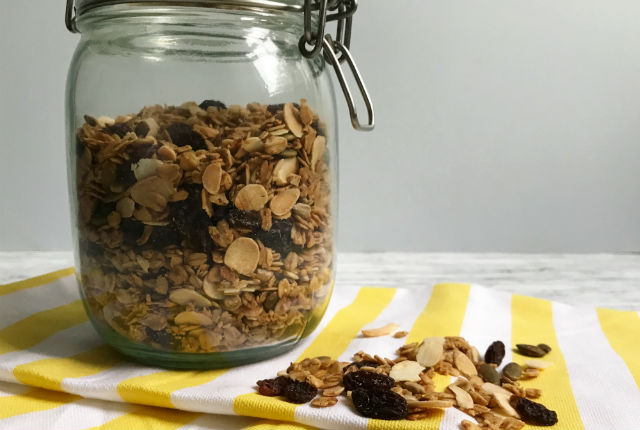 Vanilla & Coconut Granola
Do you know what tastes better than a nice bowl of crunchy granola for breakfast? A nice bowl of home made crunchy granola! We love granola in our house, but many of the store bought brands are loaded with sugar (and/ or contain wheat which I can't have), so I like to make my own. It's a loss less sweet, so I don't have to worry about the kids getting too much sugar. We like to have it with milk or on top of Greek yoghurt, and loading it up with fresh berries makes up for any lack of sweetness. My latest vanilla & coconut granola got a big thumbs up from the boys.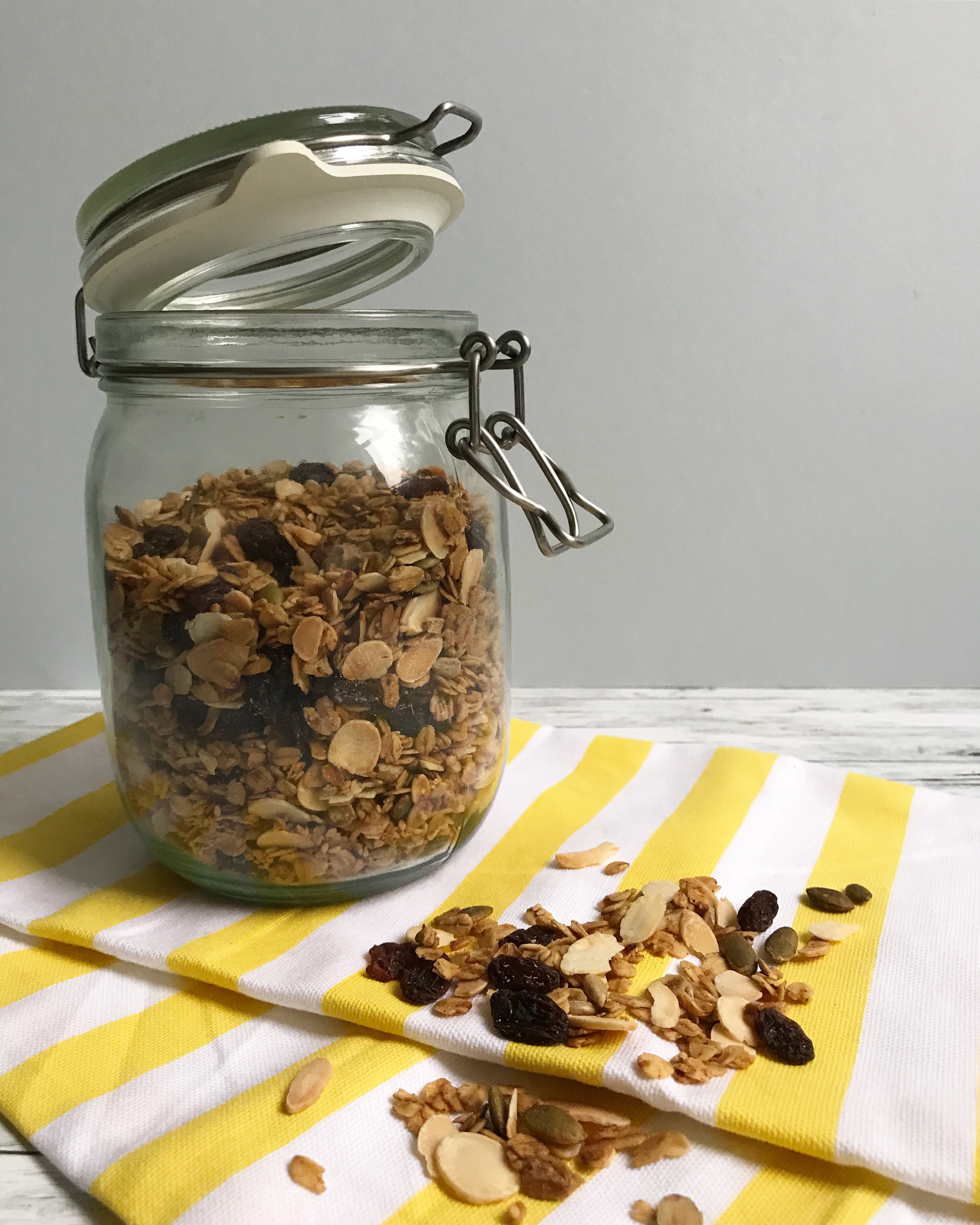 Ingredients:
400g oats (use certified gluten free ones if required)
50g sunflower seeds
50g pumpkin seeds
1/2 tsp sea salt
1/2 tsp ground ginger
a generous grating of fresh nutmeg
100ml vegetable oil
50ml maple syrup*
2 tsp vanilla extract
50g desiccated coconut
50g flaked almonds
100g raisins
*If you like it really sweet, you can increase the amount of syrup and decrease the amount of oil, but one of the main reasons I make our own is because I find the store bought stuff far too sweet.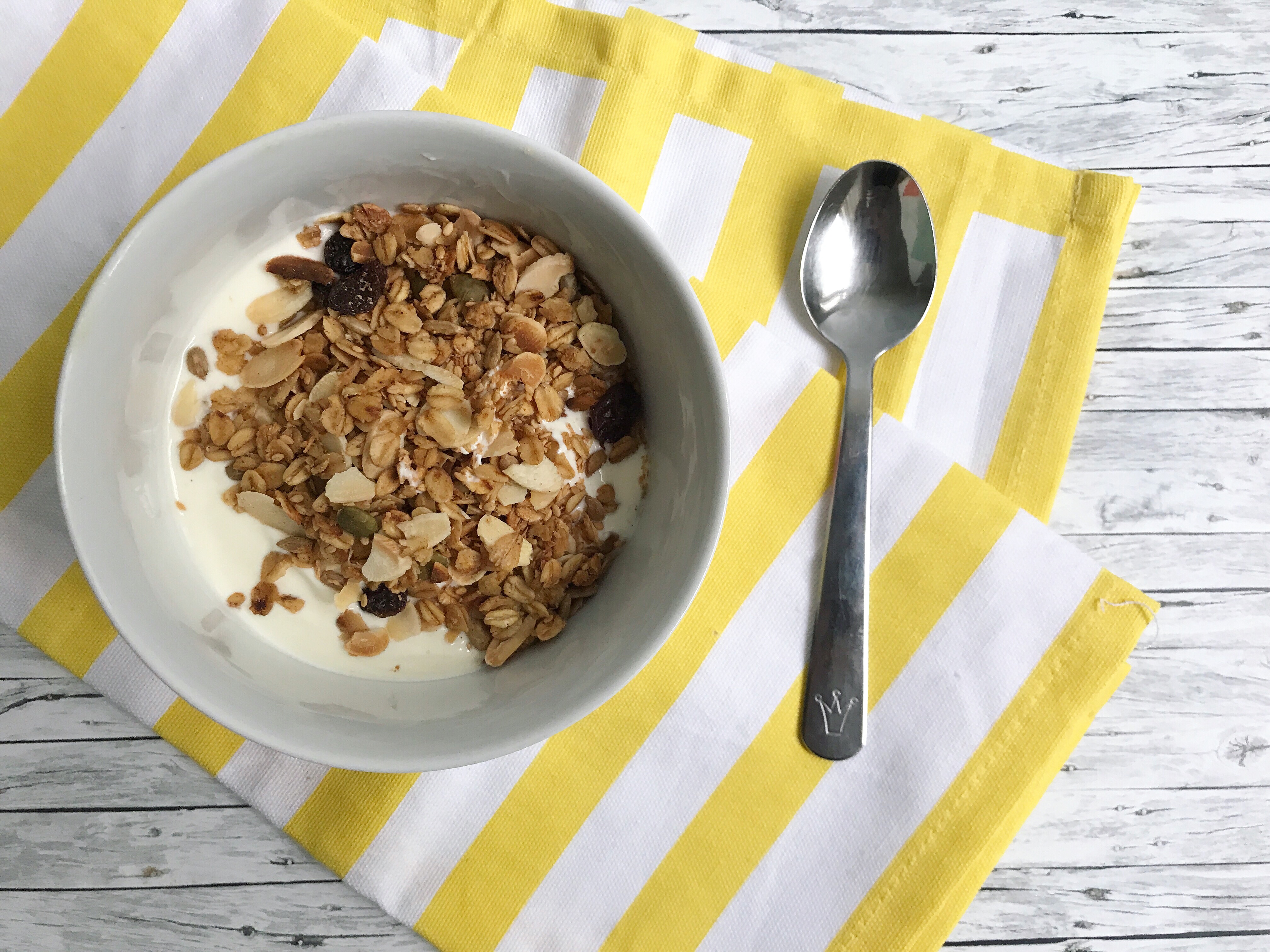 Directions:
Pre-heat your oven to 180 C (fan oven 160 C).
Mix the oats, seed, salt and spices in a large bowl.
In a separate bowl, mix the oil, syrup and vanilla extract.
Pour the wet ingredients in to the dry ingredients, and mix until well combined and the dry ingredients are fully coated.
Spread mixture out over two baking sheets lined with grease proof paper.
Bake in the oven for 30 – 40 minutes, turning every 10 minutes. After half an hour, I started checking every 5 minutes to make sure it didn't burn.
I added the coconut after 25 minutes, adding half to each tray.
While the granola is baking, dry roast the flaked almonds in a frying pan, tossing frequently. Watch them carefully so they don't burn!
The granola is reading when it starts to turn golden and crisps up. It will crisp up even further when it cools down.
Once cooled down, add the flaked almonds and raisins, mix well and store in an airtight container.
Pin It For Later