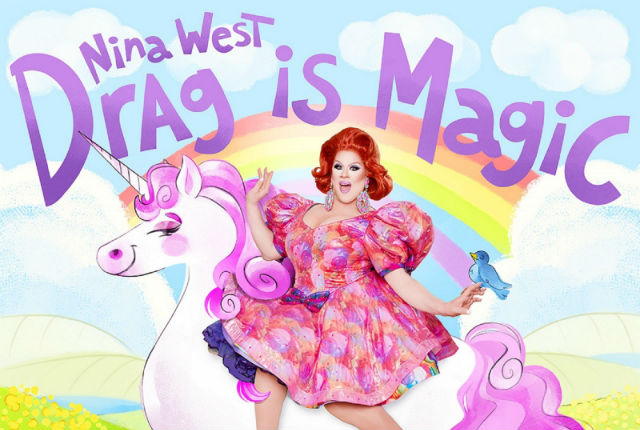 Kids Music Album: Drag is Magic
It's the final of RuPaul's Drag Race Season 11 on Netflix tomorrow. My husband and I are huge fans of the programme – it's fun, it's camp, it's colourful. It's the perfect escapism to hail in the weekend. Sadly, our favourite drag queen of Season 11 (and now officially my favourite drag queen in all of Drag Race history) – Nina West – won't be in the final, as she was eliminated from the show a couple of weeks ago. But she is still a winner our eyes. Not only does she deliver flawless costumes and old school camp, Nina West (a.k.a. Andrew Levitt) is a well know philanthropist in her local Ohio, and an advocate and fundraiser for the LGBTQIA community, having raised over $2 million for causes such as HIV/AIDS testing and safe sex, marriage equality, and trans rights. Truly one of those beautiful people, inside and out, who use their fame and influence for the good of the community.
Anyway, why am I telling you all this and what does it have to do with kids or families? Well, Drag Race isn't exactly an appropriate programme for children, with all its swearing and sexual references. But the fun, colourful, dressing-up side of drag I think kids would actually love, at least I know my two boys would. In fact, many British children see Pantomime performances at the theatre every Christmas, where the role of the dame is always played by a male actor in drag, so in that sense the concept of drag is nothing new to them. I was therefore delighted to discover that Nina West has released a music album for kids, to introduce kids to drag in a family-friendly way. It's called Drag is Magic, and it's all kinds of wonderful. If you're still sceptical of mixing kids and drag, I urge you to look past the not-so-subtle album title because the songs are not only really catchy, they also share messages of love and acceptance, of how everyone is special, how it's okay to be different, and how we should all be kind to each other. If those aren't child friendly messages, I don't know what is. Here's the video for the album's title song:
I immediately got a Sesame Street vibe from the music, and was not surprised to hear that Nina West cites the Muppets as one of her influences. I have to admit I was slightly disappointed that, at the end of the video, the kids are dressed in very gender stereotypical costumes, I would have loved to see one of the boys e.g. in a princess costume. Isn't dressing against gender stereotypes the whole point of drag? But other than that, I think both the song and the video are awesome, and my boys keep begging to watch it again.
The other songs on the album are brilliant too. The Drag Alphabet is probably the weakest from a kids' point of view, as it's got quite a few insider references to Drag Race they didn't understand, and I found myself having to explain terms such as busted, kiki, and throwing shade. Nevertheless, all the terms used are perfectly safe. My 8 year old cites this as his favourite from the album, possibly because of the catchy tune, and my 4 year old has been going around shouting "D is for divine!" for the past couple of days.
Next we have What Makes Us Shine, which starts with the profound line "some people have two mommies, some people have two left feet…", and goes over into a catchy chorus about aliens. "Together we will find our special place, here on Earth or up in Outer Space; Celebrating who we really are, we're brighter than a sea of shooting stars." Yeah! Sing it out louder for those at the back!
The Reading Song is my personal favourite, given my love of books, and yes, it's another reference to drag lingo (to 'read' someone means to criticise or insult them, usually by pointing out their flaws) but once the meaning had been explained the boys totally got it. The lyrics do a really clever play on words here – "read books, don't read your friends!" And you've got to love a song that has kids belting out "Read all day 'cause reading's cool!" (and that's in the books sense of reading).
The album finishes with the closest thing to a power ballad you're gonna get. Go Big, Be Kind, Be You. My 4 yr old has declared this his favourite. It's short and sweet, with a simple message: "You are wonderful, you're one of kind; like a lucky star, you light up my life. So keep on smiling, keep on shining. Go big, be kind, be you." The lyrics repeat over and over, eventually fading out to Nina West reminding us all to remember how special we really are.
In between each of the songs, there are also some spoken 'interludes'. I have to confess, these went totally over my boys' heads, and were a little too long for them. They're funny for grown up fans, but for the kids we ended up just skipping over them. But since it's a digital album, we just added all the songs to a playlist for the boys, minus the "talky bits". The entire album is only 18 minutes long, with the five songs taking up only ten minutes of that, so my only criticism really is less talking, more singing, more songs! Nonetheless, we all love this album and it was £3.99 well spent. Drag Is Magic, by Nina West, is available on iTunes.