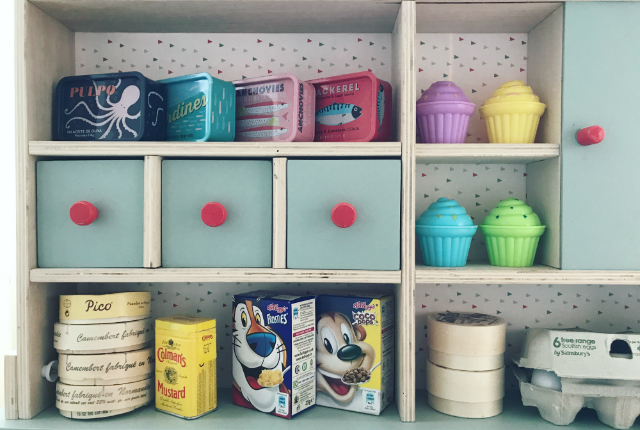 How to Stock a Play Kitchen
As I mentioned in my post from yesterday, a play kitchen is a fantastic toy to encourage role play, and the one we made for our elder son five years ago is still going strong with his little brother. But, of course, a kitchen alone will only get you so far. What really makes it fun, is having some play food to cook, and pots, pans and serving dishes. But stocking a play kitchen or grocery store needn't be complicated or expensive. Today I want to share with you, some of the different ways we have stocked ours.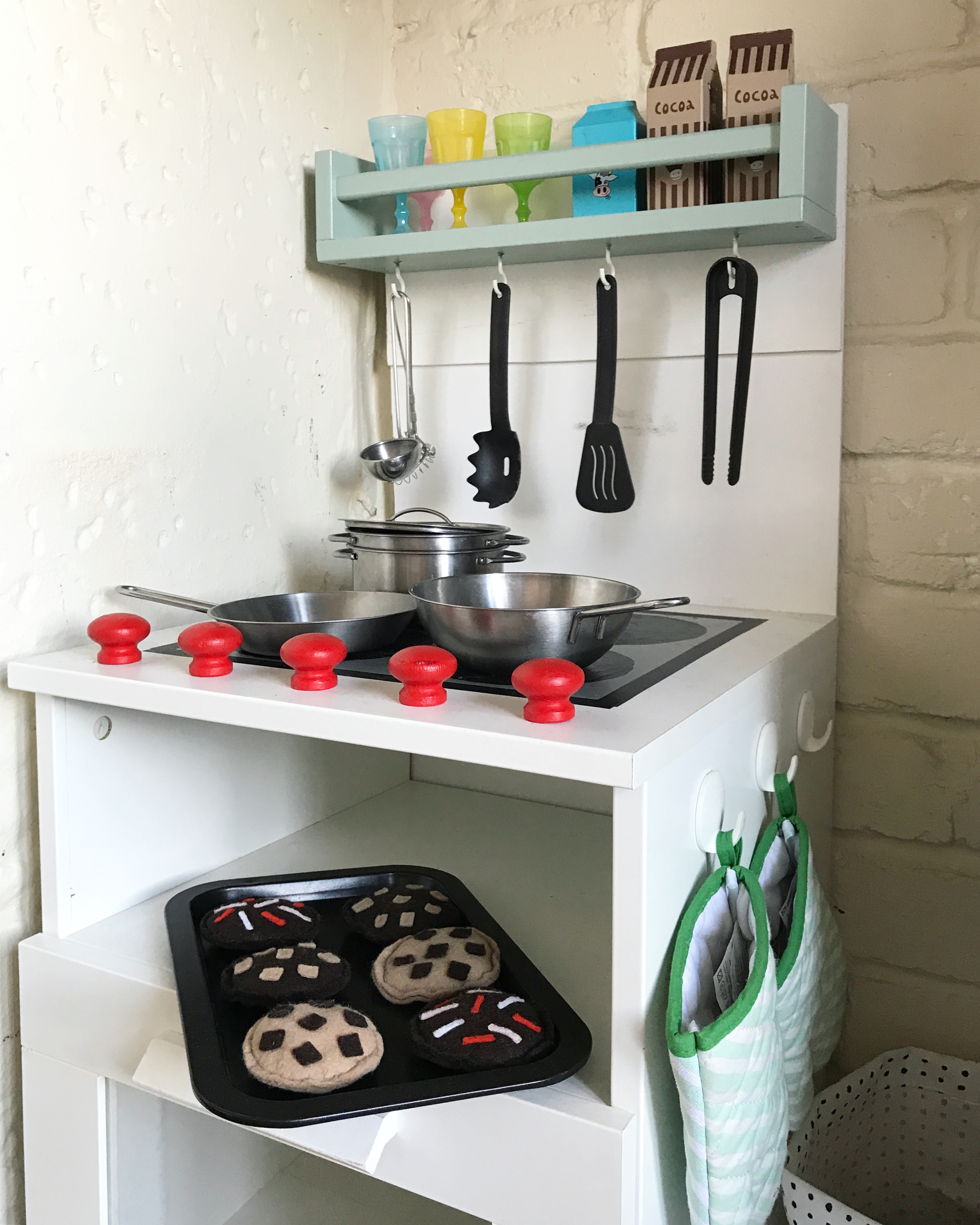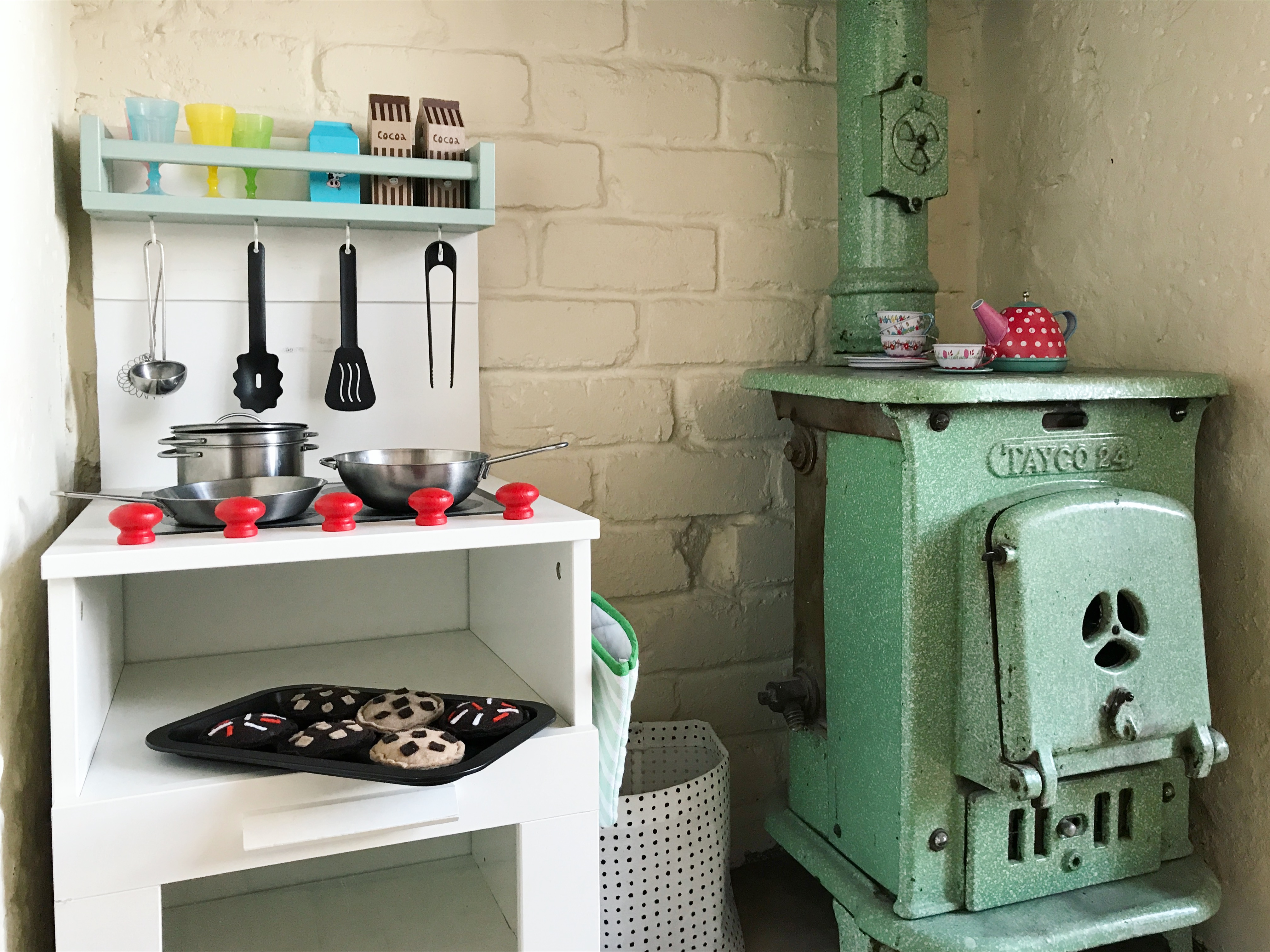 By the way, now that we no longer have a dedicated play room and less space overall, we have the play kitchen in our actual kitchen, and the grocery store, which joined it a couple of years ago (and started life as a post office) in their bedroom. This has encouraged even more role play, because before they used to be next to each other, but now that they are in different rooms, the boys need to go to one room to do the 'shopping', then bring their groceries 'home' to cook them in the other room.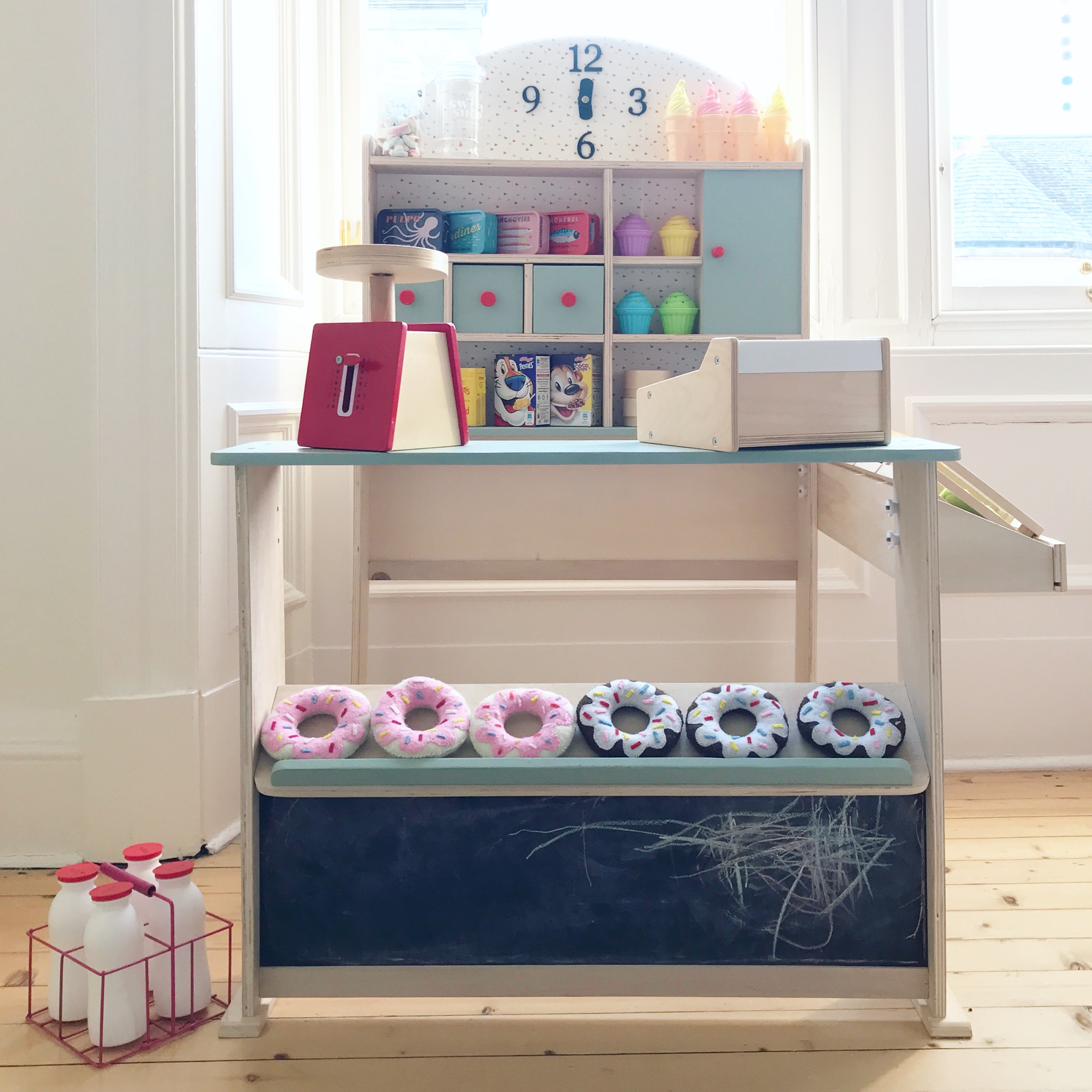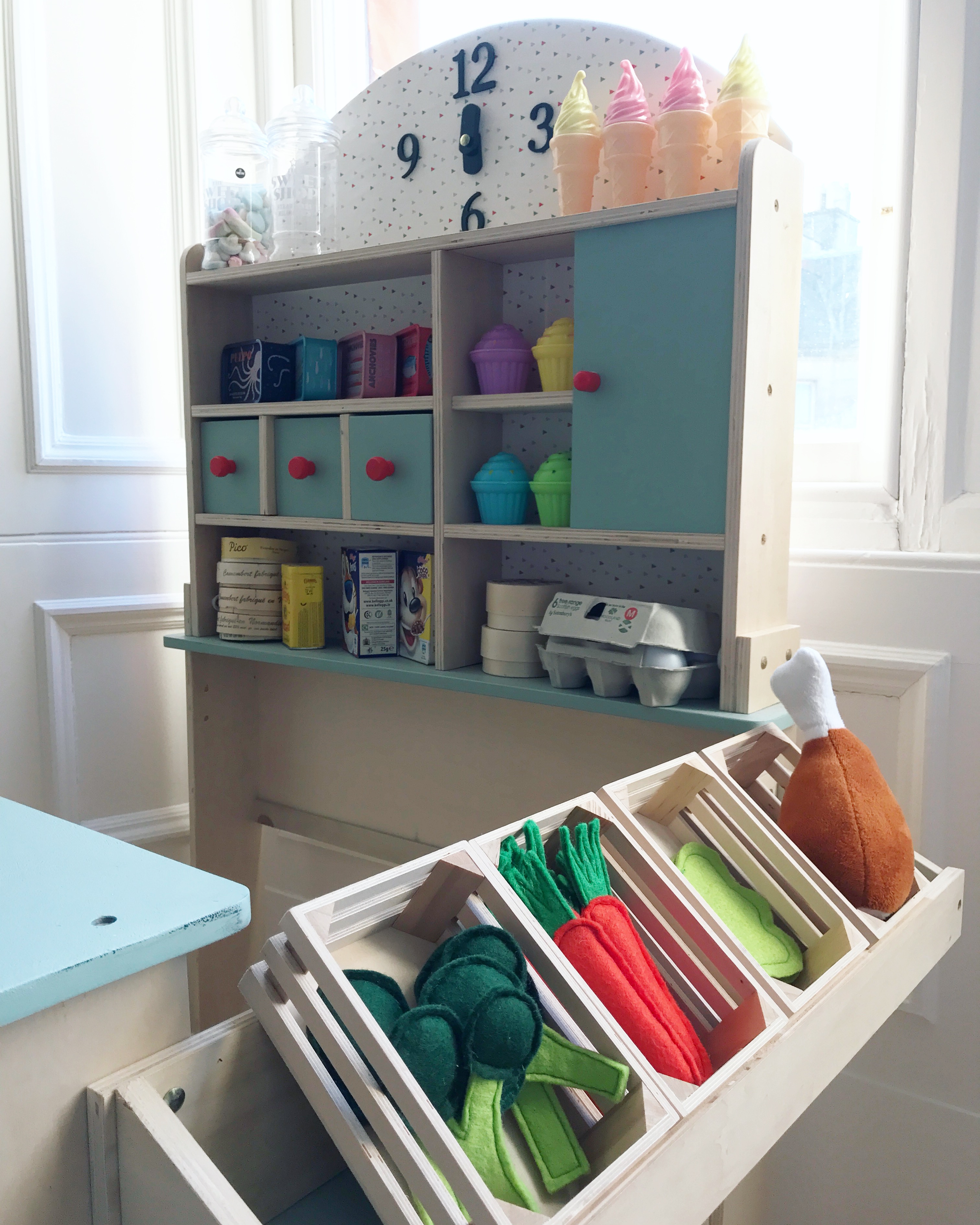 Reuse & Recycle
The easiest way to stock a play kitchen, is by re-using or recycling food packaging from your real life kitchen. Of course, a lot of it will be too big, so keep your eye open for miniature versions of things you would be using anyway, that you could then re-use. For example, the boxes on the left (see below) are from miniature Camembert and goat's cheeses. The one on the right contained caramel sweets.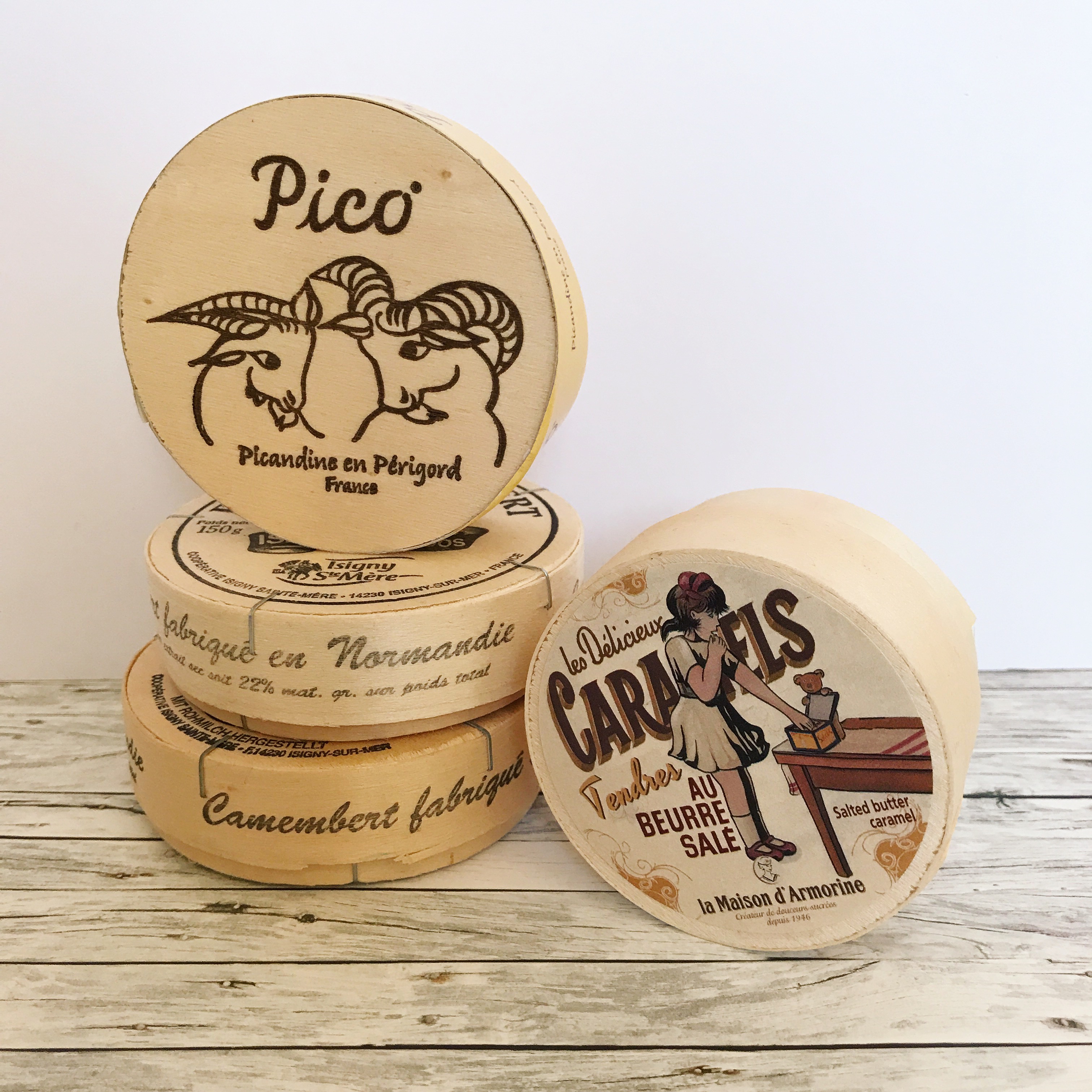 Miniature cereal packets make great play kitchen additions too. We don't eat these kinds of cereals on a daily basis, but do sometimes get them on special occasions such as a cousin visiting for a sleepover, or as a treat for a birthday. So I have saved a few of the boxes for our play kitchen. I carefully opened them at the bottom, instead of letting the kids rip them open, then taped them shut again once they were empty. We also have a new tins of Coleman's mustard powder in our play kitchen. My kids don't even like mustard, but the little tins are the perfect size, and luckily for pretend play it doesn't matter what the original tasted like. And I saved the little fish containers that had soy sauce in them in sushi packs, and washed them out (though I threw away the lids, as I considered them a choking hazard).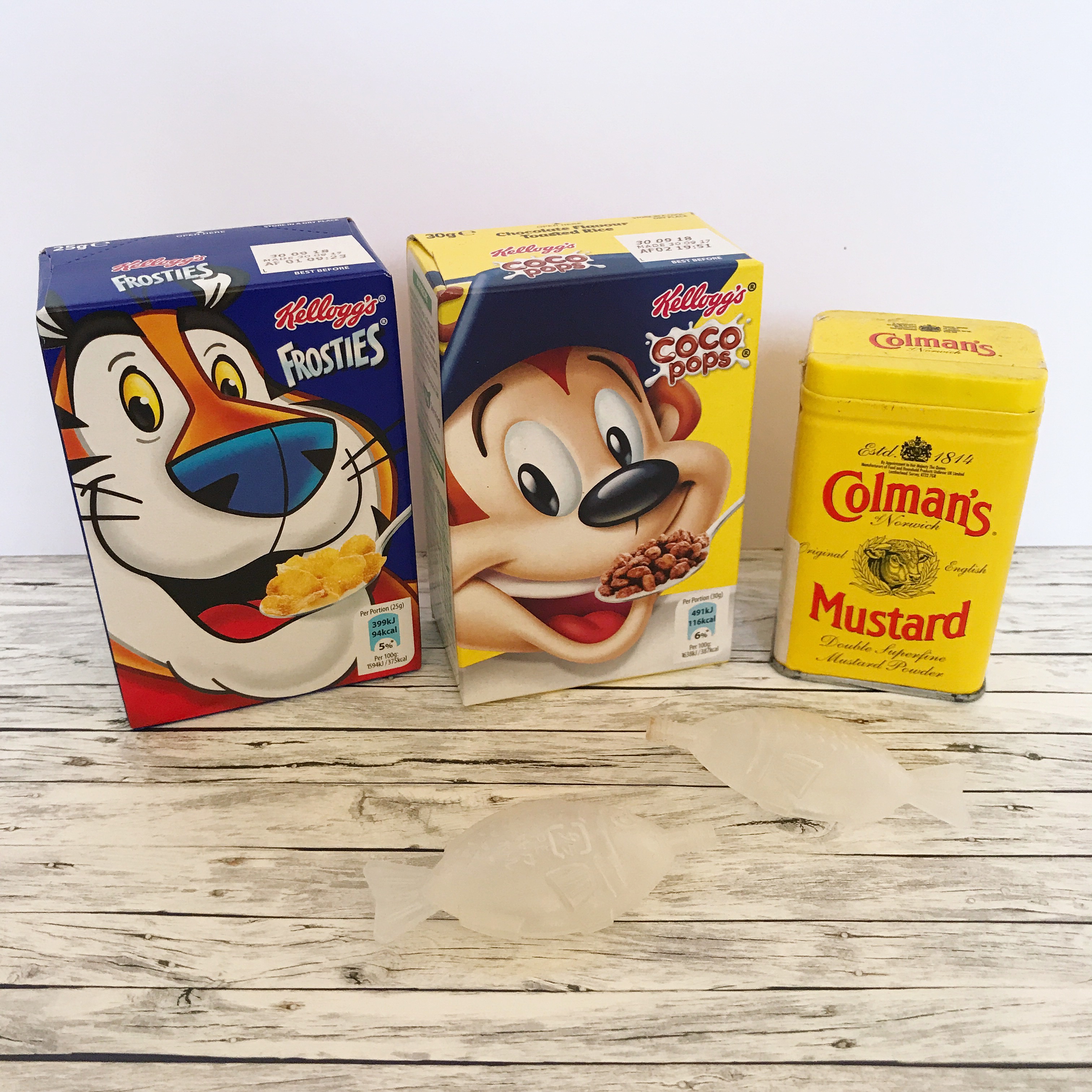 For the eggs, I just used an empty egg carton packet and filled it with plain white plastic eggs which I got at a DIY store around Easter time, for a fraction of the price that eggs sold as play food cost! If you can't get your hands on any, just empty egg cartons will also do.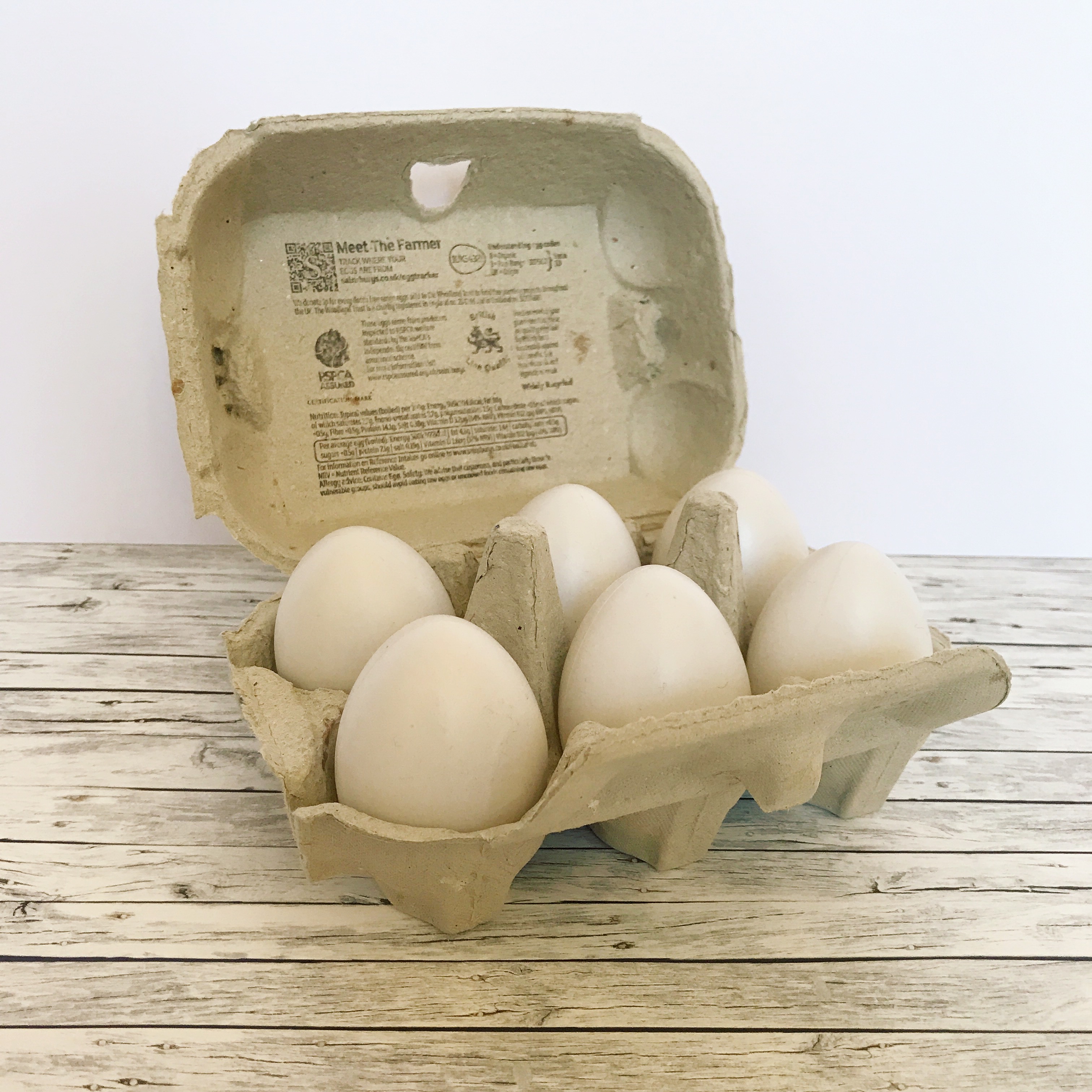 Another thing I got recently, when I needed some sweeties for goodie bags, were these lovely old fashioned sweetie jars from Superdrug. They are great because they are made of plastic, so can't break (I've only ever seen glass ones before), so once they are empty they can go in the play kitchen or grocery store.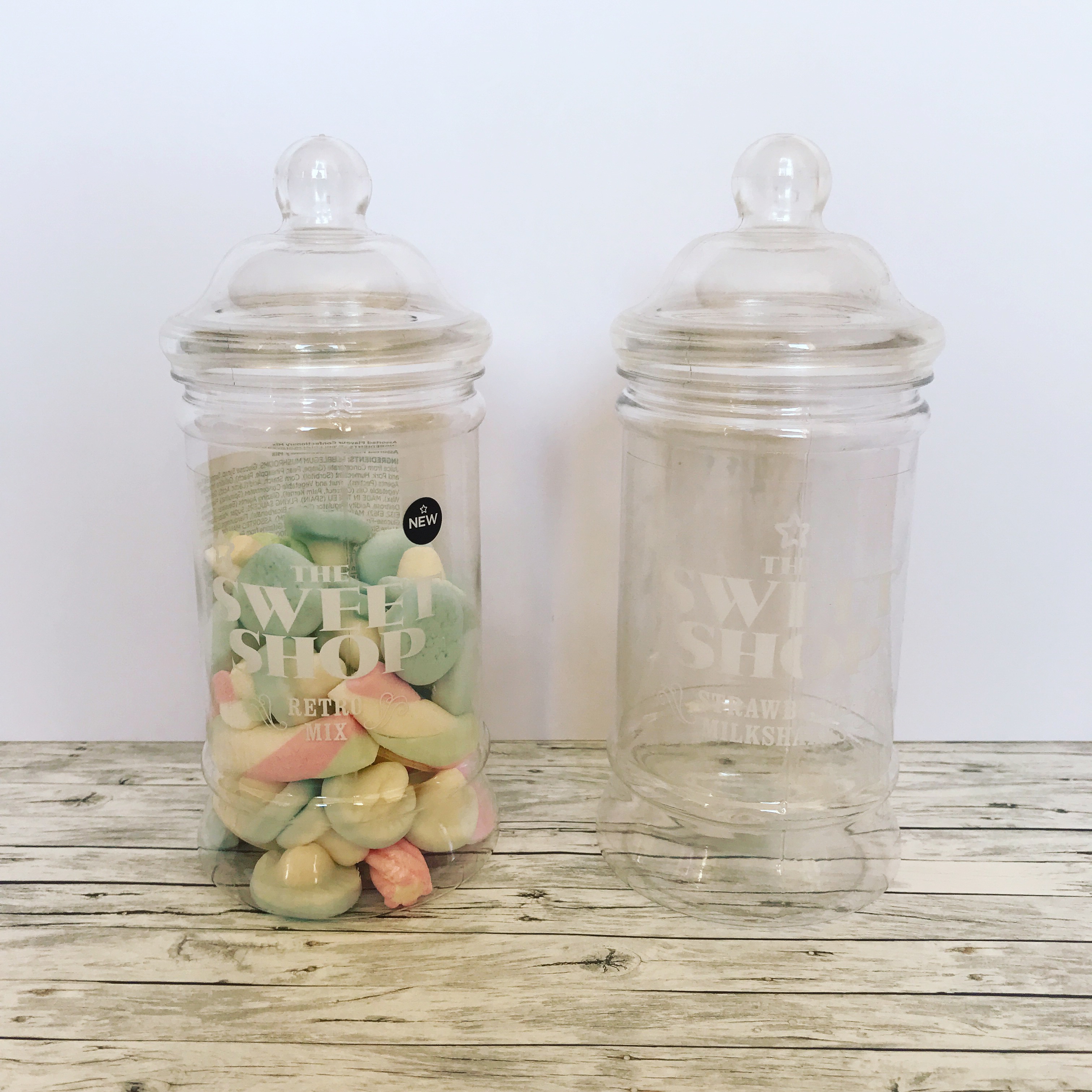 And not only food packaging can be reused – these ice cream cones used to contain bubble mixture for blowing bubbles. Once the mixture had all been used up, I washed them out and removed the bubble wands and now our play kitchen/grocery store serves ice creams too!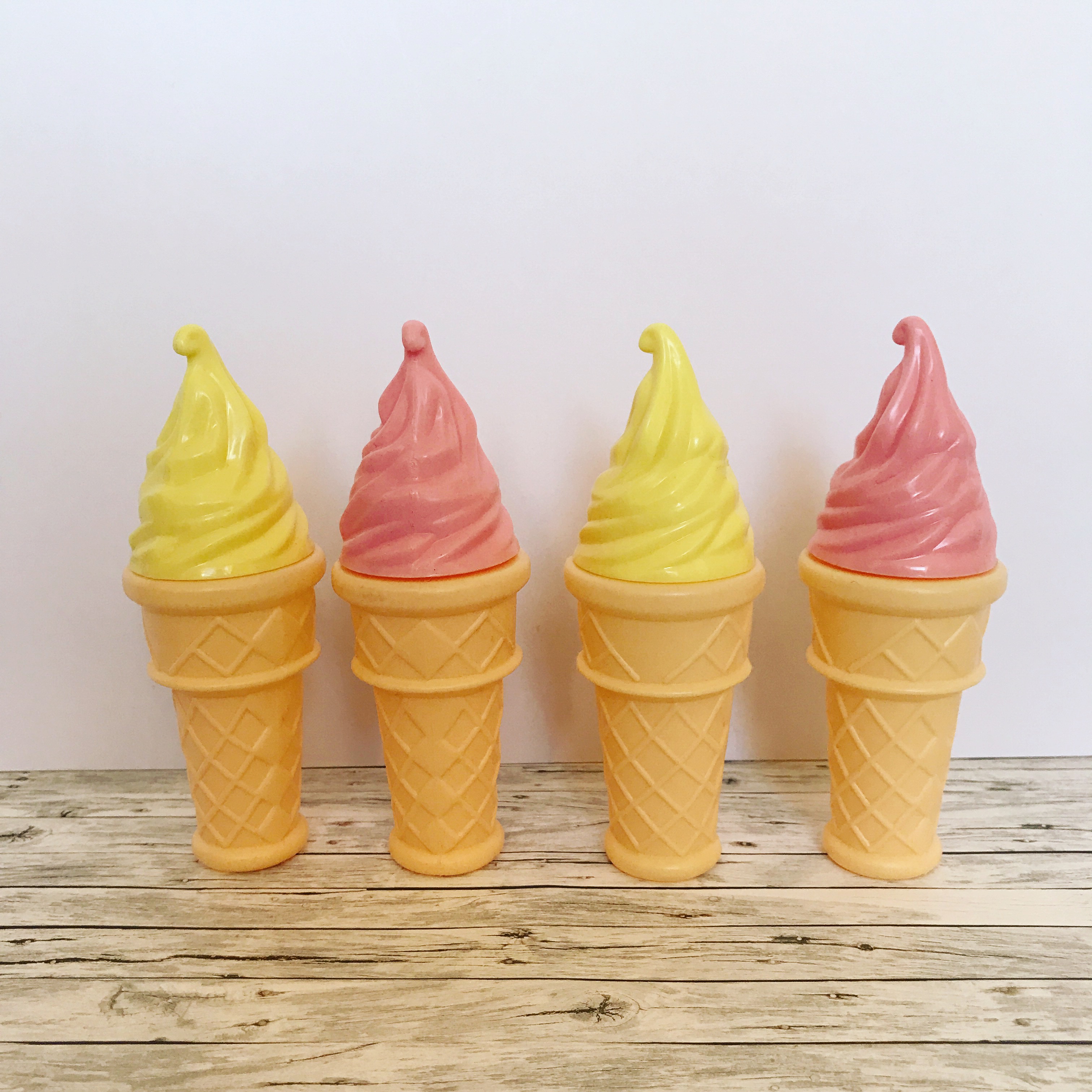 There are plenty more ideas to stock your play kitchen or grocery store with miniature food packaging. Just keep your eyes open when you go shopping!
Make Your Own
If you are creatively inclined, you can have a go at making your own play food. It's really quite easy if you are not going for any complicated 3D creations – just draw a shape, cut out each shape twice in felt and sew together. Add a little stuffing in between if you want. From the photo below, the bread cheese, ham, lettuce and bacon are flat, and the veg, chicken leg, cookies, and the yolk of the egg are stuffed.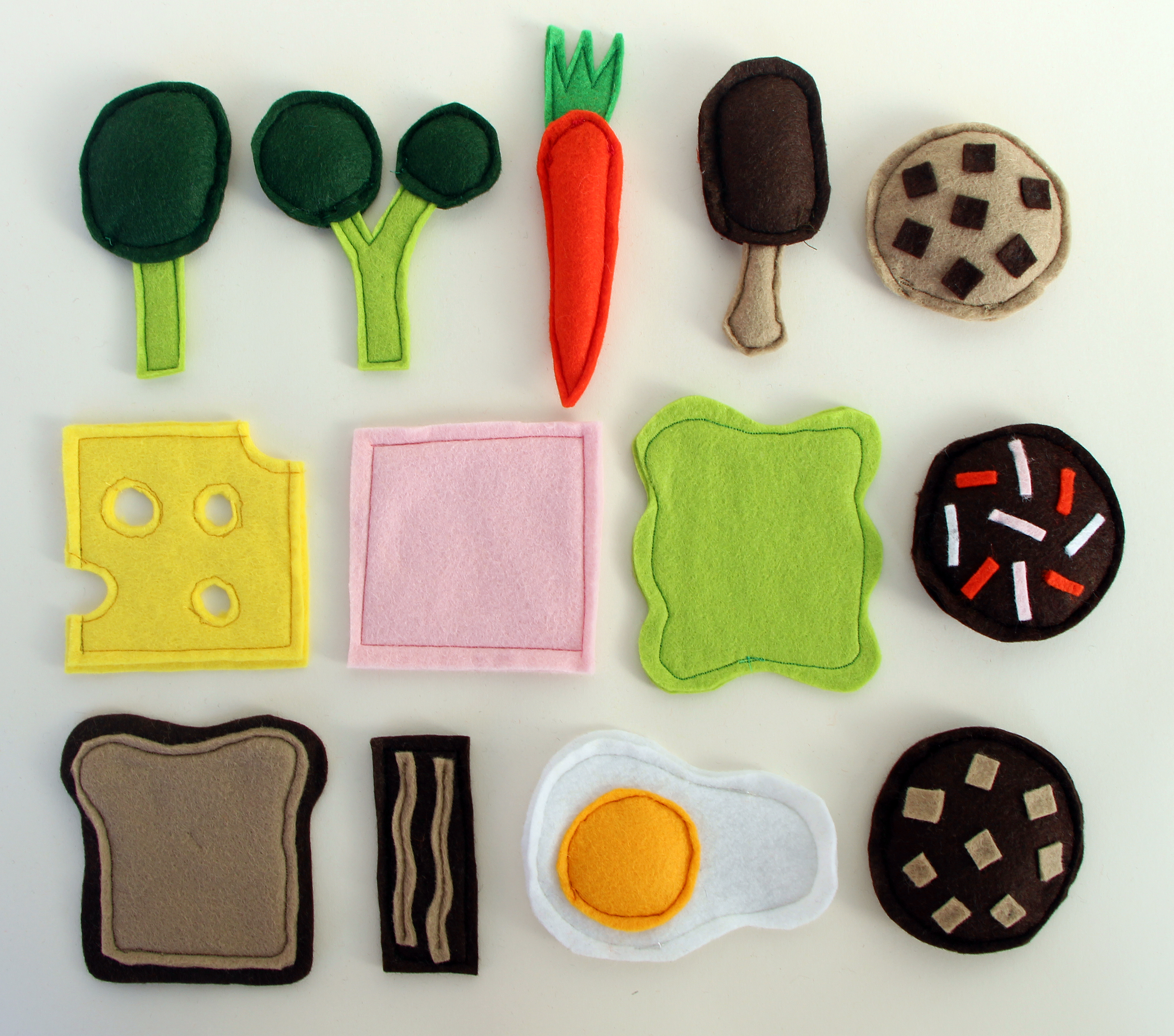 Or how about some donuts? I shared a tutorial for making felt donuts here >> Would You Like a Doughnut?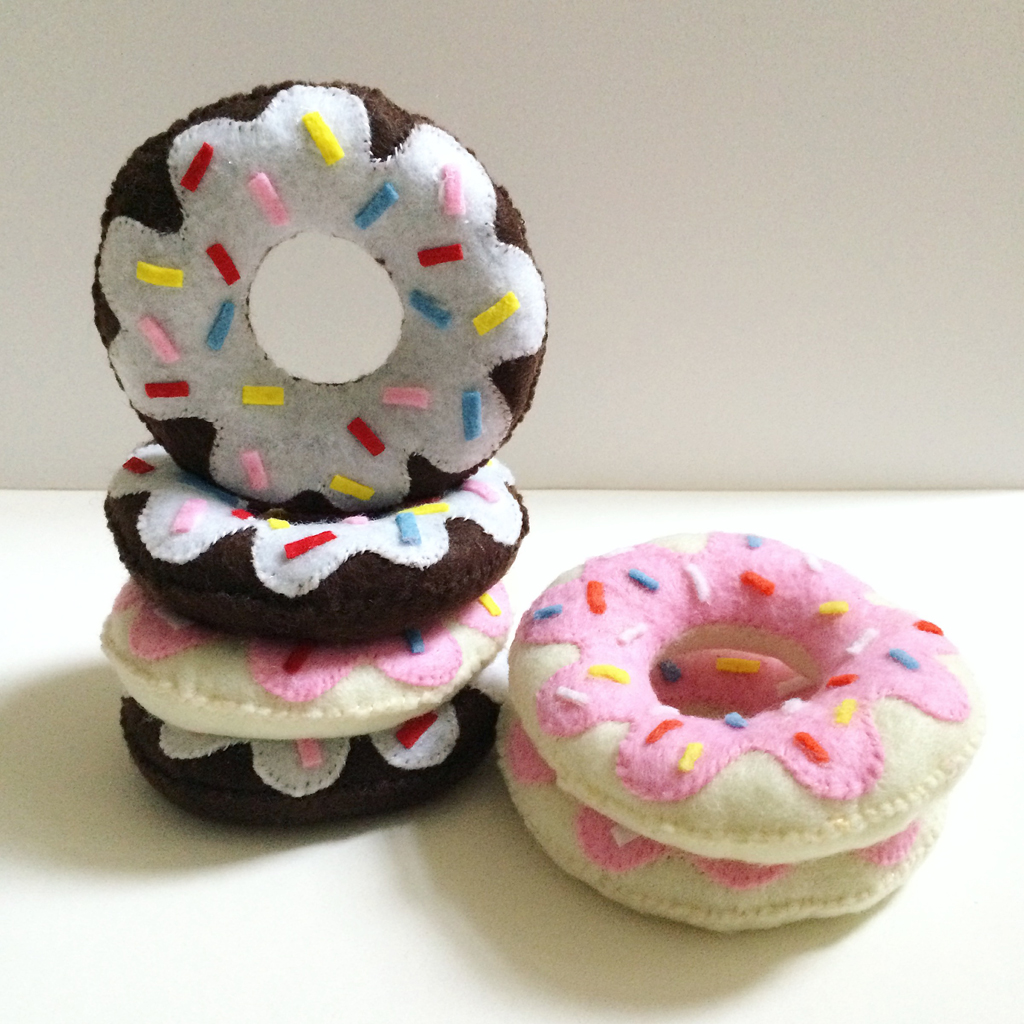 If sewing isn't your thing, print off your own labels – or hand write some if you don't have a printer – and stick them on little empty plastic bottles. Probiotic yoghurt bottles are the perfect size.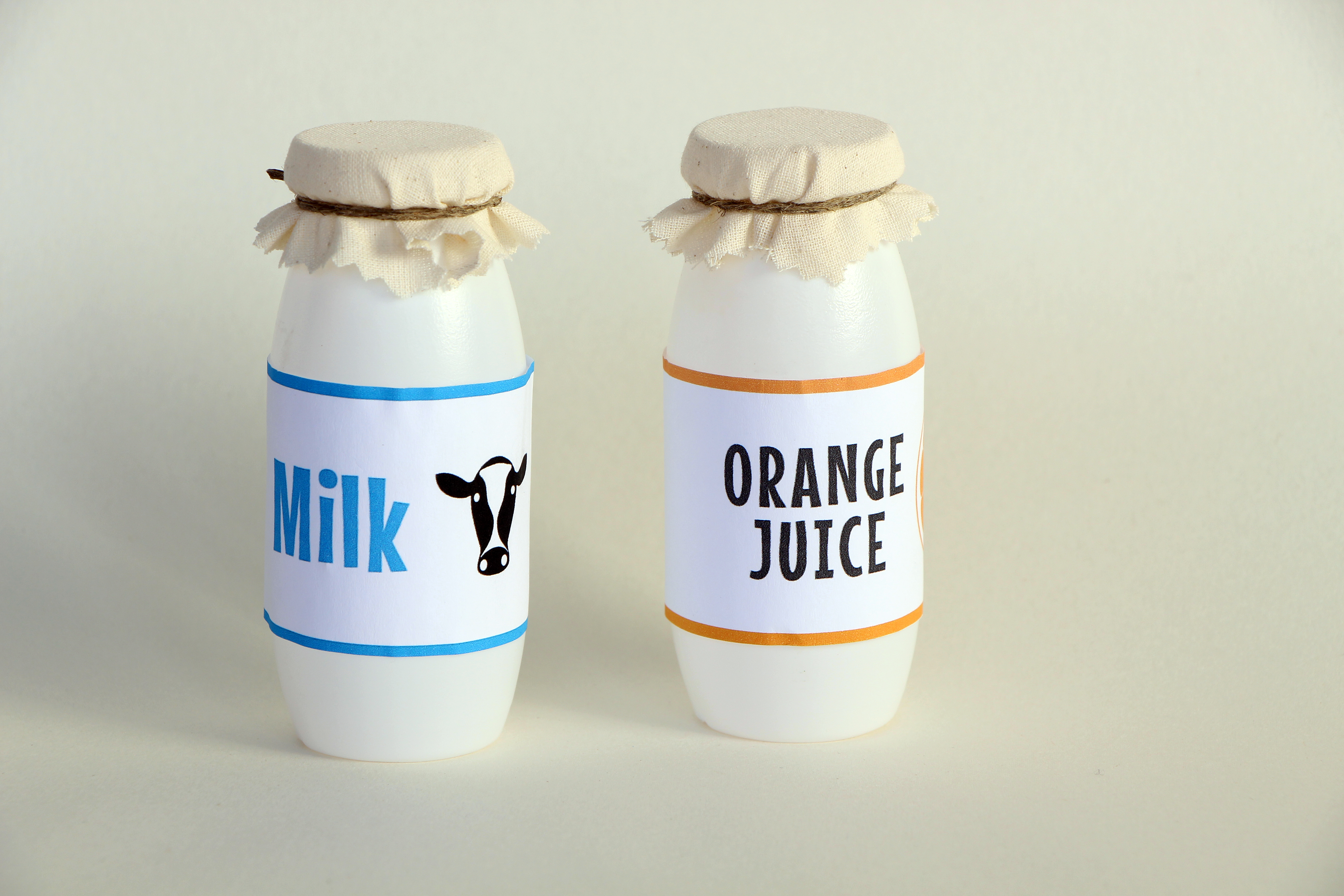 There are lots of other tutorials online, for making your own play food, so just try searching for whatever you would like to make.
Buy
And, finally, you can of course buy things for your play kitchen or grocery store. There are many different kinds or both play food and cooking/tableware available, made e.g. from plastic, wood, felt, china or tin, to suit your needs. Here are a couple of places I have sourced things from, which don't cost the Earth so are great if you are on a tight budget: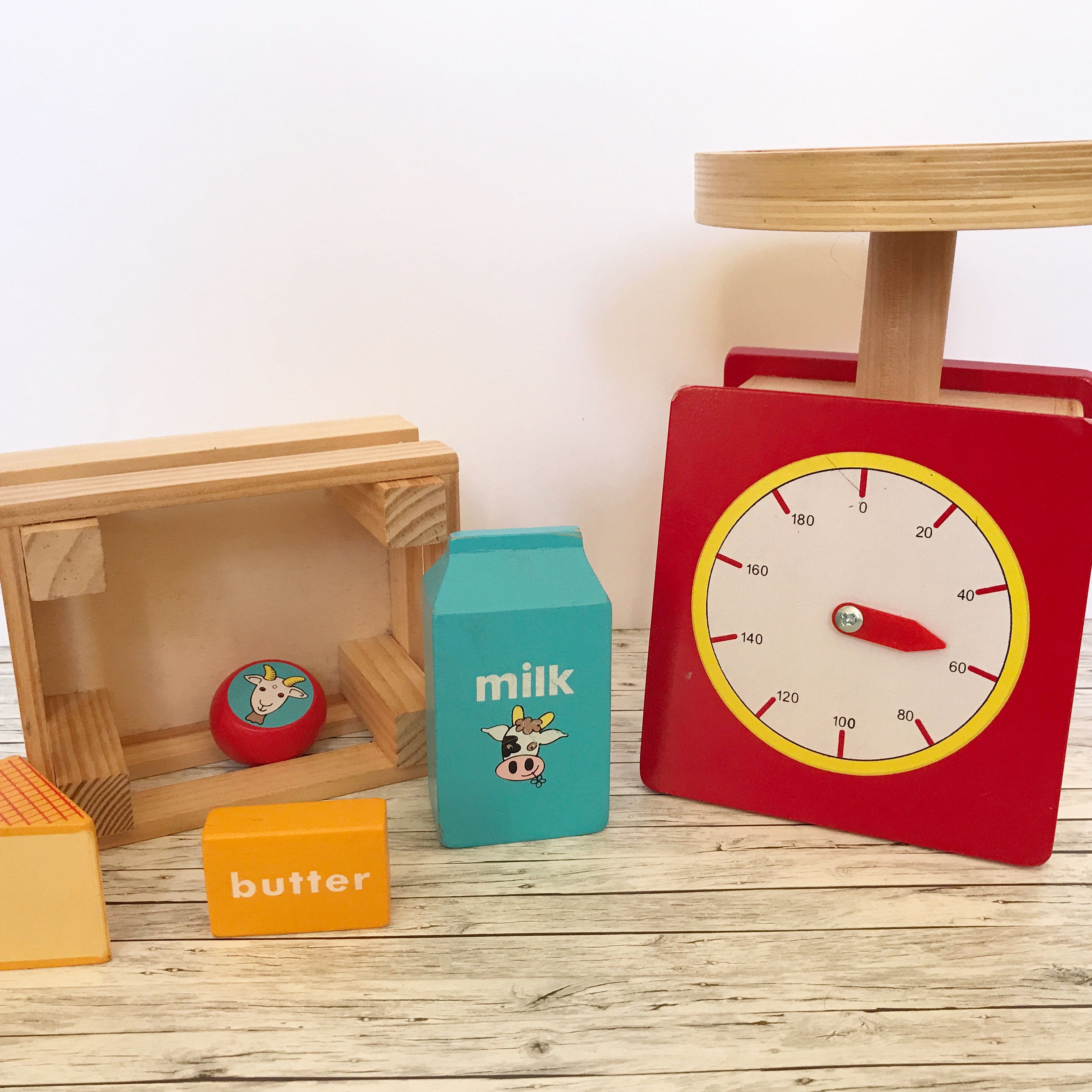 Hema – Here we got our wooden scales, the wooden produce boxes for the grocery store, and a set of wooden food which includes butter, cheese and a milk carton.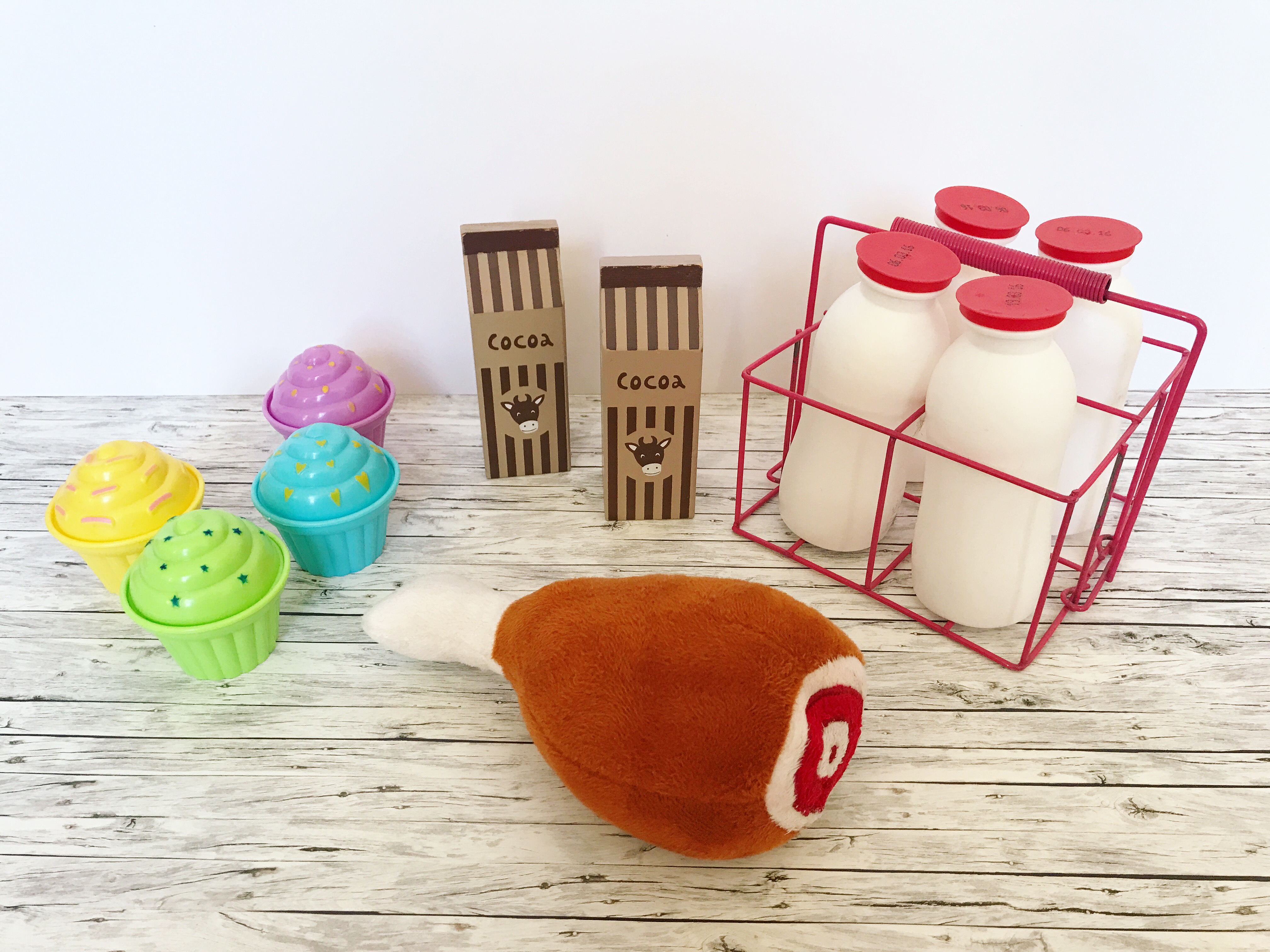 Flying Tiger Copenhagen – Here you can often find little things to pick up for a play kitchen, at budget prices. Our plastic cupcakes and wooden chocolate milk cartons came from here. As did the big meat joint, which is actually a dog toy that squeaks! They have also had wooden doughnuts and ice lollies in the past, though I didn't get any of those as we were already covered. The milk crate had glass bottles in it, which I replaced with empty plastic mini chocolate milk bottles, as they are less likely to break!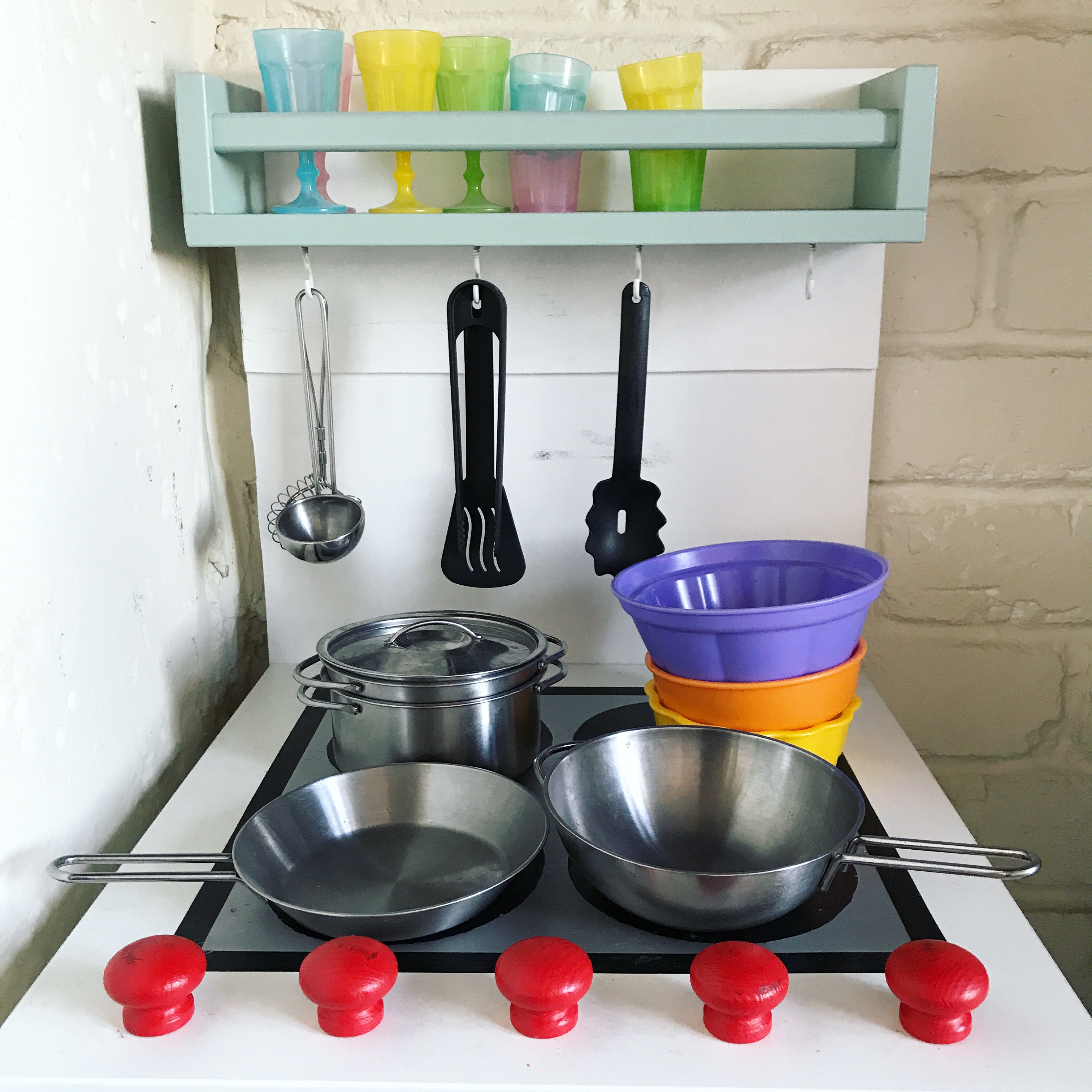 Ikea – A great place to not only stock a play kitchen, but also to buy one. Though, as mentioned above, we made out own. Our pots, pans, cooking utensils and plastic 'glasses' are from Ikea though, as is a little baking set which includes a baking sheet, rolling pin and cookie cutters (not pictured), that you can also use to do real baking with your kids. And the plastic cake tins at the back were actually sold as sand toys. Ikea also do a great range of felt play food, but since I had made our own we didn't get any of those.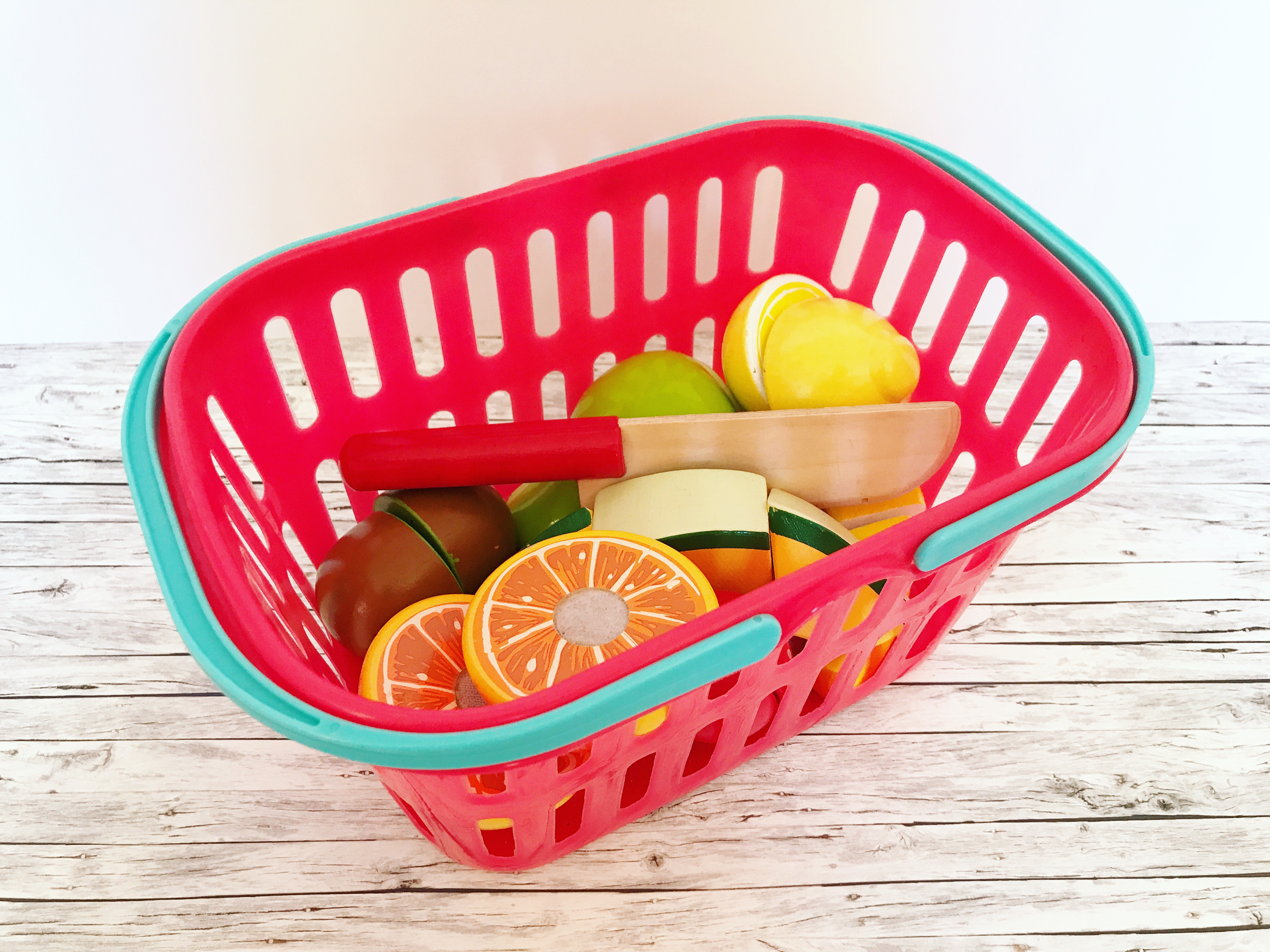 We also have this wooden fruit set from Melissa & Doug, which was a gift. The fruit all comes in several pieces, which are held together by Velcro, and you can then 'cut' them with the wooden knife. Mr Fox loves to play with this for hours, just cutting up the fruit and sticking it back together. Melissa & Doug do lots of other great play food sets too, and there are of course many other play food brands.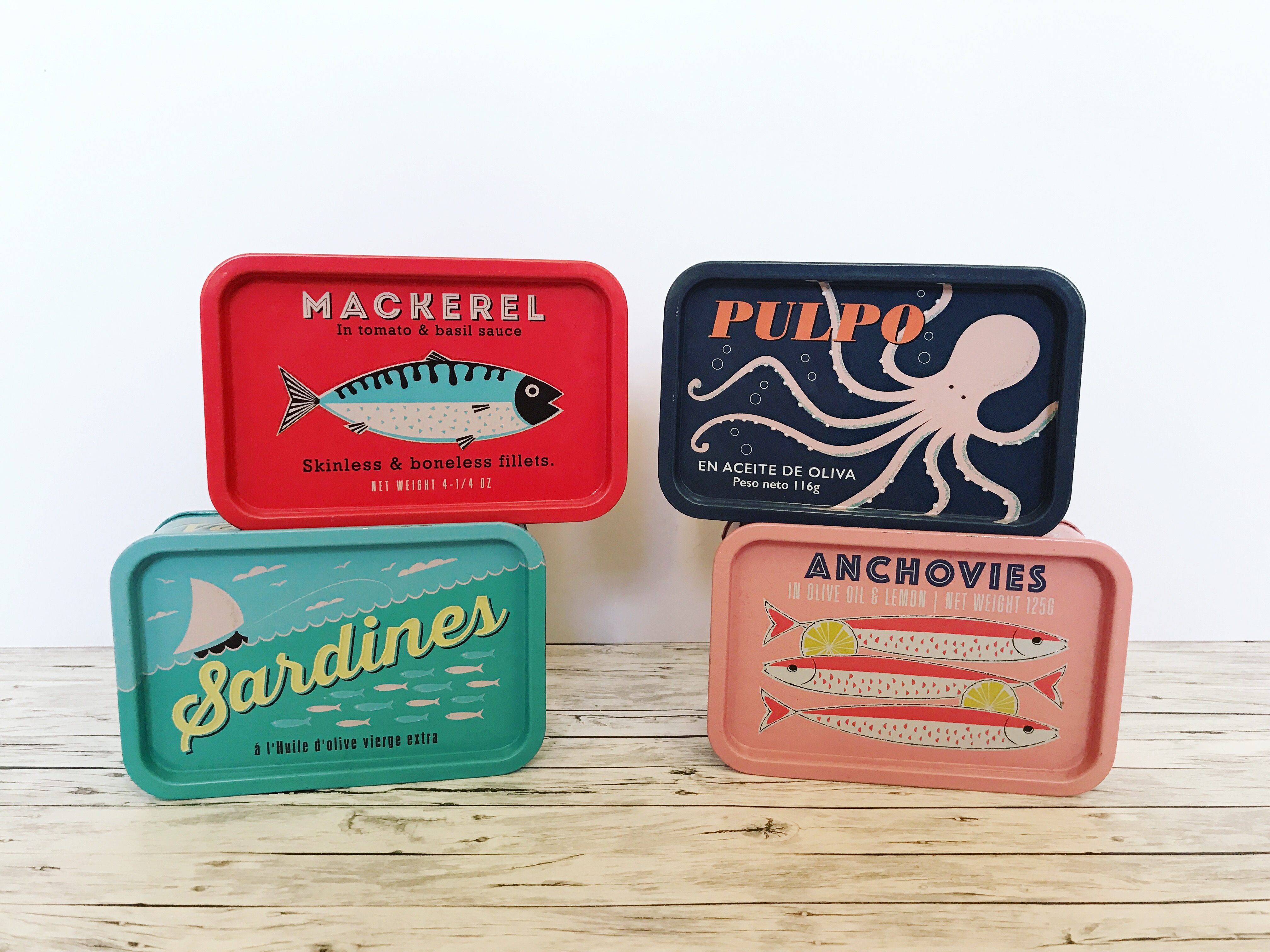 I also constantly keep my eyes open, for any packaging etc that could be repurposed, like these cute little tins which I found in a shop in Berlin.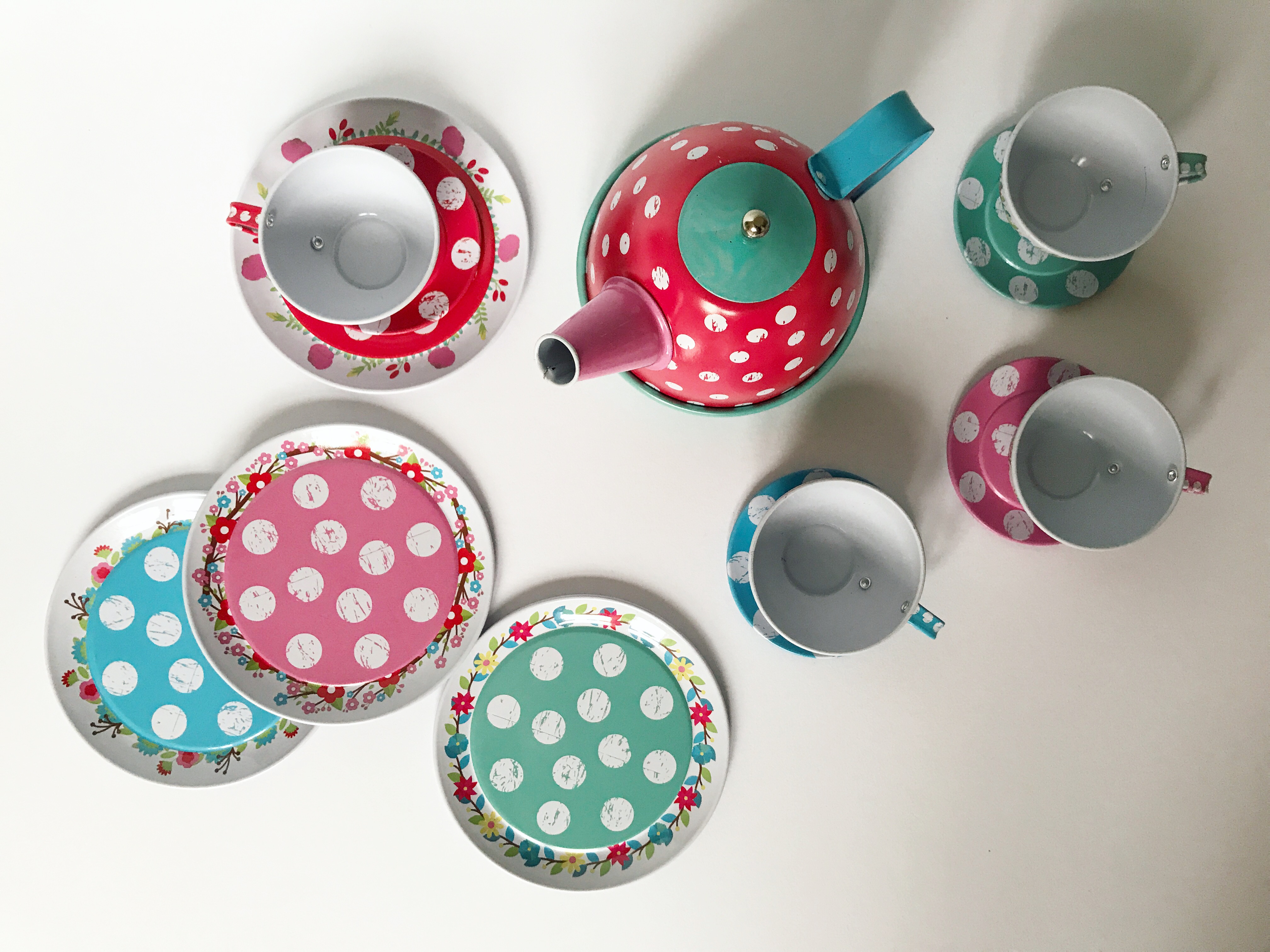 And, finally, the most recent addition to our play kitchen is this gorgeous tin tea set from Busy Me, which we were kindly sent for free to review – you can read my full review of it in yesterday's post – and if you are lucky, you can win a set in the giveaway, which runs until 8th December! Check yesterday's post for details.