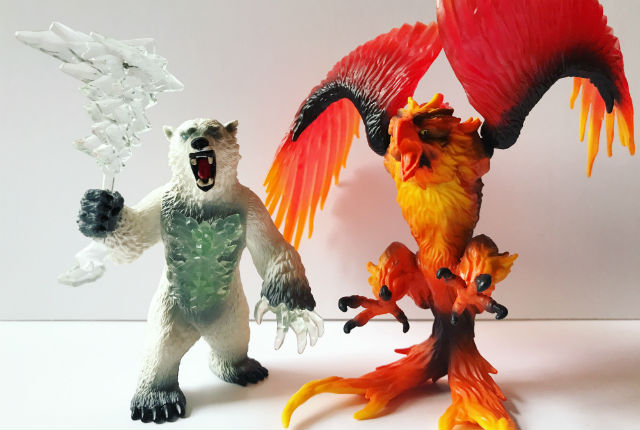 Review: Eldrador Toys by Schleich [AD]
We've got a new toy review for you today. If you've been following this blog for a while, you may already know that we are big fans of the German toy brand Schleich. They are known for creating good quality, hard wearing toy figures, especially their range of animals from around the world though they also offer various fantasy figures. Last year, we reviewed a unicorn family from their Bayala range, which the boys absolutely loved, so when we were asked if we would like to review some more or their Bayala products I immediately said yes. We actually ended up being sent a couple of products from their Eldrador range instead, which was new to us and is also fantasy based. It is aimed at slightly older children aged 7+ though that did of course not stop my 5 year old wanting to have a play with it.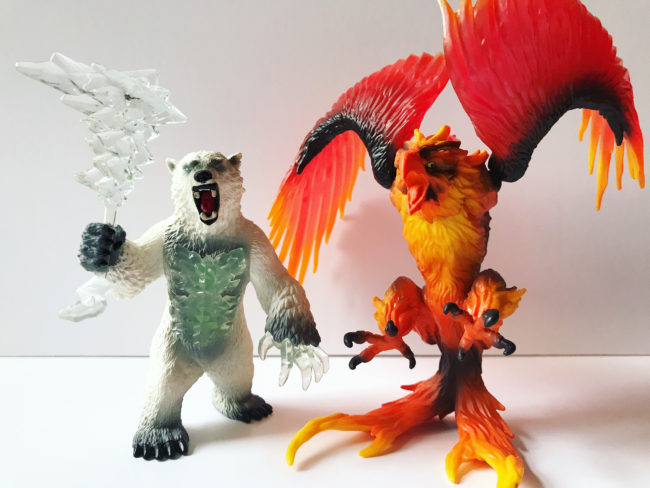 There's a while back story to the Eldrador range, which includes mythical creatures from four different worlds: lava, ice, stone and water. There is only one thing that counts in Eldrador – the super weapon! The lava world has got their hands on it, and use it to rule over the other worlds of Eldrador. The other worlds fight against them and each other to regain control, as only by seizing the super weapon can the other Eldrador creatures save their own worlds. We were sent the two latest products from the Eldrador range – the 'Blizzard Bear with Weapon' and the 'Fire Eagle'. Each of the creatures also have their own little back story.
Blizzard Bear with Weapon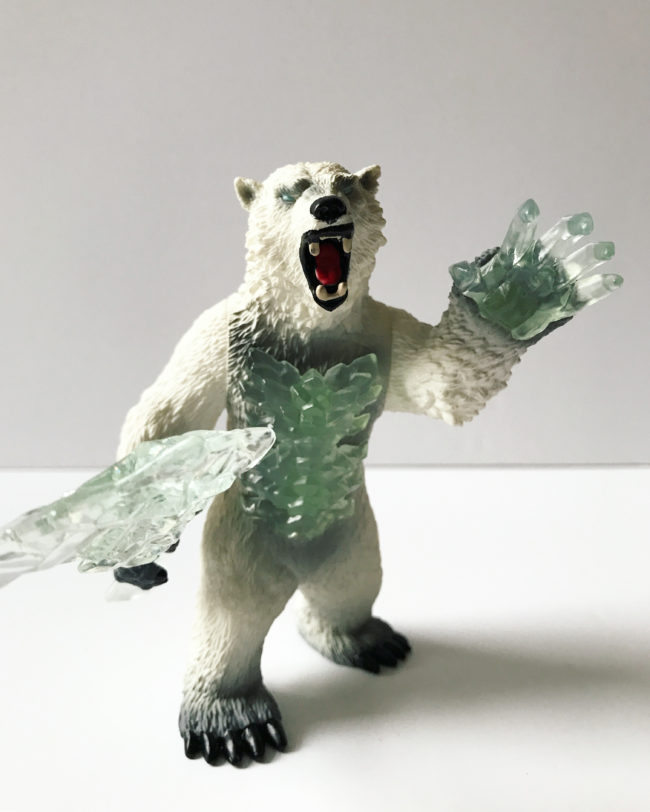 "The Blizzard Bear freezes his opponents in fear. Anyone who ends up in his…arms comes into contact with his ice-claw. The polar bear's favourite weapon is a magic ice pick: It can be used to trigger a violent storm of ice particles that sweeps enemies away. The bear is also well protected by his robust breastplate made of ice."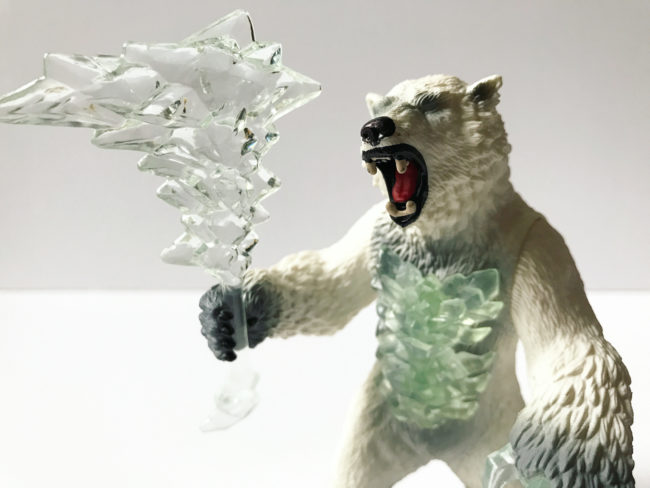 The Blizzard Bear has moveable arms, and his weapon can also be removed. The boys immediately took a shine to him, and dug out their other Schleich polar bear and pretended that this was Blizzard Bear before he transformed. The bear is a good size to play with too.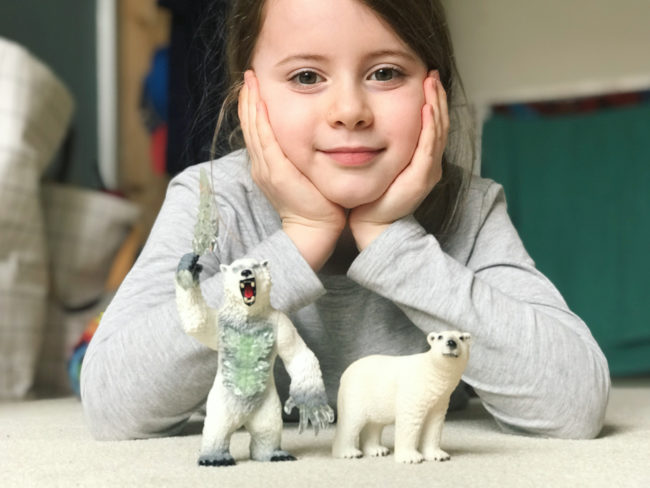 My only concern is that the claw and weapon are made of different material to the rest of the figure. Schleich toys are known for being very solid and robust, and made from a rubbery PVC material, but the extras on this figure appear to be made of a harder plastic. Time will tell how well this stands up to continuous play.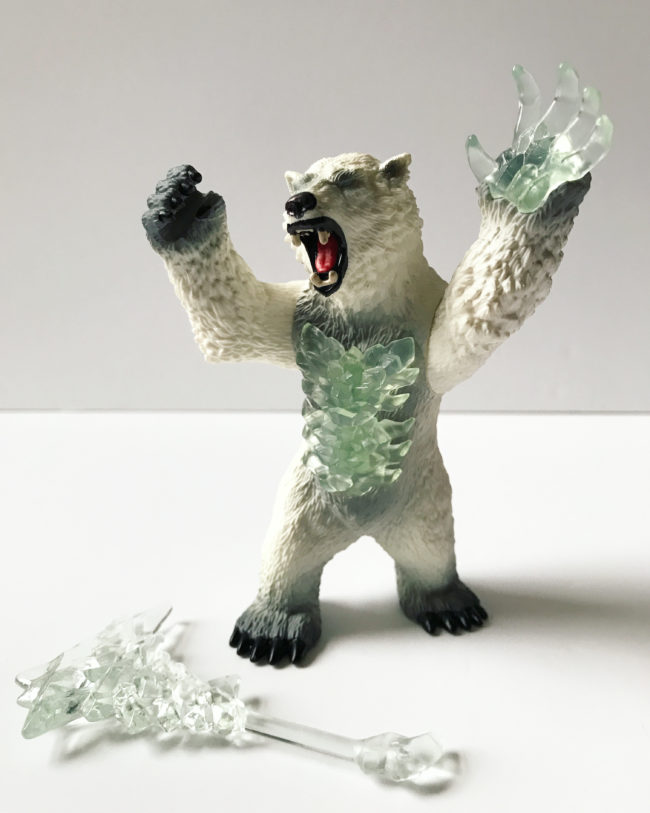 I had to take a great deal of care when removing the weapon from the bear's paw though (see above), and I was a bit worried that a child being less careful might end up snapping it, so I've told the boys not to take it out. Maybe I'm just being over cautious though.
Fire Eagle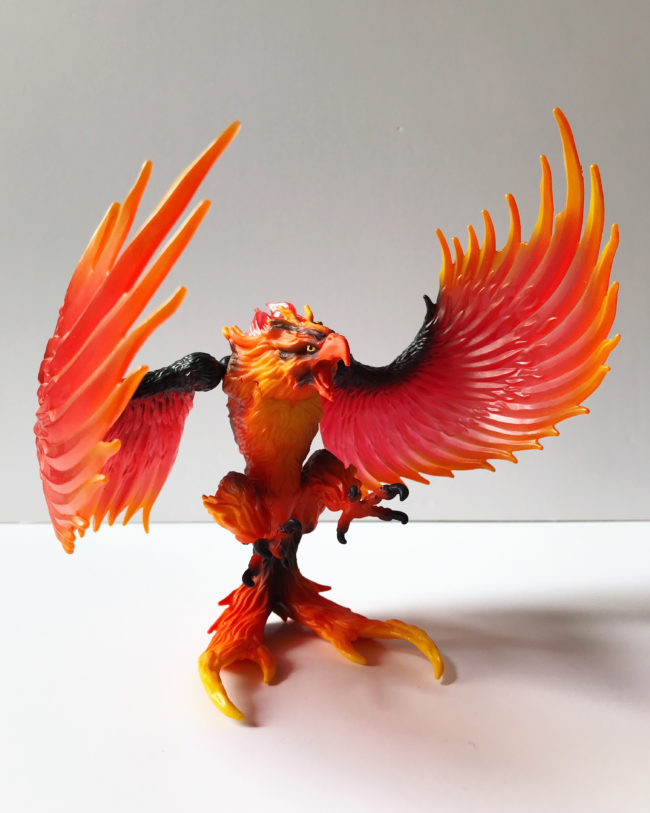 "The Fire Eagle circles high above the volcanoes. The dreaded bird of prey has the perfect view from up there: As soon as an enemy enters the lava world, he prepares to dive with his huge, movable wings. The fire eagle then grabs the intruder with his sharp claws, and pecks it with his beak."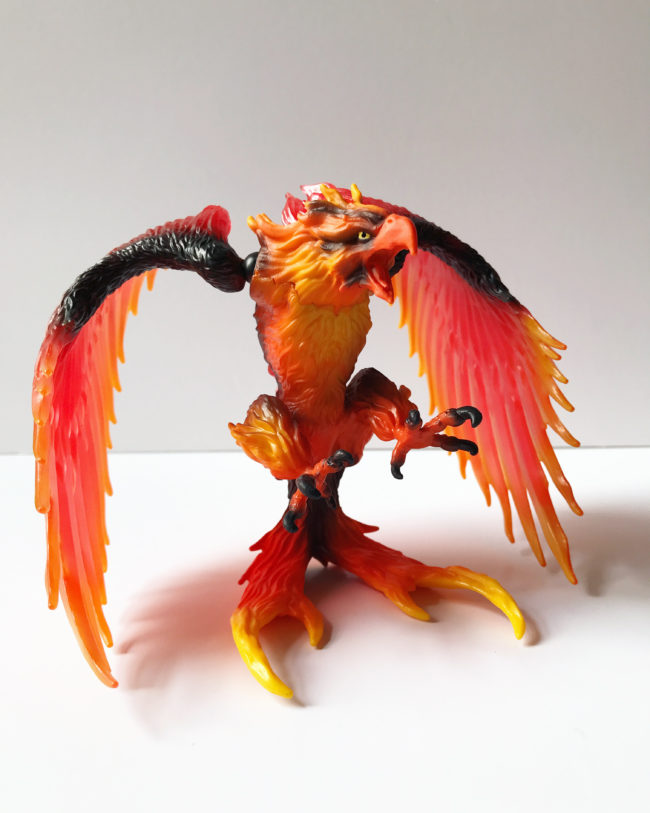 The Fire Eagle's large wings are attached by a ball joint, and can be rotated in all directions and positioned freely. One of the wings did pop out, when my 5 year old was pushing it too far in one direction, but it very easily pops back in. The eagle looks very impressive, but I have to be honest and say that it's not been played with as much as the bear which I think is mainly due to it's size as it's quite big for little hands to handle. But do keep in mind it's aimed at children age 7+ so older children may do better with it, and it's definitely a stunning collector's item for any Schleich fans.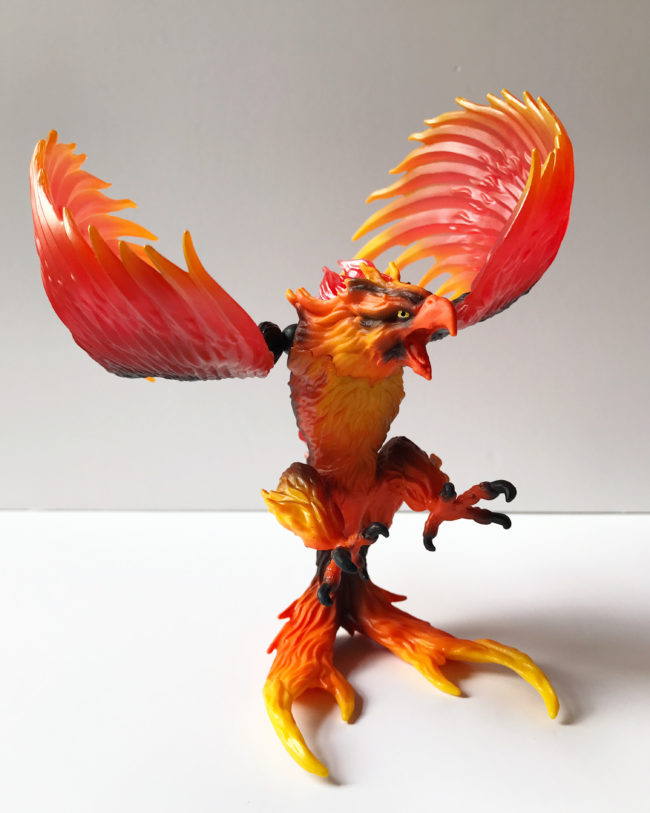 Our Verdict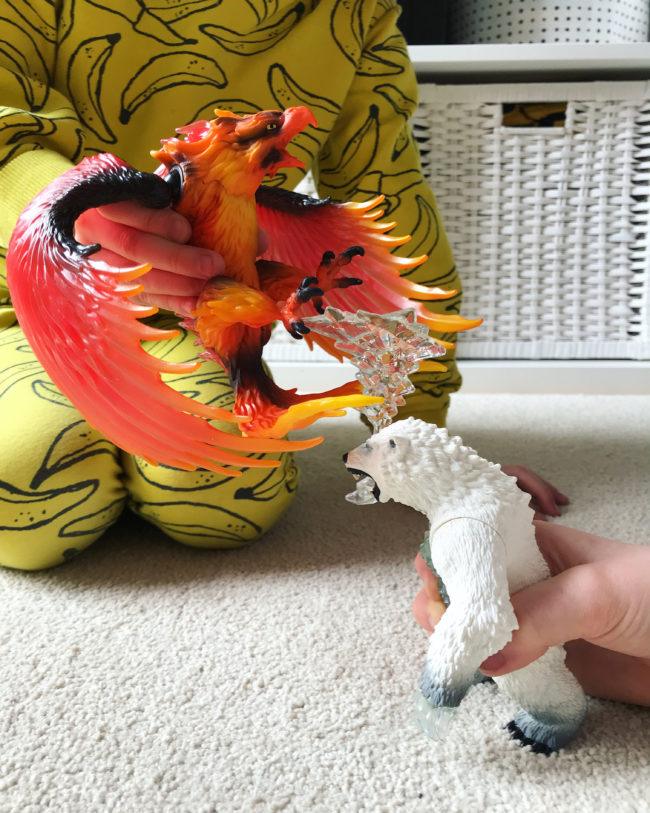 As with all Schleich products, these toys do not disappoint with their attention to detail. They may not seem quite as robust as some of the other Schleich figures we have, due to the extras they come with, but they are still good quality and again do keep in mind that this range is aimed at slightly older children.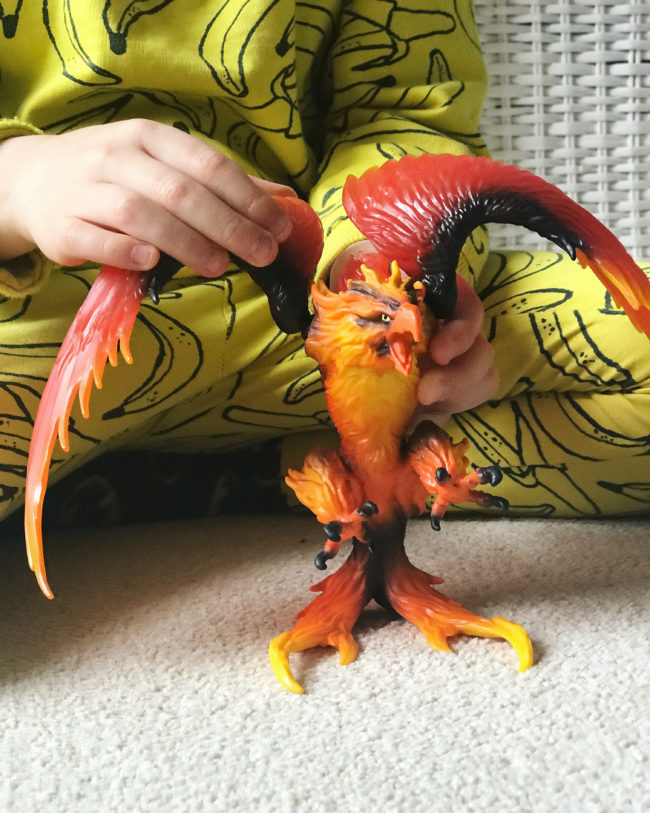 If I am being perfectly honest, these figures are probably not something I would have bought for the boys myself, mainly because I like getting them things that go together so would probably have chosen something to expand their existing collection instead. But the boys really enjoy playing with them – especially the Blizzard Bear – and that's the main thing! (my 9 year old has told me to write that the bear is "very cool!", no pun intended)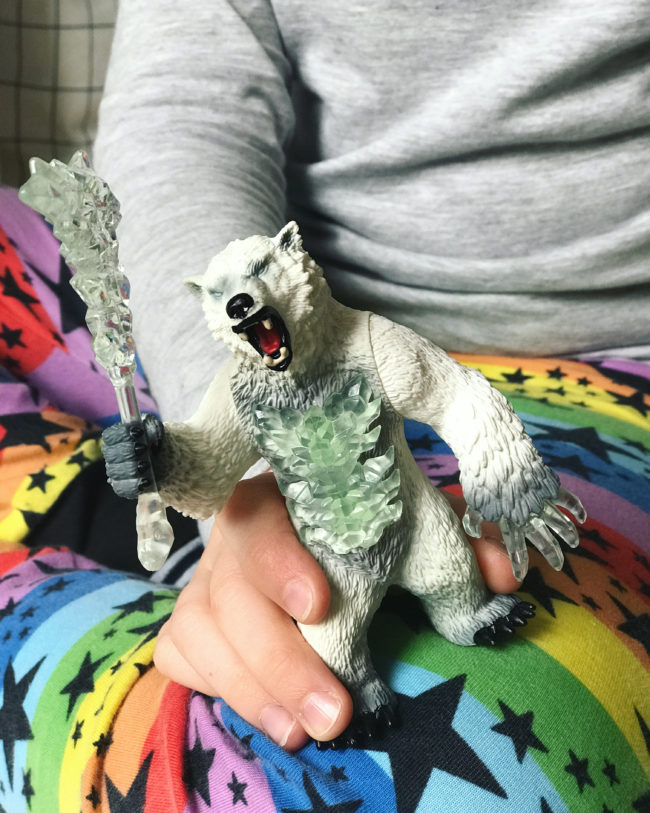 It's definitely been firing up their imagination, and when you are looking for a toy brand you can trust, you can never go far wrong with Schleich. You can view the whole Eldrador range on the Schleich website.
[line]
Disclosure: We were sent two free Schleich figures – the Blizzard Bear and the Fire Eagle – in exchange for an honest review. All images, views and opinions are our own.