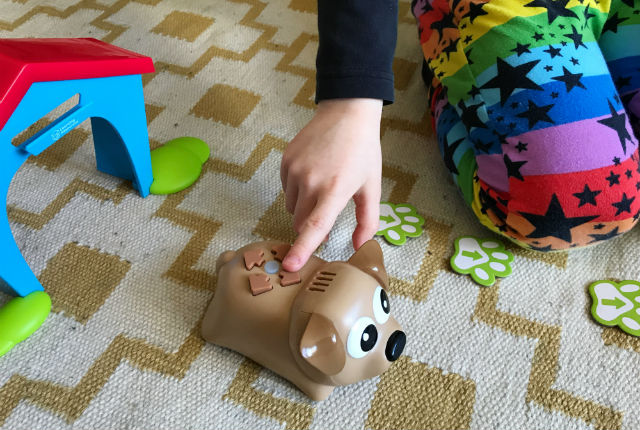 Review: Coding Critters Adventures [AD]
Hey everyone, we have another review for you today from one of our favourite brands, Learning Resources, whom I mentioned them last week. They produce a fantastic range of games to help with  literacy, maths, science and more, and they kindly sent us one of their Coding Critters sets to review.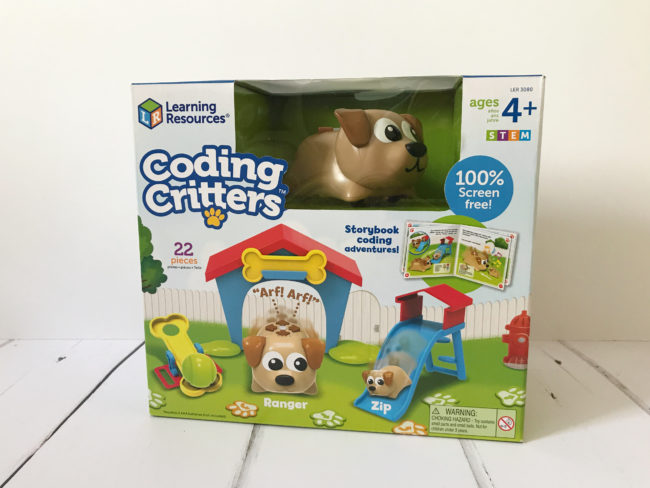 Coding Critters introduce young children to coding and currently come in four different sets – dogs, cats, dinosaurs, and a new rabbit set. Each pet-themed coding robot teaches early STEM concepts through basic coding and activities. We were sent one of the 'Ranger & Zip' dog sets. The sets are aimed at children age 4-10.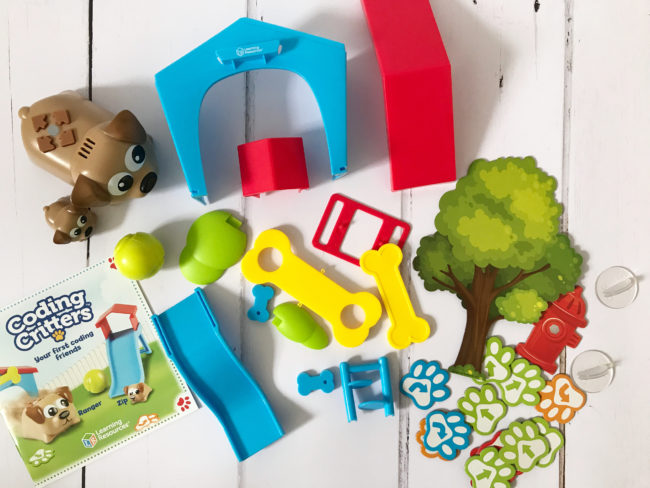 We were sent one of the dog sets – Ranger & Zip – for review. The set includes:
one large programmable dog
one small magnetic dog
Illustrated story book
10 coding paw print cards
2 cardboard play set decorations
a selection of play set accessories, including a kennel, slide, see-saw, ball and bone
a multilingual quick start guide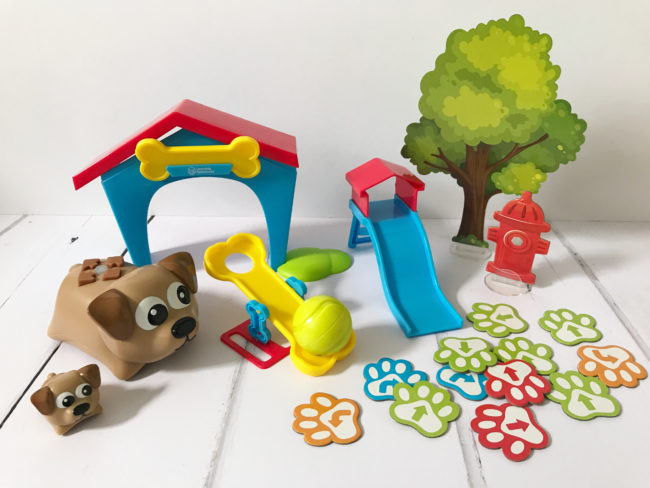 Before you get started, you need to insert some batteries in to the large dog. It takes 3 x AAA batteries, which are not included, and also requires a very small screw driver, so don't get caught out. I had inserted the batteries in advance, so that when the boys unpacked the set it was ready to go. You'll also need to assemble the play set accessories. There were no instructions for this, but it was pretty intuitive just from looking at the pictures – my 5 year old managed it all on his own.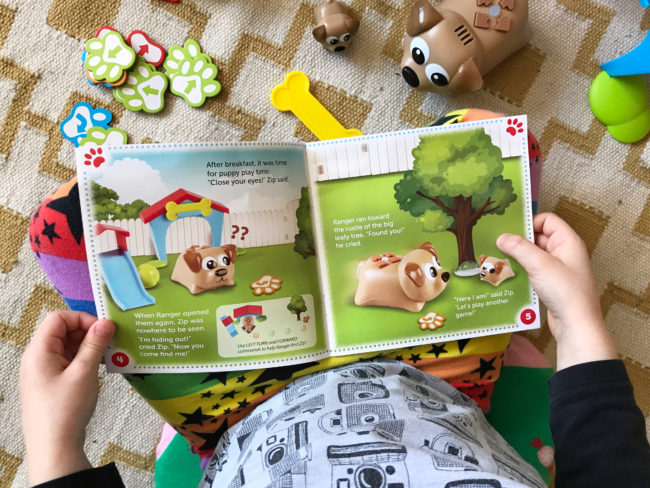 The story book includes a 12 page story, that you can read along to as you play your way through the coding exercises. Just switch on Ranger, use the coding paw print cards to work out where you want him to go, then press the arrows on his back in the same order as the cards and press the button in the middle to make him go! We've put together a short video to show you Ranger in action:
The commands include forward, left, right and reverse, and you can programme up to thirty instructions in a row at any one time, which I think is more than enough for that age group. You can make Ranger grab his ball, share his bone with Zip, play fetch and hide-and-seek, and more. Zip is magnetic, and Ranger's nose is magnetic too, so they can attach to each other and move around together. Once you've played through all the coding challenges in the story book, you can use the play set to make up your own stories to code!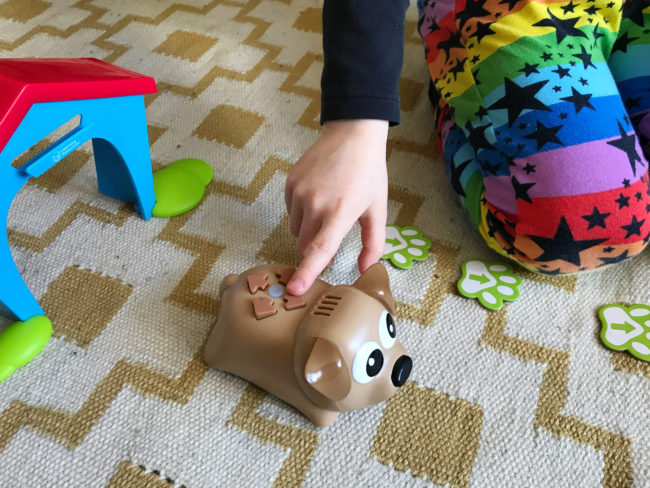 As a bonus, the Coding Critters also double up as cute interactive pets – just press Ranger's nose for 2 second to enter Play Mode. In Play Mode, the commands on the arrows change to feed, patrol, dance and nap time. My 5 year old especially loved the 'om nom nom' noises that Ranger makes in feed mode, as you can see in the video above.
What do we think of Coding Critters?
The Coding Critters set has been a big hit especially with my 5 year old, and my 9 year old has wanted in on some of the action too! As with all Learning Resources products we have used, the pieces in this set are good quality and very robust, and can survive a few knocks, which is so important for little hands. I really like the story book concept, which helps bring coding basics to life for younger kids. It's also really great that Coding Critters are 100% screen free. We are not adverse to screen time in our house, but it means the kids can use Coding Critters independently without the need to run an app alongside. And since there is no internet connectivity required, we could also take this toy travelling with us (it takes up much less space than the size of the box implies).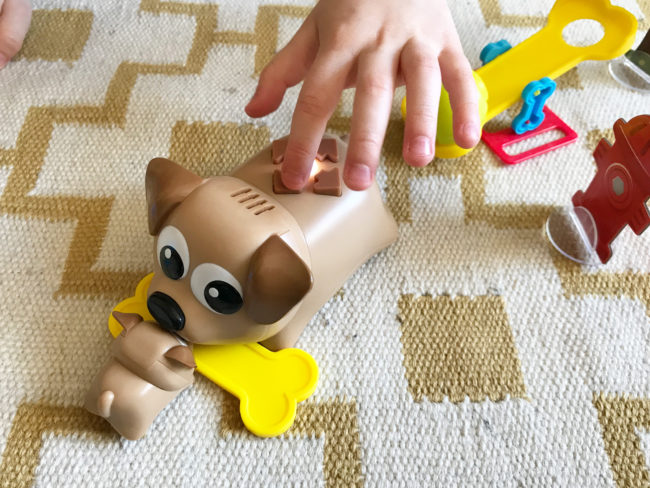 The boys have been having a lot of fun with Ranger and Zip, and I can see this set becoming a firm favourite in our house. Coding Critters retail at around £40, but considering what you get I think it is good value for money and would make a great gift for younger kids interested in STEM activities, and you can sometimes find them on special offer too. The dog, cat and dinosaur Coding Critters sets are all available via Amazon (affiliate link).
As parents and children are spending more time at home right now, Learning Resources have also put together free resources for home learning to support families with children aged 2-11. Designed to keep children engaged, the activities will help turn time spent at home into a more fun learning experience. As I mentioned previously, we have been using some of these resources in our home learning already and give them a thumbs up!
---
Disclosure: We were sent a free Coding Critters set in return for an honest review. All views and opinions are our own. Please note that the product links in this post are Amazon affiliate links. That means if you buy anything via these links, I receive a small percentage of the sale – at no extra cost to you – which helps to keep this blog running. Thank you.