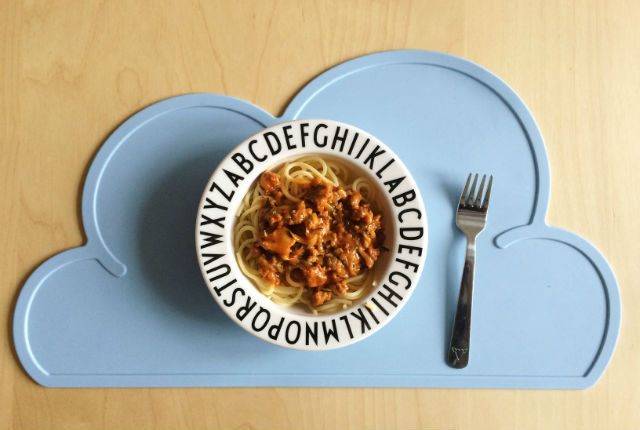 Sausage & Courgette Spaghetti
My two boys are like little rabbits when it comes to vegetables, they will nibble away at endless amounts of raw veggies – cucumber, tomato, pepper, kohlrabi, carrots. Sometimes, when I'm serving a side salad for the grownups at dinner time, and forget to put anything out for them, they will be like "hey, were's our salad?!" But they aren't that keen on cooked vegetables, with the exception of peas and sweetcorn, so I have been looking for new ways to introduce some more cooked vegetables. Not necessarily because they are running short on their daily veggie intake – the 'rabbit food' takes care of that – but because I was getting bored of cooking the same, kid approved meals. I spotted this recipe Sainsbury's magazine, and decided to give it a try (though I've adapted it slightly to make it gluten free and a little simpler). It was an instant success – my younger boy gobbled it all up. My older boy left some strands of courgette at the side of his plate and accusingly told me "You know I don't like courgette!" The look on his face when I told him he'd just eaten a whole plate of courgette was priceless. We've had it a couple of times since then, and he no longer questions it, just gobbles it up like his brother. By the way, the recipe does contain wine, but the alcohol all cooks off, so there is no need to worry making this for kids. So, what are you waiting for? Tuck in!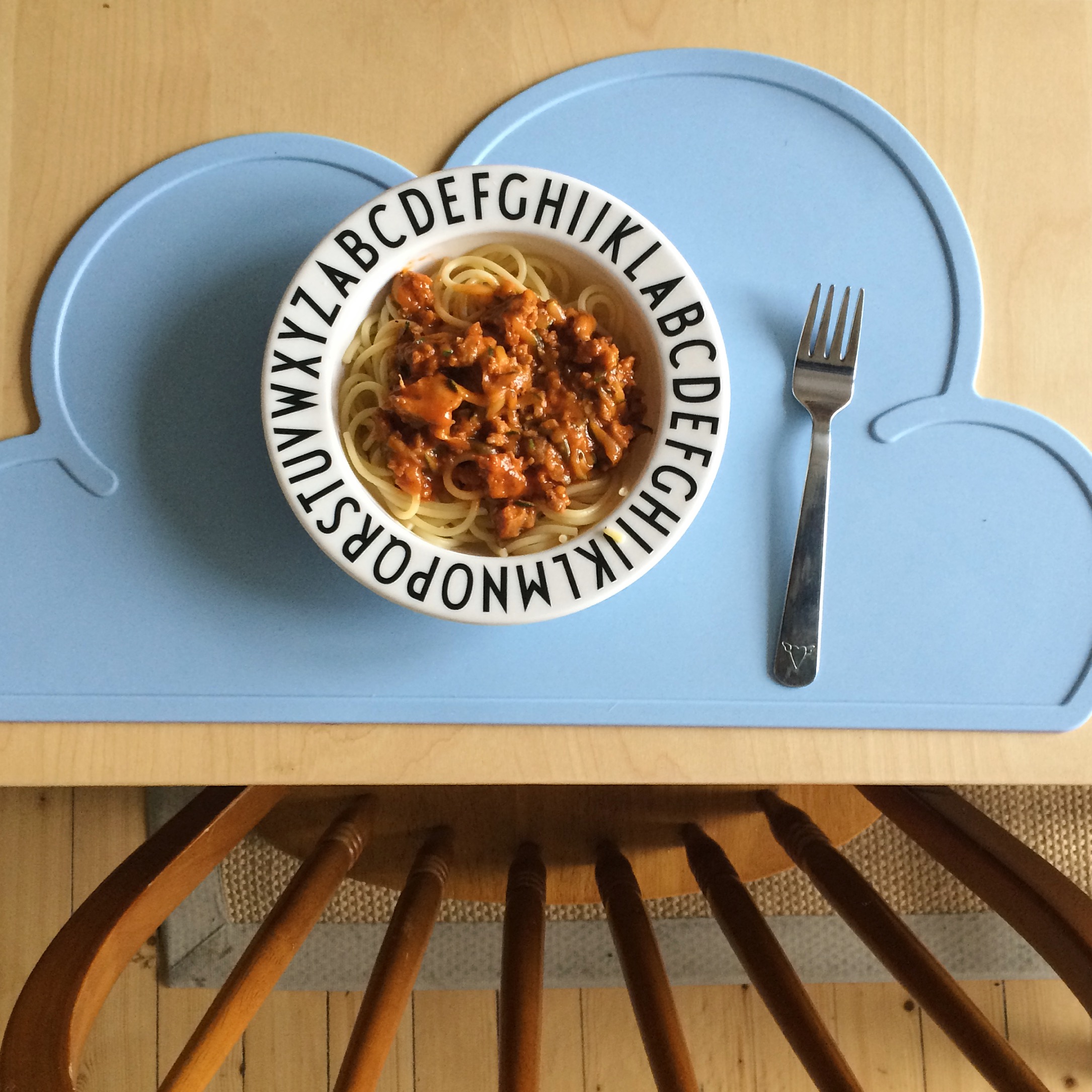 Ingredients (serves two adults & two children)
350g gluten free spaghetti
400g gluten free pork sausages
1 tsp garlic granules
125ml white wine
1 large courgette (ca. 250g), coarsely grated
3 tbsp tomato puree
vegetable oil
salt & pepper
parmesan cheese, to serve
a handful of rocket leaves per person, to serve (optional)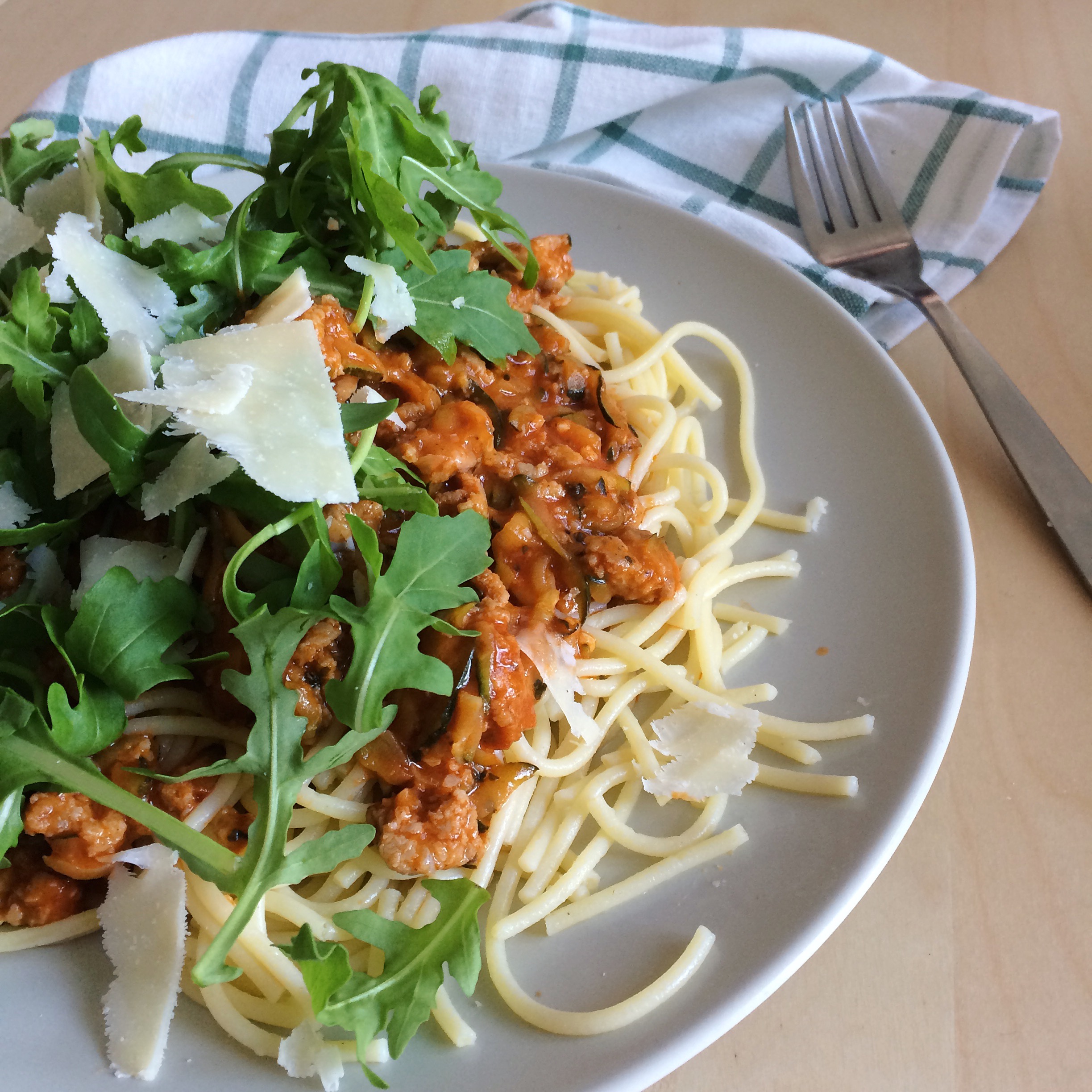 Directions
Cook the spaghetti in a sauce pan of salted water, according to packet instructions, until al dente. Reserve 100ml of the cooking water for the sauce.
While the spaghetti are cooking, heat a tablespoon of oil in a large frying pan. Skin the sausages and add the sausage meat to the pan, breaking it up as it cooks.
Add the garlic, and keep cooking until the meat starts to brown.
Now add the white wine to the pan and continue to cook until the wine has mostly evaporated.
Once the wine has evaporated, mix in the grated courgette, tomato puree and reserved spaghetti water. Season with salt and pepper, and cook for 2-3 minutes until you have a nice smooth sauce.
Serve the spaghetti topped with the sausage sauce and some Parmesan. The kids like it grated, for the husband and myself I serve it with Parmesan shavings as well as a handful of rocket leaves.