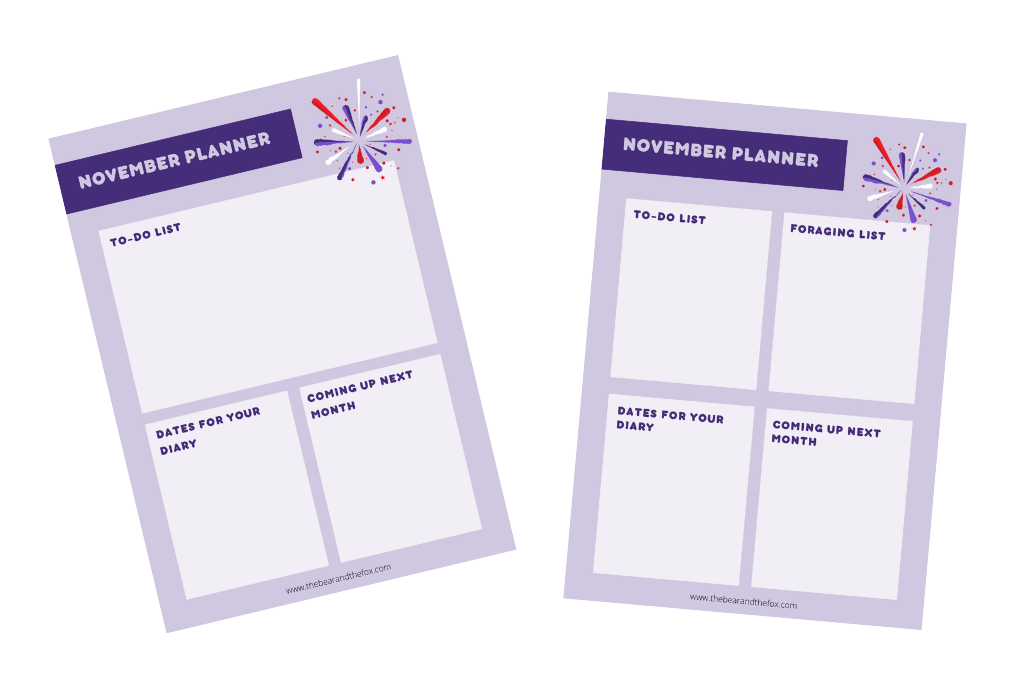 Planning for November
Remember, remember, the fifth of November. But there's lots of other things to remember too. I'm updating all my monthly planning posts that I created last year, to help you get more organised. I'm sharing our monthly list of things to do, plan, remember and celebrate, and for anyone who wants to be extra organised there's a free downloadable printable at the end of this post. For 2023 I've added a B&W printer friendly version too! The downloads include two sheets each, one with and one without a space for notes on foraging.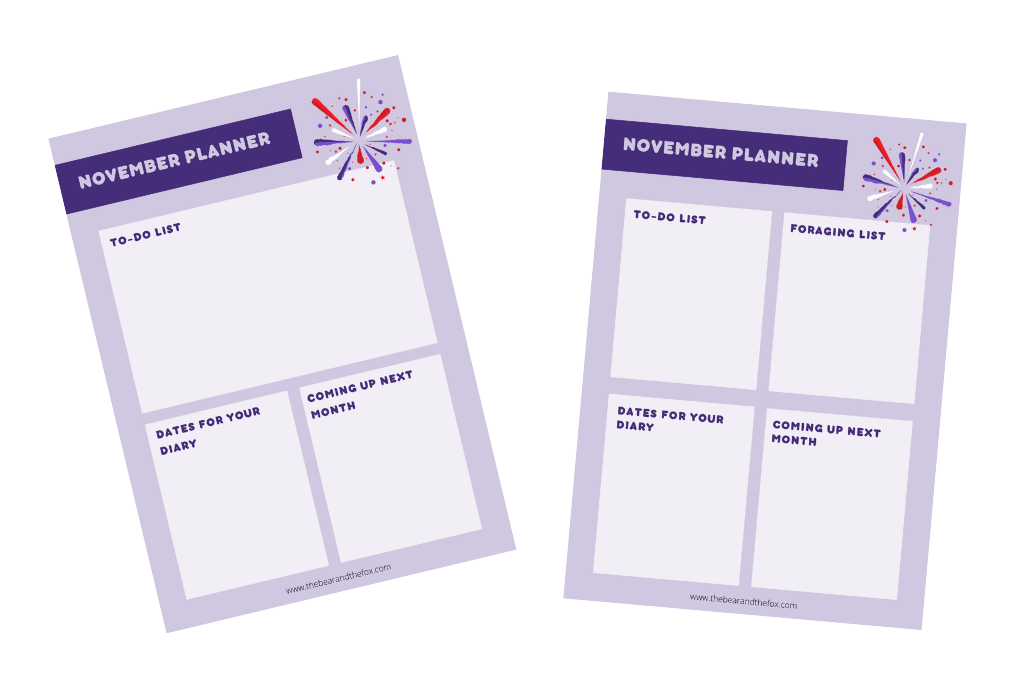 To Do
Get your house winter ready
Now is a great time to get the house sorted for the colder months. If you're not already done so, get your boiler serviced to make sure it's in top shape for winter. If you have a fire place that is in use, get the chimney cleaned and check your smoke alarms. If you struggle with condensation during Winter, consider investing in a dehumidifier.
Get yourself winter ready
If you've not had your flu jab yet, make that a top priority. Stock up on Vitamin D (the NHS recommends that anyone over 5 in Scotland should consider taking Vitamin D supplements from October to March). Make sure you have hot water bottles for everyone. Do an inventory of your first aid kit – do you have painkillers, decongestants etc. for ages of family members for when cold and flu season hits? No one wants to be crawling to the pharmacy when they're feeling poorly.
Top up your emergency supplies
With the days getting shorter in terms of daylight, you don't want to be left in the dark if there's a power cut. Take the time to check you have torches and spare batteries, candles and matches – and that you can easily access them if needed. No point having emergency supplies if you can't find them in the dark! Also check you know what number to call should your power go at any point.
Book tickets and block out times for Christmas events
Many events like night lights, breakfast with Santa, grotto visits etc are already booking up fast, so don't leave it too late if you don't want disappointed faces all round. A even if you're planning things that don't require booking – for example, we always love to go on a Christmas outing to our local garden centre – make sure to get some dates blocked out  before your diary fills up with other things.
Get your Advent Calendars sorted
Whether you're buying one, making one, or re-using a refillable one, November is the time to get your Advent Calendars sorted. We personally use refillable ones – I still have the one my mum made for me 40 years ago – and in Germany it's also very common to make calendars every year for your children, partners and friends. But these days you can also buy ready made calendars for almost any budget, with fillings to fit any taste from sweets and toys, to more elaborate things like make-up, jewellery, or unique things like socks or coffee.
Do some pre-prepping for Christmas
Stock up on wrapping paper, tape, gift tags, brown parcel paper and stamps.
Check postage dated and post any overseas Christmas parcels.
Check your Christmas tree lights.
Plan holiday meals and shopping lists.
Book a Christmas grocery slot.
---
Time to Forage For
We've really gotten in to foraging over the past couple of years, so in my forward planning I'm going to include a reminder of what plants to forage for each month. This will of course vary hugely depending on which part of the world you live in. For us, it's what's ready to forage here in central Scotland. I've included two versions of the monthly download – one with, and one without a section for foraging (they're both in the same document).
In November we'll be foraging for…
Rowan berries
Hawthorn berries
Rose hips
---
Dates for Our Diary
IThere are so many dates from different cultures and religions to consider, I'll just be listing the ones that we ourselves celebrate or commemorate (you can create your own personal list using the download at the end of this post). I'll also highlight some previous activities from our archives, which will help us to celebrate.
5 November – Bonfire Night
11 November – St Martin
---
Coming Up Next Month
One thing I've found with monthly planning, is that the things that happen at the beginning of the month can often take you by surprise (like World Book Day, every single year!) So that's why at the beginning of each month I'll also be reminding myself what's coming up the following month…
4 Dec – St Barbara's Day
6 Dec – St Nicholas Day
7 Dec – Christmas Jumper Day
13 Dec – St Lucia's Day
24 Dec – Christmas Eve
25 Dec – Christmas Day
31 Dec – Hogmanay/ New Year's Eve/ Silvester
---
---
As always, all resources and downloads on this blog are free, to make them accessible to everyone. However, if you are able and would like to support me with a small donation, which helps to keep this blog running, it would be much appreciated. Just hit the support button below. Thank you x