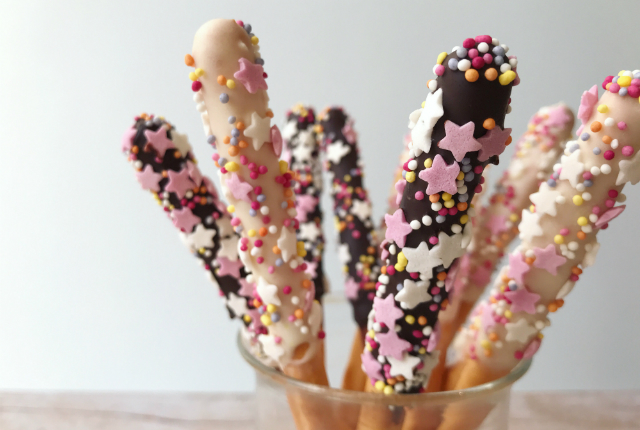 Edible Sparklers
Yesterday we went to see a fireworks display to celebrate Bonfire Night (which is actually today), so I made some fireworks themed snacks to take with us. These edible sparklers went down a treat! My boys absolutely loved them, and it made the wait for the fireworks display to start go quicker. These would also be great for New Year, 4th July etc.
Here's what you'll need:
bread sticks
dark or white chocolate
sprinkles
We used the gluten free bread sticks from Schär, but you can just used regular ones instead. I still had some cooking chocolate left over from Hallowe'en, so I just used that which is also why I made more white chocolate than dark chocolate ones. Sprinkles wise, you can use whatever you like (check for ingredients if you need gluten free, as some sprinkles contain wheat flour!). I thought a mixture of hundreds & thousands, and star sprinkles, looked nice.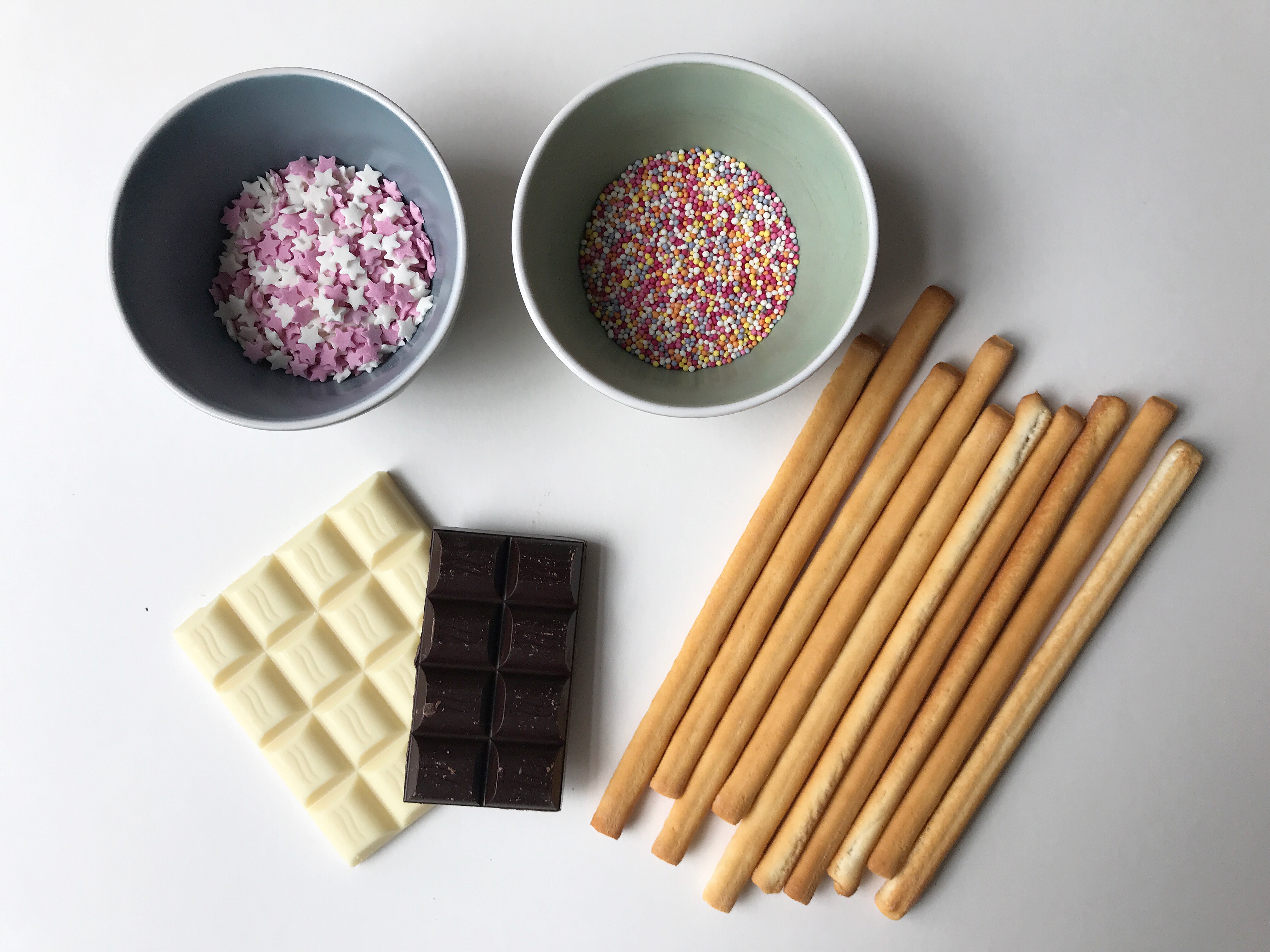 Step 1: Break the chocolate in to small pieces and melt in a heat proof bowl over a pan of simmering water. Make sure the water is not boiling and is not touching your bowl! As you can see in the photo below, I actually have a special mini saucepan that I can hook on top of a larger one, but a heat proof bowl will work just as well.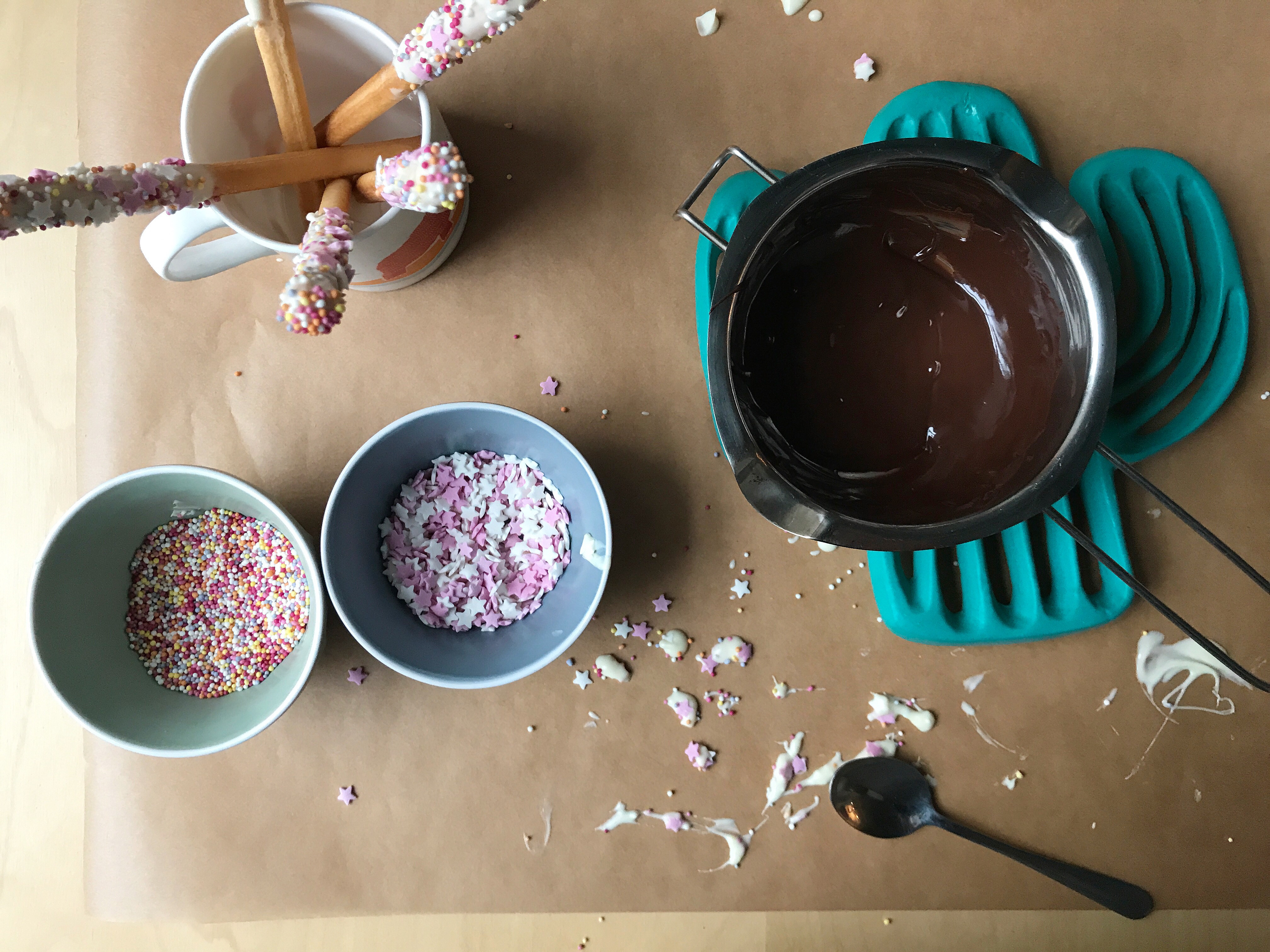 Step 2: Dip the breadsticks in to the melted chocolate, then stand them in a mug. The chocolate will drip down and make a mess, so make sure you have something underneath. Also, keep in mind the chocolate will run down the breadsticks a little when you are considering how far to dip them in! I turned the breadsticks in the mug every 10 seconds or so, to make the chocolate drip down evenly.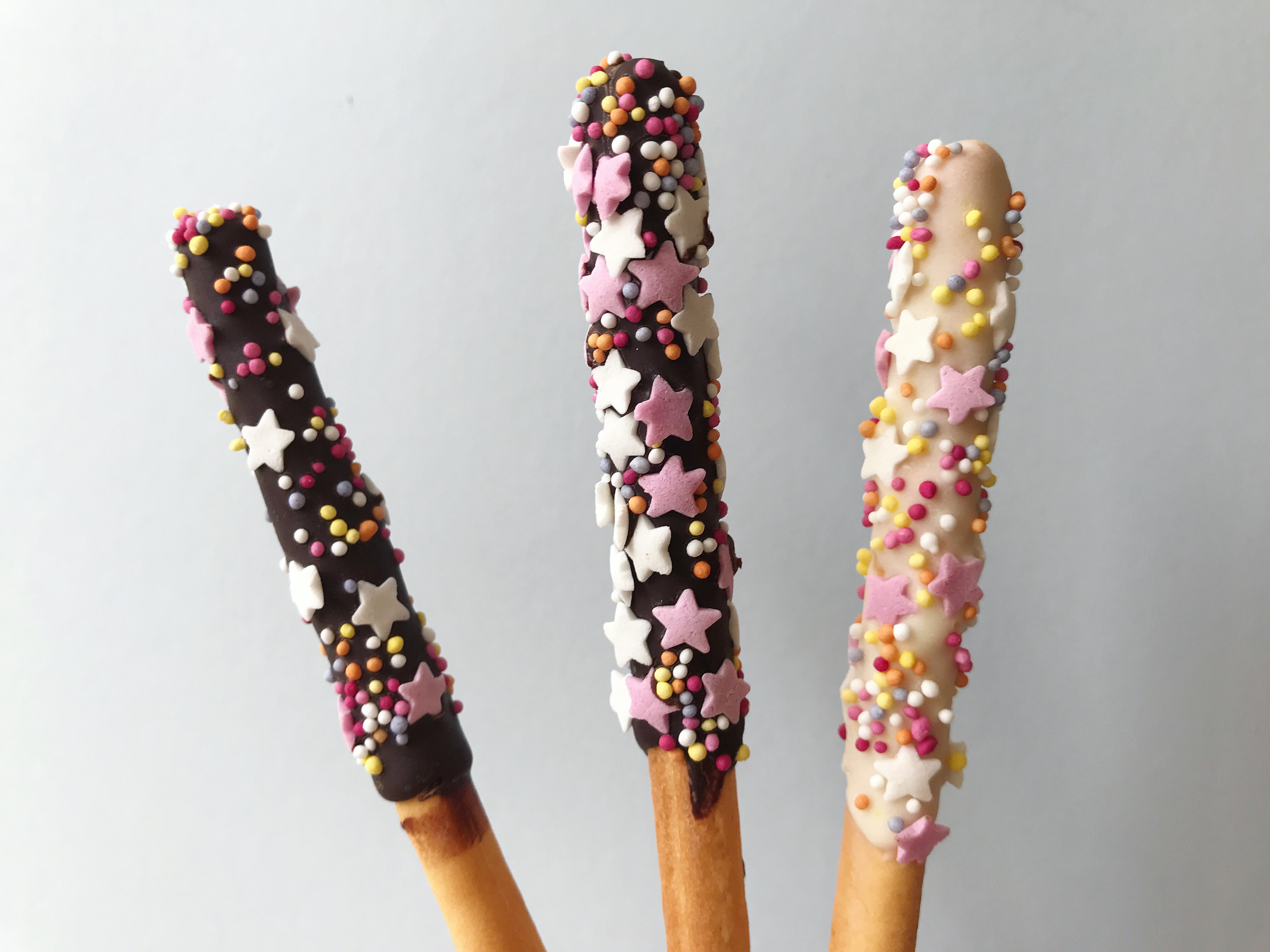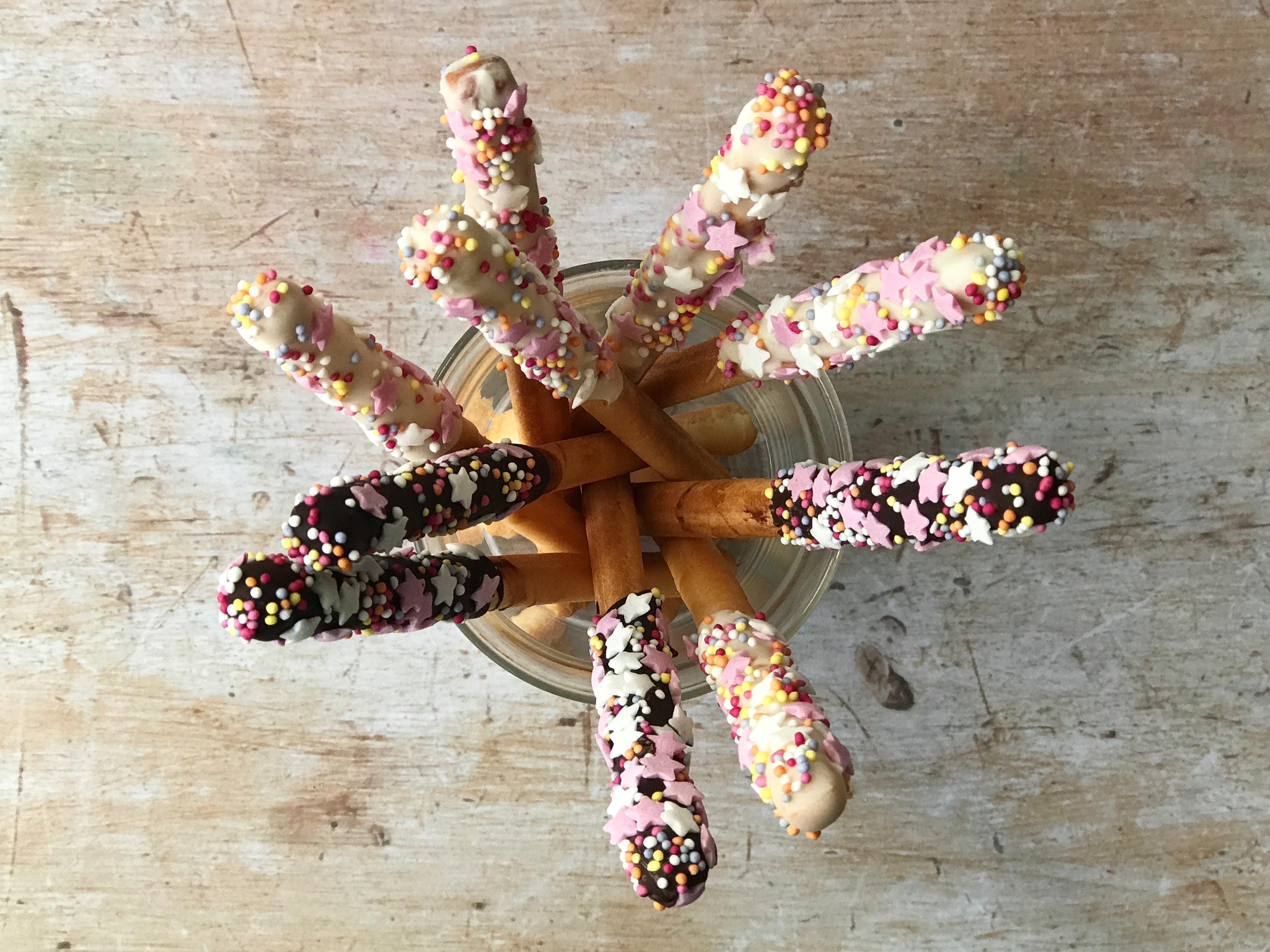 Step 3: Wait a couple of minutes for the chocolate to start setting, THEN sprinkle over your sprinkles. If you so this too soon, the sprinkles will just run down the sticks along with the dripping chocolate or the heavier sprinkles will fall off. And yes, I learned this the hard way. See all those blobs of sprinkles covered chocolate on my work surface in the photo further above? Yes, well…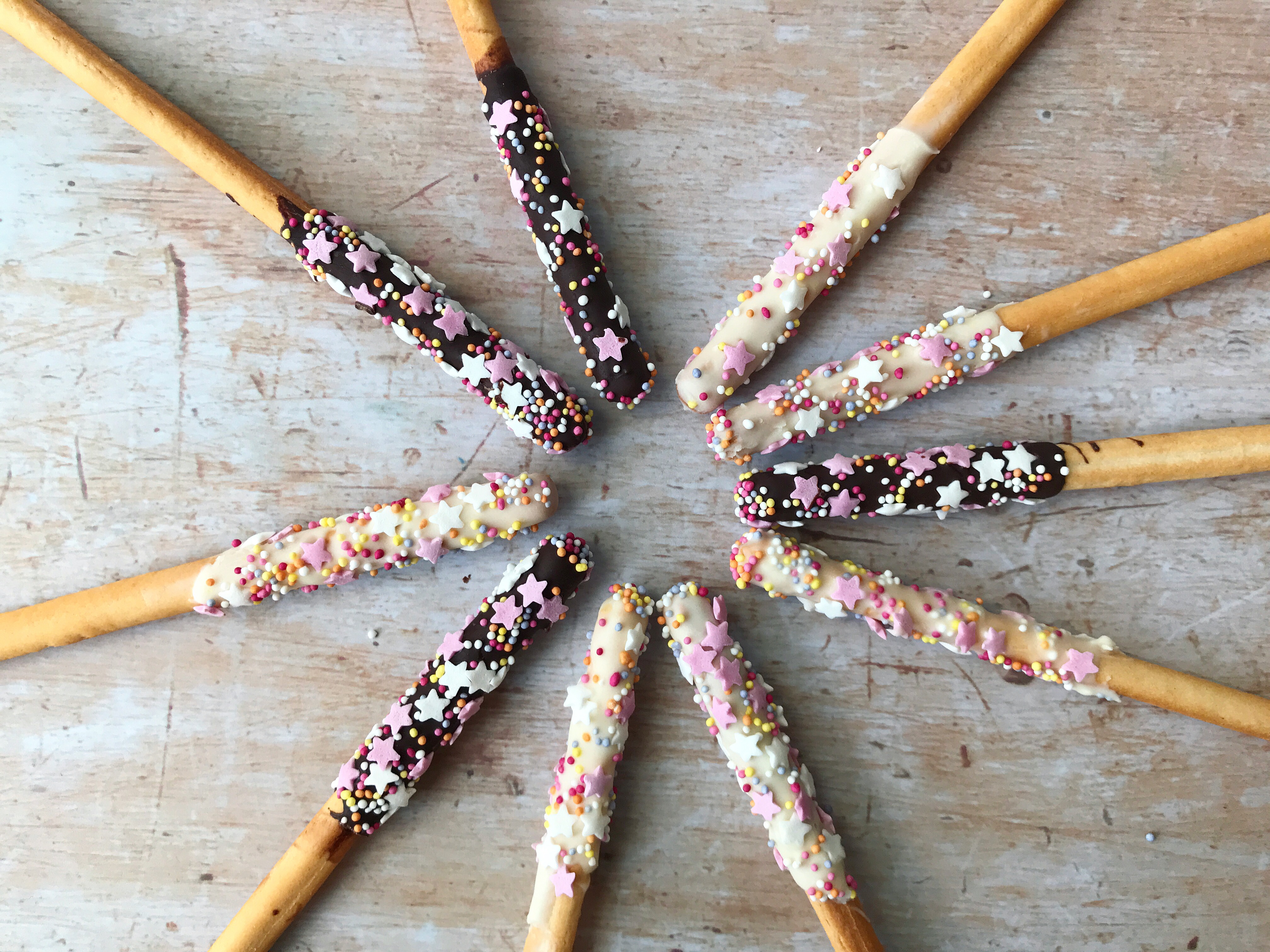 Step 4: Leave the sparklers in the mug – making sure they are not touching – until the chocolate is completely set (I stuck them in the fridge, complete with mug) to speed up the process a little. You may need more than one mug if you are making lots.
Eat and enjoy!
PIN FOR LATER