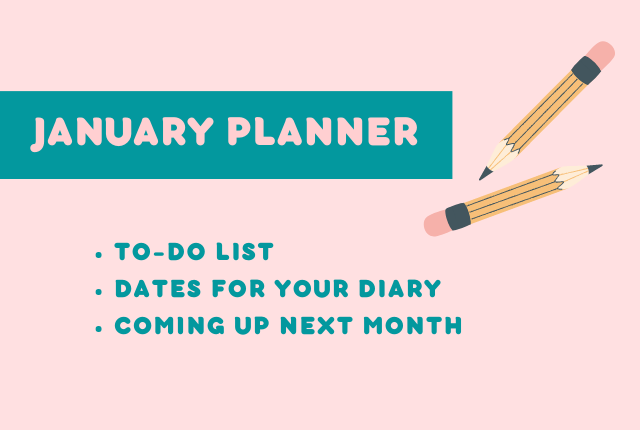 Planning for January
Happy New Year everyone! I'm not really one for new year's resolutions, but I do want to try and be more organised this year in planning ahead for each month so in case it helps anyone else be more organised to, I'll be sharing our monthly list of things to do, plan, remember and celebrate. And for those who want to be extra organised, there's a free downloadable printable at the end of this post too, to help you make your own monthly list.
To Do
Christmas Shopping
Now, before anyone thinks I'm crazy, I'm not talking about buying all your Christmas presents in January. I don't even know that far ahead where everyone is going to be at in twelve months time. But the January sales are a great opportunity to pick up 'Christmassy' things that you know you'll definitely need again but at discount prices, like Christmas cards, wrapping paper and gift tags. We've actually been moving to more eco-friendly solutions like reusable gift bags or brown paper, but I still like to have a couple of rolls of wrapping paper in the house just in case. I just make sure to only get paper that can be recycled, so nothing with glitter or foil. I used to buy Christmas crackers in the January sales so, before we stopped using them and started making our own, though this year I did see some eco-friendly refillable ones on sale which is another option.
School Uniform Check
Ever since my eldest had a massive growth spurt over the Christmas holidays two years ago and we didn't realise until the first day back at school when none of his uniform fit, I now always do a uniform check just after Christmas which gives me a few days once the shops reopen and before school starts to buy any replacements if needed.
Organise a Babysitter for Valentine's Day
If you're thinking of doing anything special without the kids on Valentine's Day, organise a babysitter now. Don't wait until February, because Valentine's Day will be here quicker than you think! This year Valentine's Day falls within our February half term break, so we're planning for the kids to have a sleepover at Granny's (which they've been begging to do for ages) and we can go for a rare evening meal out somewhere. Oh yes, and don't forget to book a table for that either!
---
Dates for Our Diary
There are so many dates from different cultures and religions to consider, I'll just be listing the ones that we ourselves celebrate or commemorate (you can create your own personal list using the download at the end of this post). I'll also highlight some previous activities from our archives, which will help us to celebrate.
6 January – Epiphany/ 3 Kings Day
25 January – Burns Night
---
Coming Up Next Month
One thing I've found with monthly planning, is that the things that happen at the beginning of the month can often take you by surprise (like World Book Day, every single year!) So that's why at the beginning of each month I'll also be reminding myself what's coming up the following month…
1 February – Chinese New Year
14 February – Valentine's Day
28 February – 'Rosenmontag' (Karneval in Germany)
---