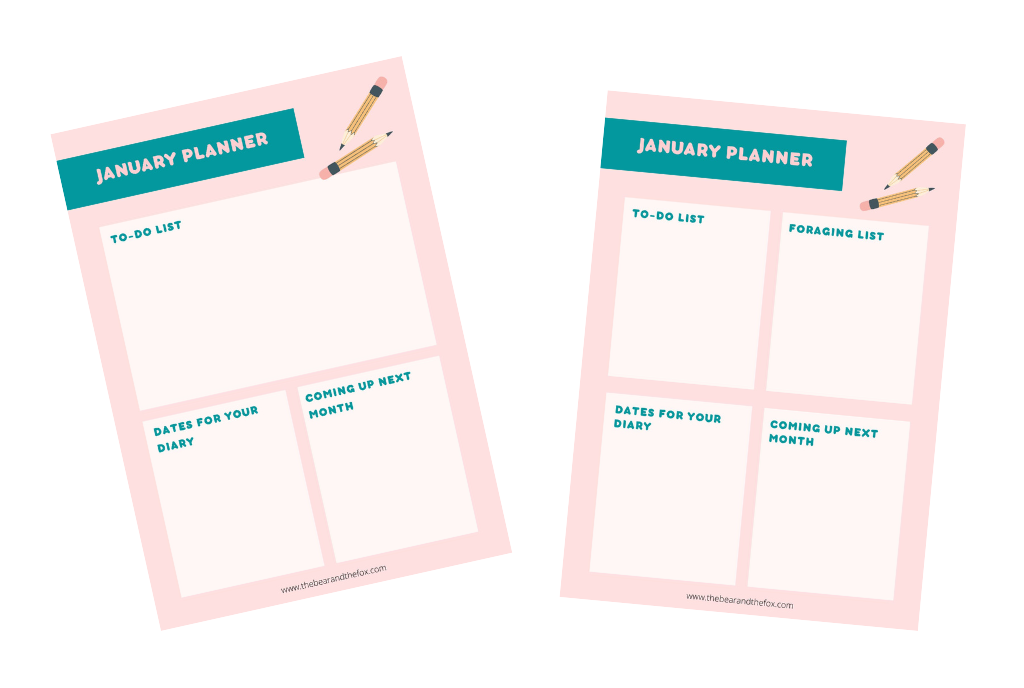 Planning for January
Last updated: 2 January 2023
Happy New Year everyone! Time to get organised, so I've updated my planning posts from last year. Each month, I'll be sharing our list of things to do, plan, remember and celebrate. For those who want to be extra organised there's a free downloadable printable at the end of this post, to help you make your own monthly list, and for 2023 I've added a B&W printer friendly version too! The downloads include two sheets each, one with and one without a space for notes on foraging. There's not much foraging happening for us in Scotland in January, but depending on where you live it may be different for you.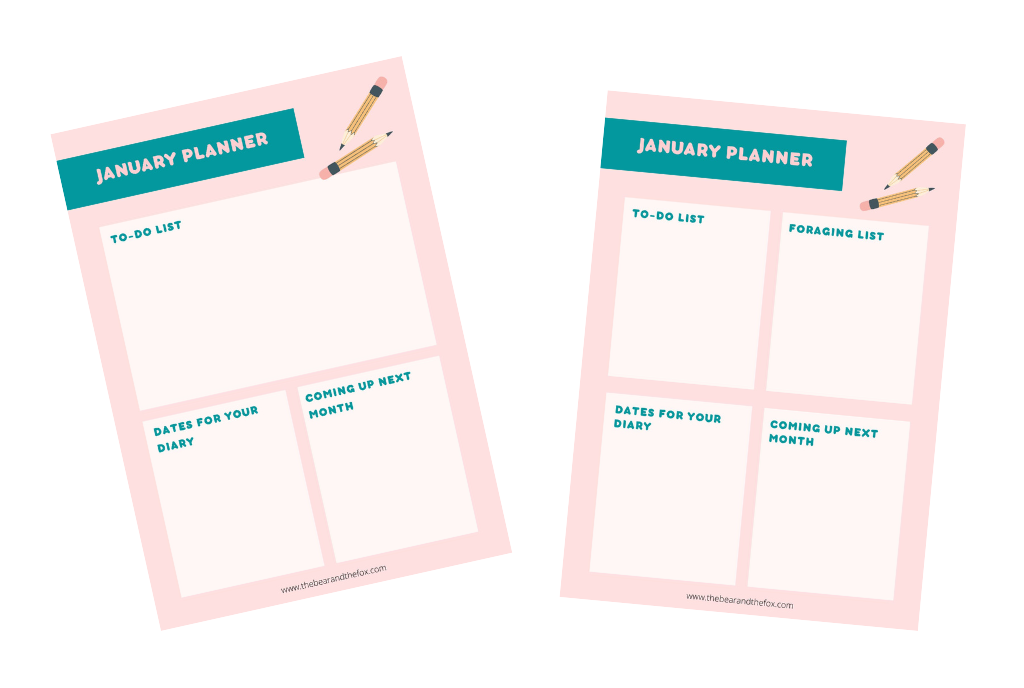 To Do
Christmas Shopping
Now, before anyone thinks I'm crazy, I'm not talking about buying all your Christmas presents in January. I don't know what my kids will be in to in twelve weeks time, never mind in twelve months! But the January sales are a great opportunity to pick up 'Christmassy' things that you know you'll definitely need again but at discount prices, like Christmas decorations, cards, wrapping paper and gift tags. We've actually been moving to more eco-friendly solutions like reusable gift bags or brown paper, but I still like to have a couple of rolls of wrapping paper in the house just in case. I just make sure to only get paper that can be recycled, so nothing with glitter or foil. I used to buy Christmas crackers in the January sales too, before we stopped using them and started making our own. Plenty of places now do eco friendly or fill-your-own crackers, so if you don't want to make your own you could keep a look out for those instead. The January sales are also great for picking up little Advent calendar or stocking fillers at discounted prices, like bath bombs or socks. These are things that always go down well, so I feel more confident buying them in advance. Yesterday, I even found some chocolate coins at 60% off, which had a use by date of March 2024, so that's the chocolate coins for next Christmas ticked off already!
School Uniform Check
Ever since my eldest had a massive growth spurt over the Christmas holidays a couple of years ago and we didn't realise until the first day back at school when none of his uniform fit, I now always do a uniform check just after Christmas which gives me a few days once the shops reopen and before school starts to buy any replacements if needed.
Organise a Babysitter for Valentine's Day
If you're thinking of doing anything special without the kids on Valentine's Day, organise a babysitter now. Don't wait until February, because Valentine's Day will be here quicker than you think! And if you're planning to go out for a meal, don't forget to book a table for that either!
---
Dates for Our Diary
There are so many dates from different cultures and religions to consider. I'll just be listing the ones that we ourselves celebrate, but you can create your own personal list using the download at the end of this post. I'll also highlight some previous activities from our archives, which will help us to celebrate.
6 January – Epiphany/ 3 Kings Day
22 January – Lunary/ Chinese New Year
25 January – Burns Night
---
Coming Up Next Month
One thing I've found with monthly planning, is that the things that happen at the beginning of the month can often take you by surprise (like World Book Day, every single year!) So that's why at the beginning of each month I'll also be reminding myself what's coming up the following month…
14 February – Valentine's Day
20 February – 'Rosenmontag' (Karneval in Germany)
21 February – Shrove Tuesday/ Pancake Day
---
---
As always, all resources and downloads on this blog are free, to make them accessible to everyone. However, if you are able and would like to support me with a small donation, which helps to keep this blog running, it would be much appreciated. Just hit the support button below. Thank you x