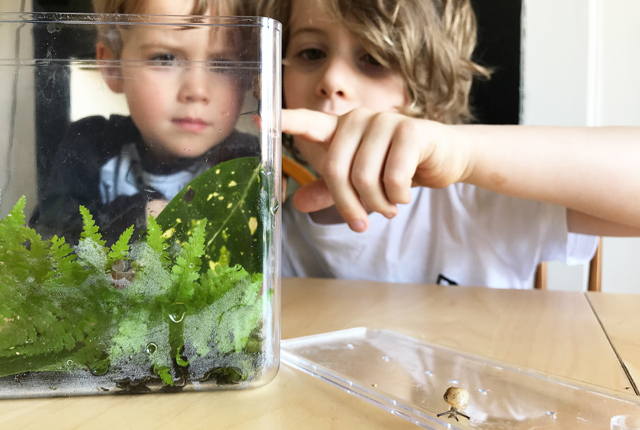 Review: Setting up a snail observation station [AD]
As mentioned in my previous round-up of 'Books to Help You Go Wild!' we've been trying to join in with #30DaysWild this June, a month long event by the National Trusts here in the UK to get people engaging with and exploring nature on a daily basis. A rather wet start to June presented us with the perfect opportunity to set up a snail observation station as the snails were all out in force in our back drying green.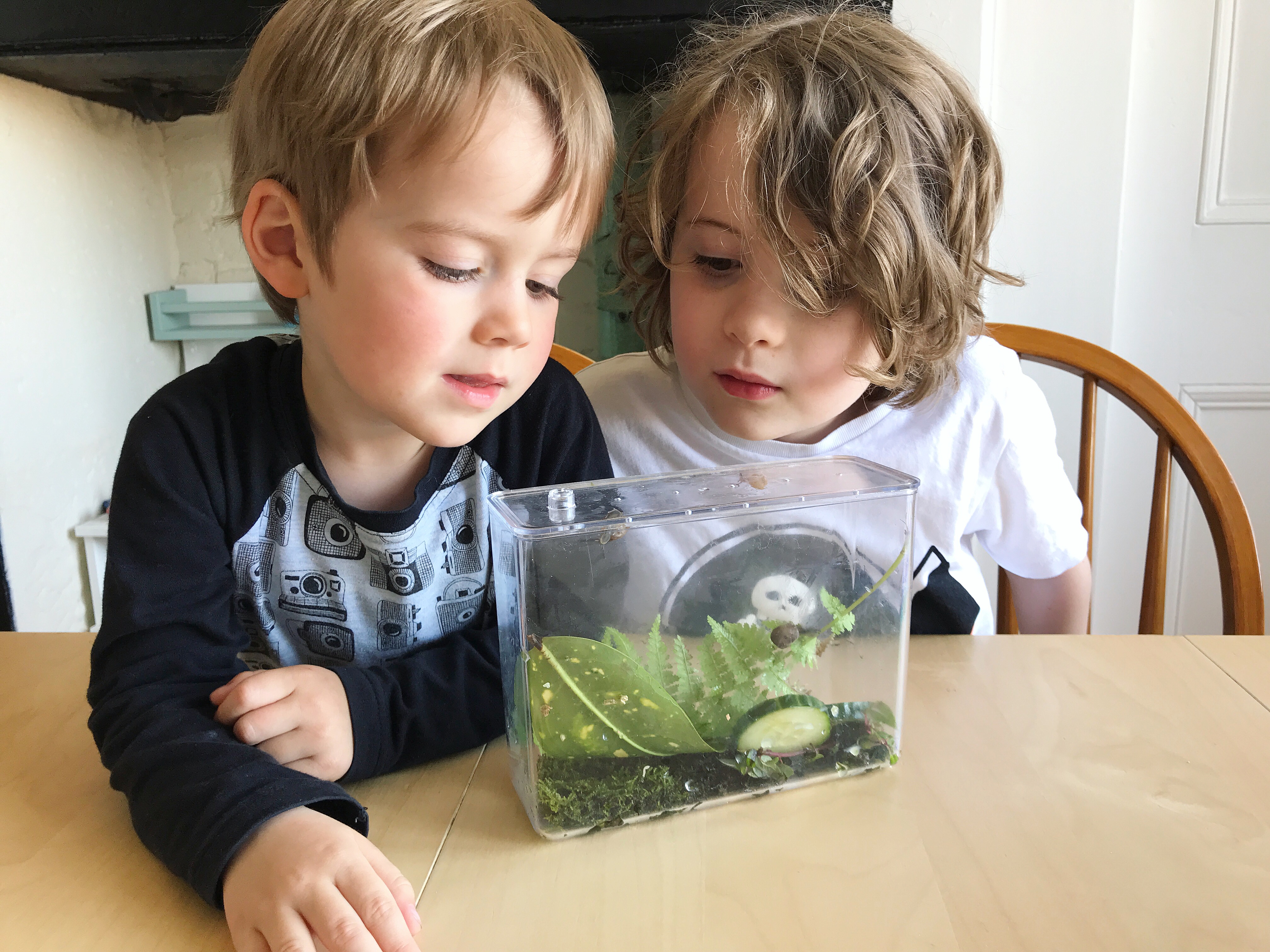 You could assemble all the items you need for this yourself, but the 'Snail World' set from Interplay, which we had received for review, presented us with everything in just one box: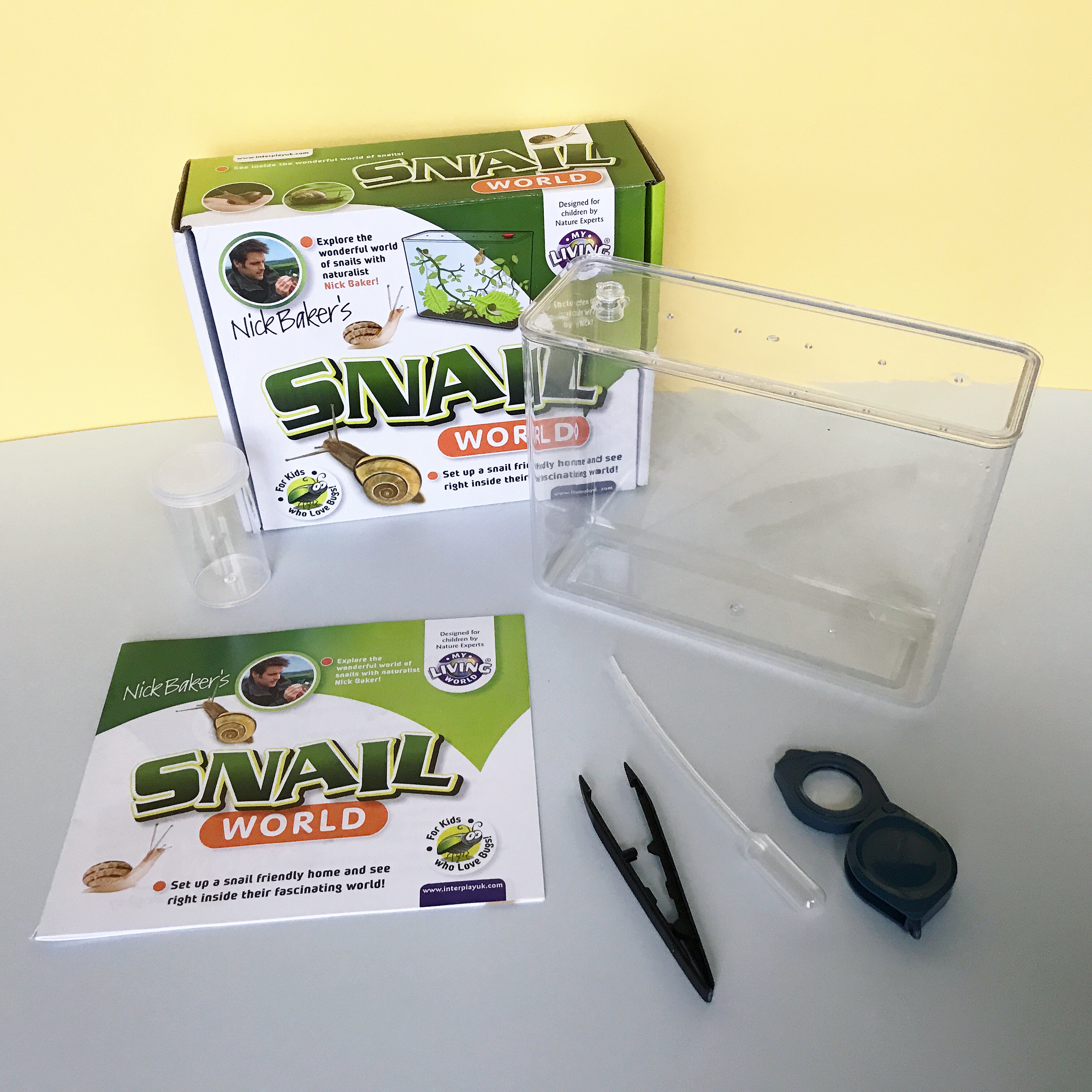 a clear tank and lid with ventilation holes (or a 'Visualarium' to give it its fancy name)
a pipette
tweezers
a field lens
an instruction manual
Setting up the tank was very easy – first we put down some moss on the bottom of the tank. This helps to hold moisture and keep the tank nice and humid, which is important to stop the snails drying out. Then we added a couple of twigs and large leaves, to give the snails something to crawl around on. Finally, we added some snails!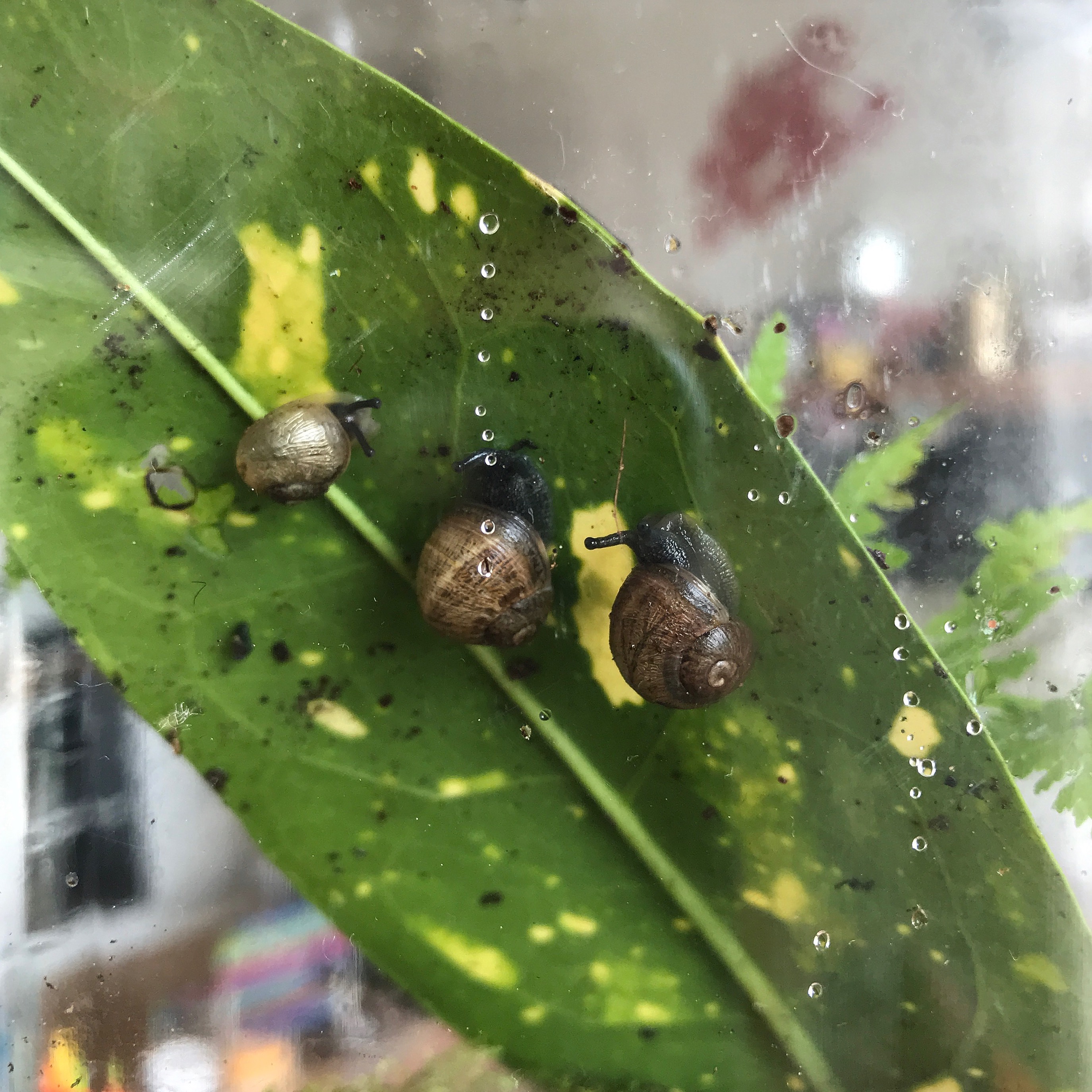 As it's just a small tank, we chose four very small snails. You can use bigger snails, but then it's recommended going for a maximum of two. Carefully set the snails inside the tank, then make sure you close the lid securely! Unless you want snails crawling around your house. Keep the tank out of direct sunlight and make sure it doesn't get too hot.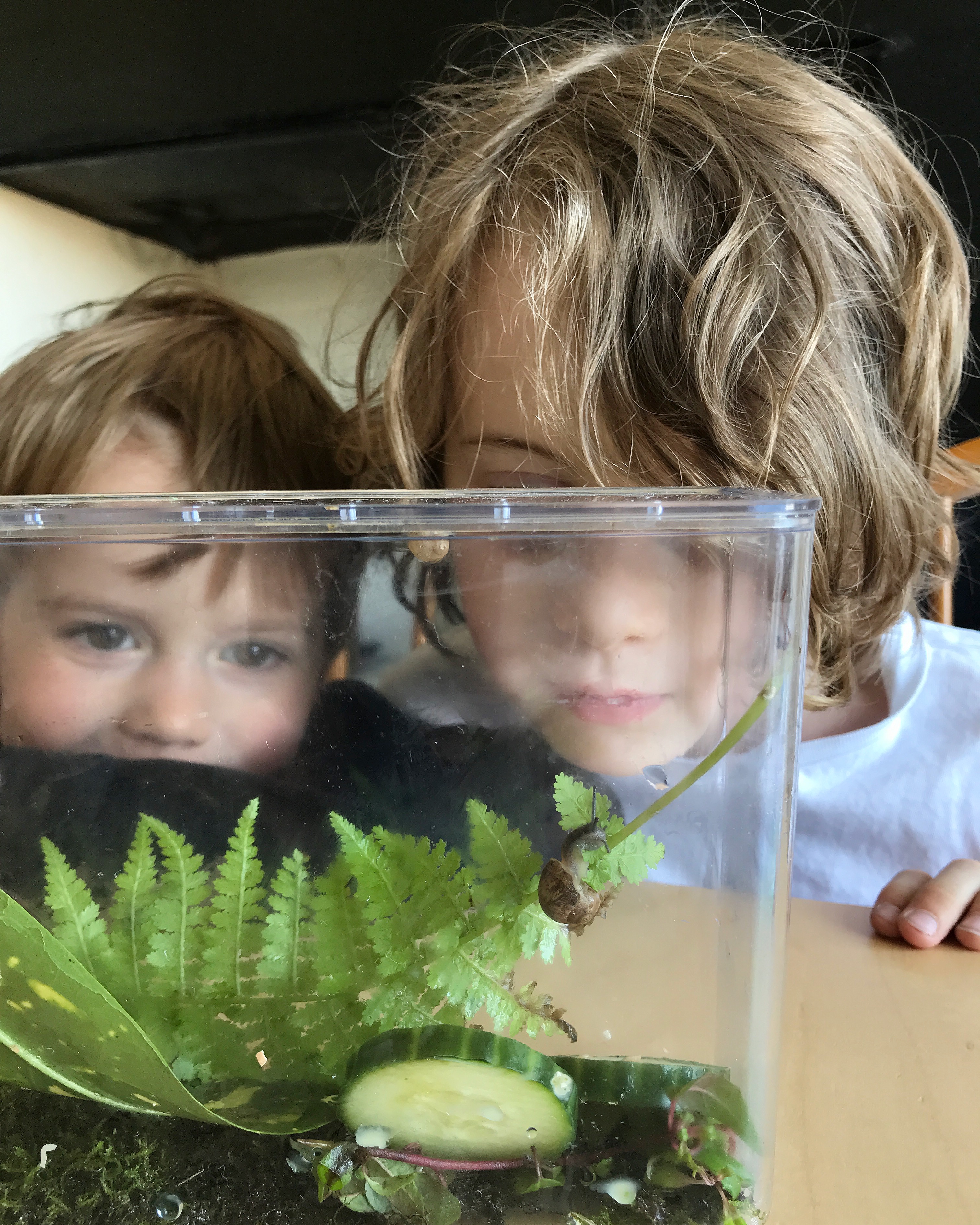 Just like with any other 'pets', your snails will require some maintenance. You can't just stick them in the tank and leave them there. First of all, they will require some food. We tried out different things and discovered they really liked salad leaves and cucumber! It's amazing how quickly such tiny snails will make good work of a couple slices of cucumber. The cucumber went mushy and smelly within less than a day of the snails covering it in their digestive juices, so one job was to replace the cucumber slices every day, for which the tweezers came in handy.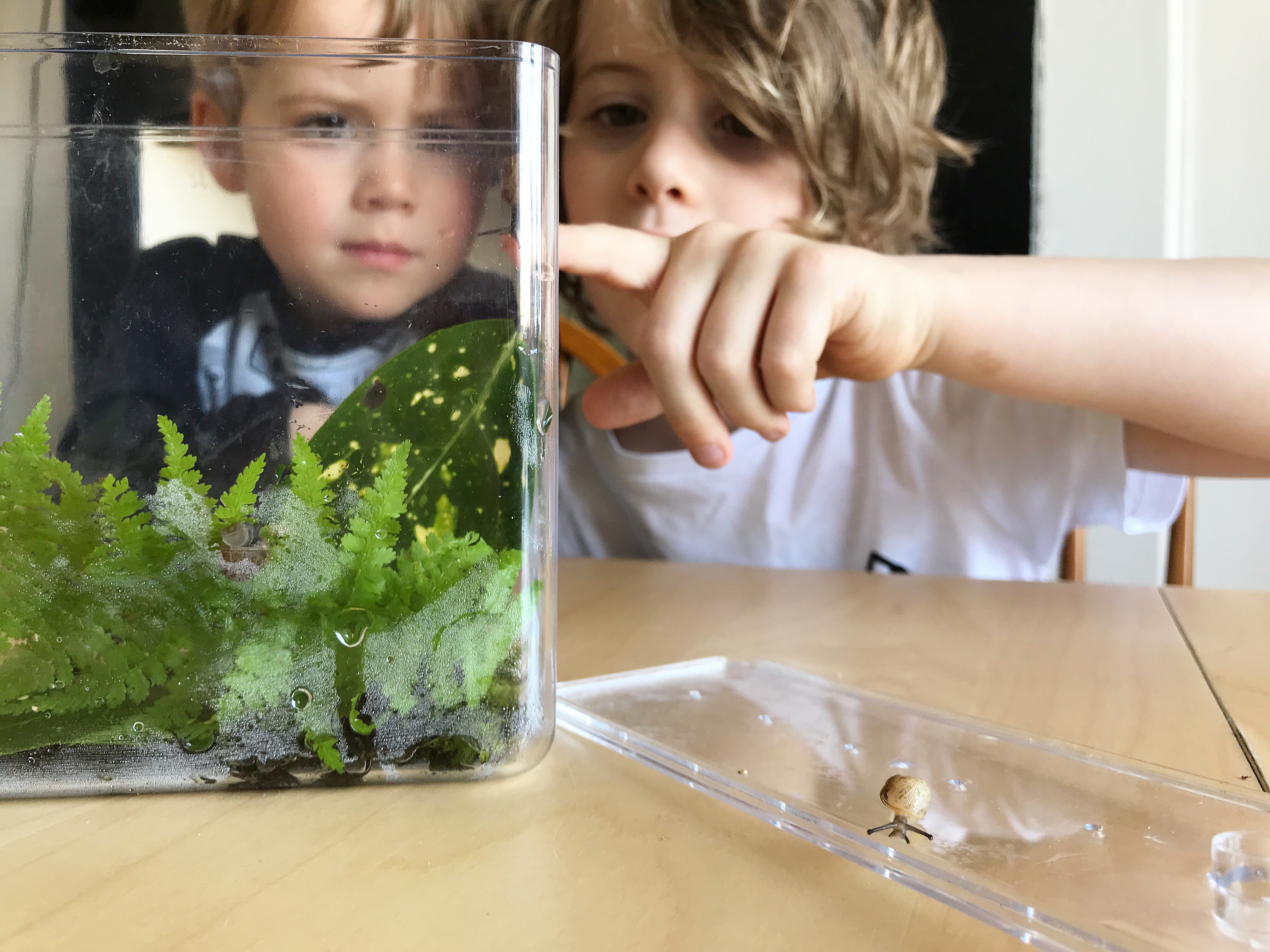 Snails also need minerals – specifically calcium carbonite – to help keep their shells nice and strong, so you can either get them a cuttlefish bone from a pet shop to gnaw on, or add some finely ground up egg shells to the tank. We opted for the latter, and discovered what worked best was to sprinkle the ground up egg shells on the cucumber slices. You could tell they had eaten the egg shells from their poop, which then became pale and lumpy rather than dark and smooth.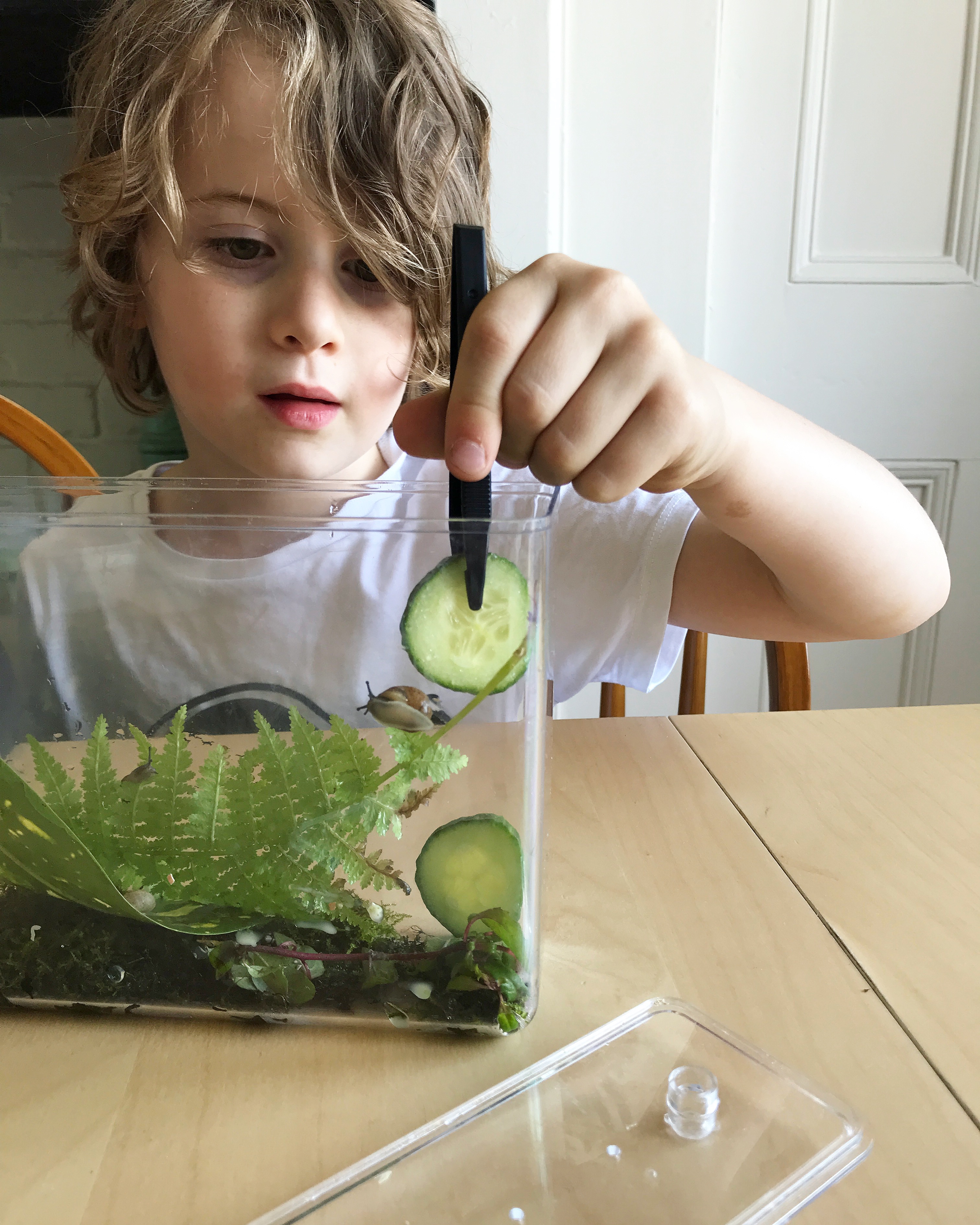 Speaking of poop, snails poop a lot! It's incredible how quickly the tank got really manky, between the poop, the digested cucumbers, and of course their mucous which they trailed all over the tank. We wiped off the worst bits every day, and then gave the tank a full clean every other day. And when I say we, I mean of course myself. Cleaning out the poop didn't seem as attractive to the kids as feeding the snails, and just confirmed my suspicions that it would be left to Mummy to clean up after any larger pets. I think it's quite good we've had a trial run with snails…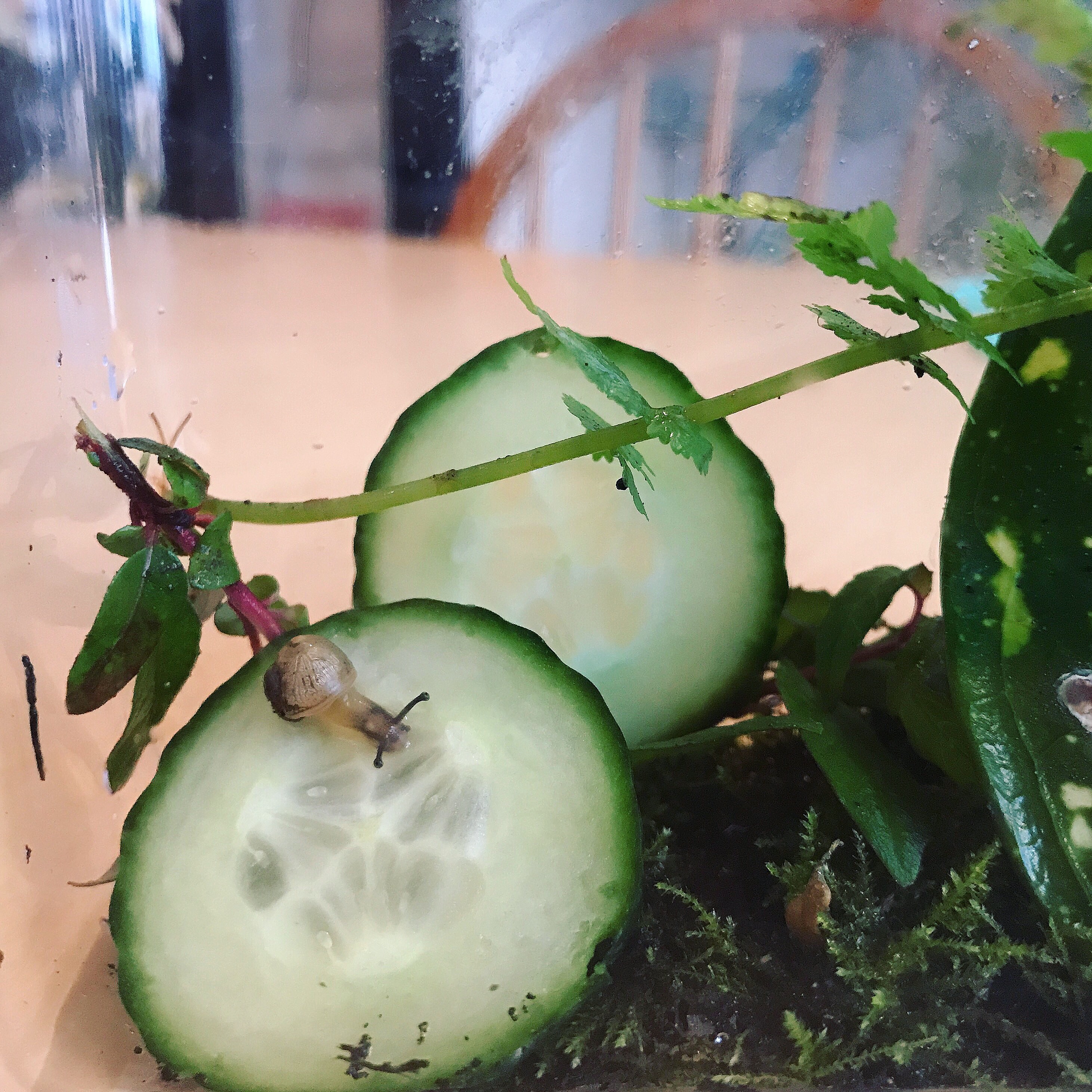 Anyway, back to the snails and the tank. So, we've had food, minerals, and cleaning up. The last important point is to make sure the tank stays nice and moist. For this, you can use the pipette to add some water without completely flooding the tank. This was another task the boys were more than happy to help with (it basically panned out something like this: Oskar = feeding, Mr Fox = watering, mummy = cleaning up poop…)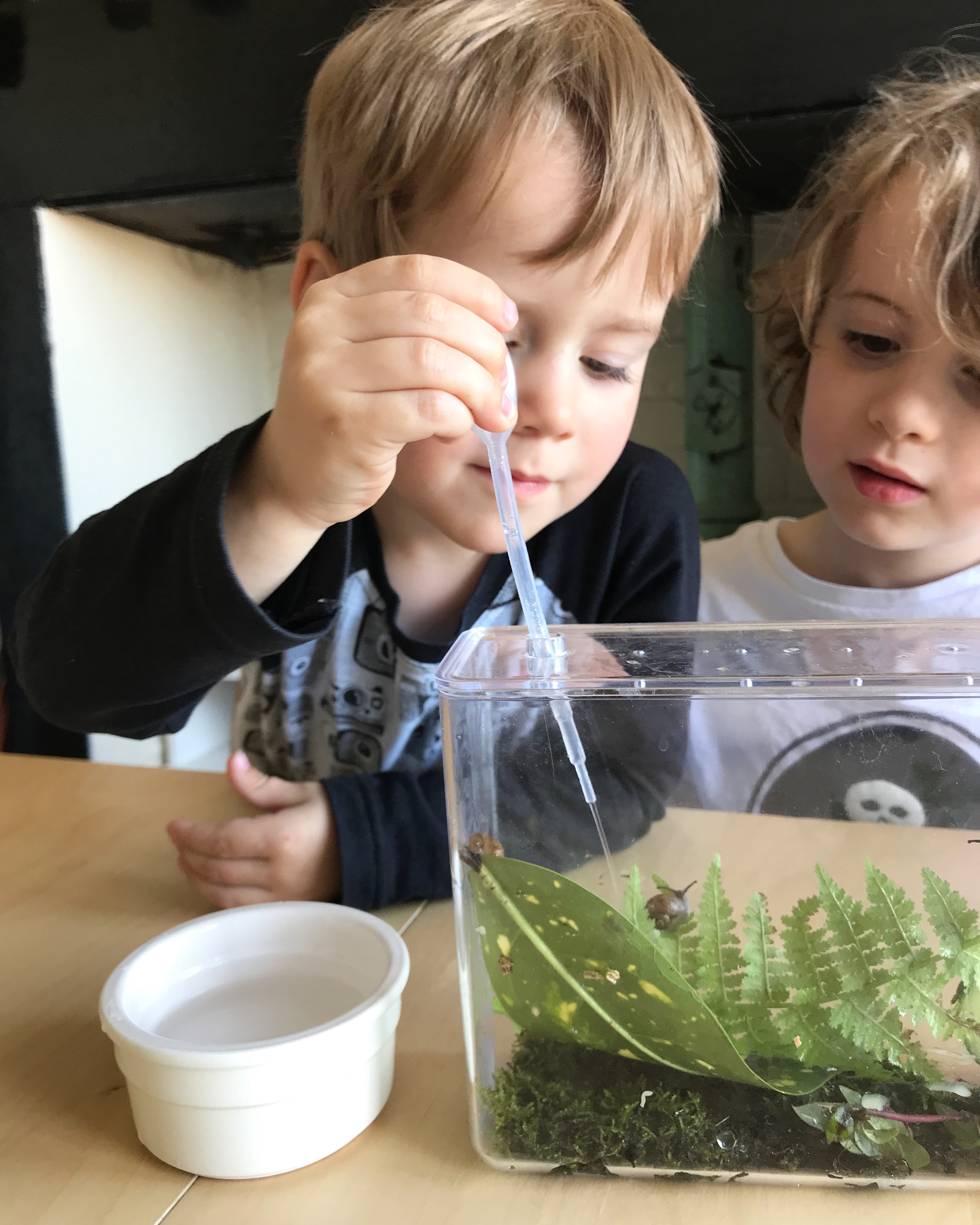 We kept the snails for a week, before releasing them back in to the wild, and the boys spent some time every single day – unprompted – observing them. They were totally fascinated. We all were quite fascinated by how fast the snails could move, as it's not something you really associate with snails. The boys affectionately named one of the snails 'Speedy'. Watching the snails poop was another highlight for them – kids, eh?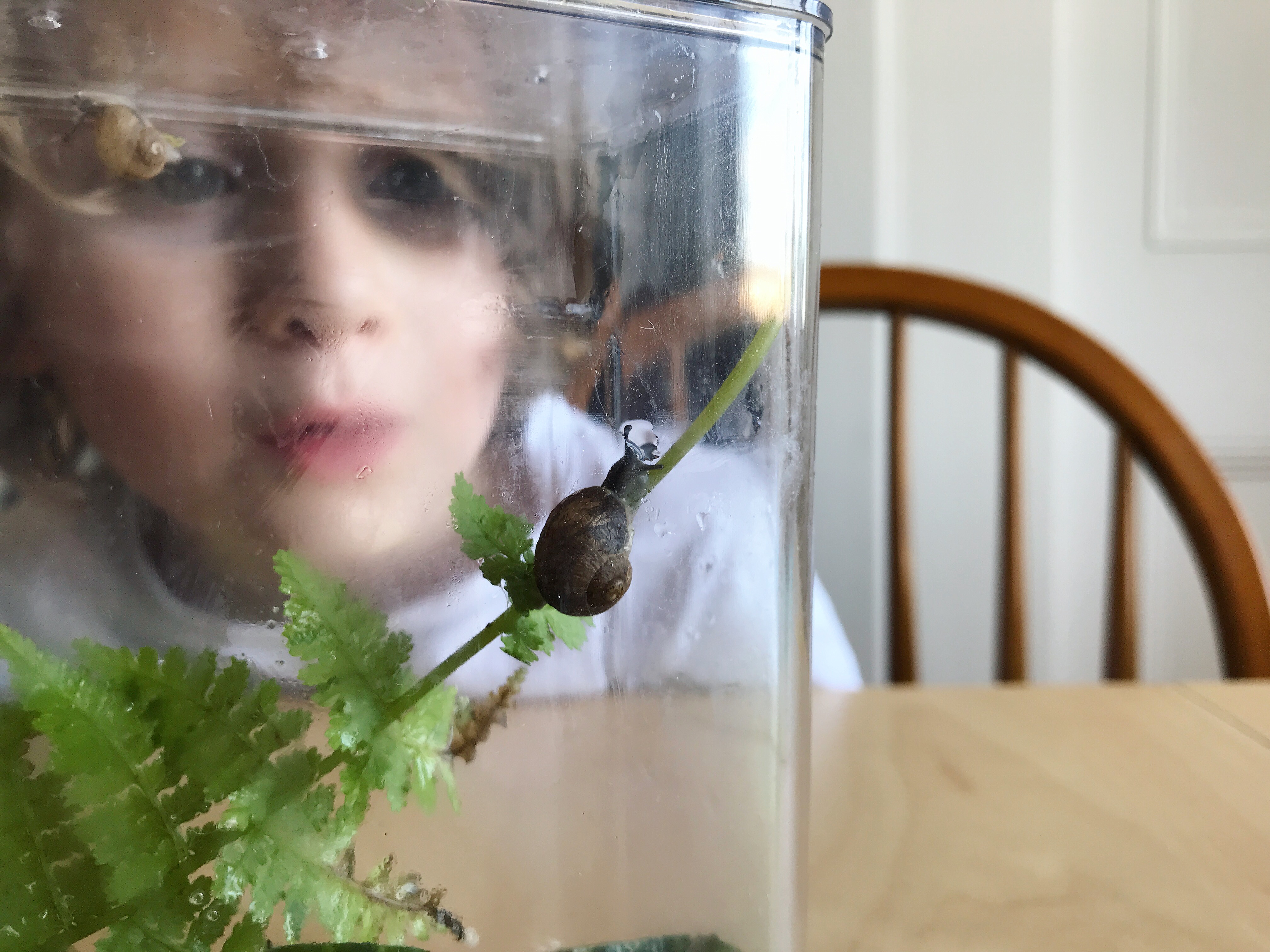 Overall, I think I think having the snail observation station in the house for the week was a great experience for the boys and has given them a greater appreciation of the 'creepy crawlies' we share our world with (and they have since gone on a 'save the snails' mission, moving any snails they spot on footpaths to the curb so that they don't get stepped on).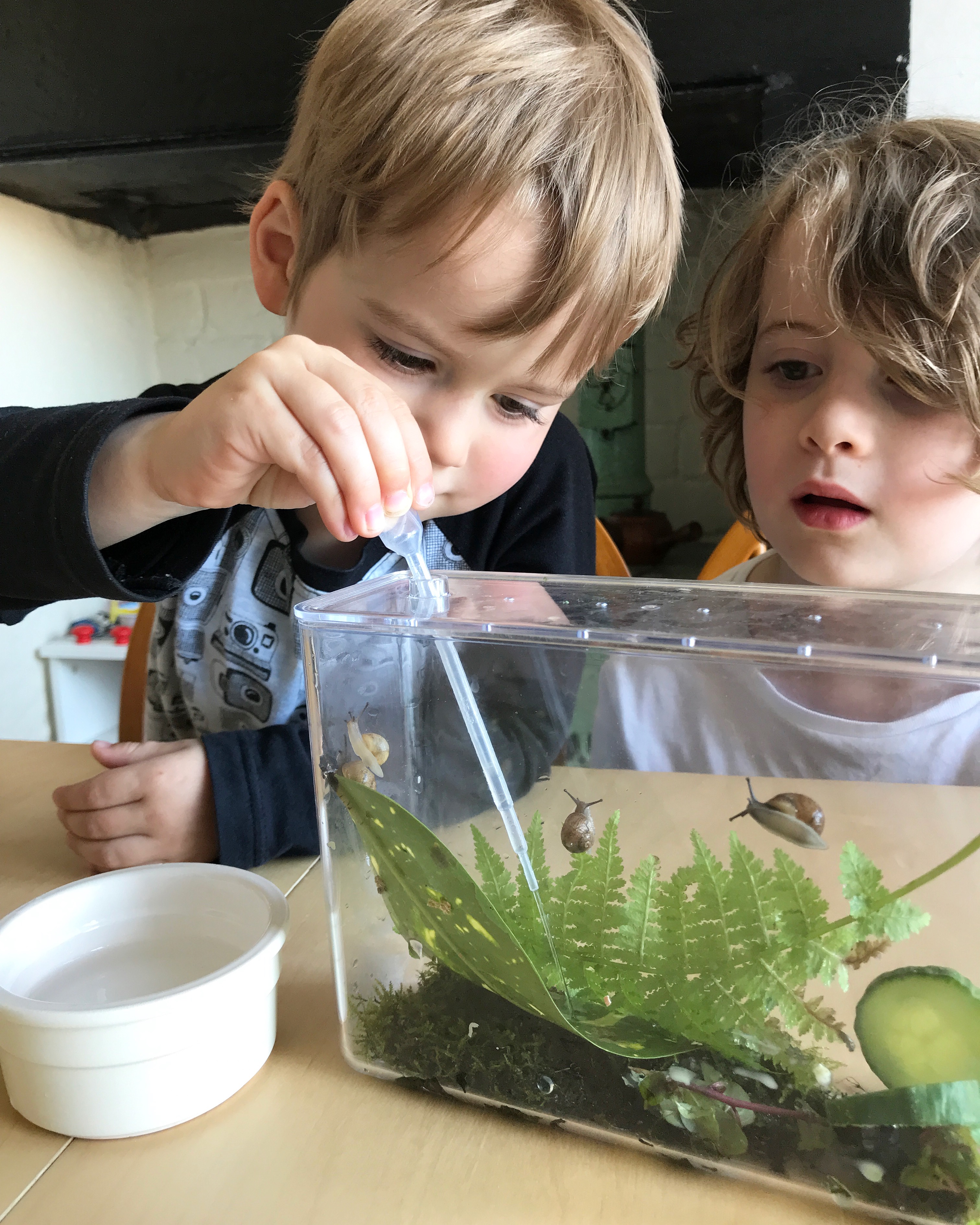 Snails also have the advantage that despite their surprising speed, they are still relatively slow compared to other creepy crawlies, so it was no problem to have the lid off while we were cleaning or feeding them. They were still too slow to escape that quickly. So if you are a bit nervous about setting up an observation e.g. of ants or spiders or other fast moving creatures that may escape in to your home if you are not careful, then snails are an excellent alternative. Though having said that, Interplay do also offer Ant, Ladybird, Spider and Word World sets. Snail World and the other sets are all available via the Interplay website.
So what are you waiting for? Why not 'go wild' and invite some snails in to your home. Even just for a little while.
Disclosure: We received one free Snail World set by Interplay in return for an honest review. All images, words and opinions are our own.