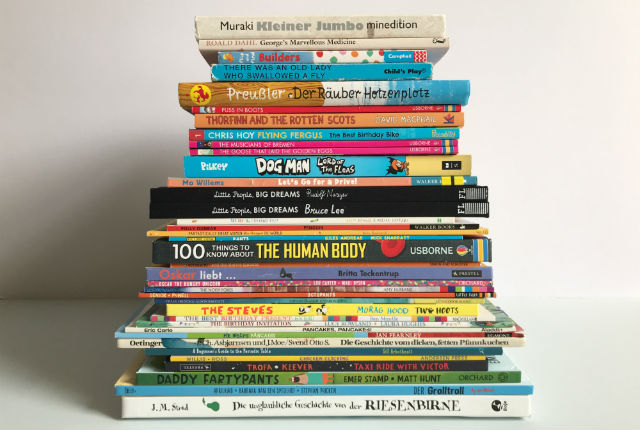 Our 2020 Reading Journey – Month 2
In case you missed my post last month, I decided that this year I would record all the books my 5 year old and I read together. I've been snapping a quick picture of all the books from each day, and collecting them in an album over on my blog's Facebook page. Here's our pile of books from our second month: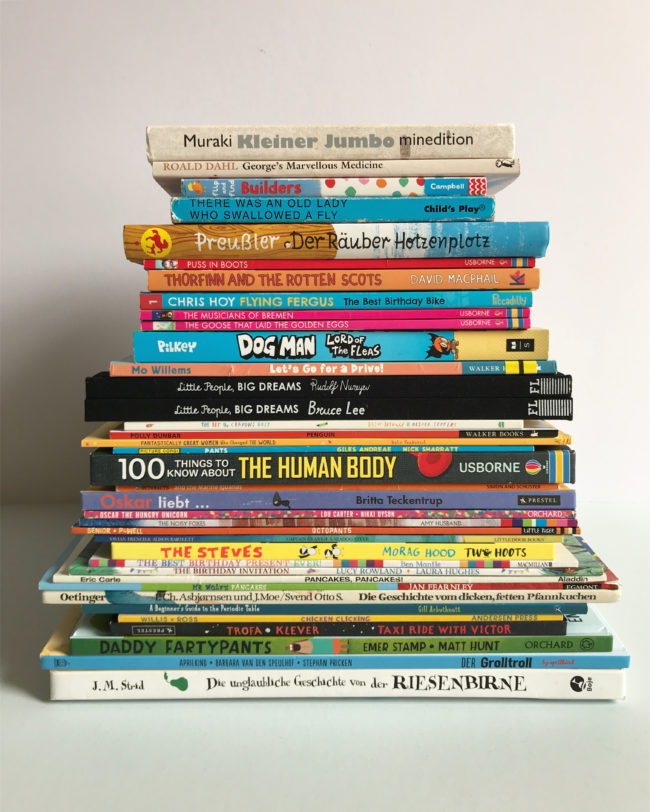 In February, we read a total of 39 different books together, which is ten fewer than last mont but February is a couple days shorter and we also read more longer chapter books which stretched over several days. With the exception of the chapter and non-fiction books, which often spanned several days (and in one case one we finished off from last month), we didn't read any books twice though we did revisit two picture books that we had read in January.
I should also add, that while I make a lot of the suggestions for what chapter books to read, the picture books and non-fiction books are all Mr Fox's own choices.
I'd love to hear what you have been reading in the last month. If you have any great recommendations, let me know in the comments!
Books We Read in February 2020
Picture Books
English
Captain Crankie & Seadog Steve, by Vivian French & Alison Bartlett
Chicken Clicking, by Jeanne Willis & Tony Ross
Daddy Fartypants, by Emer Stamp
Flip and Find: Builders, by Samantha Meredith
Let's Go for a Drive! by Mo Williams
Mr Wolf's Pancakes, by Jan Fearnley
Oscar the Hungry Unicorn, by Lou Carter & Nikki Dyson
Octonauts an the Marine Iguanas
Octopants, by Suzy Senior & Claire Powell
Pancakes, Pancakes, by Eric Carle
Pants, by Giles Andreae & Nick Sharratt
Penguin, by Polly Dunbar
Postman Pat's Difficult Day, by John Cunliffe & Celia Berridge
Taxi Ride with Victor, by Sara Trofa & Elsa Klever
The Best Birthday Present Ever, by Ben Mantle
The Birthday Invitation, by Lucy Rowland & Laura Hughes
The Day the Crayons Quit, by Drew Daywalt & Oliver Jeffers
The Little Boy Who Lost His Name, by David Cadjji-Newby & Pedro Serapicos
The Noisy Foxes, by Amy Husband
The Steves, by Morag Hood
There was an old lady who swallowed a fly, after a traditional nursery rhyme, illustrated by Pam Adams
German
Der Grolltroll, by Aprilkind, Barbara van den Speulhof & Stephan Pricken
Die Geschichte vom dicken, fetten Pfannkuchen, by P. Ch. Asbjornsen, J. Moe & Svend Otto S.
Kleiner Jumbo, Große Mama, by Yasushi Muraki
Oskar liebt… by Britta Teckentrup
Chapter Books
English
Flying Fergus: The Best Birthday Bike, by Chris Hoy, Joanna Nadini & Clare Elsom
George's Marvellous Medicine, by Roald Dahl
Puss in Boots, by Fiona Patchett & Teri Gower
The Goose that laid the Golden Eggs, based on a fable by Aesop, illustrated by Daniel Howarth
The Musicians of Bremen, retold by Susanna Davidson & illustrated by Mike and Carl Gordon
Thorfinn the Nicest Viking and the Rotten Scots, by David MacPhail & Richard Morgan
German
Der Räuber Hotzenplotz, by Otfreid Preußler
Die Unglaubliche Geschichte von der Riesenbirne, by Jakob Martin Strid
Graphic Novels
Dog Man – Lord of the Fleas, by Dav Pilkey
No-fiction Books
100 Things to Know About the Human Body
A Beginners Guide to the Periodic Table, by Gill Arbuthnott
Fantastically Great Women Who Changed the World, by Kate Pankhurst
Little People, Big Dreams: Bruce Lee, by Isabel Sanchez Vegara & Miguel Bustos
Little People, Big Dreams: Rudolf Nureyev, by Isabel Sanchez Vegara & Eleonora Arosio