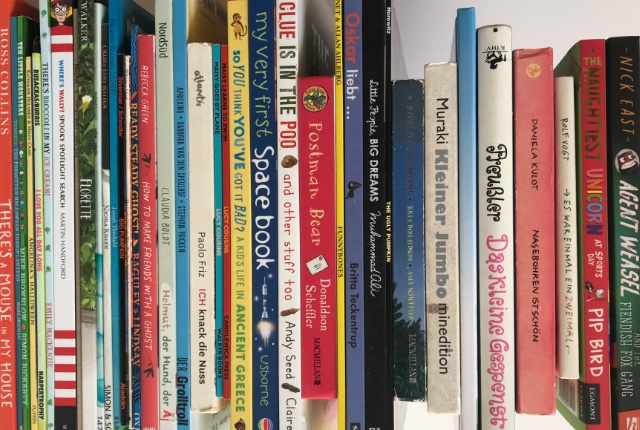 Our 2020 Reading Journey – Month 10
As I mentioned in my post from earlier this year, I decided that this year I would record all the books my 5 year old and I read together. I've been snapping a quick picture of all the books from each day, and collecting them in an album over on my blog's Facebook page – and now also on Instagram! Here's our pile of books from our tenth month: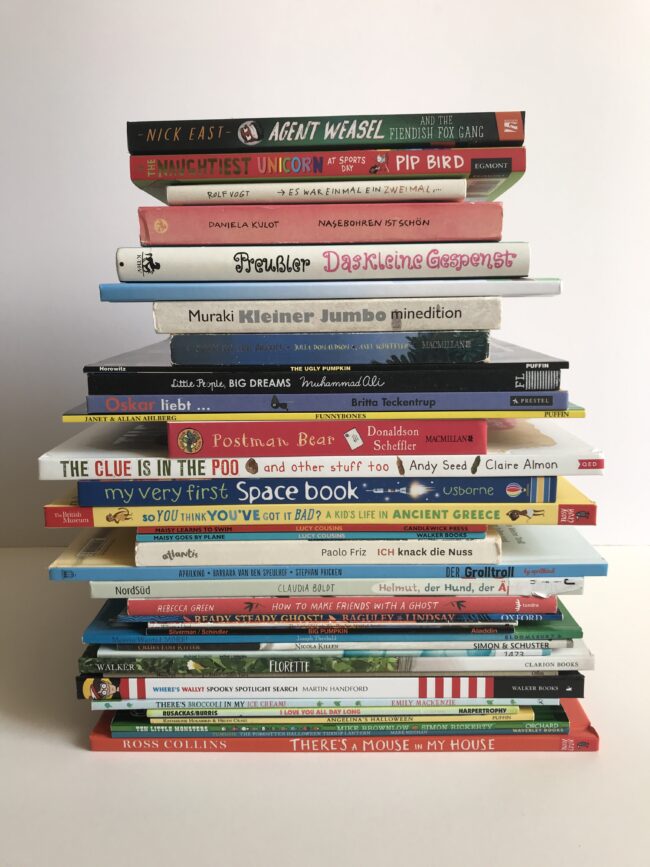 Books We Read in October 2020
In October we read a total of 39 different books.
Picture Books
English
Angelina's Halloween, by Katharine Holabird & Helen Craig
Big Pumpkin, by Erica Silverman & S. D. Schindler
Florette, by Anna Walker
Funny Bones, by Janet & Allan Ahlberg
How to Make Friends With a Ghost, by Rebecca Green
I Love You All Day Long, by Francesca Rusackas & Priscilla Burris
Maisy Goes by Plane, by Lucy Cousins
Maisy Learns to Swim, by Lucy Cousins
Marvin Wanted More, by Joseph Theobald
Michael Recycle, by Ellie Bethel & Alexandra Colombo
Nanny Fox, by Georgie Adams & Selina Young
Ollie's Lost Kitten, by Nicola Killen
Postman Bear, by Julia Donaldson & Axel Scheffler
Pug With a Passport: Traveling Through Tokyo, by Marie Story
Ready, Steady, Ghost by Elizabeth Baguley & Marion Lindsay
Room on the Broom, by Julia Donaldson & Axel Scheffler
Ten Little Monsters, by Mike Brownlow & Simon Rickerty
The Berenstain Bears: Trick or Treat, by Stan & Jan Berenstain
The Last Pumpkin: A Tale of Bravery, by John Knutson & Luke Flowers
The Little Old Lady Who Was Not Afraid Of Anything, by Linda Williams & Megan Lloyd
The Ugly Pumpkin, by Dave Horowitz
There's a Mouse in My House, by Ross Collins
There's Broccoli in My Ice Cream! by Emily MacKenzie
Tumshie: The Forgotten Halloween Turnip Lantern, by Mark Mechan
Where's Wally? Spooky Spotlight Search, by Martin Handford
German
Der Grolltroll, by aprilkind
Es War Einmal ein Zweimal, by Rolf Vogt
Helmut der Hund der Äpfel zählt, by Claudia Boldt*
Ich Knack die Nuss, by Paolo Friz
Kleine Jumbo Große Mama, by Yasushi Muraki*
Nasebohren Ist Schön, by Daniela Kulot
Oskar liebt… by Britta Teckentrup*
* also available in English
Chapter Books
English
Agent Weasel and the Fiendish Fox Gang, by Nick East
The Naughtiest Unicorn at Sports Day, by Pip Bird & David O'Connell
German
Das Kleine Gespenst, by Otfried Preußler*
*also available in English
Non-Fiction Books
English
Little People, Big Dreams: Muhammad Ali, by Isabel Sanchez Vegara & Brosmind
My Very First Space Book, by Usborne Books
So You Think You've Got it Bad? A Kid's Life in Ancient Greece, by Chae Strathie & Marisa Morea
The Clue is in the Poo, by Andy Seed & Claire Almon
I'd love to hear what you have been reading in the last month. If you have any great recommendations, let me know in the comments!