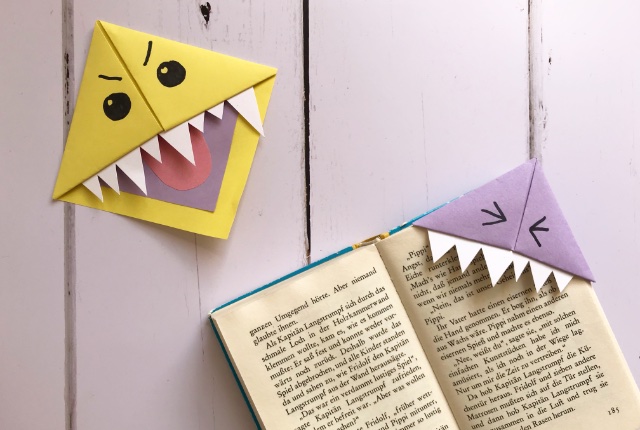 Origami Monster Bookmarks
Hallo everyone, and welcome to the first day of The Bear & The Fox Virtual Summer Camp! Today we have a crafting activity for you, and since many of you won't have had much notice, I've chosen something that you just need paper, pens, scissors and some glue for.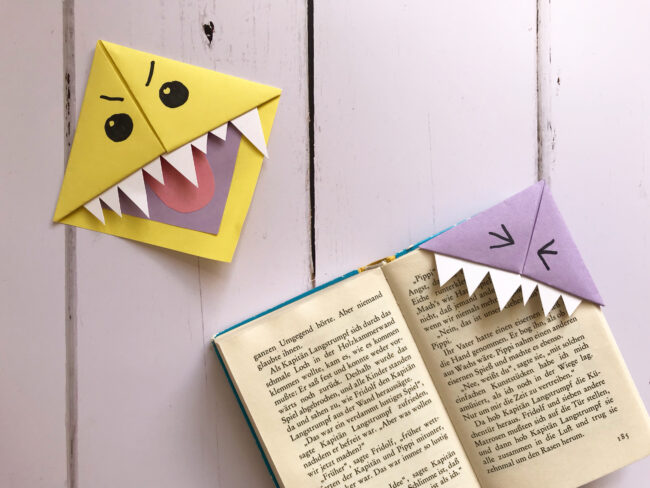 The activity we'll be doing today, is making origami monster bookmarks! Later this week I'll be sharing more details about the summer reading challenge I'm co-hosting with my friend Amanda again this year, so I thought a bookmark would be perfect for anyone who wants to join in the reading challenge. Of course, you can use it for any other books too!
Who is this activity suitable for?
This is a really easy activity that anyone can join in with. Older kids will be able to do all of it themselves, for younger kids you might want to have a grown-up do the folding and cutting and the kids can then have fun decorating it with pens and gluing on the cut-out shapes. Don't worry if you've never done any origami before, I've recorded a short video to demonstrate exactly what you have to do, and if you scroll further down I've also included some step-by-step photos of you prefer those to the video.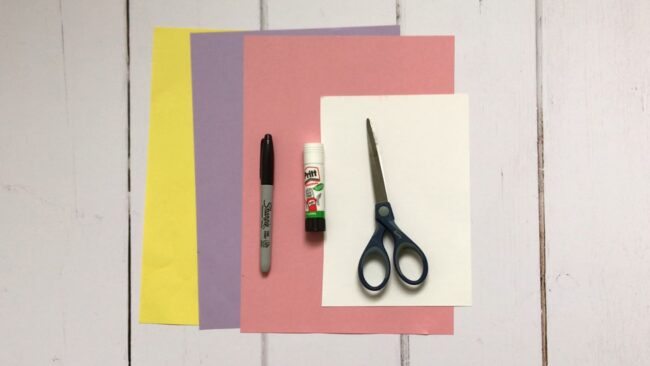 Here's what you'll need to have ready:
one sheet of A4 paper in a colour of your choice
other coloured bits of paper – you can use up paper scraps for this
white paper – for the teeth!
a pair of scissors
a glue stick
a black pen
other coloured pens, pencils or crayons (optional)
Note: The tutorial shows you how to make a large bookmark, which is great for picture books. For a smaller bookmark, you just need to cut the square in Step 1 a little smaller. The smaller bookmark in the video was made with a 15cm x 15cm square. I wouldn't go any smaller than that or it gets a bit fiddly.
Here's the video to show you what to do…
And here are the step-by-step instrutions…
Step 1: Place an A4 sheet of paper in front of you, with the short sides at the top and bottom.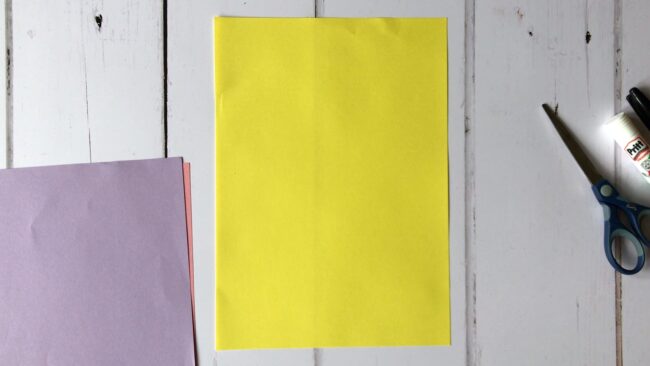 Step 2: Take the bottom right hand corner, and fold it up to meet the left hand side of your sheet of paper. The two edges should line up.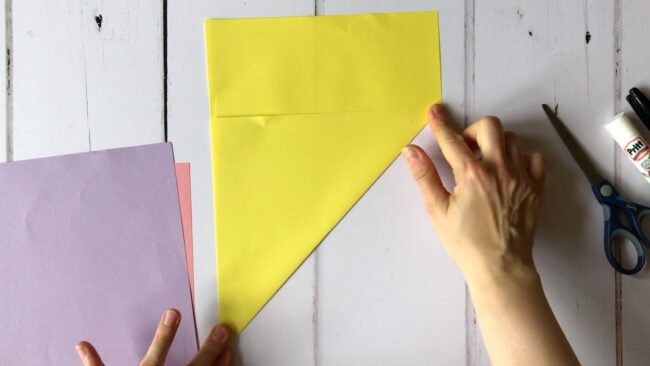 Step 3: Cut along the top edge of the folder corner, so that you are left with a folded triangle.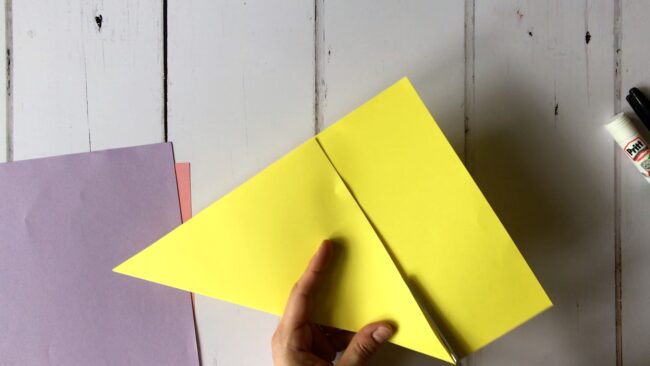 Step 4: Lay the triangle in front of you with the long, folded edge at the top and the right angle corner pointing down. Take the top layer of the corner that is pointing down, and fold it up to meet the middle of the top edge.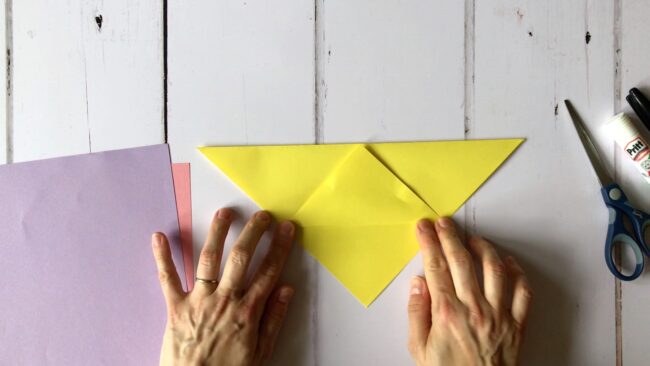 Step 5: Now take the top right hand corner of the triangle, and fold it down to meet the middle of the corner that is pointing down.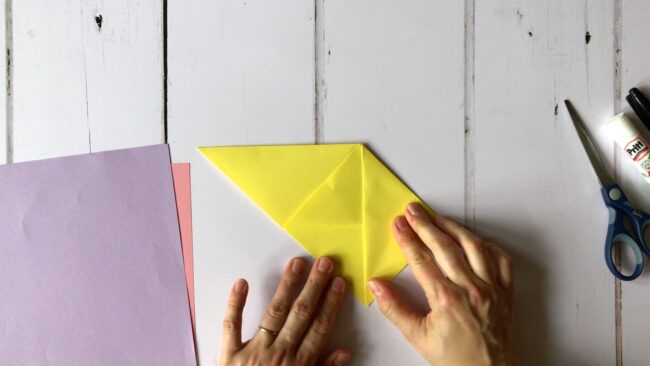 Step 6: Repeat the same step for the top left corner. You should now have a small square with the corners pointing up and down.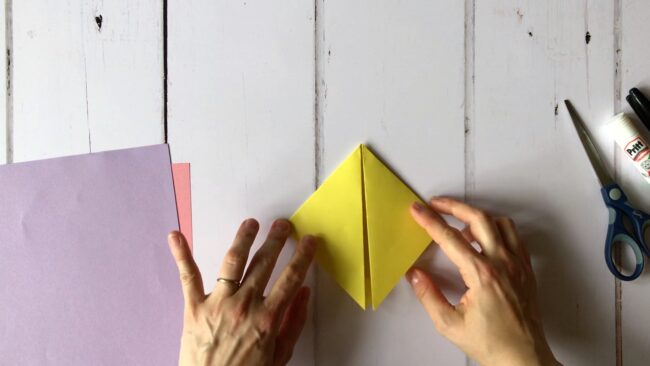 Step 7: Turn your square around, so that the open end is pointing up.Then take the top corner and fold the right half of it inwards (the video makes it much clearer what to do here).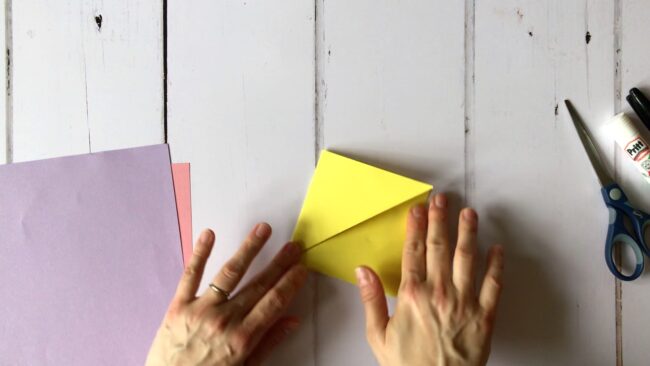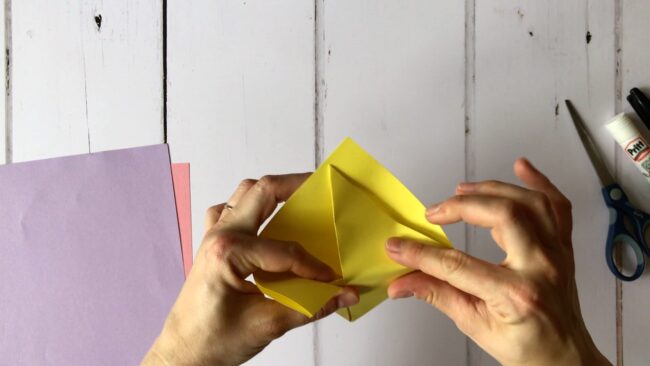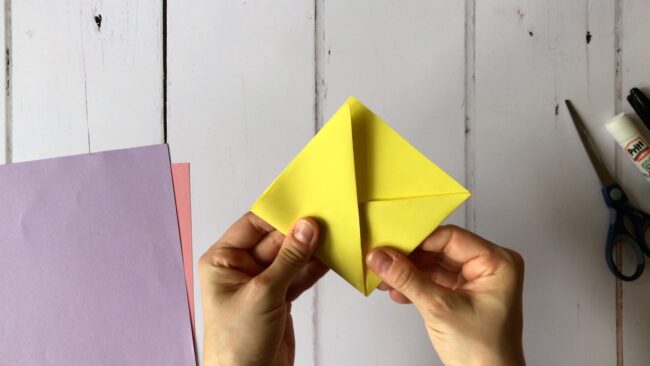 Step 8: Repeat with the other half.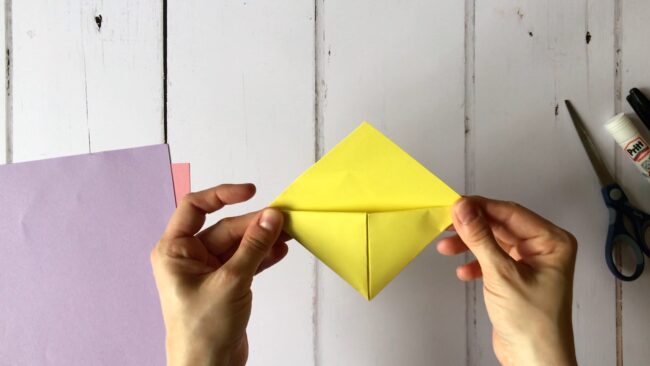 Step 9: Turn your square around, so that the side with the tucked in bits is at the top and the opening is pointing down – you are now ready to decorate your bookmark.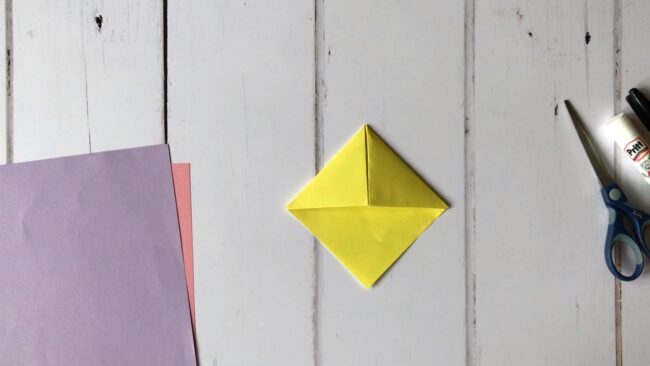 Step 10: Cut out some shapes from coloured paper to decorate your monster. We've gone for a mouth, tongue and teeth. The mouth and tongue are glued on to the bottom half, and the teeth are glued under the rim of the top half. Again, the video makes it much clearer. As a final step, we drew in some eye.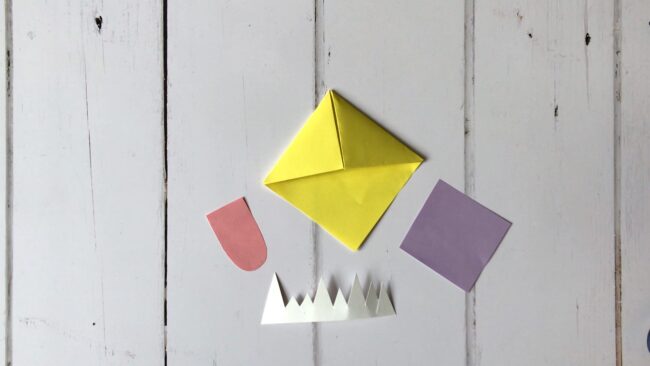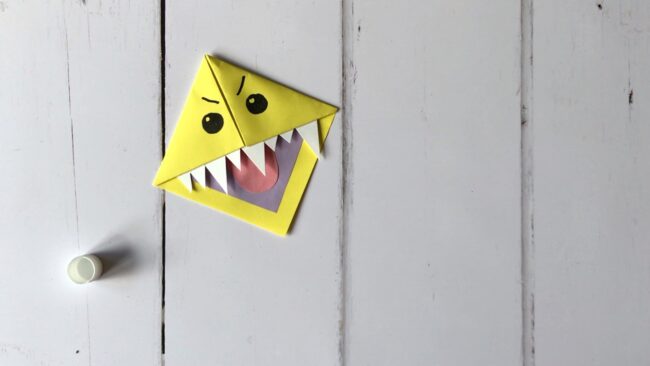 You can decorate it with whatever you like, though I strongly recommend adding the mouth to make the bookmark a bit sturdier. You can also use other colours of pens, pencils or crayons to decorate it, or you can stick on eyes instead of drawing them. Get creative! And as mentioned above, to make a smaller bookmark, just cut a smaller square to start with, though I wouldn't go much smaller than 15xm x 15cm or it will get a bit fiddly.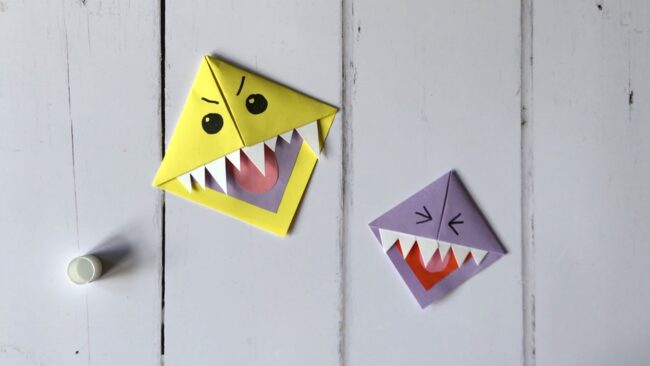 If you enjoyed today's activity, please feel free to leave a comment or tag me in on Twitter and Instagram. Remember to use the hashtag #BearAndFoxSummerCamp if you are sharing any photos.
If you are looking for follow up activities to do, you may also enjoy our previous easy-peasy Origami Cats tutorial. Or check out our complete archive of arts & crafts ideas.
[line]
All Summer Camp activities are free to make them accessible to as many people as possible. However, if you enjoy the activities and are able to, you can support me with a donation on Ko-fi. Just hit the button below. Every little helps and is much appreciated. Thank you.