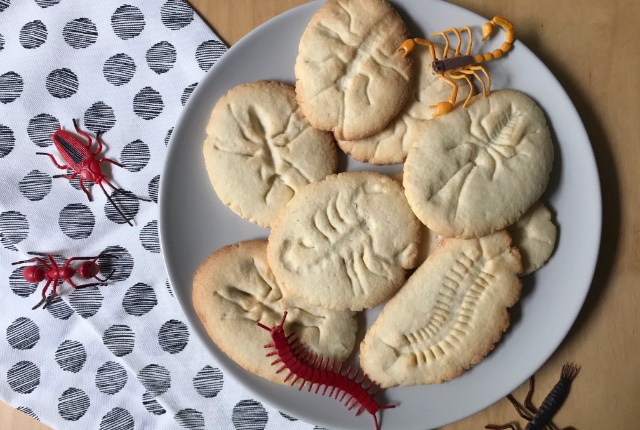 Fossil Cookies
We have a really fun cooking challenge for you this week. My 5 yr old and I made these fossil cookies together a couple of weeks ago, and it was really fun – and yummy too!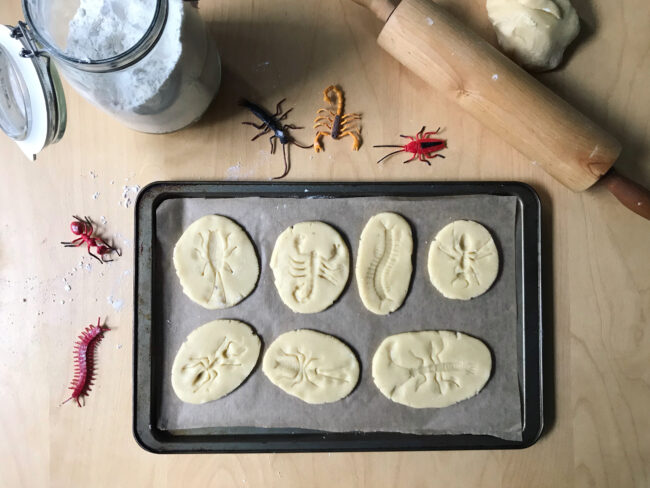 As before – and I always tell me children this – first read the whole recipe through from start to finish, then gather all your ingredients and utensils before you begin. At the end of the recipe, I've also highlighted which parts I think are particularly suitable for kids to help with, though of course you need to judge that a little yourselves depending in your kids' ages and abilities. So, happy cooking!
This recipe is suitable for: gluten free, vegetarian.
Ingredients
150g soft, unsalted butter
120g icing sugar
1 teaspoon vanilla essence
1 egg, whisked
80g ground almonds
240g plain flour (gluten free if required) + some extra
1/4 teaspoon xanthan gum if using gluten free flour
If you can't get your hands on xanthan gum you could leave it out, but it does make the cookies hold better. 
Utensils
Mixing bowl
Whisk
Small bowl
Cling film (or an eco-friendly alternative)
Rolling pin (or a clean, empty bottle)
Baking tray
Grease proof paper
Knife
Small plastic animals, e.g. bugs or small dinosaurs
Note: Wash the plastic in warm soapy water and dry thoroughly before use.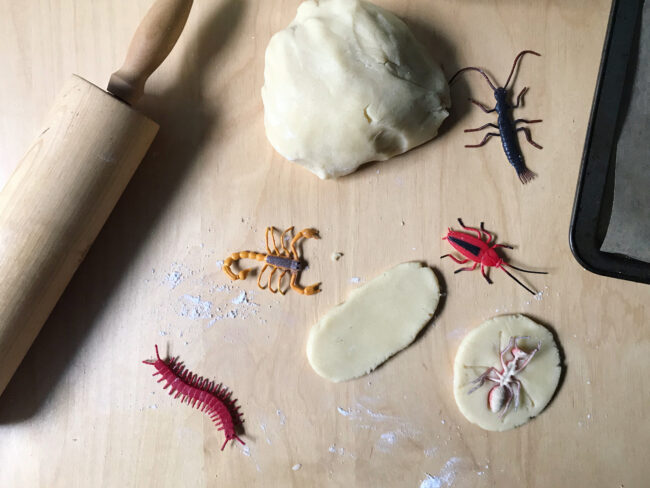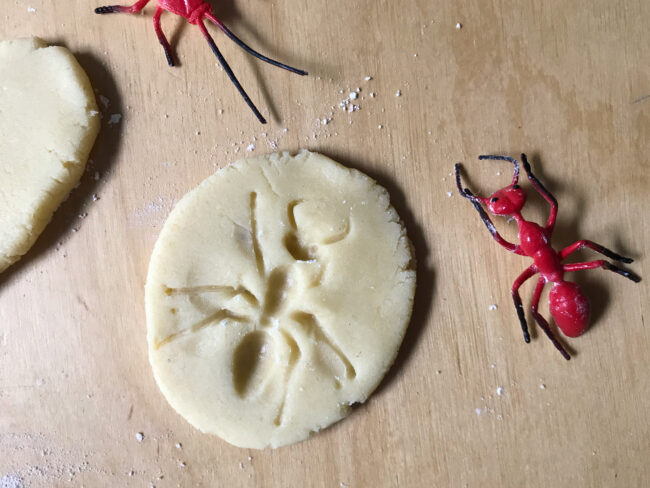 Directions
Beat together the butter, sugar, vanilla and egg until creamy.
Mix in the ground almonds, flour and xanthan gum (if using), and knead together in to a dough. Don't worry if the dough seems a little too wet, it will get drier during resting time.
Place the dough in bowl and cover with cling film (or an eco-friendly alternative) and put it in the fridge to rest for around 2 hours.
When the dough is ready, pre heat your oven to 200 C (fan oven 180 C).
Dust your surface and rolling pin, and roll the dough out, about 1.5cm thick.
Dust the plastic animals in flower and carefully press in to the dough to leave an imprint, then use the knife to cut around the imprint.
Place on a baking tray lined with grease proof paper (we had to do ours in two batches).
Bake for 6-8 minutes, depending on your oven, keeping an eye on them so they don't burn. If using gluten free flour, the cookie will stay pale and not turn as golden like with regular flour, so it can be a little hard to tell when they are ready but if the edges are starting to burn then it's definitely time to take them out!
Transfer to a cooling rack and leave to cool completely.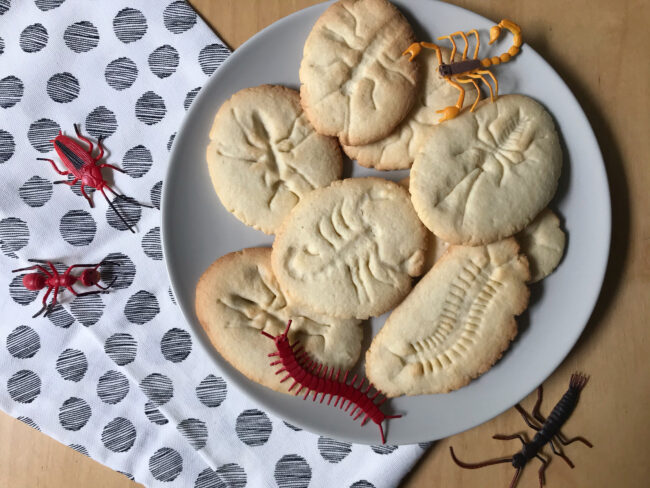 You want to make sure your cookie are a similar size and not too big. The first tray we did some of them were too big and were still a little too soft in the middle when the others were already done. If your animal are too big, you can also just do partial imprints – after all, fossils aren't always fully intact or perfect either. We initially used our collection of creepy crawly animals, but then when we were on the second tray my five year old went running off and came back with his big dinosaur and wanted to make some cookies with dinosaur footprints, so that's another good alternative if you don't have any animals small enough.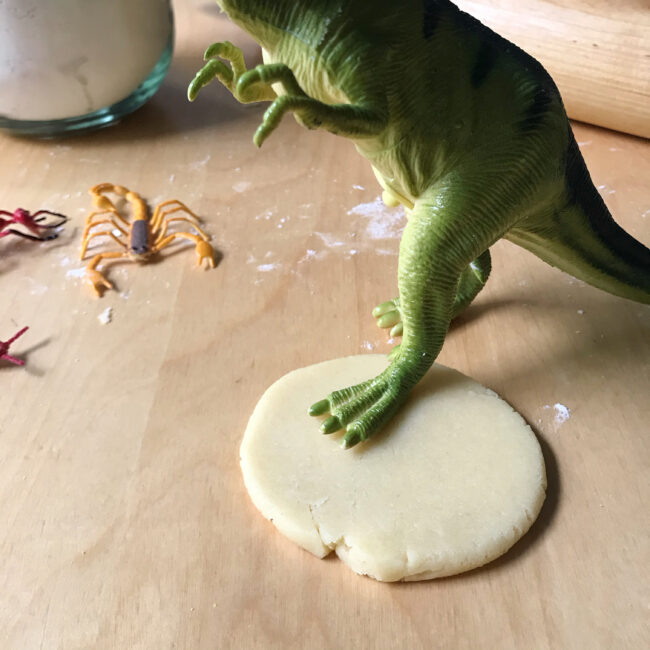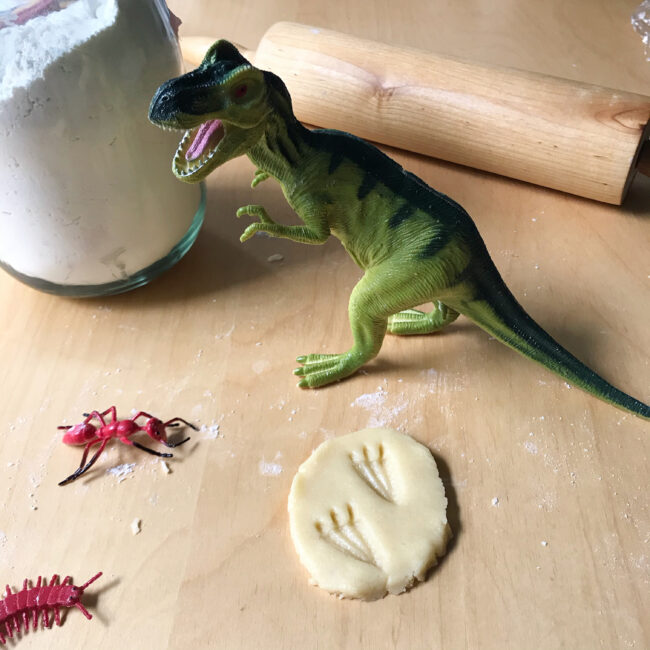 What kids can help with
Measuring ingredients
Mixing and kneading the dough
Rolling out the dough
Making the animals imprints
Adults only
Handling hot trays and ovens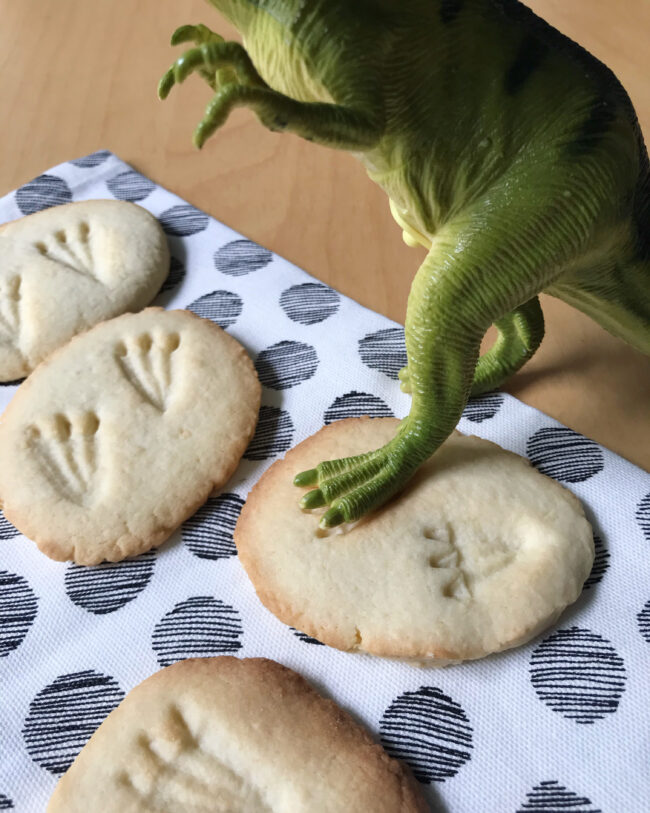 If you enjoyed today's activity, please feel free to leave a comment or tag me in on Twitter and Instagram. Remember to use the hashtag #BearAndFoxSummerCamp if you are sharing any photos. If you are looking for other recipes to make, check out our complete recipe archive.
[line]
All Summer Camp activities are free to make them accessible to as many people as possible. However, if you enjoy the activities and are able to, you can support me with a donation on Ko-fi. Just hit the button below. Every little helps and is much appreciated. Thank you.