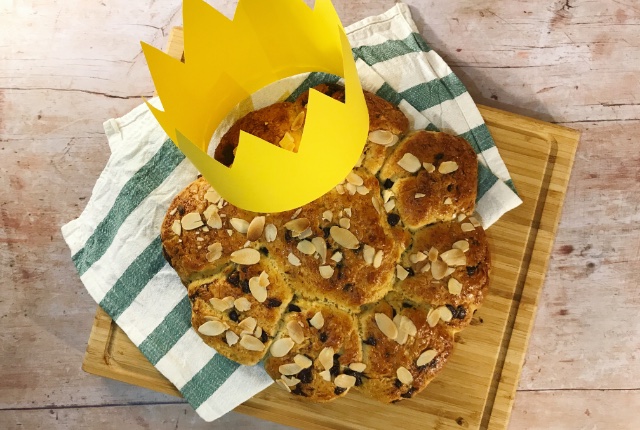 Dreikönigskuchen – Three Kings' Cake (GF)
Happy Epiphany! Or 'Three Kings Day' as we call it in Germany (though the Bible doesn't actually mention there were three of them, just that they brought three gifts!) It's a feast day which in Western Christianity commemorates the visit of the Magi to the Christ Child and celebrates the revelation of God incarnate as Jesus Christ. Like any good feast day, there is food involved, and this year we baked a 'Dreikönigskuchen' or Three Kings' Cake for the first time. Kings' Cakes are popular in various countries, including France, Portugal, Spain, and Mexico – to name a few – with many regional variations, including with or without puff pastry or candied fruits. In Germany, a sand cake (similar to a pound cake) with candied fruit, baked in a round bundt tin, is apparently the traditional variation, but I prefer the Swiss Dreikönigskuchen, which is made from a sweet yeast dough. I've always wanted to try one, though was a little anxious as I have had not so good experiences in the past with gluten free yeast doughs not rising properly, but with the new lockdown just announced what better time to throw yourself in to baking.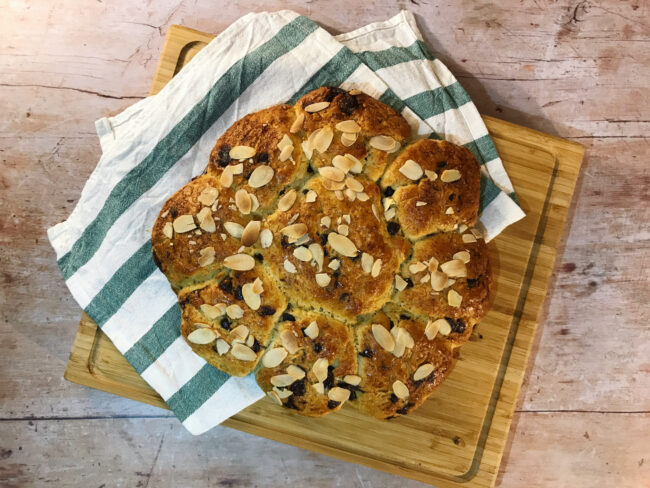 I couldn't find a recipe for gluten free Swiss Kings Cake, so I looked up various recipes for ones with regular wheat flour, and then went down a rabbit hole of reading up about baking with gluten free yeast doughs and adapting wheat flour recipes to be gluten free. The recipe I ended up with is a combination of lots different recipes and baking tips, and happily it all turned out well and got a thumbs up from the family at last night's taste test. We had the rest of it for breakfast this morning, and I will say that it gets a little dense when it's cooled down so I would recommend baking it on the day you want to eat it and then eating it while it's still fresh and warm, but obviously I had to bake it the day before so I could share the recipe with you in time. Though if you warm up any leftovers they will soften up again. Without any further ado, here is our recipe for Gluten Free Swiss Kings' Cake.
Ingredients
For the dough
500g plain gluten free flour
2 teaspoons quick yeast
2 teaspoons gluten free baking powder
1 teaspoon Xanthan gum
75g caster sugar
1 pinch of salt
250ml luke warm milk
75g melted butter
1 teaspoon vanilla extract
1 egg (room temperature)
2 tablespoons cider vinegar
100g dark chocolate chips
1 whole almond
For the topping
1 egg
1 handful flaked almonds
You will also need a (hand) mixer with dough hooks, as well as mixing bowls and measuring spoons, kitchen scales, a baking tray and grease proof paper, a pastry brush, and a tea towel.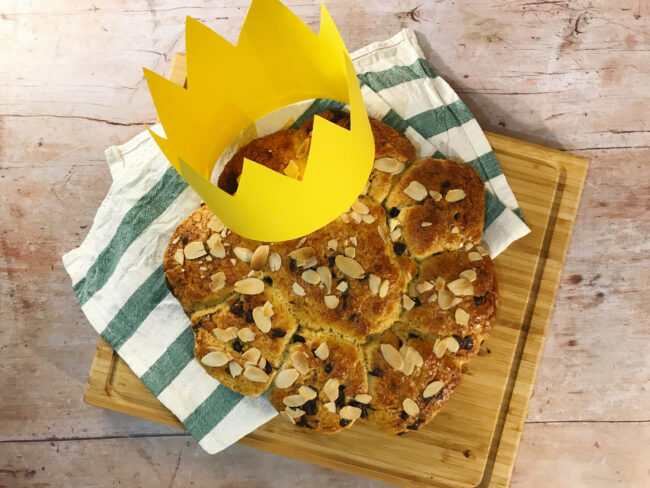 Directions
Pour 50ml of the luke warm milk in to a small bowl. Sprinkle the yeast on top, and then 25g of the sugar on top of that. Set aside for 15 minutes, to let the yeast activate.
In a large mixing bowl, combine the flour, baking powder, xanthan gum, the salt, and the rest of the sugar.
In a separate bowl, whisk together the rest of the luke warm milk, the melted butter, and the vanilla essence. After the 15 minutes are up, stir in the yeast mixture.
Add the wet ingredients to the dry ingredients, and mix them in with a fork to roughly combine them. Add the egg and the vinegar and briefly mix those in.
Now get out mixer and and knead everything with the dough hooks until it comes together in a smooth dough. This will take about 2-3 minutes. You don't want to over mix it, so stop as soon as you have a smooth dough.
Transfer your dough to a greased plastic bowl (not metal or glass), cover with a damp tea towel and leave to rise in a warm place for at least an hour. It's not going to grow dramatically in size, but you do want it to get a bit bigger.
Next, mix in the chocolate chips and the whole almond, working the dough as little as possible, and divide the dough in to 10 equal portions.
Line your baking tray with grease proof paper, then take two of the portions and combine them in to one, forming them in to a ball. Place this in the middle of your tray and flatten it slightly. Now take each of the other 8 portions, forming them in to balls and placing them in a circle around your big ball in the middle. You might find it easier to do this if you grease your hands a little with vegetable oil.
Cover with the damp tea towel again and leave to rise again in a warm place for another 30-40 minutes.
Pre-heat your oven to 180 C (this is for a regular oven setting, not a fan oven – if you only have the fan option you will need to lower the temperature to around 160 C).
Whisk the other egg, and brush the tops of your dough balls with the egg, then sprinkle the flaked almonds on top.
Bake in the oven for 20-25 minutes until golden brown on top. It depends a little on your oven, so I recommend keeping an eye on them after 20 minutes to make sure they don't get too dark.
Leave to a cool a little so you don't burn yourself, but enjoy them while they are still warm!
For a little extra fun, you could also make a paper crown to serve the cake with. Oh, and whoever find the whole almond gets to be king for a day!
Check out our other Epiphany posts for more Three Kings Day fun.