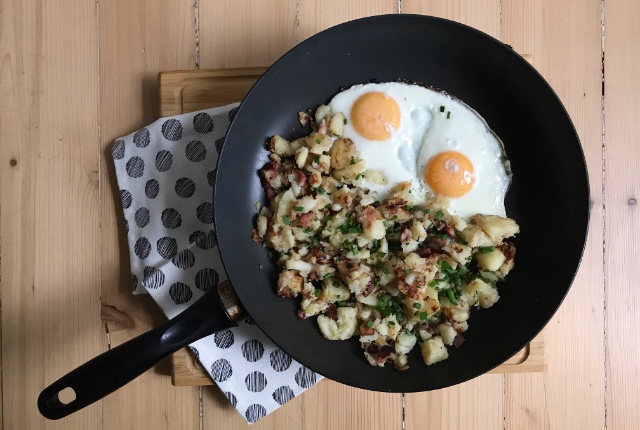 Bratkartoffeln mit Spiegelei
Okay, so 'Brakartoffeln mit Spiegelei' is basically just fried potatoes with fried eggs, but it sounds so much better in German. It's a fairly popular dish in Germany, and can either be made fresh or as 'Restessen' (leftovers) to use up potatoes. If we are having another dish with potatoes that week, I quite often cook double and set half of the potatoes aside to make Bratkartoffeln a day or two later. This is a great dish for teaching kids to peel potatoes!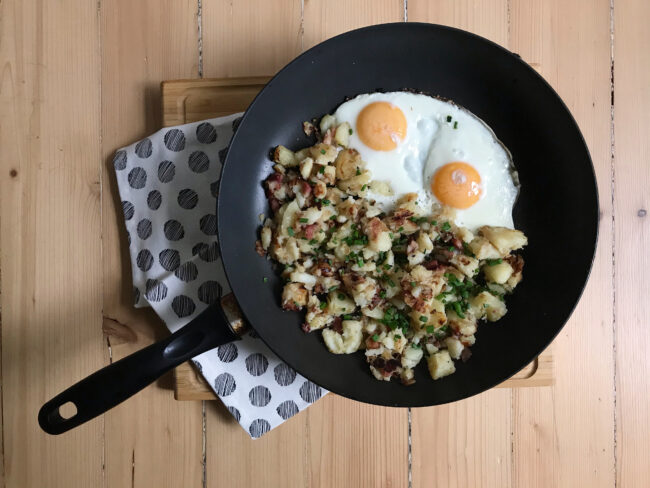 As before – and I always tell me children this – first read the whole recipe through from start to finish, then gather all your ingredients and utensils before you begin. At the end of the recipe, I've also highlighted which parts I think are particularly suitable for kids to help with, though of course you need to judge that a little yourselves depending in your kids' ages and abilities. So, happy cooking!
This recipe is suitable for: gluten free, vegetarian (just leave out the bacon), dairy free, nut free.
Ingredients
(serves 2 adults & 2 children)
1kg potatoes
2 shallots
Vegetable oil
10g bacon bits or chopped up bacon
Salt & Pepper
Ground nutmeg or grated fresh nutmeg
Fresh chives, chopped (optional)
1-2 eggs per person
Utensils
Potato peeler or knife
Saucepan
Cutting knife
Chopping board
1-2 Frying pans
Oven proof dish (optional)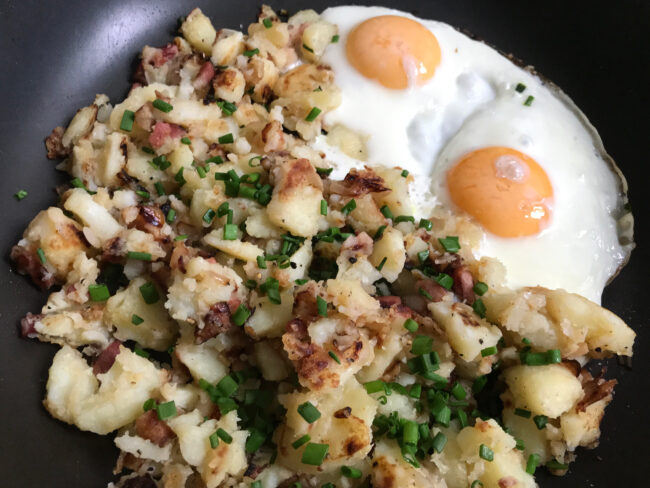 Directions
Peel and boil the potatoes until just tender. Leave to cool and cut in to slices. Depending on the size of the potatoes, you may want to half or quarter them first.* You can also cook the potatoes at day or two beforehand, but I wouldn't slice them until the day you want to fry them.
Heat a couple tablespoons of vegetable oil in a large frying pan. Peel and chop the shallots, and add to the pan along with the bacon bits. Cook for a few minutes until the shallots start to soften.
Add the sliced potatoes and mix in with the shallots and bacon. Season with salt and pepper, and a pinch or grating of nutmeg if you have any, and cook everything until the potatoes start go crispy.
Fry 1-2 eggs per person. I did a couple in the same pan as the potatoes and the rest in as separate pan, so that they'd all be ready at once.
Serve the fried potatoes with some chopped chives sprinkled on top and the eggs on the side.

What kids can help with
Peeling potatoes.
Cutting up the cooled potatoes.
Adults only
If you enjoyed today's activity, please feel free to leave a comment or tag me in on Twitter and Instagram. Remember to use the hashtag #BearAndFoxSummerCamp if you are sharing any photos. If you are looking for other recipes to make, check out our complete recipe archive.
[line]
All Summer Camp activities are free to make them accessible to as many people as possible. However, if you enjoy the activities and are able to, you can support me with a donation on Ko-fi. Just hit the button below. Every little helps and is much appreciated. Thank you.