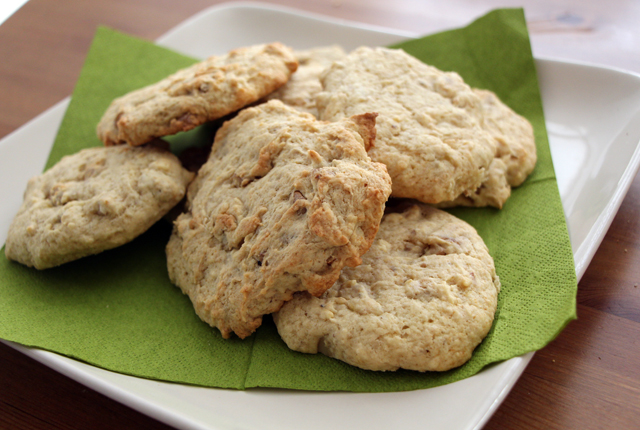 Banana & Roasted Walnut Cookies
This week I've had my littles munchkin at home, sick with bronchitis – again. I thought we'd seen the last of that! Anyway, he's been feeling pretty miserable, and not had much of an appetite, so I've been trying to cheer him up by tempting him with some treats. Such as these delicious cookies! When I think of cookies, I don't just think of an American term for British biscuits, I think of very large, round and slightly soft cookies as opposed to a classic Digestive or Hobnob that you would dunk in your tea. Cookies are perfect, for when a piece of cake just seems to decadent. But beware, they're very more-ish!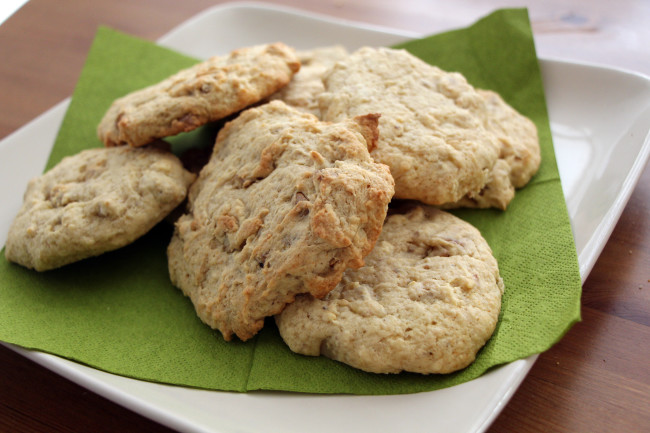 Ingredients (makes 12)
100g chopped walnuts
125g soft, unsalted butter
125g brown sugar
pinch of salt
1 medium egg
2 small, ripe mashed bananas
250g gluten free flour, e.g. from Dove's Farm or Schär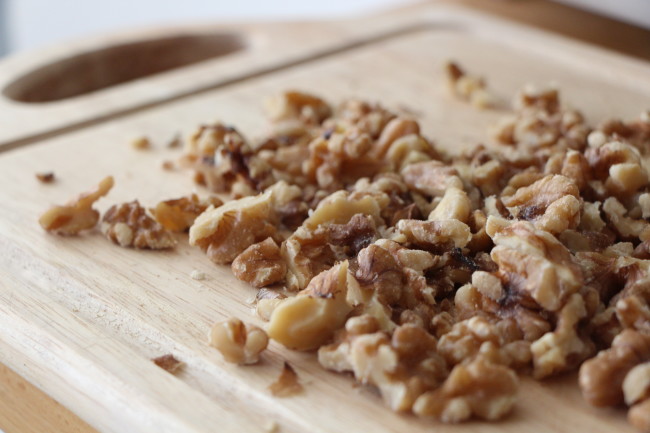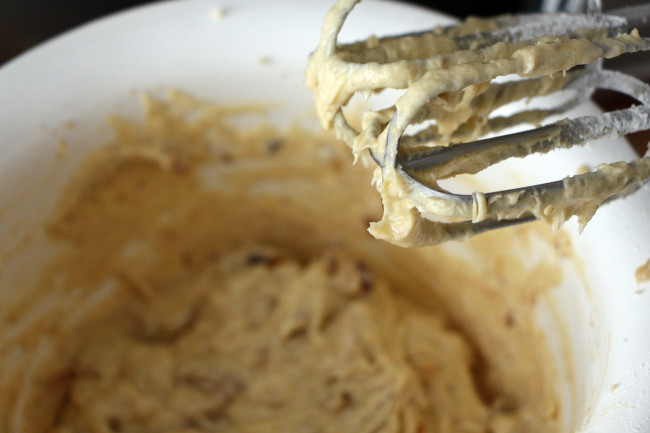 Directions:
Pre-heat your oven to 180°C.
Dry roast the walnuts in a pan over a medium heat for 5-10 minutes, shaking them occasionally so they don't burn.
Cream together the butter, sugar and salt until the mixture is pale brown in colour. This is easiest with a mixer.
Mix in the egg and bananas, then stir in the flour by hand.
Fold in the roasted walnuts.
Line two baking trays with grease proof paper, divide 12 piles of batter  on to the trays using a tablespoon, and flatten with the back of the spoon. Leave some space in between, as the cookies will expand. If you don't have two trays, you can do it in batches.
Bake for 12-15 minutes each.
Alternatively, you can use a teaspoon and make around 20 small cookies.