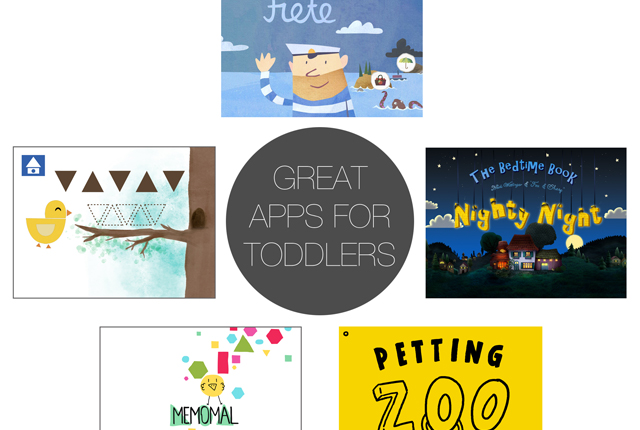 Great Apps for Toddlers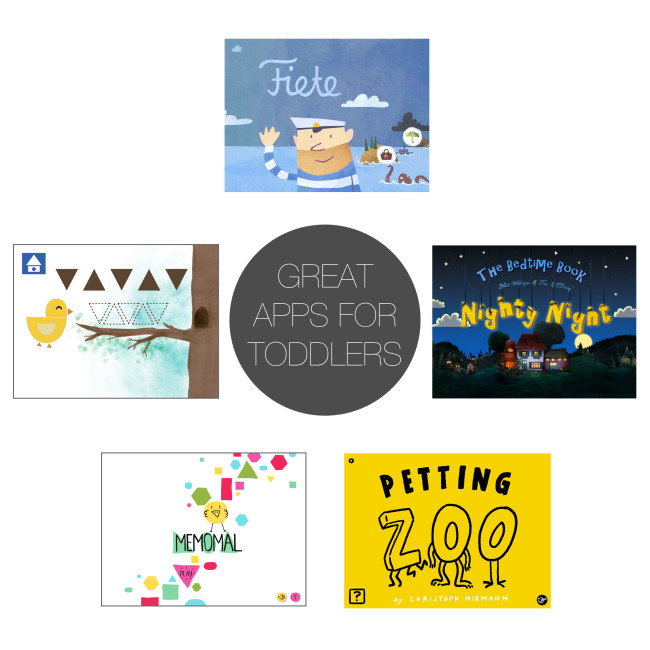 Screen time is a contentious topic amongst parents, but let's face it, sometimes the digital baby sitter can be a life saver, whether it's on a long train or plane ride, to entertain a sick kiddo stuck in bed, or just – and I'm being totally honest here – to get the kids out from under your feet for half an hour, be it to have a shower or to make some important phone calls. We're not super strict when it comes to screen time, but when we do allow it, I want the kids to not just be playing with any old apps, but with good quality ones that are well designed, fun and where possible educational. So, here are five favourite apps that our toddler (age 2.5) loves playing with – clockwise, starting from the top:
Fiete Mini Games (iOS) – This interactive picture book featuring the friendly sailor Fiete comes from German developer Ahoiii, but is available in many languages including English, though you don't need any language really to do the games themselves. Aimed at kids aged 1 to 3, the app gently introduces little ones to the digital world and challenges their motor skills and logical thinking in a playful way. At their own pace, they can click their way through the little mini games and help Fiete with his daily chores, e.g. fixing his car, picking apples, frying an egg or making a cheese sandwich. The app includes 19 interactive scenes, as well as three memory matching games, and the whole thing is topped off by cute illustrations. Several other Fiete games have followed since, aimed at various ages, and in Germany he even now has a series of books! (costs around 2.99 £/€/$)
Nighty Night (iOS, Android) – This previous 'app of the year' by developers Fox & Sheep (based in Berlin, no less!) is apparently the most popular bed time story in the Apple App Store. Aimed at kids aged 1 to 4, the premise is simple: little ones can click their way around the farm, to turn off all the lights in the house and the barn. With each light, there is an animal to say goodnight to – a fun way to learn the names of all the different animals! There are over a dozen animals to discover, and you can switch between summer and winter mode. The lovely illustrations are by Oscar nominated artist Heidi Wittlinger. Available in several languages, including English and German, so perfect for our bilingual household. (costs around 2.99 £/€/$)
Petting Zoo (iOS, Android) – Also from the studio of Fox & Sheep, comes this quirky interactive picture book (apparently one of the most popular iPad apps in Germany overall) by acclaimed author and illustrator Christoph Niemann. With over 20 hand drawn animals to discover and manipulate, often with hilarious results! Fun for all ages, from infants to adults, and not dependent on language. It's a perfect little app to have on your phone, to whip out when waiting on a bus or at the doctor's. (costs around 2.99 £/€/$)
Memomal (edit 27/04/22 – app sadly no longer seems available) – This simple little memory game app, developed by Douglas Bello Junior, is a recent addition to our collection. We've had several memory apps before but I just loved the illustrations in this, by Liza Domingues. They are all little shapes in different colours, that have been 'doodled' on to make them in to animals. The shapes and colours repeat in different combinations – e.g. there's both a red triangle and a red rectangle, or both a yellow square and a green square – so you really need to pay attention. There's a hard mode with 20 cards, and an easy mode with 12 cards where each colour and shape appears just once. Rated for ages 4+ in the app store, but my 2.5 year old loves playing the easy mode. (costs around 0.99 £/€/$)
Shape Gurus (iOS, Android) – And, finally, this geometry learning game by Milan based studio Colto is another recent addition. Aimed at kids aged 2 to 5, little ones can solve a series of puzzles that teach them to match, sort and classify by shape and colour. There are four shapes and nine colours in total, and the app is playable in several languages, including English and German. With its fun game play, educational outcome and cute illustrations, this ticks all the boxes. (costs around 1.99 £/€/$)
Do you have any recommendations for great apps that a toddler would love? Please do feel free to share them in the comments below!