Happy St Andrew's Day to all our fellow Scots and those Scottish at heart! For those of you that don't know, St Andrew happens to be the patron saint of Scotland. So in the spirit of all things Scottish, we will be having haggis for dinner tonight :)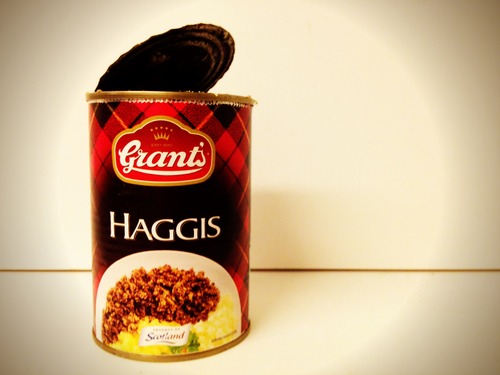 Luckily, we tend to stock pile tins of haggis whenever we can, so this does not require much planning. It's not the same as a Macsween haggis or, even better, a fresh haggis from your local butcher, for as tinned haggis comes, the one from Grant's is quite acceptable. If you fancy yourself a bit of haggis too, I've got three ways you could serve it up to share with you today.
1. The Traditional
To eat haggis the traditional Scottish way, serve it up Burns supper style with mashed neeps and tatties. Or turnips and potatoes, for the non Scottish among us. I like to mash my tatties up with plenty of butter, a dash of milk, and a sprinkling of nutmeg, and the neeps with some butter too and a some freshly cracked black pepper. Those are oatcakes in the background of the photo, by the way, served up with some whisky laced paté. Yum.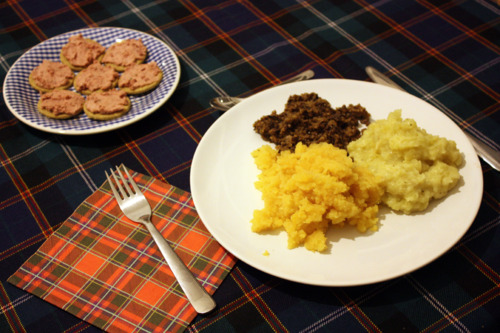 2. The Experimental
Our Italian friends think this is an abomination and not worthy of the name 'pizza', but in the course of some experimental fusion cooking, we discovered how delicious haggis pizza is! I cook the haggis first, then spread the pizza with some tomato puree, season with cracked black pepper, sprinkle over grated cheese, and then spread the cooked haggis on top. I usually also always sprinkle dried oregano on my pizzas, but the course of experimentation has taught us that this particular topping tastes better without oregano ;)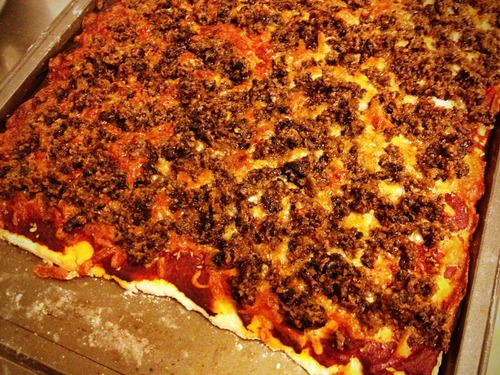 3. The Quick & Easy
My dad actually introduced me to this one, and it could not be simpler: cook some pasta, cook the haggis, mix and serve. Delicious! Even better washed down with a wee dram…
Happy St Andrew's Day!! How do you like to eat your haggis?