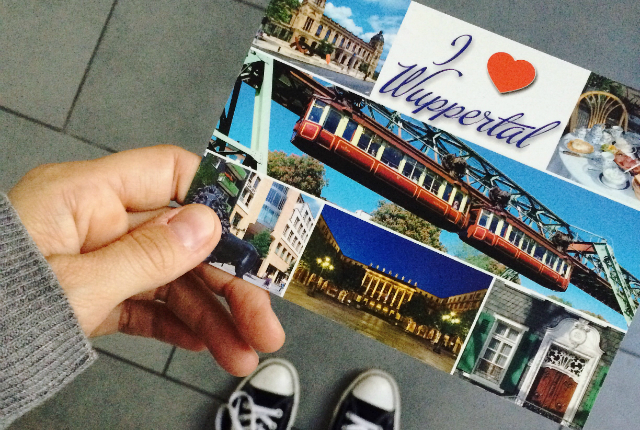 Wuppertal with Kids
This has been a bit of a crazy week, with a sick kiddo amongst other things, so my usual blogging schedule is in a bit of disarray. So, instead of a Friday Five round up, I've got a very special travel guide for you today. If you follow me on Instagram, you may have seen pics from a place called 'Wuppertal' popping up in my feed every now and then. Wuppertal is, in fact, the city in Western Germany that I lived in for eight years and where I went to high school. My parents and brother still live there, so naturally we visit periodically with the kids, to see their grandparents and uncle. To be honest, as a teenager I wasn't particularly enamoured with the city (but then, we had moved there from Edinburgh so anywhere was going to have a hard time competing). But Wuppertal has developed a lot over the last 20 years – adding for example a new sculpture park to its cultural landscape – and I'm also getting to see the city through my children's eyes now. They don't care about holidaying in exotic locations – visiting Oma & Opa, going to the Zoo, playing in a pirate ship and riding on a flying train is plenty excitement for them. Yup, you heard right. Flying train. But more on that in a moment.
The more often we visited, the more often I found myself searching for family travel guides to Wuppertal online, e.g. in my quest for things to do on rainy days, and I didn't find anything satisfying. So I'm doing, what any self respecting blogger would do – I'm finally going to write my own travel guide for Wuppertal! So, here it is. Our best tips for visiting Wuppertal with kids, from the past six years. And since it won't be our last visit, I'll probably revise it in future, adding things as we discover them. But for now, read on…
The Schwebebahn
The No.1 thing to do in Wuppertal – with or without kids – is to ride the Schwebebahn! It's a great way to spend an hour or so, come rain or shine, and it's an absolute 'must see'. The famous monorail, which literally translates as 'floating train' (or if you are 2 and 6, a flying train!), is also referred to as a suspension railway in English, and it's quite unique. It's the oldest existing electric elevated railway with hanging cars in the world, dating back to 1901, and is also one of the world's most safest means of public transport. Unless you are an elephant! In 1950 a circus transported a young elephant on the Schwebebahn as a publicity stunt. The elephant, named Tuffi, panicked and broke through the side of the train, falling in to the river below. True story! Thankfully she was fine. Kids absolutely love hearing this. And if you look out the window between the stations Alter Markt and Adlerbrücke, you can see a picture of an elephant painted on to the sides of the river bank, to mark the spot where it happened.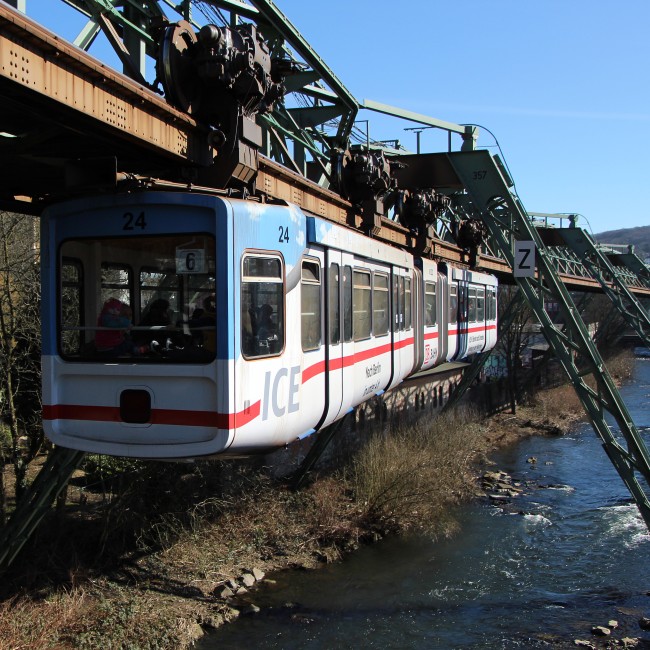 So, what do you need to know for your Schwebebahn ride? Wuppertal is situated along a valley, and the Schwebebahn runs above the river along the foot of the valley for most of the way, from one end of the city to the other. What we always do is hop on at my parent's place and ride to the terminal station closest to us. There we wait for the next train (they run roughly every 4 minutes on week days, and every 6-8 minutes on weekends), get a good window seat and ride the entire length of the tracks from one end to the other. There are 20 stops in total, at just over 13km long, and it takes just over half an hour. At the other end, we grab some more good window seats and ride back to where we started. The best seats are the ones at the very back (well, we think so anyway). In the old trains, you can kneel on the seats to look out the back. In the new trains, which are currently being phased in, they have put in floor to ceiling panorama windows at the back. You may need to used your elbows a little to bag those! Since the trains run so frequently, we sometimes wait for the next one if we've missed out on the good seats. The Schwebebahn is at its busiest/ most crowded around the Hauptbahnhof station, and the ones immediately before and after it. The further you are away from there, the emptier it generally gets. All stations have lifts.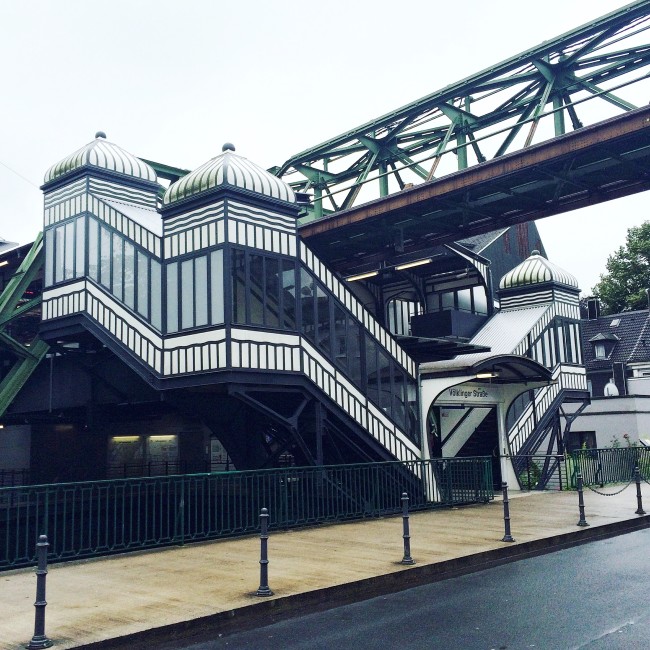 In terms of tickets, since it counts just the same as other local transport, you don't need to fork out for expensive tickets. Yes, that's right, you can ride the coolest monorail in town for the price of a simple bus ticket! If you are starting in the middle you will need 3 singles to go all the way round, if you are starting at one end you'll just need two, there and back. For 3+ tickets it actually works out cheaper to get a day ticket ('Tagesticket'), and there are different levels of day tickets for up to 5 people. You'll be able to use the day ticket on local busses too, so it gives you complete flexibility for exploring the city. There are concessions for children, and age 5 or under they ride free. For an extra special trip, you can also book a ride on the historic 'Kaiserwagen' (Imperial Carriage), but that will of course be more expensive.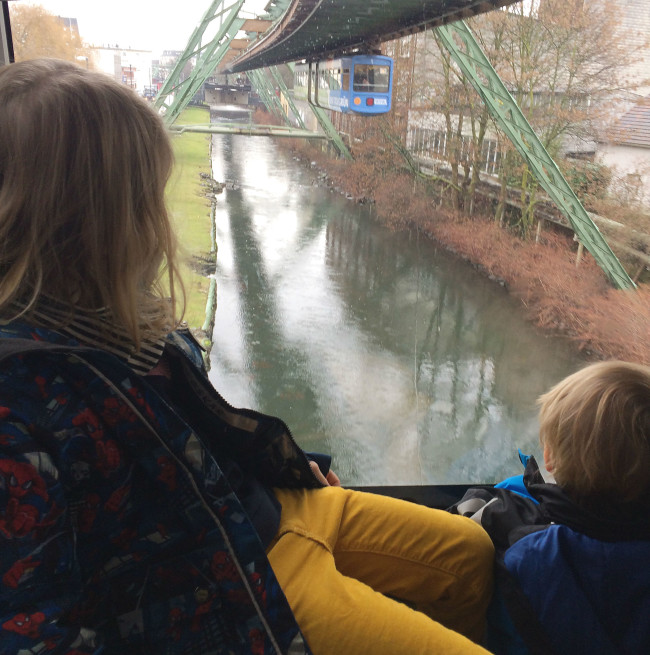 There is actually an audio guide (including an English version!) for the Schwebebahn, which you can download in advance of your trip and listen to along the way. There are two different versions, depending on which direction you are going in. It gives you information on the individual stops, and the landmarks and attractions you can see between them. Finally, the Schwebebahn has its own website, which will tell you everything else you need to know and more. Including in English!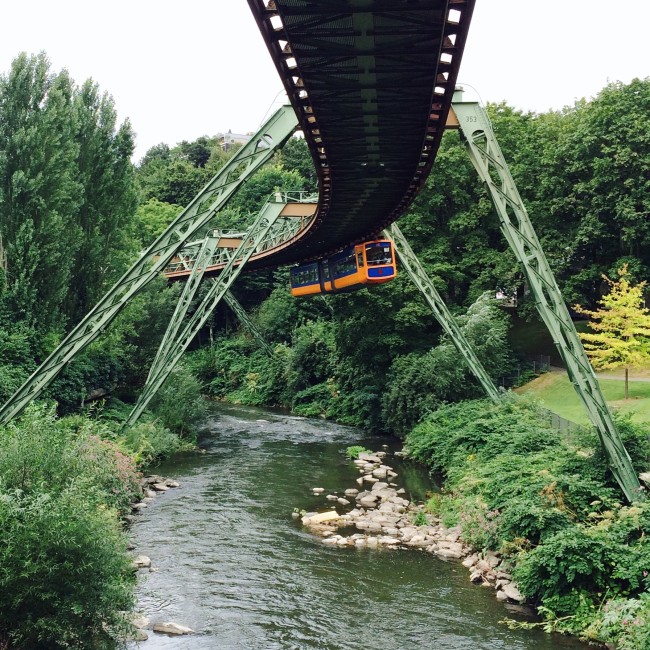 Sunny Days
The Zoo
Wuppertal's Zoo is one of the oldest zoos in Germany, dating back to 1879. It is also apparently one of the most scenically beautiful zoos in Europe, having been designed by landscape artist Heinrich Siesmayer. It is built on a hillside – like most things in Wuppertal! – with wide grassy areas, large ponds and lots of trees. Some of the paths are quite steep, something to keep in mind when visiting with a stroller or wheelchair. However, we never let that deter us. The Zoo is open all year round, except on Christmas Day, and you can also get a Combination Day Ticket for the Schwebebahn (see above) which includes admission to the Zoo.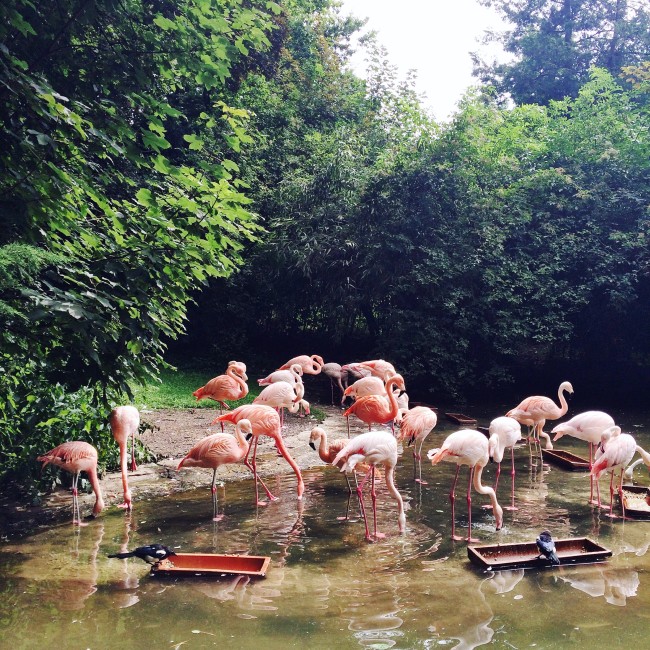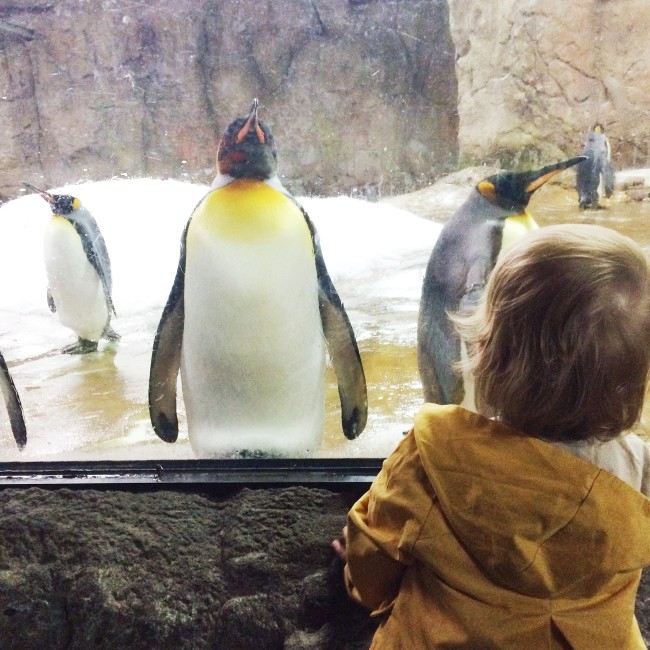 The Pirate Ship Playground
When we go on holiday anywhere, one thing we always want to know is where to find the nearest or best playground for the kids. Wuppertal has numerous playgrounds – too many to list – but one of the best has to be the one right next to the Schwebebahn station 'Loher Brücke', which boasts a large pirate ship for climbing, sliding, swinging and playing in the sand. During the summer months, an ice cream van regularly pulls up in the afternoons, and for other days there is a cafe/bakery just across the road, selling buns and hot chocolate. And at the playground, little trainspotters also get a free front row view of the Schwebebahn, which runs past every few minutes.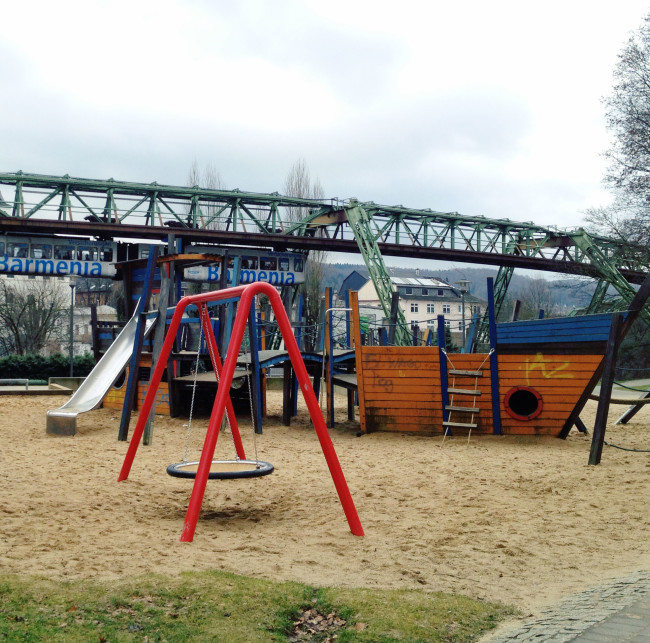 The Sculpture Park
A new addition to Wuppertal's cultural landscape, is the afore mentioned sculpture park. Set in one of Wuppertal's many woodlands and – you've guessed it – on a hillside, the 30 acre large 'Skulpturenpark Waldfrieden' was founded and designed by British artist Tony Cragg, who now calls Wuppertal his home. Just a walk around the winding path of the grounds and surrounding woodland alone, on a beautiful day makes a great visit. Add to this around two dozen larger than life artworks – of which you can also find some scattered around town – lurking around every corner. The site also includes two exhibition halls. With such a unique setting, you can forgive the fact that you spend most of your visit walking up or down hills – and there are plenty of benches along the way if you need to take a rest. Note that due to the hilly terrain, the sculpture park only offers limited wheelchair access and is not really suitable for strollers – even if you are happy pushing your stroller up and down the hills, the majority of paths are covered in deep gravel, which is hard going. On the upside, you can reward yourself for managing all those hilly paths with 'Kaffee und Kuchen' at the adjacent Café Podest, which offers an array of hot and cold drinks, mouth watering cakes, and savoury dishes. The sculpture park and café are open Tuesdays to Sundays from March to October, Fridays to Sundays from November to February, and on public holidays.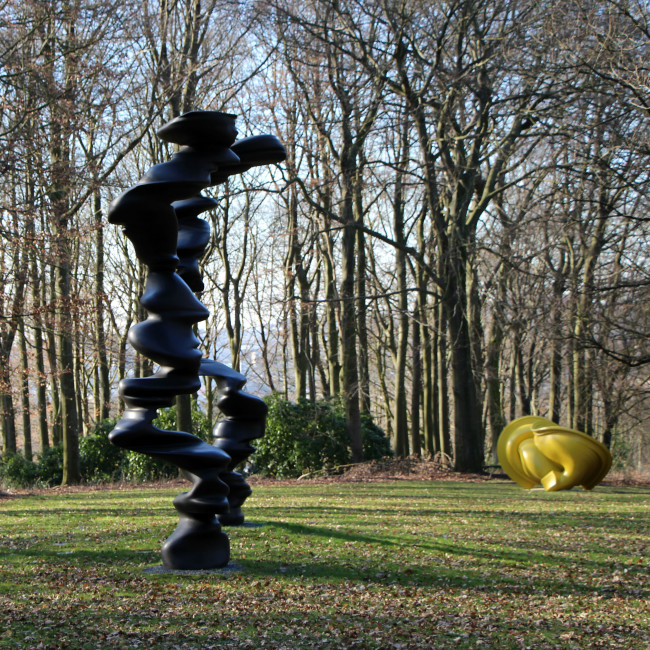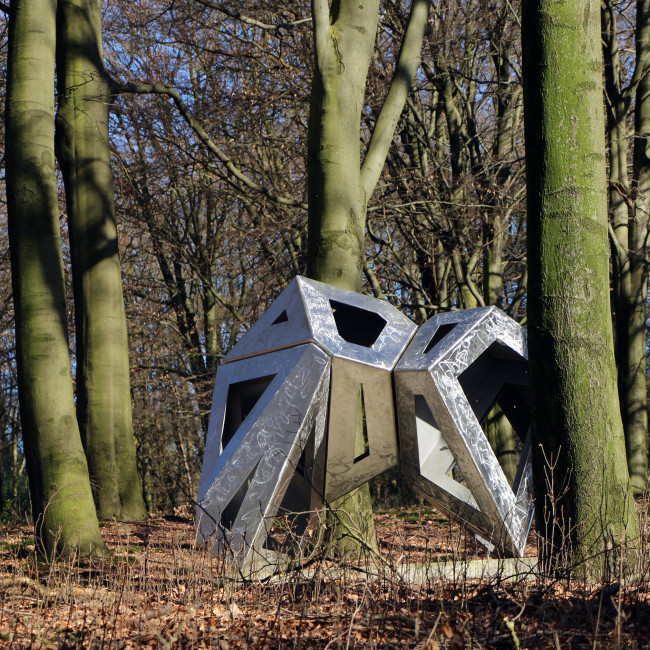 Other Parks and Walks
Wuppertal is in fact one of the greenest cities in Germany – 29% of the city is woodland or open spaces, with another 8% taken up by landscaped parks and other green spaces. As such, a public park or woodland walk is never far away. Some popular destinations include:
Nordbahntrasse – The 23km long walk and cycle path runs from the East to the West of the city, where trains once drove through. In places you can still see parts of the old tracks and stations. One attraction is the rail-cycle draisine, with which you can ride along some of the old tracks on certain days throughout the year. There are also cafes along the way, ice cream sellers during the hotter months, and in late summer you will see people picking brambles along the bushes lining the path. An interactive map details all the attractions you can find along the Nordbahntrasse. Bonus: Once you have made it up there, the path itself is completely flat – very unusual for Wuppertal!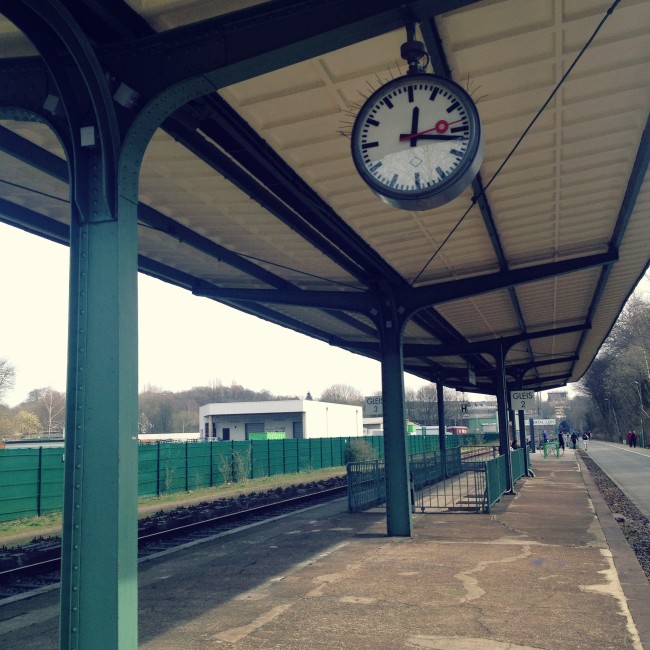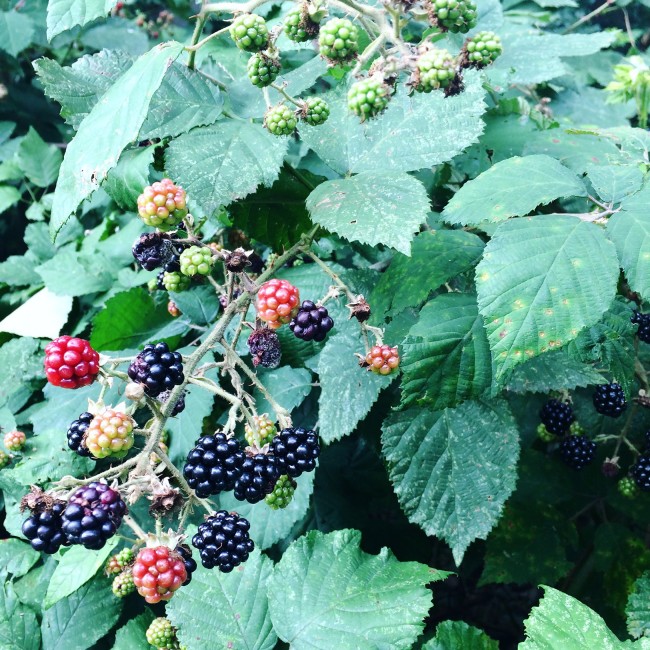 Toelleturm – The Toelleturm is one of several observation towers in Wuppertal. It is situated in the district Barmen, right next to a large park and woodland area. The tower is open on Sundays and public holidays when the weather is good, but even when it's closed it's a nice corner of town to head to for a walk in the woods.There is also a nice children's playground there, and in the summer months an ice cream van is never far away.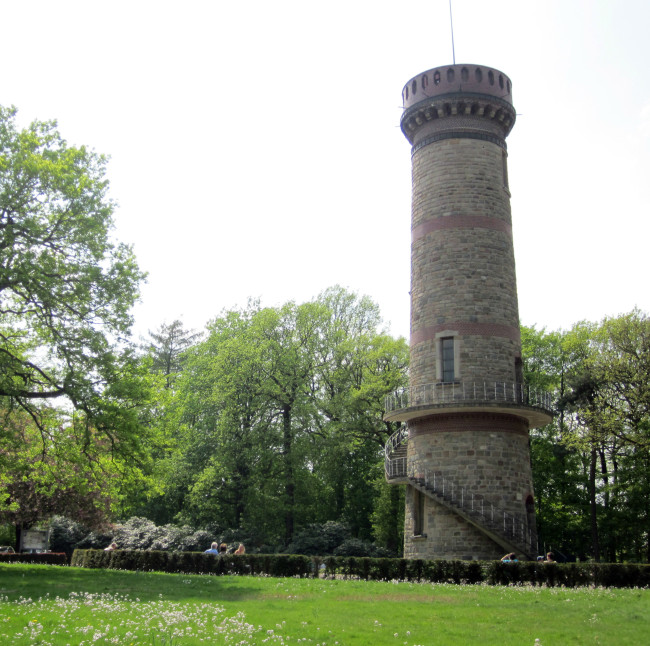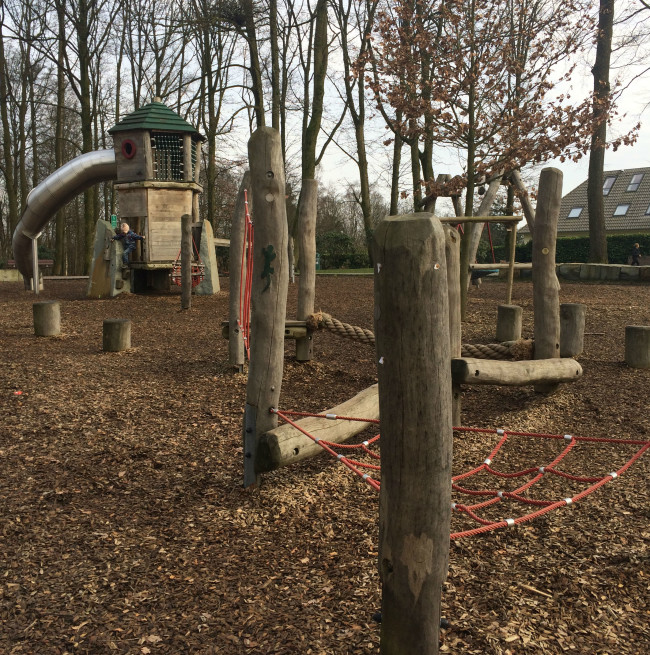 Hardt Anlagen – The Hardt borders the districts of Wuppertal Barmen and Elberfeld, and is one of the oldest city parks in Germany. It probably won't come as a surprise to you by now, that it's situated on a hillside. Up here, you will also find Wuppertal's Botanic Garden (entry to this is free), as well as a cafe and a beer garden.
Rainy Days
Unfortunately, there is a bit of a lack of good things to do on rainy days, and Wuppertal is known for having quite a few of those. Of course, you can always go for a Schwebebahn ride (see above) in any weather, but here are a few other suggestions.
Museum für Frühindustrialisierung
The Museum of Early Industrialisation is part of Wuppertal's 'Historisches Zentrum', which also includes the 'Engels House' – the former residence of famous German philosopher and social scientist Friedrich Engels – and a few other buildings. The museum looks at the history of the early industrialisation of Wuppertal and the whole Bergisches Land around it. It covers both the technical side as well as the social side of history. There are a few interactive elements – buttons to press, audio visual – but you will need to engage a little with your children to get the most out of it for them. My elder son was very interested e.g. to hear about the children his own age, who had to work in factories. But undoubtedly, the biggest attraction is if you are lucky enough to be there when they put on the old textile weaving machines – it's incredibly loud, but also incredibly fascinating. The museum is open Tuesdays to Sundays.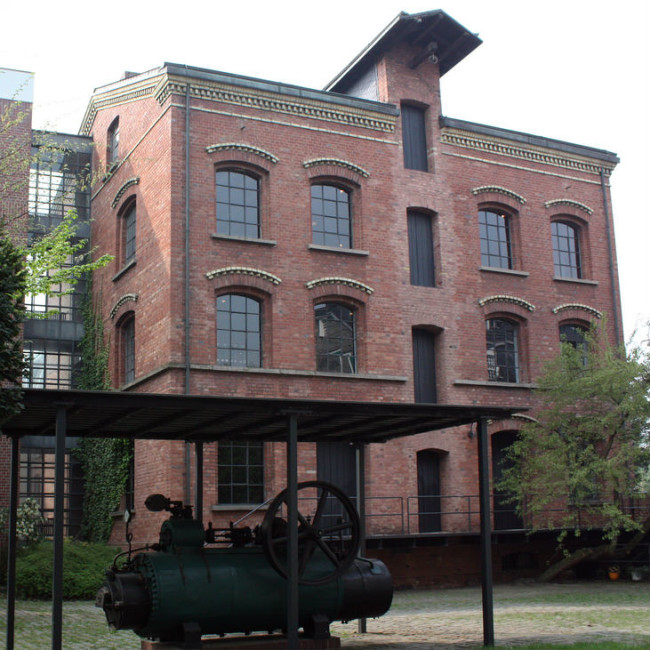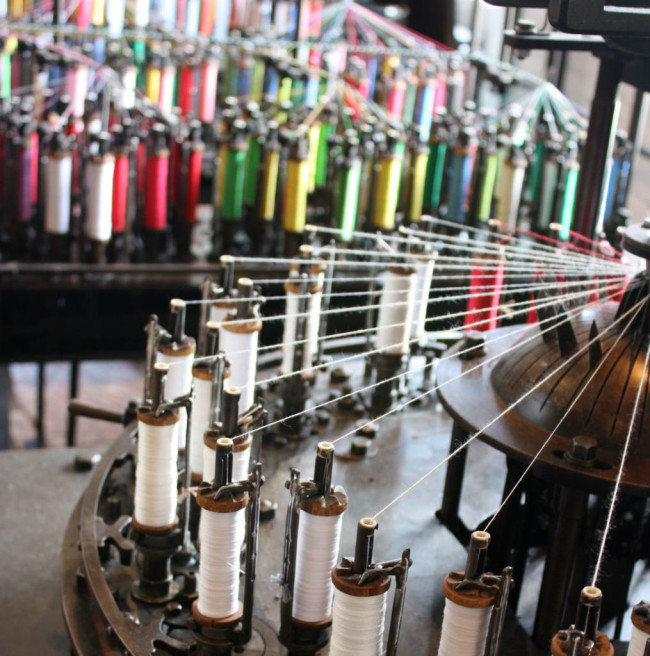 Von der Heydt Museum
The Von der Heydt Museum is housed in Wuppertal Elberfeld's former city hall, and is named after a family who were notable patrons. The museum exhibits works by artists from the Baroque period to the present day, including paintings, sculptures, graphics and photographs. I have visited in the past but have yet to return with my boys. However, for families there is a 'Mini-Kunst-Treff' (or 'mini art meetup') every Saturday during term time, from 11:15am to 1:15pm, aimed at children age 5+. Pre-booking is not required, so you can just come along on the day and report to the ticket desk. Throughout the year, there are also children's tours and family Sundays at the weekend, which do required pre-booking, and special programmes during the school holidays. Check out the museum's website for further details. The museum is open Tuesdays to Sundays.
Baby Lounge & Familiencafe
Berlin is full of so-called Family Cafes and Children's Cafes, but in Wuppertal, they are still a fairly new concept. So we were delighted to discover that a couple have opened up in the city centre and of course, had to go and test them out.
The TaMMel TaMMel Baby Lounge is aimed at babies and toddlers aged 0-3. I emailed them in advance, and the owner replied to say my 6 year old would be welcome too but may get bored, so I left him to play football with his grandad and just took my 2 year old. I'll tell you up front, he loved it so much, he didn't want to leave! The front half of the Lounge includes a large indoor sandpit, a shelf with kids books, a chalkboard and some toddle trucks. There's also a counter where you can order hot and cold drinks and snacks such as sandwiches and waffles, which are served in little high edged trays that you can carry around with you. There are no tables and chairs to sit at, instead there is a window seat/ledge that goes around almost the entire perimeter of the Lounge, alongside large floor to ceiling windows flooding the place with light. The back half of the Lounge has a padded floor, in calming pastel colours, and in this area you will also find three baby swings, a crawl tunnel, a mini ball pit, a baby play mat, and baskets full of toys. Through the windows at the back, you also have a front seat view of the Schwebebahn, which comes past every few minutes, so there's free trainspotting included. Admission is 2.40 Euros per person (babies age 6 months or younger go free), but you get a wrist band which allows you re-entry all day, so you can go for lunch or a nap and come back again later. There's a 'Happy Hour' between 1pm and 2pm, when admission is only 1 Euro, and if you live locally or are planning multiple visits during your trip, a 'Zehnerkarte' for ten visits costs 19 Euros, bringing the cost down to 1.90 Euros. Strollers must be parked outside, but there is a long railing you can chain them too and you can borrow a lock for free. Due to the large windows, you can also keep an eye on your stroller at all times.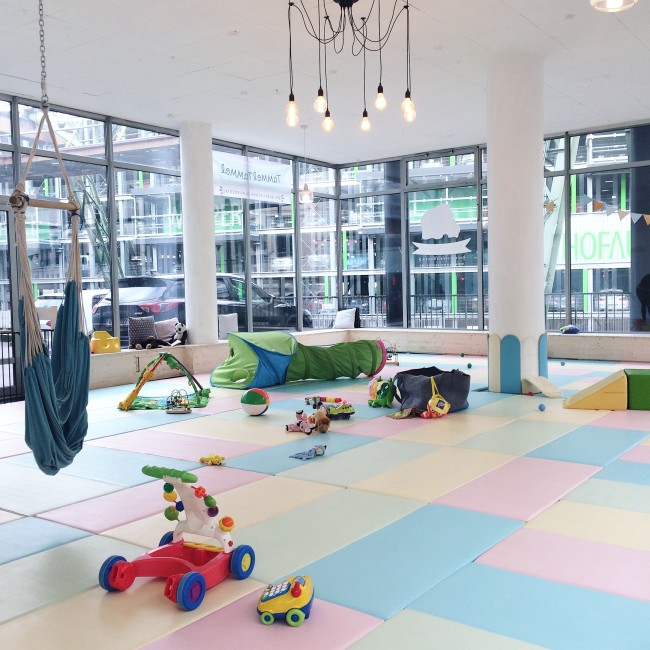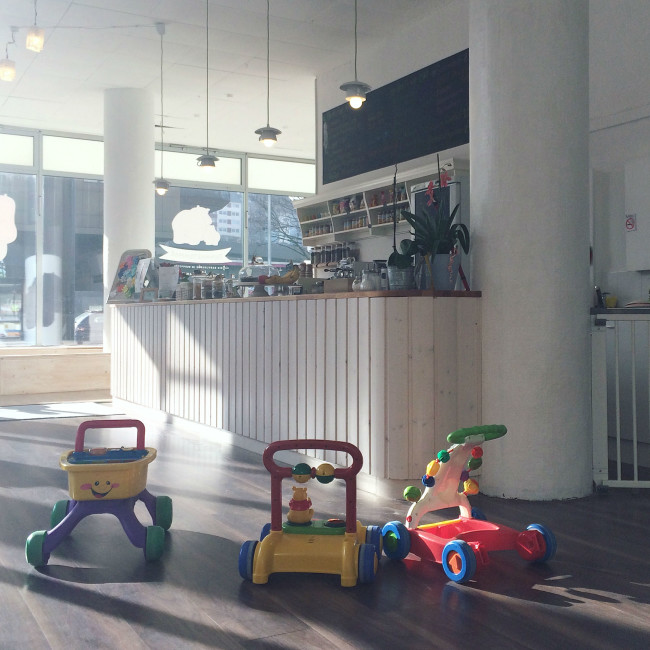 Edit: The 'Familiencafe Lumini' previously mentioned in this post has sadly since closed down.
Müllers Marionettentheater
On Wednesday mornings and weekend afternoons throughout the year (though not on all Wednesdays and weekends, so check the schedule), the Müllers Marionettentheater puts on puppet theatre performances for families. Their repertoire ranges from well known fairy tales such as Snow White and the Seven Dwarves or the Emperor's New Clothes, to other popular children's stories such as Babar the elephant or Jim Knopf, by German children's author Michael Ende, to classical pieces such as the Magic Flute or Peer Gynt. Tickets cost 11 Euros for adults and 8 Euros for children on weekends, and 6 Euros for everyone on Wednesdays. The target audience is children aged 4 to 12. The performances are in German, but if you are looking for something to fill a rainy morning, you and your children may still enjoy a performance if it follows a well known story, even if you don't speak German. I know my children will e.g. quite happily watch children's TV in foreign languages they don't understand. I haven't been to see any performances myself, but my older son has been with his grandad and they both loved it.
Edit: We have since taken both to the Mationettentheater and we all loved it!
Practical Info
How To Get There
Wuppertal does not have its own airport. The closest airports are Dortmund, Cologne-Bonn and Düsseldorf. Dortmund is the closest (around 40-45 minutes by train) but also the smallest. EasyJet and Ryanair currently do flights there from London, Eurowings are apparently starting flights from Vienna in Autumn, and Wizz Air offers flights from a lot of Eastern European cities. Cologne-Bonn and Düsseldorf are both around an hour away, the former requiring two trains and the latter a bus and a train. Both airports have flights from across a wide range of European cities, including budget airlines Ryanair and Eurowings/Germanwings. From Edinburgh, we always flew with Germanwings to Cologne-Bonn. If you are travelling from within the continent, you can also go just by train. Depending on where you are travelling from, you may have to change trains, but we are lucky as there is an ICE high speed train that runs directly from Berlin to Wuppertal. The only thing to point out, is that Wuppertal Central Station is currently going through a MAJOR refurbishment and is a total pain in the butt to navigate.
Where To Stay
I'm afraid I can't offer much advice here, as we always stay with my parents. Wuppertal does have some hotels, but I don't know which are particularly good for families. TripAdvisor suggests Central-Hotel Wuppertal as a central location that has had fairly good reviews, but I can't vouch for it personally.
Getting Around Town
Wuppertal is a long, thin city, situated along a valley. The quickest way to get anywhere along the foot of the valley is via the Schwebebahn (see above) which runs along it from one end to the other. If you want to get anywhere further afield or higher up the sides of the valley, there is also a fairly good network of buses. You can use tickets on both the Schwebebahn and the bus network, and there are day-tickets, including ones for groups, that make it cheap to get around for a day of sightseeing. If you find yourself in the streets of Elberfeld – Wuppertal's main shopping district – don't forget to stop by the Glockenspiel outside Juwelier Abeler on Poststraße. Other attractions people often ask about include the infamous Lego Bridge (for those interested in street art), which is located on Schwesterstraße in Barmen, and the famous Pina Bausch Tanz Theater – not so much for young kids, but maybe for parents or older kids interested in dance.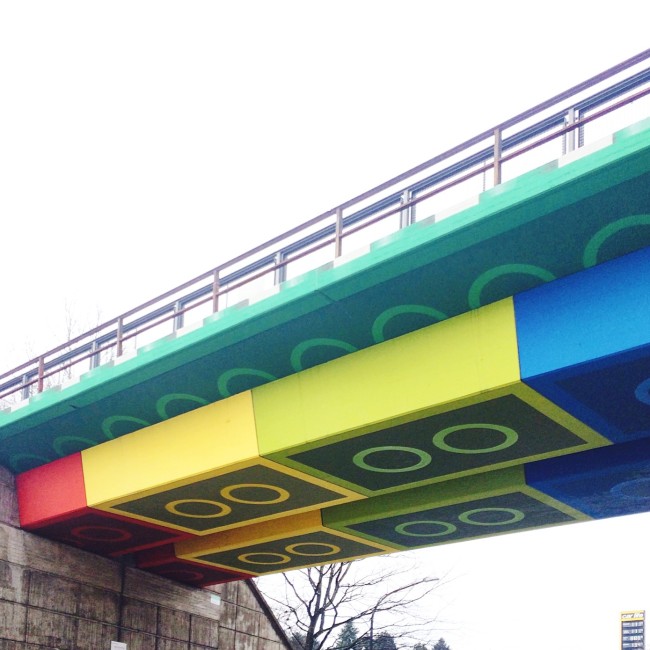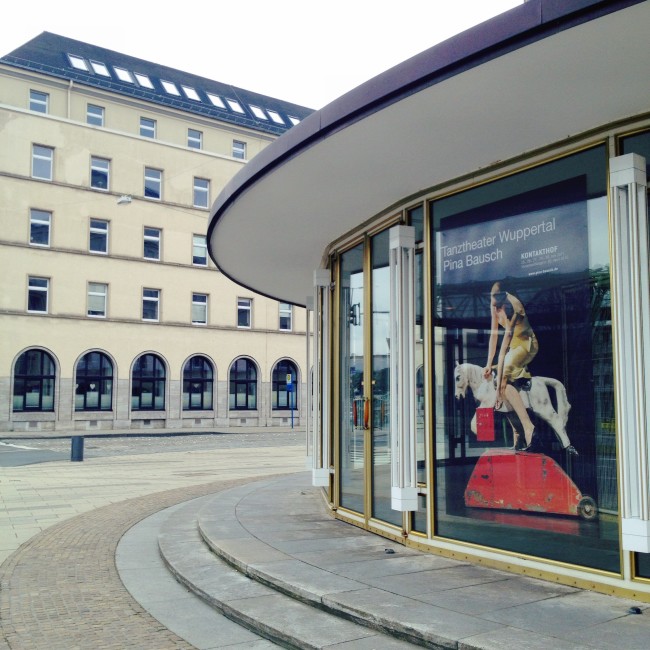 Souvenir Suggestions
You can pick up some souvenirs at Wuppertal Touristik on Kirchstraße in Elberfeld, such as snow globes with Tuffi the elephant, or pens with a moving Schwebebahn. The books stores in town – such as Thalia in the City Arkaden in Elberfeld – have displays with local books. And the ultimate souvenir for kids (and those at heart) is a bag of special edition Schwebebahn Haribo, produced exclusively for local supermarket Akzenta. Luckily, they have stores right in the centre of town – one inside the above mentioned City Arkaden, and one in Barmen opposite the Historisches Zentrum (see museums above). You can also get lots of fun souvenirs in the online Wuppertal Shop – our favourites include the Schwebebahn + Tuffi the Elephant cookie cutters.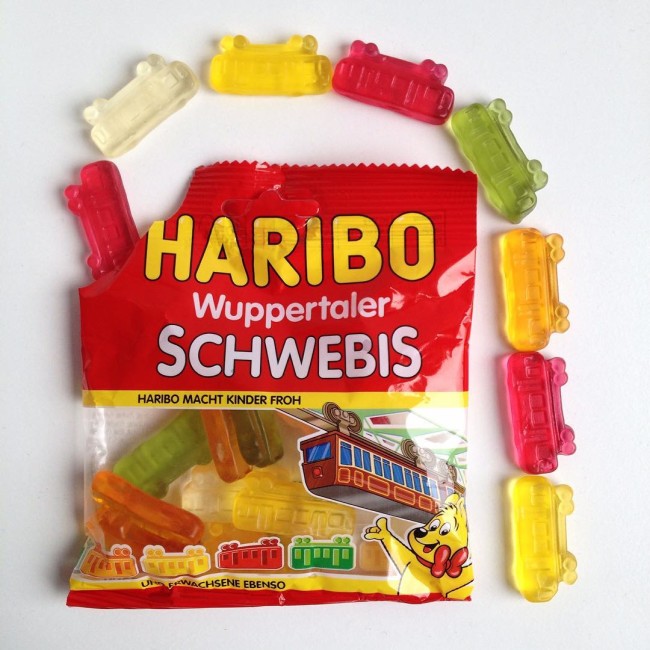 GIVEAWAY
I have one copy of this beautiful souvenir book about Wuppertal to give away, which is in German AND English! All you need to do is leave a comment below by Friday 30th June, 12 noon Berlin time. After that, one of the boys will pick a name at random out of the hat. Good luck!
EDIT: This giveaway is now closed. Congratulations to Laura and her train loving son, who have Wuppertal on their wish list – I hope this book will help you with planning your trip!