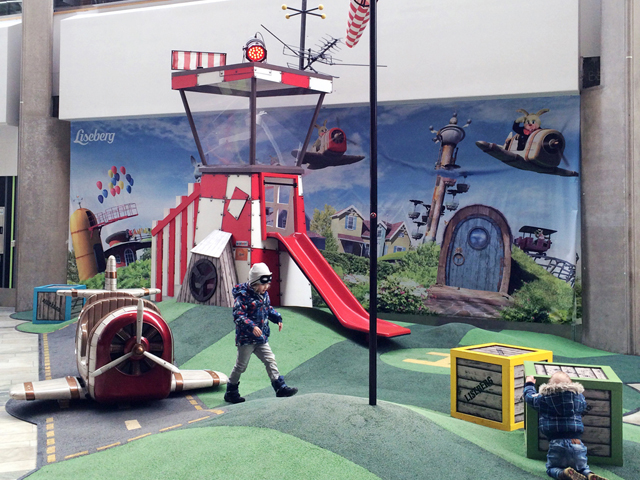 Gothenburg With Kids – Our Top Tips!
A while ago, we considered moving to Scandinavia. We looked at different locations, including Gothenburg. In the end, our plans came to nothing – but the desire to visit Gothenburg remained. I'd never visited any major cities in Sweden, and for some reason Gothenburg was always a bigger draw for me than Stockholm. So when deciding where to go for our Easter holidays, whether to go over to Scotland or visit my parents on the other side of Germany again, we suddenly said "Let's just do it! Let's go see Gothenburg!" And before we could change our minds, we had booked flights and an apartment for ten days. We had an absolute wonderful time. Although the weather was still a bit chilly, and some things hadn't opened yet for the season, we only had a couple of days with torrential rain and much sunshine overall, and fell in love with a city that turned out to be an excellent destination for families – starting with the fantastic play area at the airport, which kept the kids entertained while we waited for our luggage! So I wanted to share some of our top tips for Gothenburg with you. The trip was with two adults and two kids, aged 1 and 5.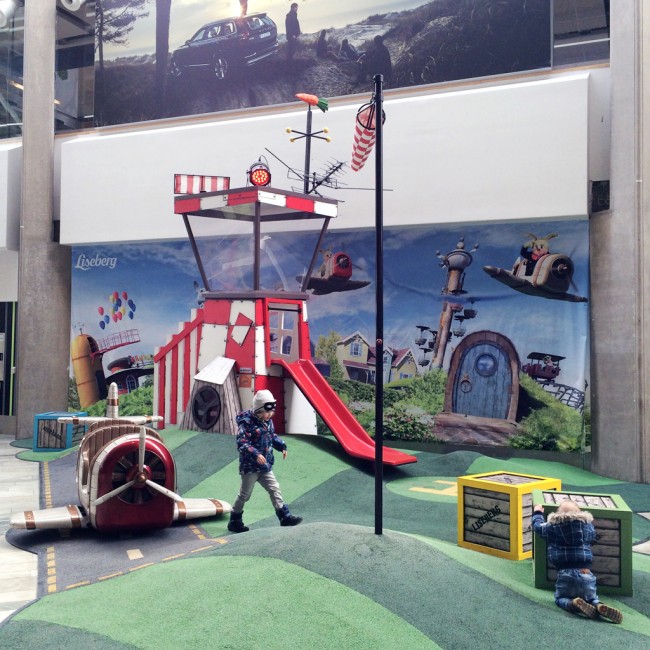 Museums
My children have never been on a beach holiday. I can't remember the last time I went on one. We are very much a city trips family, and one of the big city attractions is always museums. Visiting museums is very much in our blood (in fact, I have another whole blog just about them!). So it won't surprise you, that the very first thing I did when planning our week was to check out what museums Gothenburg had on offer for families. I was not disappointed. These were our top 3 museums with dedicated children's areas:
Världskulturmuseet
Our absolute favourite museum, for both parents and children, was the Världskulturmuseet or World Cultures Museum. Specifically, its new children's exhibition, which is scheduled to be there longer term.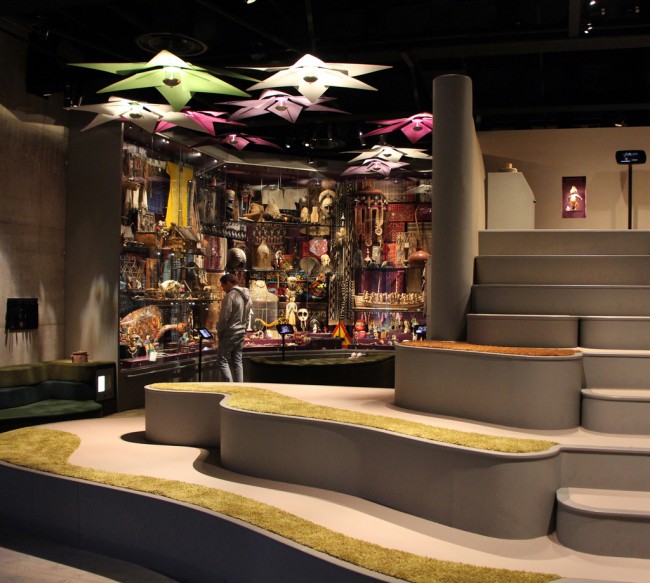 'Tillsammans' is an exhibition all about how both wonderful and difficult it is to be together with other people, and combines opportunities to touch, play and learn with over 1000 original artefacts from the museum's world cultures collection on display. Or, as the museum itself describes it on their website, "In a world of caves, mountains and rainbows we invite children and adults to explore and experience hand in hand. Here, children and adults explore together and play and learn with their body, heart and brain." There was plenty to do for both ages, and both boys absolutely loved it. The only way we managed to avoid a full blown meltdown when it was time to leave, was by promising to come back again another day, which we did.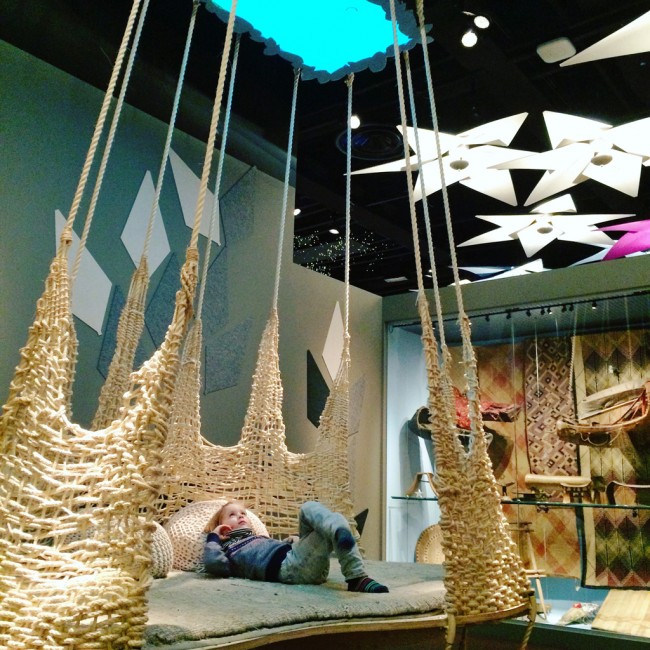 The Världskulturmuseet is open Tuesdays to Sundays (closed on Mondays). Admission is free! There's also free Wifi, and the cafe has plenty of high chairs and a microwave to warm up baby food, and of course baby changing rooms. Note that you have to leave your stroller at the cloakroom, so bring a lock to chain it up, though the museum do have a couple to borrow, for people like us who were unprepared
You can read a more detailed review of the Tilsammans exhibition over at Museum Diary.
Sjöfartsmuseet & Avkariet
Another museum our 5 year old really wanted to go back to, but we didn't have time for a second visit, was the Sjöfartsmuseet or Maritime Museum. There's an aquarium on the ground floor, with each tank representing a different marine environment.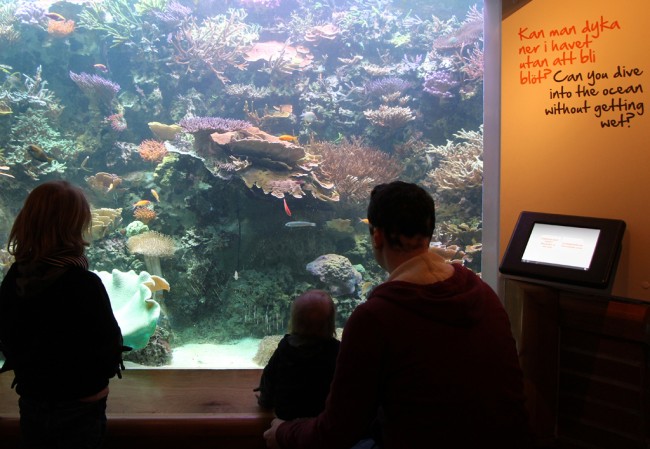 On the upper two floors you will find the permanent museum displays (our 5 year old really enjoyed seeing the models and paintings of ships, especially those on fire or being blown up by canons, lol), temporary exhibitions, a ship simulator, and two children's galleries – one for older kids, with lots of hands-on activities, as well as a playroom for the youngest.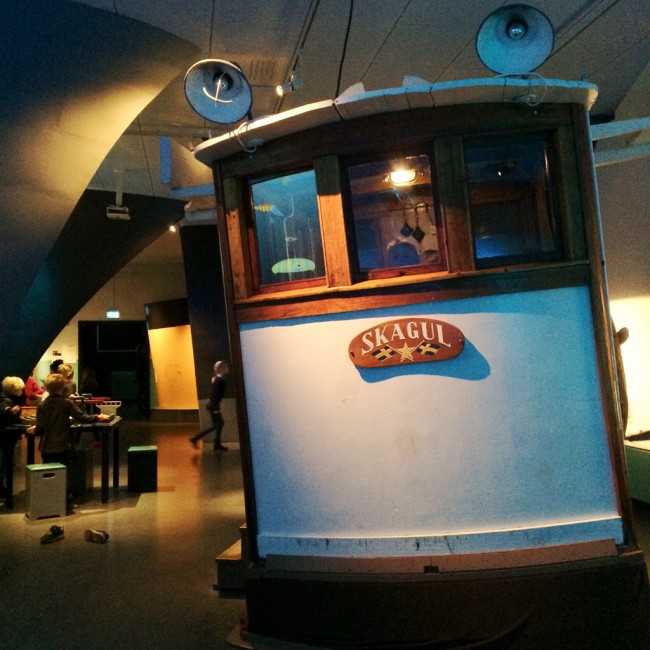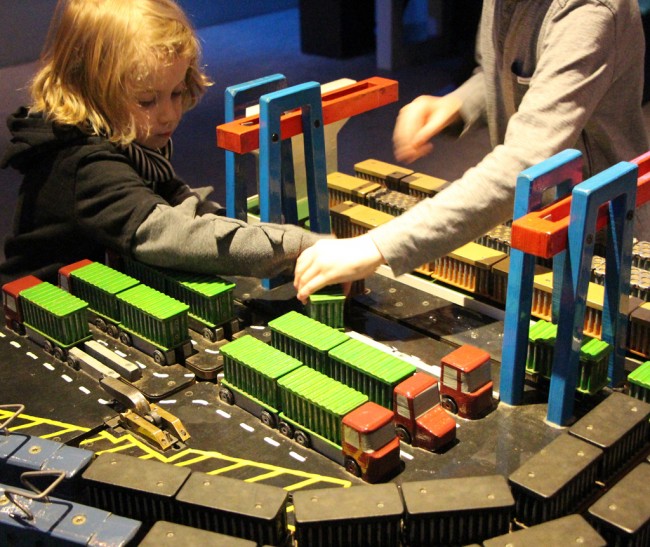 The Sjöfartsmuseet Akvariet is open Tuesdays to Sundays (closed on Mondays). Admission is free for under 25s, and it was only 40 SEK (just over 4 Euros) per adult, which actually gets you an annual pass valid not only here but also in four other museums in Gothenburg including the Stadsmuseum and the Naturhistoriska Museet (see below). There is both a cafe as well as a picnic area, the latter with high chairs and a microwave. Strollers are allowed in the permanent exhibitions but not the cafe or children's galleries, but there is plenty of space on the first floor to park them (bring a lock!).
You can read a more detailed review of the Sjöfartsmuseet over at Museum Diary.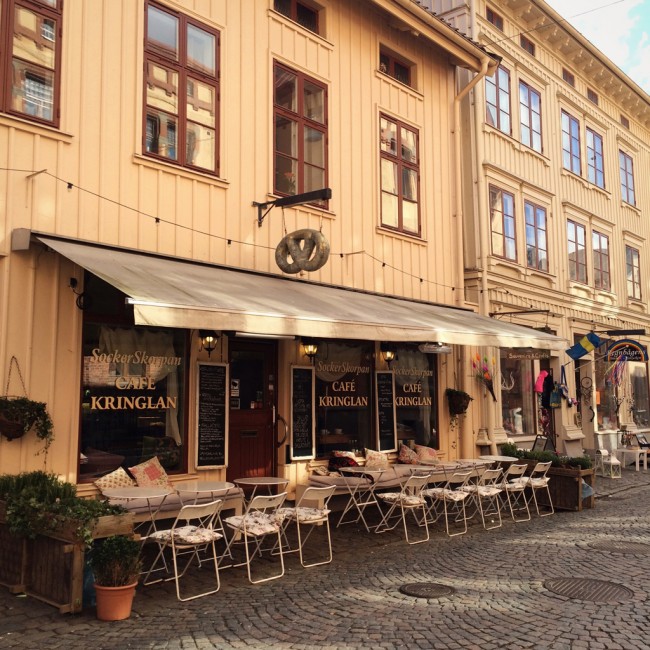 On our way back, we also stopped over at Haga, Gothenburg's historic district, because it was en route. Because it was a nice day, we walked there, but you can also get off the tram, walk through Haga, then get on the tram again at the next stop and continue your journey as long as you do it within 90 minutes as that's how long a ticket is valid for.
Göteborgs Stadsmuseum
The final museum we visited that had a dedicated children's gallery, was Göteborgs Stadsmuseum, or Gothenburg City Museum. The gallery is designed to look like a miniature city, with a play cafe, trademark blue Gothenburg tram, a building (blocks) site and a skyscraper climbing wall, amongst other things.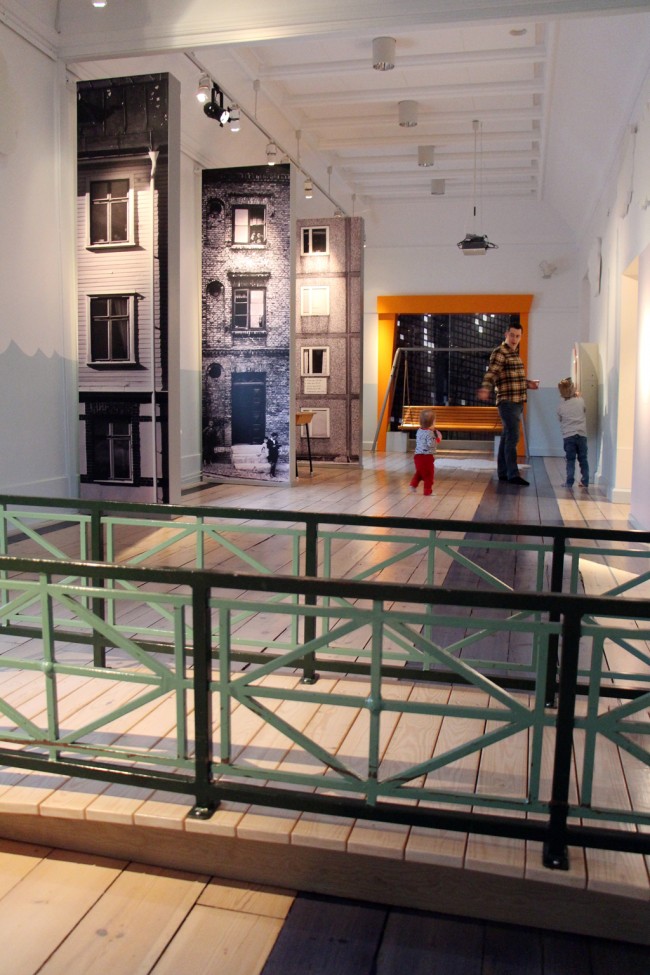 We also walked around the permanent galleries showing life in Gothenburg in the 1700s and 1800s, which included some interactive elements for kids such as a 'find the animals' challenge and dressing up, and despite all the dedicated children's activities, our 5 year old actually later said his favourite part had been seeing the Viking ship – he was still talking about it days later! I think our 1 year old enjoyed the giant building blocks and the slide in the children's gallery the most.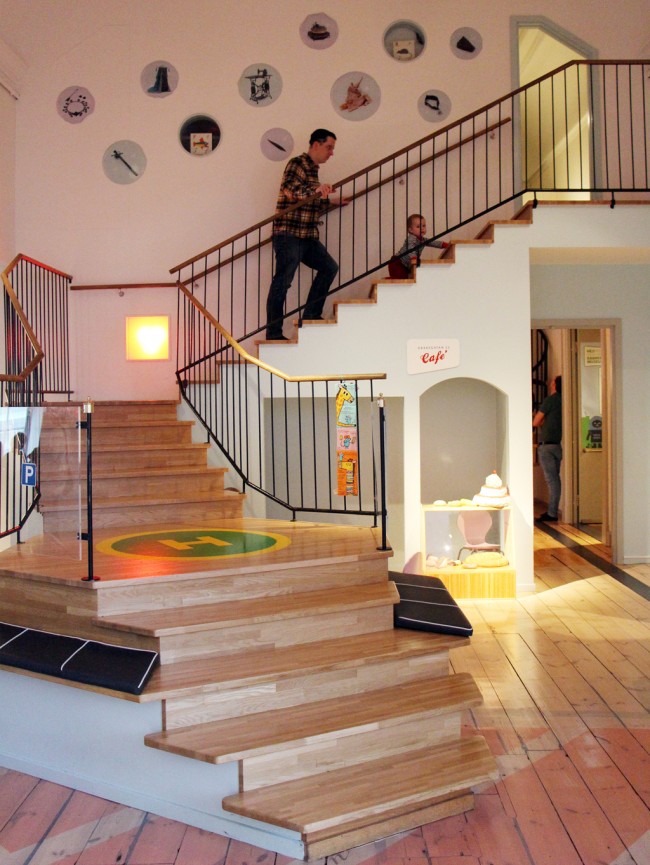 Göteborgs Stadsmuseum is open Tuesdays to Sundays (closed on Mondays), and admission is 40 SEK (just over 4 Euros) for over 25s for an annual pass, as mentioned above. There is a cafe and two picnic areas with highchairs, including one in the children's gallery complete with microwave. We had to park our stroller outside the children's gallery, but were allowed to take it around the rest of the museum.
You can read a more detailed review of Göteborgs Stadsmuseum over at Museum Diary.
Slottskogen
Slottskogen, also known as the green lung of Gothenburg, is a 137 hectares large park located in central Gothenburg. You can easily spend a whole day there. It includes a free zoo, where you can see favourites such as seals and penguins, as well as elks, ponies, sheep and other Nordic animals. There's also a children's petting zoo with pony rides (there's a fee for the rides but the rest is free), open from April to September, but we were there end of March so missed it by a couple of weeks.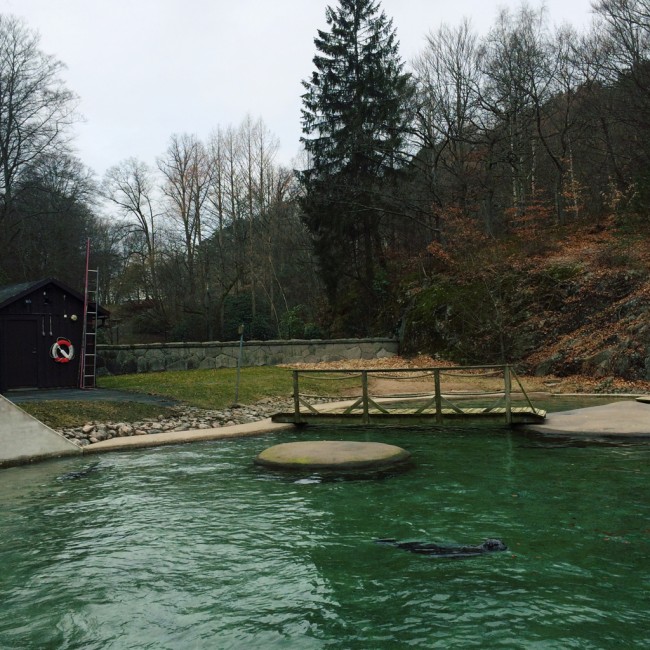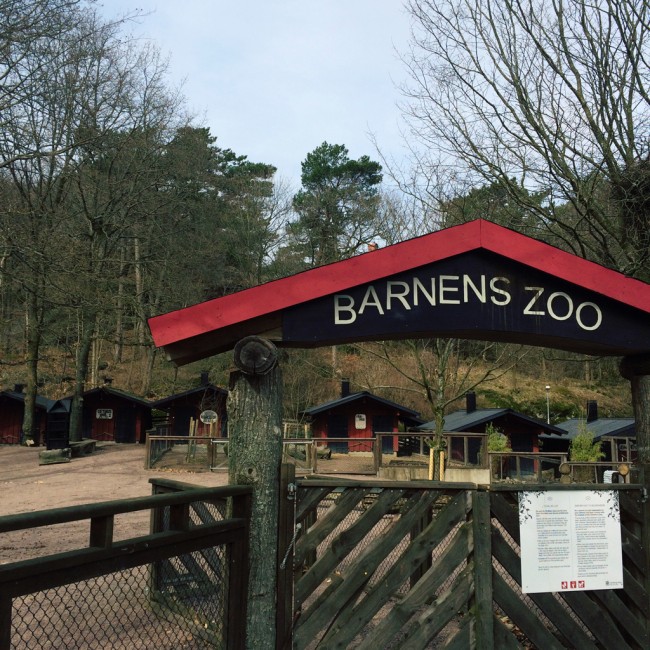 At the north end of the park, you will find Gothenburg's largest children's playground, Plikta, which includes a 15 metre long climbing whale. The playground is staffed for most of the day, with different scheduled activities taking place and playground equipment you can borrow.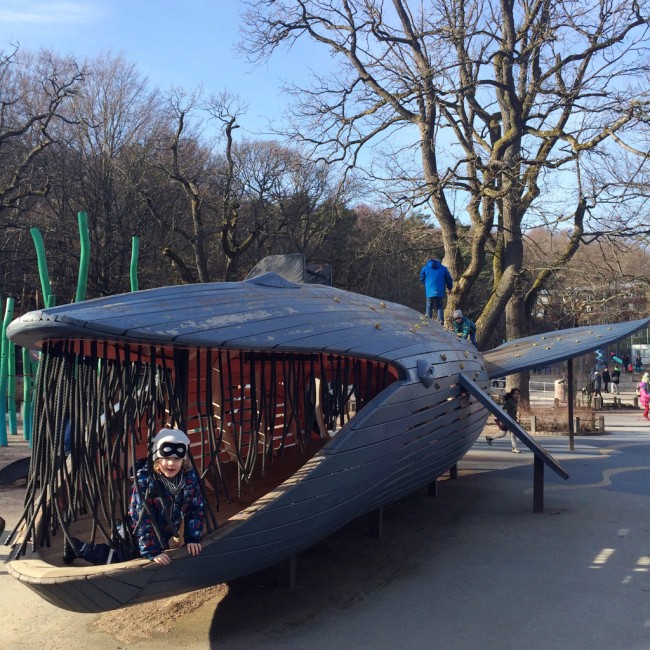 Next to Plikta is the Naturhistoriska Museet, or Natural History Museum, where you can see a real whale in the form of the Malmska Valen, the world's only mounted blue whale.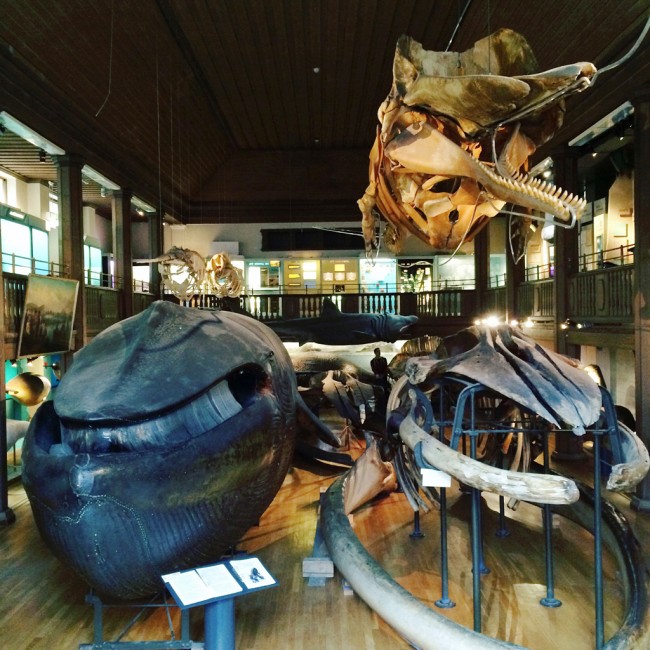 The museum is open Tuesdays to Sundays (closed on Mondays), and admission is 40 SEK (just over 4 Euros) for over 25s for an annual pass, as mentioned above, and we were allowed to take our stroller with us throughout. Naturhistoriska Museet also has one of the best museum shops I've ever seen – and believe me, I have been to many – so be prepared to part with some extra cash.
You can read a detailed review of the Malmska Valen over at Museum Diary.
Trädgårdsföreningen
The Garden Society of Gothenburg, Trädgårdsföreningen, is one of the best preserved 19th century parks in Europe.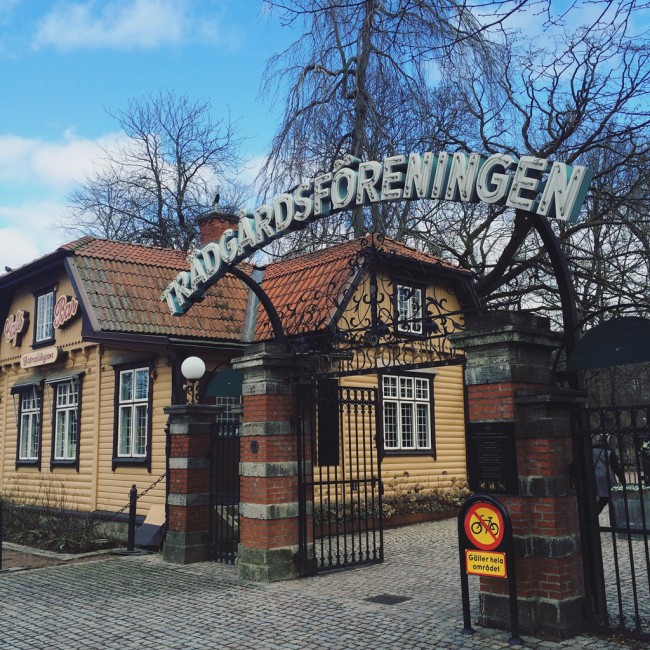 It comes with a great children's playground, suitable for both big and little kids, set among what looked to be a flower garden. Again, we were a little too early in the season, but we could picture how beautiful both it and the nearby rose garden would look when in full bloom.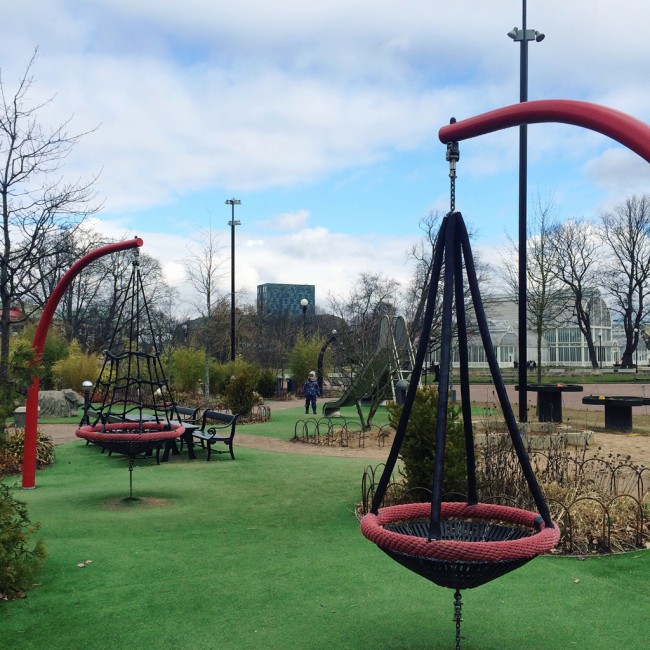 The biggest surprise, however, was discovering the beautiful old palm house which houses exotic plants in a Mediterranean climate, in the middle of the park. Admission is free, and we hadn't made it out to the Botanic Gardens so this was a nice alternative.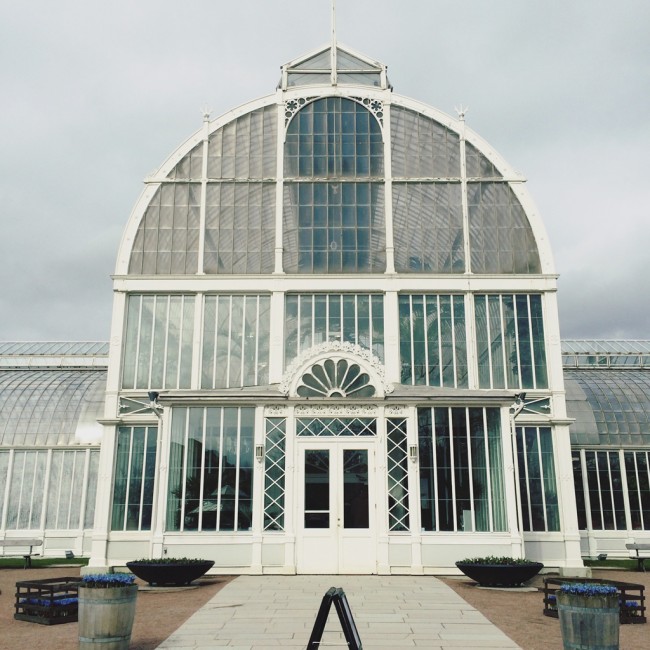 Universeum
I didn't include Universeum under museums, as it's technically a science centre rather than a museum. Also, it comes with a slightly higher price tag – around 13 Euros for kids age 3+ and around 19 Euros for adults, going by the current exchange rate (our youngest got in for free, being under 3). But we spent almost five hours there, so we feel we got our money's worth, and it was one of the few indoor attractions open on a blustery Easter Monday – in fact, it prides itself with being open every day of the year.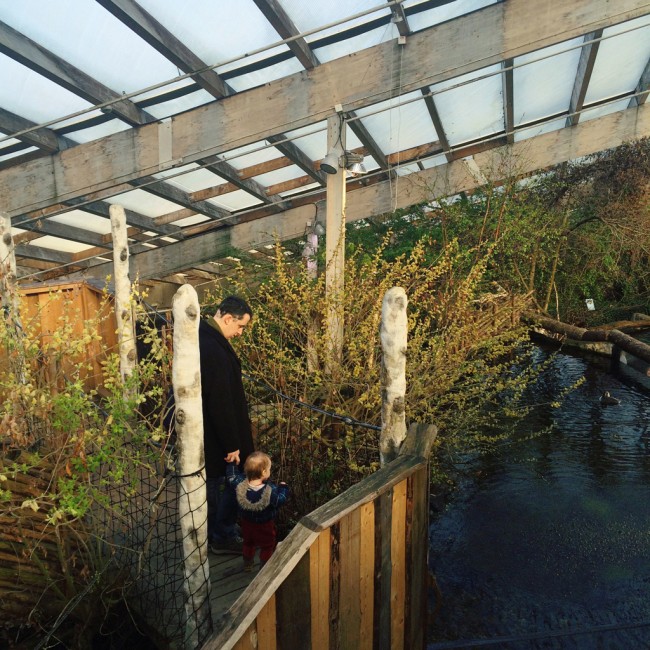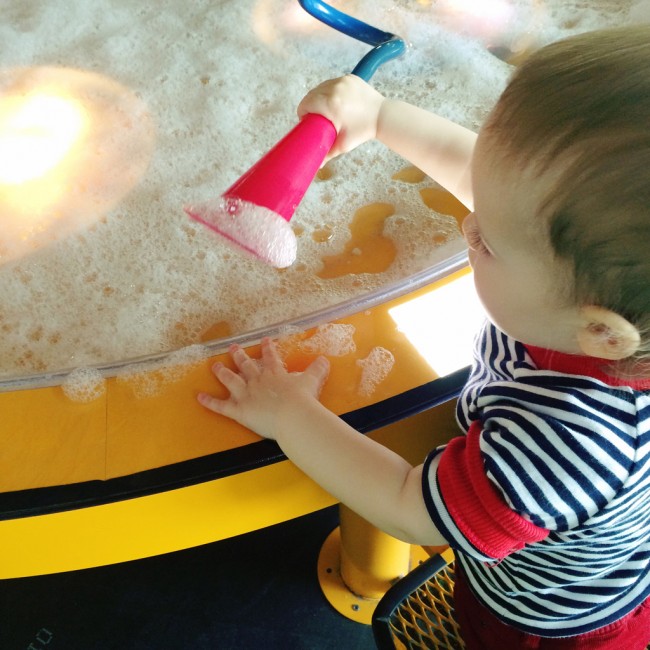 It's the largest science centre in the Nordic region, covering seven levels, from marine life to rainforest to outer space and everything in between. The prices at the cafe were reasonable and the food was tasty too. There's a covered stroller park just outside the main entrance, and you can borrow a lock from the ticket desk, though we saw several families with strollers inside too.
You can read a more detailed review of Universeum over at Museum Diary.
Other things to do
There were a couple of other things we would have liked to do that we either didn't have the time for, or it was just too early in the season or the wrong kind of weather. But I still wanted to mention them here for you:
Some final tips on keeping costs down
One thing I've been asked several times since our holidays, is how we kept the costs down, seeing how Sweden, and Scandinavia in general, is known for being expensive. Our biggest expense was the accommodation – we opted for an Airbnb apartment, and we paid just under 1200 Euros for 9 nights. Ouch. But we did chose to stay as close to the city centre as possible and we also didn't book that far in advance. If you plan well in advance and/or choose to stay a little bit further out, you can find apartments for a family of four at around 80 – 100 Euros per night. And Gothenburg is serviced by budget airline Air Berlin, so we got cheap flights to balance things out.
Because we were so central, we walked almost everywhere. The little one was in his stroller anyway, and the 5 year old coped admirably. We only took the tram on two occasions, once going to Slottskogen because we didn't want to start our day trip with a tired out kid (we walked back because it was mostly down hill), and the other time going to and from the Sjöfartsmuseet, because it was just too far out to walk. But since Gothenburg is such a compact city, and also relatively pleasant to walk around since traffic isn't too heavy, we saved heaps by just going everywhere on foot.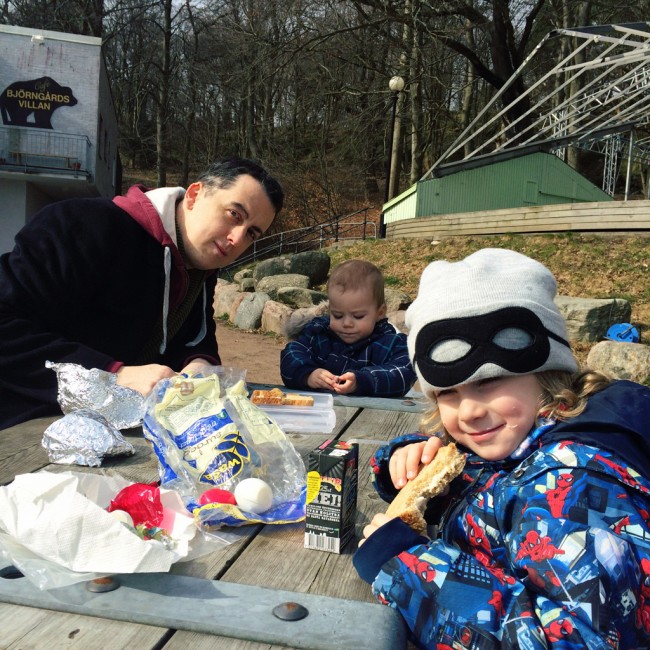 Another way we kept costs down, was on food. We self catered, doing a big shop at a nearby discount supermarket when we arrived, and then smaller top up shops during the week. So we had breakfast and dinner every day at the apartment, and for lunch we only ate out once, at Universeum. The rest of the time we packed ourselves a big picnic to keep us going, especially once we realised the museums all had picnic areas. And on our day trip to Slottskogen it was even nice enough to have our lunch outside in the park (with a random bouncy castle for added entertainment!). We treated ourselves to coffee/ hot chocolate, and the occasional cake for afternoon tea on some days, but that cost much less than a full meal for four people. So by not falling in to the trap of paying for expensive meals out everyday, we saved quite a bit.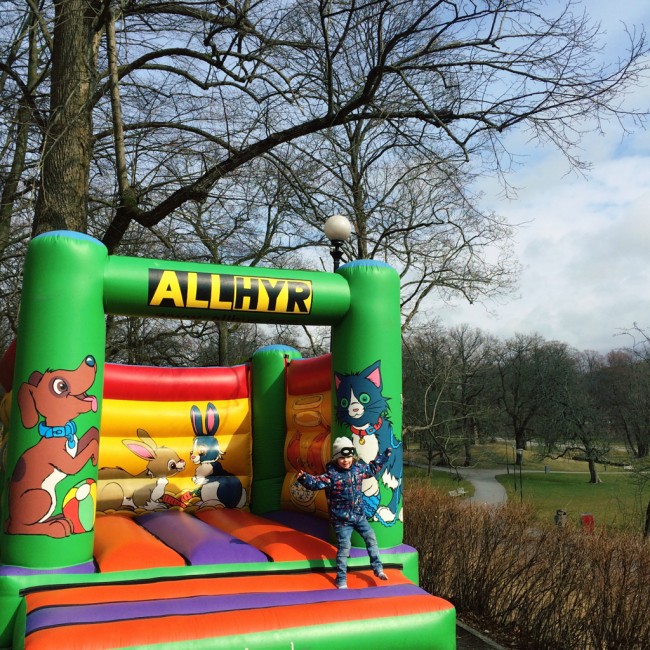 And, finally, we chose wisely when planning what activities to do. Gothenburg has so much to offer, we were spoilt for choice, so we limited ourselves to choosing just one of the pricier attractions, and the rest of the time opting for things that were either free (e.g. Världskulturmuseet and the Palm House) or like the museum card which gave us entry to five different museums for less than 10 Euros for the whole family in total. And when the weather was sunny and dry, we made a beeline for the nearest fabulous park or playground – of which there are many in Gothenburg – which was completely free. We had wisely packed waterproof trousers for both boys, so that we could go out to play even if things were still a bit wet after any rainfall.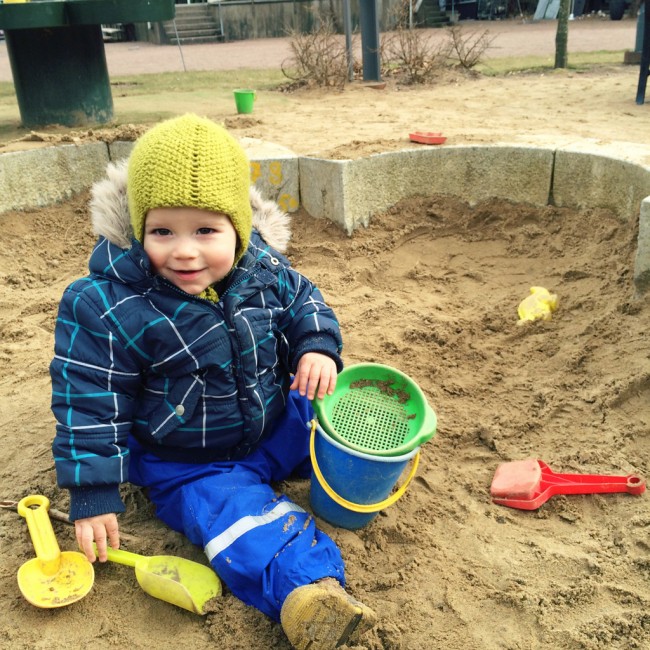 Depending on what you plan to see and do, the Gothenburg City Card may also be an option for you. It gives you free admission to lots of museums, sights, excursions, the Liseberg amusement park, and parking and travel with trams, buses and boats are also included. You can choose between a 24 hours, 48 hours and 72 hours card. Given that we weren't planning on using public transport much, and most of the things we wanted to see were free anyway or cost very little, the card was not worth it for us, but if you have a different itinerary in mind it may be worth looking in to.
Useful Link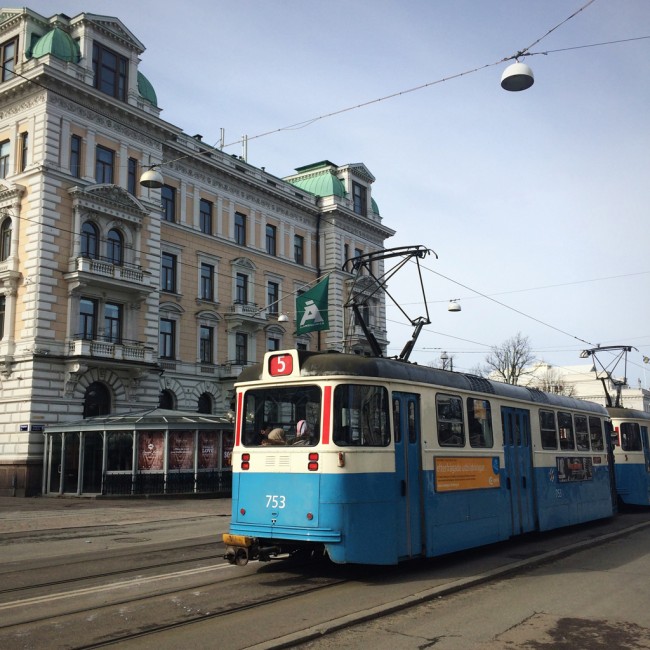 For anyone not as fond of walking as we are, this overview tells you everything you need to know about getting around Gothenburg by but, tram or boat >> Getting Around Town